This Beer Is Kosher for Passover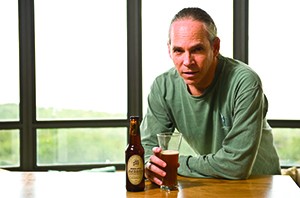 Why is this beer different from all other beers?
Four cups of wine at the Seder are a must. But what about beer? Until now, those who observe the Passover dietary laws have had to forgo the amber brew.
Now an Israeli company, Meadan Craft Brewing, has developed a date ale that is certified kosher for the holiday. The brewery was founded in May 2015 in the northern city of Karmiel by Bryan Meadan, 53, and his wife, Danna, 48.
Bryan—a sociologist who moved to Israel from Los Angeles in 1983—was not thinking about Passover when he embarked on his brewing career. In 2006 he was diagnosed with celiac disease, an autoimmune disorder in which gluten consumption can damage the small intestine. According to the Celiac Disease Foundation, the disorder is estimated to affect one in 100 people worldwide. According to Bryan, another 5 percent of the population is sensitive to gluten.
He couldn't find a gluten-free beer he enjoyed, so he started brewing his own, experimenting first with buckwheat. Then he tried chickpea flour, producing what is popularly called hummus beer. And then he tried dates.
According to Danna, all three gluten-free Meadan beers are technically kosher for Passover—for Sephardic Jews, whose Passover dietary rules differ from those of Ashkenazic Jews. Only the date beer is suitable for Ashkenazic Jews, too. "We had to choose, and we went for the certification that would include all Jews," Danna said.
By Passover 2017, Bryan said, the brewery hopes to supply its date beer to the United States.