The Jewish Traveler: Havana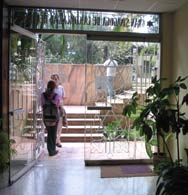 Call it the pearl of the Antilles, the Casablanca of the Caribbean, a tropical paradise. Describe it as exhilarating, lined with seductive beaches melting into a magnificent coastline ringed with deep bays. Add grasslands, gentle slopes, rolling hills, towering mountains and people who are warm and welcoming. This is Cuba.
Travelers to this island 90 miles south of Key West, Florida, discover an impoverished country of about 12 million, living in an area 780 miles long and 119 miles wide. But somehow the morning sun and the hot, salty breezes push the privation into the background. And the capital, Havana, still stands as one of the most beautiful cities in the world despite its seedy appearance.
History
There were Marranos—forced Jewish converts—among the first European settlers on the island in 1492. One of them, Luis de Torres, was sent by Christopher Columbus on exploratory expeditions for gold. He did not find gold, but he did discover something that would add to the riches of Spanish coffers: Tobacco. Columbus himself fell in love with Cuba, describing it as "the most beautiful island that human eyes have ever seen."
Groups of Jews fleeing Brazil during the Portuguese reconquest in the 17th century settled in Cuba and promoted a flourishing trade with the Antilles and nearby islands. In the 18th century Jewish merchants extended this trade to Hamburg, Amsterdam and New York. Several were severely persecuted by the Inquisition during these centuries and their possessions confiscated; eventually most assimilated.
Colonized by Spain, this largest island in the West Indies was used as a refueling port. Because it had the greatest amount of arable land of any Caribbean island, it absorbed a variety of people, including slaves (slavery was not abolished until 1886).
By the end of the 19th century, Cubans sought to overthrow their Spanish rulers. The patriot José Marti (1853-1895)—poet, essayist, children's book writer and revolutionary—fought for autonomy. Jews in New York aided Marti's cause, as did those in nearby Curaçao. Jamaica's Jewish De Cordova family also supported the struggle.
The contemporary community does not represent a line of continuity with the Jews of the 18th century. Its origins were linked to the War of Independence from Spain in 1868 and the Spanish-American War of 1898, which saw Jews among the troops invading the island. American Jews began to settle at the end of the 19th century as veteran soldiers or as businessmen. They engaged mostly in import and export, as well as in sugar and tobacco farming. In 1904, they founded the Union Hebrew Congregation with a Reform synagogue, and in 1906 acquired a cemetery. In the early 20th century, Sefardim from Turkey and North Africa arrived.
Ashkenazim came after World War I, using Cuba as a transit stop to the United States. However, after Washington's imposition of quotas in 1924, many stayed on the island, becoming small-shop owners, manufacturers, tailors, shoemakers and peddlers. By 1924, 24,000 Jews lived in Cuba. Over the next few decades many had difficulty adjusting and they left.
In 1933, Fulgencio Batista took over the cuban government. For the next 25 years he ruled with an iron fist, establishing lasting relationships with organized crime. Havana became known as a playground for wealthy gamblers; Meyer Lansky and other prominent American gangsters were heavily invested in the city.
During World War II, Jewish refugees from Antwerp introduced the diamond-polishing industry and by 1944 established 24 plants employing 1,000 workers. In 1952 the Jewish population of the island was estimated at about 12,000, with 75 percent concentrated in Havana.
Discontent under Batista spawned the beginnings of Fidel Castro's 26th of July movement in 1953. The United States meanwhile supplied Batista with military equipment but failed to win him victory over Castro's guerrillas.
"Fate played a trick on the Jews who had made Cuba their home," writes Robert M. Levine in his book Tropical Diaspora: The Jewish Experience in Cuba (University Press of Florida). "Even during the government's anti-religious campaign, Castro bent over backward not to persecute Jews." However, since they were in commerce they "fell into the category of enemies of the revolution." When Castro nationalized business and property and introduced Communism, that was enough for Jewish entrepreneurs. Most left for the United States, Mexico and Venezuela.
Cuban Jewry today is a far cry from what it used to be. More than 90 percent left after Castro and his revolutionaries marched into Havana on January 1, 1959. In its heyday, there were five Jewish elementary schools, one Jewish high school and five synagogues in the city.
With the departures, synagogues closed down, living conditions deteriorated and Jewish schools ceased functioning. Young Jews did not want to be associated with Judaism or the synagogue since their careers would be compromised. When the United States severed relations in 1961, the remnants clung to Judaism as best they could. They only knew who was a Jew during those decades when at Passover people came to claim matza sent by the Canadian Jewish Congress. No aid came from the United States until 1991.
Moreover, in 1973 Israel and Cuba severed relations and Cuba supplied troops to Syria during the Yom Kippur War.
Still, the Jewish community was saved by two cataclysmic events in the 1990's. The Soviet Union not only collapsed and withdrew its economic and financial support; Castro had to lift restrictions and welcome hard currency to fill the deficit. And in 1998, Pope John Paul II's visit led to religious institutions functioning openly.
With the new opportunity, Jewish organizations and foundations, headed by the American Jewish Joint Distribution Committee, arrived to help. Buildings were repaired, prayer books brought in, Jewish instructors hired, a school opened. Rabbis began to visit, tourists came with needed medicine, clothes and Jewish books. After having lost one or two generations, the community revived.
Community
Today there is a reborn Havana Jewish community of approximately 1,500, including several hundred in the provinces. Synagogues and community centers have been rebuilt and refurbished.
More than 90 percent of the Jews today are intermarried and Jewish knowledge is limited. Many work in the professions as doctors and engineers (though the average monthly income of a physician is $10 to $25).
Most of the money to support the synagogues, purchase kosher meat, run the school—including transportation by bus from all over Havana—to provide welfare funds, pay for medicines and cover the costs for Shabbat meals comes from the JDC, which receives its funds from the United Jewish Communities.
Religious and humanitarian missions bring in needed medicine and supplies. The economy is bolstered by Cuban Americans, including Jews who fled and have been sending thousands of dollars.
The hope of the community is the religious school, which meets once a week in El Patronato Synagogue. In 1991 the school had 10 students and three teachers with no Jewish training; today 90 students start their days singing "Hatikva." Since 1991 about 600 Jews have emigrated to Israel.
There is no permanent rabbi on the island. Rabbi Shmuel Szteinhendler of Santiago, Chile, is considered the chief rabbi and visits several times a year. Two young Argentines, Mariano Merelman and Yael Fleischman, serve the community. Merelman conducts services and Fleischman heads the school, Majón Tikún Olam. Together they coordinate activities, act as organizers, teachers, advisers and at times even spiritual leaders.
Beth Shalom/El Patronato Synagogue and Community Center, Calle 1, stands between 13th and 15th Streets in the Vedado section (bethshalom@enet.cu). Services are held on Friday nights at 7 o'clock and Saturday mornings at 10 in this refurbished 50-year-old Conservative synagogue. After services there is a Kiddush and modest Shabbat dinner. It is not unusual for women to pack up the bones and take them home for a soup.
B'nai B'rith and Hadassah meet in Beth Shalom. Fifty members of the Hadassah chapter—most of them health care professionals—gather monthly. A lecture and news about Hadassah Hospital are presented, explains Dr. Rosa Behar, president of Hadassah–Cuba (telephone: 011-537-328-953; telcu@ip.etecsa.cu). While noting that the chapter does not fund raise, "We do a lot to prevent disease," she says, as well as "support the Sunday school with material and contests relating to Purim and other holidays."
The Orthodox Adath Israel (Calle Acosta and Pictota 52; 537-861-3495; adath@enet.cu) functions in Old Havana. In 1990, its 120-person membership was mostly seniors. Today, children attend services and there is a mikve.
Shabbat services are held Friday nights and Saturday mornings in The Sephardic Hebrew Center of Cuba (Calle 17, between E and F Streets in the Vedado section near El Patronato; 537-832-6623; judiosefarado@yahoo.com). The nine Torah scrolls came from the closed Hebrew Union Chevet Achim synagogue.
Sights
The Cuban magic draws you to La Habaña Vieja, Old Havana, a reminder of the Spanish colonial era. The music, slick stores and dark, run-down bodegas, crafts, flea markets and museums all make it exciting for tourists.
Gaze at the colonial palaces, walk through narrow alleys and stroll the inviting plazas. Have coffee in an outdoor café in the lovely square of the Plaza de la Catedral, admired for its excellent baroque architecture.
In central Havana stands the majestic Capitolio Building. A copy of the one in Washington, D.C., it took $17 million and three years to complete in the 1920's. The ornate Hotel Riviera in Paseo Malecon was Meyer Lansky's crowning achievement.
Attend a performance at the Gran Teatro de la Habaña, built in 1837 and home to the National Cuban Ballet, the opera and Havana's flamenco ensemble (Paseo de Marti in central Havana opposite the Parque Central; 537-862-9473).
Then head for the Malecon, a promenade extending along the three-mile seafront where huge waves crack over the seawall. Stroll alongside tall pastel-colored buildings. See Miramar, the prerevolutionary neighborhood of now neglected mansions of the rich and embassy officials.
For insight on the impact of the Cuban revolution, go to two important sites. One is Revolution Square, the huge area where Castro addresses the nation. The other is the Revolutionary Museum in the former Presidential Palace at Refugio 1, which houses prerevolutionary artifacts.
Author Ernest Hemingway spent much of his writing life here. There are conspicuous reminders of the 22 years he romped around the island as if it were his playground. At the popular El Floridita restaurant, he supposedly invented the daiquiri. At the nearby Bodeguita del Medio, with fascinating caricatures on the walls, the novelist drank mojitos: rum, lime juice, sugar and freshly crushed mint leaves. He even searched for German submarines, made famous in his book Islands in the Stream. To this day, Hemingway is accused of anti-Semitism, notably apparent in The Sun Also Rises.
Reading
Carlos Eire, the 2003 National Book Award winner, wrote Waiting for Snow in Havana (Free Press) about his childhood in Cuba. The Last Minyan in Havana (Chutzpah Publishing) by Betty Heisler-Samuels tells of growing up Jewish in Cuba from the 1940's to the revolution.
Judith Laikin Elkin's The Jews of Latin America (Holmes & Meier) is enlightening. Bridges to Cuba (University of Michigan Press), edited by Ruth Behar, is a valuable resource.
Graham Greene's Our Man in Havana (Viking) is entertaining.Hemingway in Cuba (Lyle Stuart) by Norberto Fuentes explores the "Cuban magic," as do Hemingway's The Old Man and the Sea,Islands in the Stream and To Have and Have Not (all Scribner).
The book and film Voyage of the Damned (Stein and Day) by Gordon Thomas and Max Morgan Witts deals with the refugee ship the St. Louis.
Travel Restrictions
In the summer of 2004, the United States ruled that Cuban Americans could visit relatives only every three years. They can not send money except to family members; those who receive support in American dollars were told by Castro to have money sent in foreign currencies. The dollar will no longer be honored by Cuban businesses or stores, and must be exchanged at a 10-percent surcharge.
One needs to be part of a group with a valid license issued by Washington to travel to Cuba; check with organizations such as the United Jewish Communities Missions Department (212-284-5200; www.ujc.org, click to the travel page) for information.
Recommendations
First-class Havana hotels include the luxury Meliá Cohiba (Avenida Paseo), the Hotel Nacional (on Calle O off Kampa) and Hotel Habaña Libre (Calle L between 23rd and 24th Streets).
The 25-room Hotel Raquel is Cuba's first hotel catering specifically to Jewish tourists. At San Ignacio and Amargura Streets, six blocks from the Adath Israel synagogue, the building's eclectic architecture and Art Nouveau interiors have been refurbished. Rooms are named after biblical matriarchs and patriarchs and Jewish touches seem to be everywhere.
Four ornate chandeliers patterned after the Star of David hang in the lobby, while paintings by contemporary Cuban Jewish artist José Farinas adorn the walls.
Right next to Lejaim, the lobby bar, is the Bezalel boutique, which sells gifts and Judaica. The Garden of Eden restaurant offers a variety of kosher-style items but does not strictly follow the laws ofkashrut.
In addition to American Jews, the Raquel clearly hopes to attract Israeli tourists. Though Castro broke off relations with the Jewish state, tour operators in Tel Aviv estimate that at least 10,000 Israelis have visited Cuba.
Ben G. Frank is author of A Travel Guide to Jewish Europe; A Travel Guide to Jewish Russia and Ukraine and A Travel Guide to the Jewish Caribbean and Latin America (Pelican).