Family Matters: Cheering the Seeds On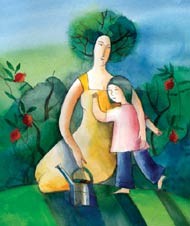 Tu Bishvat focuses attention on all things blossoming from the soil and, perhaps, begs a connection to burgeoning offshoots in our own homes.
The seeds packed an inescapable symbolism: Shoshana and her day school classmates were about to complete 6th grade by reading Torah for the first time. I stuck the seeds in the card I gave her for the ceremony and wrote, rather sentimentally, that the seeds of Torah we had planted within her were sprouting.I have no illusions about my thumbs. They aren't particularly green. But the packets of seeds—four for $1—in the presummer sale aisle at CVS tempted me. My daughter Shoshana had been asking to plant a vegetable garden (never mind that the only green vegetable she eats is zucchini). Her friend Jamie's garden yielded eggplant, cucumbers and two kinds of tomatoes the perfect red of a clown's nose.
We planted the garden a few days later. What I did not expect were the speedy results. Wisps of dill soon peeked out of the soil along with bean tendrils and a profusion of orange and yellow flowers that were supposed to augur fat cucumbers and zucchini. I was ecstatic. I watered and tended the small garden and marveled that I could actually grow food from the earth. When we picked the first green bean we said a sheheheyanu.
My fantasies quickly withered. The cucumbers grew stunted, bulbous on one end, shriveled and prickly on the other. The zucchini never appeared. Too late, I asked for advice at the garden center and was told that the soil needed better drainage to nurture the plants.
My experiment taught me that plants may grow, but they will not always flourish. So this year, on January 25 I will celebrate Tu Bishvat with an even deeper respect for the earth. Based on the natural cycle in the land of Israel, Tu Bishvat marks the time of year when sap, the lifeblood of a tree, begins to rise to feed the budding leaves. The Talmud proclaims it the "birthday of the trees," the date when a tree turns a year older—even if it was only planted in December. The original mystical Tu Bishvat seder created by medieval kabbalists draws on the biblical comparison of human beings to trees of the field (Deuteronomy 20:19).
It's hardly a stretch to see the parallels between green growing things and human beings, complete with familial roots, flowering branches and birthdays to record their growth. But if growing a cucumber is difficult (and they don't even talk back!), how much more challenging is it to raise a well-nurtured child?
I have contemplated this analogy on a personal level for the past six years, since my elder daughter Shira's bat mitzva coincided with Tu Bishvat. My little speech to her bloomed with a selection of tree metaphors.
I'm not alone in sowing my parenting vocabulary with horticultural analogies. Many experts tend the gardens of childhood with allusions to seed packets and watering cans. "Children need encouragement like plants need water," goes the popular wisdom of child psychologist Rudolf Dreikurs. That encouragement, says Michael H. Popkin, author of Doc Pop's 52 Weeks of Active Parenting: Proven Ways to Build a Healthy and Happy Family(Active Parenting), is actually "the act of instilling courage." Parents should build on children's strengths, he states, show confidence in their children and stimulate independence.
Like a gardener "pulls weeds, sprays for bugs and adds fertilizer," parents can "filter out negative influences that can harm a child's developing beliefs and filter in other positive influences," Popkin says. "It does not change the basic plant, but it helps it become more of itself." Monitor what a child watches on television or at the movies, whom they hang out with and where. Take time to talk about what they see and hear, he adds. Find youth groups and schools that nurture values important to you.
If parents appreciate the link between nature and nurture embedded in Tu Bishvat's message, their parenting might be more insightful, says Maurice J. Elias, a professor of psychology and Jewish studies at Rutgers University and the author of several books on parenting and child development. Just as plants need space, so do siblings. Just as different plants need varying amounts of sun and water, so different children need distinct attention. Most important, sturdy plants depend on well-nourished soil to spread healthy roots, says Elias. For children, "home and family life that is the soil of Judaism creates deep, strong roots—strong values, traditions and rituals. These are the things children can hold onto…. No matter how their peers influence them, they will still be anchored to the ground."
Pirke Avot teaches that deep roots are more important than flowering branches, notes Elias. A tree whose branches are many but whose roots are few can be plucked up and overturned on its face, teaches Rabbi Elazar ben Azariah (3:22). But a tree whose branches are few yet whose roots are many cannot be stirred from its place if all the winds in the world come upon it. The teaching concludes that actions, like roots, strengthen a person more than the branching reach of sterile knowledge.
Elias stresses that it is a family's home life—not the parent's synagogue, professional or community commitments—that forms hardy roots. "In the name of goodness parents take away from their own family life to give elsewhere," he says. "Our culture gives children so many messages not aligned with Jewish values that we as parents have to be more present for them. It's a question of balance. Kids should at least be tied for first place among their parents' responsibilities. Some kids are resilient and will grow despite the odds, but how much more would they thrive with proper 'gardening?'"
In the past, parents might have had "undiluted influence by virtue of being parents," but today they compete with popular culture, peer influence and the media. "Parents must think quite consciously and carefully about how they conduct themselves if they want to be primary, positive sources of influence on their children," says Elias. "It is a parent's job…to be a model of menshlichkeit. Not a model of perfection, but of human decency." In Emotionally Intelligent Parenting: How to Raise a Self-Disciplined, Responsible and Socially Skilled Child (Three Rivers Press), Elias and coauthors Steven E. Tobias and Brian S. Friedlander propose a 21st-century revision of Rabbi Akiva's summary of the Torah: "Do unto your children as you would have others do unto your children." If we treat children with respect, Elias says, they are more likely to treat others the same way.
Nurturing faith in children is an essential parental legacy—and a message integral to Tu Bishvat, says Yossi Abramowitz, father of four children (ages 11, 9, 5 and 1) and the C.E.O. of Jewish Family & Life!, an educational multimedia publishing enterprise. Abramowitz's contemporary version of the Tu Bishvat seder, Seeds of Hope (Babaganewz), cowritten with Marilyn Fine, transforms the holiday into a festival of hope: "When a farmer looks out on a barren field and sees nothing there, but can imagine the sprouting of plants and food, there is an element of faith and hope," explains Abramowitz, who highlights hope as an often overlooked Jewish value. He cites a "widespread deficit of hope in the way we celebrate Jewish life."
Beyond the common but vicarious tree planting that celebrates the blooming of trees in Israel—not North America—Abramowitz suggests creating a fun but symbolic cookie-and-candy garden: One child takes Oreos and crumbles them to make earth, "plants" a jellybean in it and says: "I am planting this seed for…" and inserts a personal hope or wish. The next child "waters" the seed with chocolate syrup while noting what we could do to realize the hope that has just been "planted."
"You eat all the stuff afterward, of course," says Abramowitz.
Rabbi Susan Silverman, Abramowitz's wife and coauthor with him of Jewish Family & Life: Traditions, Holidays and Values for Today's Parents and Children (St. Martin's), says children need a "spiritual backpack" filled with hope, self-esteem, dignity, the notion of sacred time and a connection to the Jewish people.
During the uncertain times we live in, Abramowitz adds, children "can open [the backpack] and draw from it when confronted with challenges."
Children absorb the message of hope largely through their parents' example. Abramowitz cites a proverb (Midrash Rabbah 10:6) that imagines an angel behind every blade of grass cheering, "Grow, grass, grow!"
"That's a parent's role to say, 'You can do it! I believe in you. I'm there when you need me.'"
The original tu bishvat seder celebrates the seven species of the Land of Israel: wheat, barley, grapes, figs, pomegranates, olives and dates (see box, page 36). But it was in a garden of 300 species, far from Israel, that I learned the lesson of respect for the earth and how it intertwines with respect between parents and their children. Dinah Veeris's Caribbean island of Curaçao grows tall with medicinal plants whose healing properties are outlined in her book,Green Remedies and Golden Customs of Our Ancestors (Triangel Publicaties), cowritten with L.M. Veeris. In one shady spot, a small burlap hammock cradled a leafy plant. When I visited, Dinah's son, Shastri Moesker, 38, said that his mother believes if you talk and sing to plants, if you respect them, they will become stronger. He is a little reluctant. "It's not a question of intelligence but of feeling," he said, adding, "she wants me to sing so I have to do it." He gave the hammock a gentle push. "I greet you, oh earth," he sang sweetly. "I greet you, oh friend."
Here are seven parenting values, corresponding to each of the seven species, that can help us nurture our children:
Love and understanding
The basics, symbolized by wheat, the staple of life.
Appreciation and respect
Barley, also a staple food, but one that is often undervalued.
Family and community
Our children don't grow alone, but like grapes, in clusters on a vine.
Torah and Jewish tradition
The Midrash teaches that the Torah is like a fig. Every fruit has some inedible part, but all parts of the fig are good to eat.
Action and compassion
The pomegranate is said to have 613 seeds, corresponding to the mitzvot in the Torah.
Hope and forgiveness
From the time of Noah the olive has been a sign of hope, forgiveness and faith in the future.
Confidence with humility
The Torah's honey was the product of the date palm, a tall, stately tree. Today, most of our honey comes from bees, symbols of hard work and among the humblest of creatures.
Parenting, too, is hard work that often humbles us, but our children are our sweet rewards!