Medicine: Correct a Misprint, Save a Life
Hadassah has achieved a medical breakthrough that's been decades in the making: Today, enzyme-replacement therapy is effectively battling Fabry's disease.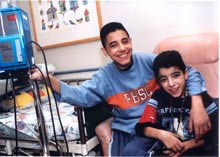 It could begin with small reddish-purple lumps on the skin and a burning sensation in the hands and feet that gets worse with exercise, stress and hot weather. The cornea may cloud a little and food may start passing too rapidly through the stomach.
Most people won't realize for quite a while that they're ill. If they do seek medical help, doctors may fail to recognize their very rare condition and even dismiss them as malingerers.
As these patients move into their late twenties and thirties, however, their deteriorating arterial circulation puts them at risk for early heart attack and stroke, and their kidney function weakens to the point where they need dialysis or even transplantation. By then the diagnosis is clear: Fabry's disease, an incurable, inherited disorder that will end their lives around the age of 40.
"Last week, a 43-year-old man with suspected Fabry's came to see me," says Dr. Annick Raas Rothschild, specialist in medical genetics and pediatrics in the Department of Human Genetics at the Hadassah–Hebrew University Medical Center at Ein Kerem. "He said 'I read on the Internet that I should've died three years ago. How come I'm alive?' Until recently, all I'd have been able to answer him would have been: 'Lucky you! You've been granted an extra few years.' Now I can offer him treatment that will partially reverse his illness and give him renewed quality of life."
This man joins six other Fabry's patients at Hadassah receiving life-saving treatment that became available only three years ago. They are infused with an enzyme that a genetic misprint has stopped their bodies from manufacturing. That enzyme should be in every cell, degrading fats. Because it's not there to do its job, fat globules accumulate in cells in the blood vessels that nourish the kidneys, heart, skin, brain and other vital organs, where they'll eventually choke off the blood supply and lead to organ failure.
"For the first year, you'll come to day care at Hadassah for a few hours every two weeks, where we'll infuse you with the missing enzyme," Dr. Rothschild explains to her new patient. "In a few months, the replacement enzyme will appreciably improve your vessels and allow them to continue feeding your organs efficiently. Once we're certain you tolerate treatment, you can have the infusions at home, with a doctor or nurse coming in to help you. Four of our Fabry's patients are already being treated at home."
Simple as this therapy sounds, it is, in fact, a medical breakthrough that has been decades in the making. Until the late 1960's, no one even knew what caused the disease, far less how to treat it.
"We know today that Fabry's belongs to a group of more than 40 genetic diseases, each one caused by the lack of a particular enzyme whose job it is to break down various complex molecules in our bodies—fats, sugars, proteins and so on," explains Dr. Gideon Bach, head of human genetics at Hadassah. "Different diseases result from specific enzyme deficiencies, and thus whatever is stored to excess. If the missing enzyme can be replaced and penetrate the 'storage areas,' or lysosomes, in each cell, where the substance the body has failed to break down is stockpiled, then we have an effective treatment for a range of illnesses that includes not only Fabry's but also Hurler's, Hunter's, Pompe's and Gaucher."
In Hurler's and Hunter's diseases, cartilage and bone are affected, leading to dwarfism. In Pompe's, the heart and voluntary muscles, including those that control walking, are severely weakened. In Gaucher, the spleen and liver are affected.
"Once we learn how to get the enzymes across the blood-brain barrier," Dr. Bach adds, "we'll add Tay-Sachs to this list as well." In Tay-Sachs the fats that are not broken down accumulate in brain cells and destroy them.
Dr. Bach played a major role in discovering what caused this group of diseases—and, as a direct outcome of this discovery, how to treat them. Researching sugar-breakdown disorders at Hadassah and the National Institutes of Health in the United States more than 25 years ago, it was he who identified the defective enzyme in Hunter's disease, whose malfunction causes the destructive accumulation of sugars in brain cells and other tissues—and so helped uncover the mechanism of lysosomal storage disorders. His group went on to show that under certain conditions, the deficient enzyme can be replaced. "It was because I found the Hunter's enzyme all those years ago that I decided to specialize in genetics," Dr. Bach explains.
Set to retire in mid-2005, he leaves a medical specialty that has evolved during his professional lifetime from theoretical research and genetic counseling into practical treatment that restores quality and length of life.
"A generation ago, genetics was an aloof branch of medicine, more for the researcher than for the practicing physician," observes Dr. Rothschild. "Today, geneticists are hands-on doctors, specialized either in pediatrics like myself, gynecology or internal medicine, as well as in genetics. Today, we have something concrete to offer our patients."
While geneticists can't offer a cure—which they believe will come primarily from gene therapy once it manages to implant genes that can manufacture the missing enzymes—they can hold the disease at bay by regularly replacing the enzymes.
"Once the missing enzyme is in the cell, it breaks down the undegraded fat, protein or sugar molecule and thus helps correct the abnormal picture," explains Dr. Rothschild. "It's not a cure because within a couple of weeks the enzyme disintegrates in the body and has to be infused again, but it appears to be a very good treatment."
The decades-long lapse between Dr. Bach's discovery of missing enzymes and their replacement by infusion has been logistic. Very large quantities of enzymes are needed for what is a lifetime treatment for hundreds of patients, so therapy had to wait until the development of recombinant technology to synthesize enzymes in bulk.
Replacements for the missing enzyme that causes Fabry's (known both as alpha-galactosidase A and ceramidetrihexosidase) are being produced by two competing pharmaceutical companies located a few blocks from one another in Cambridge, Massachusetts—the Genzyme Corporation and Transkaryotic Therapies. Genzyme's Fabrazyme received Food and Drug Administration approval in 2003, along with exclusive marketing rights for seven years, giving the company freedom to charge what it sees fit.
"This makes the medication very expensive," says Dr. Rothschild, "but, by directing Israel's health funds to cover its cost, the health ministry has enabled its use in Israel."
Fabry's affects one in every 40,000 people of all genetic backgrounds; Hadassah estimates there are dozens more with the disease in Israel, many of them perhaps not yet aware they are ill. With the mutated gene transmitted on the X-chromosome, only the mother need be a carrier to produce an affected child. She has a 50- percent chance of passing on the gene to all her sons and daughters. Affected fathers pass the gene to all their daughters but none of their sons. All boys who inherit the gene will develop the disease. All daughters of affected fathers will be carriers, and most will develop the disease, but they will fall ill later in life than their brothers.
"Until very recently, Fabry's was believed to be an X-linked recessive disorder—that is, solely a disease of males—that didn't appear until adulthood," says Dr. Rothschild. "Today we know that women not only carry Fabry's but can develop its symptoms as well. Its classification has therefore been revised to X-linked dominant."
Another recent discovery is that Fabry's symptoms exist in childhood. "Until a few years ago, a 13-year-old girl who complained of burning hands and feet would be sent to a psychologist," says Dr. Rothschild. "Today we know different. We know that age of presentation can be as early as childhood and the symptoms and clinical course are all variable. Match this with the rarity of the disorder and it's understandable why Fabry's frequently goes undiagnosed for a long time."
Such was the case of a Jerusalem mother and her three sons, all now being treated at Hadassah by a team comprising nephrologist Rivka Backenroth, pediatricians, an internal medicine specialist, a cardiologist, day care nurses, a social worker, an art therapist and lab technicians.
"The mother is a widow with very little income and she was in deep denial about her and her sons' illness," says Dr. Rothschild. "She eventually agreed that they all be tested for Fabry's but refused to return for the results. With a nurse, I went to their two-room apartment with the distressing news, to tell them about treatment and encourage them to take it. We later went to their local clinic to inform its doctors of the diagnosis. Together with the home-care-treatment nurse, I returned to lecture on Fabry's to the clinic's physician and his team. It was well received and suggests future directions for communication between the primary care unit and the hospital teams."
In this instance, the primary care doctors had lacked an important diagnostic clue. Twenty years earlier, the woman's father had come to Hadassah with an infected finger. Routine biochemical tests showed an abnormality, which prompted medical center nephrologists to diagnose Fabry's.
"There was then no specific therapy for Fabry's," Dr. Rothschild admits. "Doctors could only offer him treatment of symptoms or kidney transplant."
With coaxing and persuasion, the mother and her sons now come regularly to Hadassah for infusion of the enzyme. But Hadassah's care of its Fabry's patients, says Dr. Rothschild, is about far more than administering infusions. Hadassah social worker Corinne Zeevi Weil, responsible for patients with a treatable genetic disease, has helped this family obtain much needed National Insurance benefits. Art therapist Liza Hermoni-Shimei (no longer at Hadassah) had helped the two younger boys cope with their illness and its treatment.
"These youngsters have a lot to deal with," says Hermoni-Shimei. "Their father is dead and their mother is very ill. They are trying to understand their lives and their illness, both cognitively and emotionally. They are 10 and 14 years old, an age when youngsters want greater control over their lives, not dependence on nurses and doctors. Art therapy contributes to physical, emotional and spiritual healing by helping patients express themselves, explore feelings, develop mastery and cope with stress. The younger boy, in particular, was very cooperative, and there's no doubt that the therapy has helped him cope."
With more than 4,000 genetic diseases identified worldwide, each the result of a genetic misprint somewhere among the estimated three billion chemical sequences in the human genome and all of them until recently untreatable, successful enzyme-replacement therapy is big news for many people. The hundreds of thousands of research hours invested by human geneticists over the past generation are beginning to pay off.
"The more we know about a disorder, the closer we come to treating it successfully," says Dr. Bach. "It is exciting and unbelievably gratifying to see effective treatment emerge from early discoveries."
For information on matters such as prenatal testing, contact the National Institute of Neurological Disorders and Stroke (www.ninds.nih.gov/disorders/fabrys/fabrys.htm; 301-496-5751).