T.A.P.D. Blue (and White)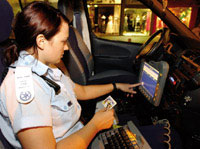 Crime-fighting in Israel's urban center is just another night on the job for Tel Aviv's police officers. With the ongoing security threat of the intifada rounding out an agenda of raiding brothels, breaking up parties and investigating robberies, the streets are safer thanks to these men and women.
Lights flashing, a patrol vehicle speeds along in hot pursuit of the source of the booming electronic trance music that is piercing the quiet Tel Aviv night. Is it coming from a bar? A nightclub? A private party?
"I should have known!" exclaims Police Officer Yaniv Yefet as he drives around a corner in the center of the city. The music is blasting from two huge speakers strapped to the roof of a large black van surrounded by a bunch of Bratslav Hasidim. With their van stationary at a traffic light, eight young men are dancing wildly on the sidewalk, their matching white shirts, woolen yarmulkes and sidecurls flying.
"Am Yisrael rotze simha [The People of Israel want joy]," yells a chubby-faced Hasid, who is unperturbed when Yefet signals for the van to pull over and turn off the music.
"Some people are trying to sleep, you know," Yefet tells them. Unlike most ultra-Orthodox Jews, Bratslavers are known for their willingness to adopt some of the trappings of secular culture to spread their message. "Get out your identity cards," Yefet instructs with considerable patience considering it is close to midnight.
Yefet's partner, Officer Carmit Dahan, quickly taps numbers into the patrol car's computer, checking up on the group. They are all identified as 17- to 25-year-old yeshiva students with no previous convictions. To the driver, about whom Yefet makes a special note, he says quietly but firmly, "If the station gets a single complaint about a noisy Bratslav van again this evening, we will know exactly who to send the fine to. Now go home, some of us still have a full night of work ahead."
The overnight shift for the 16 members of Patrol Unit No. 2 of the Tel Aviv City Police began at 9:30. There are no warm donuts or mugs of coffee to welcome them to the briefing, just cigarette smoke and low-grade instant coffee in plastic cups. In addition to Dahan and Yefet, Officers Yefgenia Shmein and Shlomo Natan are on duty; the two pairs will meet up early in the morning in a raid on a brothel. The officers are dressed in a uniform of navy trousers and light blue shirts, adorned with name tags and "pips" on their shoulders to denote ranks—fairly smart by Israeli standards. The same cannot be said of the unit's cramped briefing room, which barely has space to seat all the officers on the wobbly plastic chairs, let alone house their stuffed lockers and the piles of paperwork on the desks of the unit's head and his deputy.
Chief Inspector Yossi Patito—one of the "eldest" (he is in his thirties)—stubs out his cigarette and interrupts the lively chatter about Maccabi Tel Aviv's tactics in last week's basketball game.
"I want to remind you of what happened yesterday," Patito says, referring to the previous evening's five-hour security alert that followed reports of a terrorist infiltration north of Tel Aviv. Reinforced by the Army, the police set up roadblocks at the entrances to towns in the Sharon region to check on all vehicles wishing to pass; it was later announced that they had averted a terror attack.
But these cops need no reminder of the ongoing security threat. The only decorations in the brightly lit room are the plaques and photographs covering one wall in memory of Salim Barakat, a colleague who was stabbed to death by a Palestinian terrorist on March 5, 2002, less than a mile away. Barakat, a member of the Druze community, had been the first officer to arrive at the busy Sea Food Restaurant after the terrorist had opened fire. In one of the more tragic twists of the intifada, the second Palestinian uprising that began over four years ago, bystanders reported seeing two men fighting but could not identify the terrorist because both looked like Arabs; Barakat was on plainclothes duty at the time. Speedier assistance may have prevented the death of the 33-year-old officer.
With the memorial to Barakat as backdrop and an overzealous air conditioner as soundtrack, Patito turns briefly to the topic of fighting crime. "Don't go into nightclubs alone and pay special attention to ATM's," he warns matter-of-factly, reminding his officers that not only is it a Thursday, when bars and nightclubs in Israel are at their fullest, and drug and alcohol consumption at their most excessive, but it is also the first Thursday of the lengthy summer vacation from school. Finally, Patito informs each of the eight patrol units which nightclubs he wants them to visit tonight; the officers leap out of their seats, ready to go.
As she makes her way toward the Skoda Octavia in which she will spend the night, Dahan whispers that she likes working alongside Yefet. "He gives a lot of himself and I can learn from him," she says, pushing her long brown hair over her shoulder.
Dahan is not a career police officer; she is serving in lieu of the mandatory two years in the Israel Defense Forces. With just a few months to go before she completes her term, Dahan, 20, describes herself as "a girl who likes action." She opted to serve with the police—like 500 other young women each year—because she viewed the work opportunities there as far more interesting than the administrative duties most female military recruits are given. "My parents are proud of me, too," she says, sheepishly adding that her performance at high school had provided them with little in that department.
Yefet, 28, is the driver for the night. Self-assured with six years' experience on the force, his evening starts with a few gentle reminders to drivers to fasten their seat belts and not to double park. "I don't always write tickets," he explains.
The partners' first destination is a nightclub on the eastern side of the city. If the venue—ordered closed by the local court for operating without a license—is found open, the two plan to enter and arrest its owner. For the moment, however, the club looks deserted; Yefet says they will return periodically throughout the evening to check on it.
Next stop is the Azrieli Center, the Israeli equivalent of the twin towers and undoubtedly one of the country's highest profile terrorist targets, even prior to the 9/11 attacks in the United States. "We are looking for anyone or anything suspicious," says Yefet as he drives toward the distinctive circular and triangular skyscrapers that house a shopping mall, multiscreen cinema and office space. Here, the police work in conjunction with the national security services and a private security company employed by the center. Tonight Yefet and Dahan see nothing amiss, as they run the license plates of a few cars in the area through their computer before moving on to a nearby industrial zone. According to Dahan, who operates the flat-screen computer from her passenger seat, the recent addition of this technology to all patrol vehicles has revolutionized their work. She does not mourn the days when she had to radio through to headquarters for information, wasting precious minutes hanging on the line.
Throughout the night, Yefet politely instructs people to show their identity cards, including a couple of men drinking on a bench who turn out to be tourists from Moldova with valid Israeli work permits and a scruffily dressed local youth on his way to a party. All contact is cordial, even when Yefet stops and searches a rather rough-looking married couple carrying beer bottles at the side of Menachem Begin Way, one of Tel Aviv's main highways.
"I'm not carrying any," mumbles the husband in a heavy Russian accent. In his possession, however, is a plastic bag containing syringes, homemade pipes, tin foil and other drug paraphernalia.
The body search that Yefet conducts in a parking lot is reasonably discreet and reveals that, consistent with the suspect's declaration, he is not in possession of any illegal substances. Dahan's computer check reveals that although he has a history of drug violations, none is outstanding; she duly records the encounter, describing in detail the couple's appearance and clothing.
"It might be useful later tonight if we hear about any problems with people who match their description," she points out.
Only after midnight, and a stop to buy some pizza, does Yefet write a traffic ticket. A driver who has parked his car across a single-lane stretch of Tel Aviv's most famous street, Dizengoff, will return to find a $60 fine—and, if he doesn't hurry, a further $75 when his car is towed. "He deserves it, right?" Yefet asks, pointing to the line of traffic forming behind the empty Subaru with flashing hazard lights.
Before Yefet is even back in the patrol car, the emergency calls start flying in. Two burglar alarms have been activated and must be checked out. Another call leads to two scantily dressed teenage girls who report being approached by a man who looks similar to a police sketch of a suspected rapist printed in the newspaper the previous day. The publication of the picture has left the female population of Tel Aviv more on edge than usual.
The girls jump in the patrol car, which circles the neighborhood, but the man is nowhere to be seen. "Really, he was on that corner two minutes before you arrived," one of them says.
Minutes later the patrol car speeds toward a less salubrious neighborhood south of the city where a woman has reported being threatened by a neighbor who, she says, wrongly accused her of stealing a mobile phone. "He's a liar and a thief and he has done nothing but cause trouble since he moved in," screams the woman as she stands in the street in her slippers, waiting to pounce on the officers as soon as they get out of the car. The accused, taking several minutes to open the door, exaggerates a yawn to prove he was sleeping deeply before the police arrived.
"I never stole her phone, but she stole my brother's bike," he shouts before being asked any questions.
Yefet interrupts the playground-style tiff to inform both parties that they are welcome to formally complain about each other at the police station. "But during office hours only," he says, raising his hands in exasperation.
Back in the patrol vehicle and on the way to a routine check at a brothel, the officers receive another call: A car was stolen when its driver left his keys in the ignition while he jumped out to use an ATM. "Some people never learn," Yefet muses as he positions the car at a major junction out of the city, hoping to spot the stolen car.
It is 4 A.M. before Yefet and Dahan finally join a second patrol unit to inspect the brothel, housed above an electrical shop on the outskirts of Tel Aviv. Shlomo Natan and Yefgenia Shmein have spent the night patrolling the center of the city in a police van, chasing after youths throwing bottles from a bridge onto passing cars below and clearing a homeless man out from the lobby of a theater. Natan complains the van is unwieldy and unsuited for inner-city patrols, but a government inquiry following the October 2000 rioting by Israeli Arabs concluded that police reinforcements from the center of the country had taken too long to reach their colleagues in the north. Vans must now be included in each precinct's motor pool.
Inside the brothel, which is decorated with colored lights and exotic plastic flowers, the officers check the identity numbers of both clients and workers, searching for wanted criminals and prostitutes who may be in the country illegally. Prostitution itself is not illegal in Israel, although running a brothel and living off the revenue of a prostitute is. Everyone inside gets the all clear––the owner is nowhere to be seen and none of the prostitutes is a foreign citizen, they are all new immigrants from the former Soviet Union.
Shmein, who immigrated to Israel from Moscow five years ago, says it does not bother her that Israelis who find themselves on the wrong side of the law are often Russian. "They talk to me like a friend," she says of the prostitutes, adding that her fluent Russian helps with her police work.
The two patrols go their separate ways and do not meet again until the shift ends at 7 A.M. On the way back to the station, Yefet and Dahan bicker over whether the night was quieter than usual, as he claims, or busier than usual, as she argues.
They conclude it must have been pretty average before going home to sleep; they must be back at the station by 2:30 that afternoon, fresh and focused for their next shift.