Commentary: The Jewish Shadow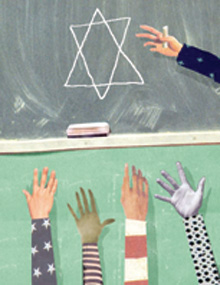 "…And you will spread to the west and east to the north and south, and all the families of the earth will be blessed in you…." —Genesis 28:14.
Wearing a black, knitted kippa, Rabbi Bob Kaplan moved to the chalkboard of a City College classroom, teaching a course on "Jewish Life in New York." His students had just finished a unit on the Lower East Side, and he reminded them of the research paper due soon comparing the portrayals of the neighborhood in the novel Breadgivers and the film Hester Street. The next text would be Leo Rosten's The Education of H*Y*M*A*N K*A*P*- L*A*N. Then he digressed into topics from steerage to Bukharan Jews to the so-called "defense organizations" like the Anti-Defamation League.
Everything looked and sounded as expected in a Jewish studies class, except that nothing looked and sounded as expected. Or, to be more precise, virtually none of the students in this New York City classroom did. Of the 37 undergraduates, 33 were not Jewish. They came from Colombia, Slovakia, Korea, the Dominican Republic, Guyana, Puerto Rico and Harlem. This anomaly held true across the entire department. Ninety-five percent of the 175 students taking a major or minor in Jewish studies was not Jews. Some had been drawn by immigrant curiosity about how Jews had succeeded in America, some by Judaism's common roots with their own pious Christianity. Others had been drawn because the buzz on campus was that these classes were fun.
Sitting in on the lesson that day, I realized I was witnessing an exceptional phenomenon, of which the gentile attraction to Jewish studies was only one part. I have come to think of it as the penumbra effect, the expanding aura of Jewish influence on American culture at large. For decades, we Jews have been justifiably obsessed about continuity, especially as expressed in rates of intermarriage and religious observance; or, alternatively, we have been adamantly defensive that none of these forces could possibly erode our collective identity. Either way, we have stayed stuck within our own discussion, our own debate. Meanwhile, outside the tribe, we have deeply affected America, if we'd only bothered to check.
The boom in Jewish studies—at Quaker colleges, Catholic universities, state institutions where there are few Jews—has coincided with other vivid examples. The television phenomenon of the year, Jon Stewart's The Daily Show, offers topical satire that recalls Jewish comics like Lenny Bruce and Mort Sahl. But while they had personified an edgy humor at a sidelong remove from the larger society, Stewart fits effortlessly into the commercial and cultural mainstream. Meanwhile, as Joseph Lieberman ran for president, his Jewishness barely merited special notice, much the way few Americans remarked on the Roman Catholicism of Robert Kennedy and Eugene McCarthy in the 1968 campaign because John F. Kennedy shattered that political taboo eight years earlier.
In a way, Rabbi Kaplan's class also reconciled two seemingly irreconcilable studies. The 2000 National Jewish Population Survey, conducted by United Jewish Communities, alarmingly revealed that the number of Jews in the United States had fallen by 300,000 to 5.2 million over the preceding decade. Yet, simultaneously, demographer Gary Tobin's survey claimed the figure was 6.7 million, with another 6.6 million non-Jews informally tied to the Jewish community. Personally, I trust the accuracy of the UJC. Still, Tobin is onto something, which I had seen in Rabbi Kaplan's room. Perhaps it cannot be readily measured, but it can be observed: the Jewish effect rippling outward through America like some benevolent form of radioactivity.