Israeli Life: Can We Talk?
Disgruntled about the way official Israel is not getting its message across, Joey Low has come up with a way to win friends and influence people.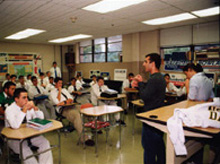 Dan Doliner talks matter-of-factly about the bomb that exploded outside the nightclub he was in. Daniela Prusky looks proud as she recalls her experiences as an air traffic controller in the Israeli Air Force, and Shmulik Israel makes the audience giggle when enthusing about his love of scuba diving.
All three are representatives of Israel at Heart, one of the most unusual hasbara—pro-Israel public relations—efforts to spring up since the outbreak of the second Palestinian uprising in September 2000.
Like other Israel at Heart volunteers, Israel, Doliner and Prusky are between 21 and 27. All have completed their military service, speak fluent English and have spent at least two weeks abroad on behalf of the organization, speaking at high schools, university campuses, synagogues, churches and to the media about "real life" in their country.
The wide range of subject matter is deliberate. "We want to show that Israelis are struggling to live a normal life despite all the stress," says New York philanthropist Joey Low, founder of Israel at Heart. "We want to humanize the conflict and make people realize that Israelis are suffering too, not just the Palestinians. If people really understood what life is like in Israel, they would be more supportive of its struggle."
The philanthropist, who made his fortune in diamonds and the stock market, identifies with the political left in Israel and has funded both the Meretz Party and Peace Now. Yet Low says the groups he sends are not designed to promote any particular policy or viewpoint. "We have kids from the right and the left, some secular, some religious and some living on settlements," says the 53-year-old father of four. "The only common denominator is that they all love their country."
Almost three years ago, fed up with the world media's negative portrayal of Israel, Low brought small groups of young Israelis to speak in front of Jewish and non-Jewish audiences in the United States. Finding the senior Jewish communal leadership utterly unresponsive to his initiative—especially after he accused them and the Israeli government of doing a "disastrously bad job" of defending their country—Low used his own contacts to organize tightly packed schedules of speaking engagements for his groups in a few large American cities.
Today, after spending more than $1 million of his own on the project, he shows no signs of slowing down. He is responsible for sending more than 200 young Israelis abroad and estimates that his group's representatives have spoken before some 500,000 people, have visited over 40 states in America, Canada and 10 European countries.
"Their image of Israelis is the soldier in the tank," says Prusky, a 27-year-old resident of Tel Aviv who used the Spanish she learned from her Argentinean parents to speak in Spain and South America. "They think we are all baby killers who destroy Palestinian houses. They don't know that we really want to live in peace." Prusky, who a short time ago completed a degree in politics and international relations at the Hebrew University of Jerusalem, says that the groups would sometimes debate these topics in front of audiences. "They saw…that these were real issues that we have to deal with. I think it made an impact."
Low believes the best spokespeople are those who have recently been released from the Israel Defense Forces or are still serving in the reserves. "They can talk about their recent experiences and refute accusations made by Palestinians on campus," he explains. "They can explain how they and their friends dealt with the problems they were confronted with. [Jewish audiences] find them refreshing because they are young and with the times. Jewish kids become very proud…."
Doliner, a former idf officer from herzliya, who traveled to Florida earlier this year, was amazed by the ignorance about Israel he found there. "I at least wanted them to know there are more sides to the story than what they see in the media," he notes. "I told them that I personally do not support the route of the separation fence, just as they may not support everything that American troops are doing in Iraq. I said that in general, Israeli officers and soldiers act upon the codes and regulations of the IDF, which are the most moral in the world. I told them that personally when I dealt with Palestinians, I was always polite and that I never hit or shot anyone, but that I do support any action, such as an incursion, that saves the lives of innocents and fights terrorism."
With his checked shirt, tousled curls and wide smile, it is clear that Doliner is far better placed than most Israeli politicians or government officials to inform young people about the complexities of life in the Jewish state.
A law student, Doliner also made a point of telling audiences about the normal side of Israeli life. "I told them that just a few miles from Ramallah, we have malls, night clubs, DJ's, parties and a really good social life. They were surprised to hear that Israel can be a fun place."
By establishing Israel at Heart, Low has joined a growing number of once frustrated individuals who have developed their own initiatives to advocate for Israel. Most are aiming to supplement what they view as misplaced efforts or downright incompetence by those officially charged with explaining Israel's actions and policies to the world media.
In Israel, a number of British-born immigrants banded together to form the Brits in Israel Group to counter anti-Israel attitudes in the media of their native country. In the United States, two Silicon Valley entrepreneurs, Zvi Alon, founder and owner of Netvision, and Eric Benhamou, chairman of 3Com and Palm, created Israel21c (www.israel21c.org), a quasi-news service that pitches stories about Israel's medical, scientific and cultural achievements to mainstream American media. Larry Weinberg, Israel21c's executive vice president, believes that pro-Israel advocacy is ineffective when limited to justifying war and criticizing Palestinians; he describes Low as "a kindred spirit."
In the meantime, the government of Israel—perhaps prompted by this activism—has set in motion Brand Israel, a campaign to promote the country with less emphasis on politics and Israel at war and more on its outstanding medical, scientific and technological successes.
The Israel at Heart Web site (www.israelatheart.org) is packed with letters from those who have heard talks by the people sent abroad by Low. "I finally got a chance to see Israel from a different perspective," writes a Canadian who heard representatives speak at his church last year. "We hear a lot of things about Israel in the media, yet all we hear about is the violence and the atrocities, never the average Israeli's day-to-day lifestyle."
A Jewish student activist in the United Kingdom who studies at a campus with lots of anti-Israel activity wrote that he heard literally dozens of pro- and anti-Israel speakers over the years. "These three made the biggest impact. I have little doubt that many of the political anti-Israel people had their views severely questioned by what they saw and heard."
Low, who wants Israel at Heart to remain an independent entity, has made college campuses one of his top priorities. A board member of Hillel: The Foundation for Jewish Campus Life, Low acknowledges that Natan Sharansky, diaspora affairs minister, has been one of the few Israeli politicians to recognize the difficulties facing Jewish students, but he is somewhat dismissive of the former refusenik's tour of campuses last year. "He made an effort, but he's talking to [the last] generation," he says. "You want someone who can say that sometimes we're wrong."
Last April, Low and a few volunteers interviewed some 400 candidates before choosing 50 to go to North and South America. Those selected attended a two-day intensive-training program to prepare for the kinds of questions they could be asked and to work on personal stories they would share. Trainers include senior Israeli foreign ministry official Gideon Meir, who gives his perspective on the government's efforts; specialists in effective communication and debating techniques; plus several former Israel at Heart spokespersons.
Low is particularly keen to include Ethiopian Israelis. He views their participation as a "very important way to bridge the gap" between Jewish and black communities in the United States. He made sure they were part of the groups that toured Georgia, South Carolina and Tennessee, where they spoke at a number of black colleges earlier this year. "They are a tremendous asset," says Low. "They've been in the Army, at university, they're integrated into Israeli society, although they talk about the difficulties, too. One of the arguments against Israel is that it is racist. You can diffuse the issue when a black person is not only Israeli but is speaking on behalf of Israel."
His Zionist activity and left-wing leanings are a rare combination, Low admits. Generally, politically right Americans are better educated about Israel, have visited more often and are more likely to give up their time for the country, he says. "This upsets and disappoints me, but it's a fact. To have a conscience about where Israel is going is not something that should belong to the right wing. Supporting and defending Israel doesn't mean you are supporting the government."
With this in mind, Low also sponsored a trip of some 55 Israeli students to The Hague in February 2004 to protest the International Court of Justice hearings on the West Bank separation fence. "We didn't see our presence there as supporting the fence or the Israeli government," he says. "Rather, we were supporting Israel's right as an independent and sovereign country to do what it thinks is right to protect its citizens."
Low continues to branch out. He joined forces with a reality television show in Israel and brought 13 Israeli university basketball players to the United States to compete against college teams. "The idea is to promote a better understanding of Israel in America and to put a human face to the soldiers," he says. "Next time the topic of Israel comes up, Americans won't think of negative images. When they hear about soldiers at checkpoints, they will also think of those basketball players they just met."
The Cream at the Top
Fourteen young Israelis dressed for business saunter toward the King David Hotel. They enter a darkened room to face a line of judges—and the television cameras. It is prime-time television in Israel; more than a million viewers have tuned in to witness the battle over who will spend a year in New York working alongside Joey Low for the Israel advocacy organization Israel at Heart.
"No way," was Low's initial response when he was approached by Keshet Broadcasting to be involved in a new reality show. Only after heavy persuasion did he swallow his reservation—"reality shows are stupid"—and agree to participate in The Ambassador.
The big-budget production, which premiered last November, pits the Israelis against each other to test their ability to promote their country before foreign audiences.
Several weeks into the series, viewers witnessed contestants presenting Israel's case in front of skeptical students at Cambridge University in England, selling holiday travel packages to Eilat to non-Jews in France and answering tough questions about Israel's conduct in the West Bank. Low has no regrets.
"I'm happy with how it's going, the show has succeeded in raising a lot of issues," he says, citing an onscreen row about whether immigrants can represent the country as well as native Israelis. Indeed, the show has stimulated plenty of newspaper copy in Israel, as well as lively discussions about how the country should be portrayed abroad. It has also attracted international media interest.
Contestants nominate who should be given their marching orders each week by the panel of tough-talking judges, made up of former Israel Army spokesman Nachman Shai, former Shin Bet Security Services chief Yaakov Perry and television political correspondent Rina Matzliah. At the end of each episode Perry sternly instructs the losing contestant to "Surrender your brief."
Although Israel at Heart has not yet been a prominent feature of the show, Low hopes this will change as the contestants are whittled down and the prize is in sight. He will play a bigger role in the last two episodes, to be filmed in New York, when the final three candidates will meet New York's Mayor Michael Bloomberg and be interviewed by CNN anchor Paula Zahn.
"Slowly…the cream is rising to the top," Low says.
—C.H.