Profile: Eliot Spitzer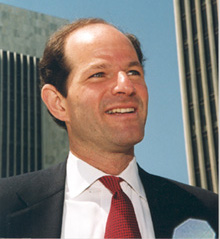 Life is busy when you spend your days challenging corporate corruption and your nights helping three daughters with homework. But it's also rewarding.
In just over six years as New York's attorney general, Eliot Spitzer has driven a formerly low-key office to national prominence as he takes on disingenuous stock brokers and insurance companies, gun manufacturers and out-of-state polluters.
Barely a week goes by that his exploits aren't in the headlines, and his most prominent cases have cost a growing list of executives their jobs. The Sunday Business Section ofThe New York Times recently depicted him beside a wall full of mounted C.E.O.s' heads.In just over six years as New York's attorney general, Eliot Spitzer has driven a formerly low-key office to national prominence as he takes on disingenuous stock brokers and insurance companies, gun manufacturers and out-of-state polluters.
But when asked what gives him an emotional rush, Spitzer eschews gloating and mentions the low-profile cases he's championed: Seriously ill patients who had been denied coverage for expensive treatments by their HMOs, or low-wage delivery workers who claimed exploitation by large supermarket chains or the garment industry.
Victories in those cases are what he has in mind when he calls his office the people's law firm.
"It's an affirmation that the law means something, and that government stands up for those who are often voiceless," he says. "It ties together so many of the strands that I would hope this office stands for."
He's been described as ruthless in his prosecution of investment firms that steer clients toward junk funds and insurance brokers he accused of picking up undisclosed, backend commissions from underwriters.
But Spitzer says the job has humbled him over the years.
"Of necessity, I have become more reflective about the impact our cases will have," he says, relaxing in an armchair in his New York office, high above Broadway. A deck of cards and toy cars adorn a nearby coffee table, and the window by his desk overlooks the former site of the World Trade Center, where he watched the horror of 9/11 unfold more than three years ago.
"The mere fact of serving a subpoena on a company can have a dramatic impact on that company. We need to act with real care in what we do. I certainly don't want to suggest that we were cavalier about these issues early on, but one of the corollaries to our being somewhat successful in cases that got a lot of attention has been the reality that actions have immediate consequences.
"Even before you establish wrongdoing, you have to be thoughtful and careful. It's not something I had focused on quite as much because I think the office was viewed differently."
Spitzer, 45, enjoyed a privileged childhood in the upscale Riverdale neighborhood of the Bronx. His father, Bernard, is a realtor and self-made millionaire, the son of Austrian immigrants. His mother, Anne, is a professor at Marymount College in Manhattan.
One of three children, Spitzer attended the private Horace Mann School, then Princeton and Harvard Law School. But he was taught by his parents not to take their good fortune for granted, and to appreciate life's struggles. In between semesters at Princeton he spent a summer working low-wage jobs.
He would later clerk for a federal judge and enter private practice before beginning his public service career as a prosecutor in the Manhattan District Attorney's office, battling organized crime. He fared poorly in the crowded Democratic primary for attorney general in 1994. But four years later he won the nomination and unseated Republican incumbent Dennis Vacco by the slimmest of margins, less than half a percent.
His overwhelming re-election in 2002 against token Republican opposition speaks not only to his success in winning over the public, but his emergence into a troika of top New York Democrats with Senators Charles Schumer and Hillary Rodham Clinton. His busy second term has put him on track toward the campaign he long hinted at by joking that AG stands for both attorney general and aspiring governor.
Last December, he made it official, declaring his intention to run in 2006.
The worst rap against Spitzer has been that he borrowed millions of dollars from his father for his 1998 bid for office, skirting the spirit of campaign finance rules. He put the matter to rest this year by repaying the loan in full, shortly before announcing his campaign for governor.
One financial columnist, Daniel Gross of the online magazine Slate, recently challenged Spitzer's reputation as Wall Street's sheriff because he seeks civil penalties and settlements rather than jail time for white collar crooks accused of bilking investors. "He's more like a toll collector than a tough cop," wrote Gross.
And conservative editorial writers regularly dismiss his activism in the financial market as political opportunism.
That seems to be the only thing that irks the soft-spoken Spitzer about his voluminous press coverage.
"I never mind disagreement about the merits of a case," he says. "But I find challenge to motive to be—I don't want to say improper, because it's their right to do it—but suspect. There's no basis for inferring what my motive is."
Asked what has affected him most, for better or worse, he cites the moving letters to his assistant attorney general in charge of health care disputes, Chris D'Ippolito, from spouses of patients who may have died without life-saving treatments initially denied by HMOs before she stepped in.
And Spitzer says he relished shaking the hands of foreign-born deliverymen who claimed exploitation by supermarket chains as he handed them a settlement check.
"For them, a few thousand bucks is a life-changing event," he says.
Spitzer is New York's sixth Jewish attorney general. (The most famous of his predecessors is the late Jacob Javitz, later a longtime Republican senator.) Spitzer's family belongs to Temple Emanu-El on New York's East Side, the city's largest Reform congregation whose members also include Mayor Michael Bloomberg.
As Spitzer heads toward the high-profile gubernatorial campaign, there seems to be an increasing interest in his personal and religious life. Recent profiles in both New York Magazine and Vanity Fair noted that Spitzer and his wife, Silda Wall, are of different religions.
He told The Jewish Week during his 1998 campaign that his ethics reflect an upbringing by parents who were "more observant than I am," and that "I bring values inherent in Judaism to my view of the world." Like many New York politicians, he has made pilgrimages to Israel that combine official business with sightseeing, and he has been highly supportive of efforts by Jewish organizations to safeguard religious rights and observance.
He was a key player, together with state Assembly Speaker Sheldon Silver, in the recent crafting of a bill to protect kosher consumers from fraud, replacing an earlier law struck down by the courts. He advocated on behalf of an Orthodox Jew's right to wear a kippa while working at a trendy Manhattan hair salon, and he's lobbied for legislation protecting other religious freedoms in the workplace. He also negotiated with a Texas-based corporation that dominated the New York Jewish funeral market to sell off some of its assets, helping to lower consumer costs.
On the flip side, he wound up in a politically sticky situation with Orthodox Jews when he filed a brief in support of successful civil action brought by a same-sex couple, challenging Yeshiva University's policy against assigning housing at its medical school to unmarried couples. Because the couple was not able to legally marry, the regulation had a disparate impact on them, he argued.
"There was friction between application of civil rights law and an institution we all love and respect," he said. "We have to navigate through those issues… The many intersecting points between law and politics, religion and ethnicity are part and parcel of New York life, and part of what makes it exciting."
Wall, a North Carolina native whom Spitzer met at Harvard, runs a non-profit that teaches children to participate in philanthropy, and often appears with him at political events. When he's not prosecuting C.E.O.s, Spitzer tries to be as normal a dad as possible for their three daughters: Elyssa, 15, Sarabeth, 12, and Jenna, 10.
Most mornings, when he's not in Albany, he makes breakfast, walks the older two to the bus stop, and later tries to make it home in time for homework, dinner, and arbitration of "the inevitable bickering" that arises.
"They couldn't care less that I have subpoena power, they have the same issues everybody else does," says Spitzer.
Avi Shick, Spitzer's deputy counsel, calls his boss "a great dad. It's very hard to get him to do weekend stuff. To the extent that it's possible, he likes to have blocks of time with his family. He's the people's lawyer, but he's his kids' father first."
Now that Spitzer's road to the Democratic nomination for governor in '05 appears wide open—last November Schumer put an end to speculation that he would run—the big question in state politics is who will be on the Republican ticket.
Gov. George Pataki hasn't ruled out seeking a fourth term. If he doesn't run, there will almost certainly be a concerted effort by the state GOP to draft its biggest heavyweight, former New York City mayor Rudy Giuliani.
"I have no idea" about the competition, Spitzer says, declining to handicap. "It didn't factor in my decision about running. I try to live by the principle that if you can't control something, don't worry about it or lose sleep over it, just watch and wait."
Of Pataki, he says: "He is my client, I talk with him in regular basis, we get along well."
But in a glimpse of his campaign strategy, Spitzer cites a litany of issues from health care, infrastructure needs, energy and housing on which he would be "much more engaged and consistent," promising to spend "18-hour days actually working with commissioners and legislators and decision makers." The not-so-subtle implication is that the incumbent is less committed. A recent poll by Marist College gave Spitzer the edge over Pataki in a matchup.
A campaign across New York's far-flung 62 counties will almost certainly cut in on dinner and homework time at the Spitzer homefront. That, he says, will make getaways at their Albany County home more anticipated.
"When we get the occasional weekend to go upstate, they still relish it," he says. "I dread the day when they say, 'You're off and traveling? Fine. Who cares.' So far it hasn't happened."