The Jewish Traveler: Montreal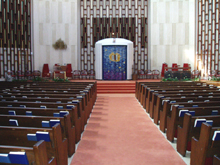 Despite a setback now and then, for Jews this city—which boasts
40 synagogues—remains safe and comfortable, a virtual island in the sun.
Montreal is a great place to be Jewish. Located on an island between the St. Lawrence River and the Rivière des Prairies, the city is crowned by Mont Royal, most of it comprising a large and varied urban park.
Of a total population of 3.5 million in Canada's second largest city, the Jewish minority is highly visible; there are some 40 synagogues, 32 of them Orthodox. Not only do Hasidim populate areas such as Outremont and Côte-St.-Luc, but about a fifth of the adult Jewish population are Holocaust survivors.
Catholicism took a leading role in the formation of Montreal and is still a major—though unofficial—force. The official language of Quebec province is French, but most Montrealers also speak English. Most public school classes are conducted in French, and shop and business signs must be in French (although an English translation, in smaller print, can appear also).
History
The first European to reach what is today Montreal was French explorer Jacques Cartier. Searching for the gold of the Orient, Cartier sailed up the St. Lawrence River, reaching the Indian settlement of Hochelaga in 1535. Thereafter, France laid claim to "New France" and made Montreal North America's primary Roman Catholic city.
Non-Catholics were prohibited from settling in Montreal until the mid-1700's. The British Army arrived in 1759 and the following year Aaron Hart was the first Jewish settler. Soon, a few Jews from England and the British colonies arrived, mostly working in commerce and the fur trade. In 1768, about a dozen families from New York, including Hart, founded the Sefardic Shearith Israel Congregation. Services were held in one room until 1777, when they were able to build their first synagogue.
It wasn't until 1831 that the province's Jewish population of 107 families received legal recognition. In 1858, an Ashkenazic group broke away from Shearith Israel and formed the German and Polish Synagogue, later renamed Shaar Hashomayim.
The small Jewish community was much enlarged in the early 20th century by East European Jews fleeing pogroms. By the eve of World War I Jews numbered 80,000, with most working in factories or small family businesses.
The new immigrants first settled near the port, eventually moving to the area now called downtown. The borders of that neighborhood are marked by Bernard Street in the north to Pine Avenue in the south, and from lower Outremont in the west to St. Louis Square in the east.
The arrival of post-World War II refugees brought the number of Jews to 120,000 around 1970. This was before the rise of Quebec's separatist movement and French language regulations that caused many of the mostly English-speaking Jews to flee to English-speaking parts of Canada.
Community
Numbering about 100,000 today, the Jews are scattered about the island, with centers in English-speaking Westmount, in neighboring Snowdon and Côte-des-Neiges, Côte-St.-Luc, Hampstead, Town of Mont Royal and the largely Hasidic Outremont farther east. Many also live in suburbs such as Dollard-des-Ormeaux.
Community organizations often mirror those found in the United States: B'nai Brith, Canadian Zionist Federation, the Canadian Jewish Congress, Foundation for Yiddish Culture, singles groups and a genealogical society. Montreal Hadassah-WIZO is at 1310 Greene Avenue, #650 (telephone: 514-933-8461; www.canadian-hadas sah-wizo.org). The weekly Canadian Jewish News publishes a Montreal edition.
Montreal's Jews were mainly Yiddish-speaking—as the older generation and the ultra-Orthodox still are—with English becoming their main language after the mid-20th century. But within the past 35 years, some 25,000 North African Jews arrived, mainly from Morocco. Their language was French, and it took a generation or so for the English-speaking and French-speaking Jews to reach an understanding. Today, most of the Sefardim work as professionals and are fully integrated into the Jewish community.
Within the past few years, several hundred Jews from Argentina have settled largely in Côte-St.-Luc and Côte-des-Neiges. Most are young professionals.
Until 1998, Montreal had no nondenominational school system. Since Catholic schools admitted only Catholics, Jews were forced to go to English-speaking Protestant schools where, in the years between the world wars, Jews formed nearly 50 percent of the student body.
Today, says Charlotte Amiga-Benzwy, manager of community information services for Federation Combined Jewish Appeal (514-735-3541; www. federationcja.org), about 55 percent of Jewish children attend 22 Jewish day schools in addition to five afternoon schools; in some, Yiddish is taught in addition to French, English and Hebrew.
Before World War II, blatant signs of prejudice were widespread in Canada. More recently, a B'nai Brith Canada annual audit indicated that in 2004 there were 857 anti-Semitic incidents across the country, the highest number in the audit's 22-year history. A Talmud Torah elementary school was firebombed and the atmosphere between Jewish and Muslim students at both Concordia and McGill Universities has worsened during the past year.
"Yes, the rise in anti-Semitic incidents is very distrubing," says Rabbi Michael Whitman of the Modern Orthodox Adath Israel. "However, it comes against a backdrop of a very safe and open sociery. In general, Jews in Canada are comfortable and involved in every level of society. Montreal remains an exceedingly safe place."
In the 1960's, the separatist Parti Québecois was formed. Although it failed in 1976 to win independence for Quebec province, it succeeded in making French the dominant language. Even today, some countryside people assume that anyone who is English-speaking and affluent is Jewish. In the city, the distinctions are less significant.
Sites
For a comprehensive directory to all that Jewish Montreal has to offer, log on to Zipple, the Jewish supersite (zipple.com/yourtown/montreal.shtml).
Boulevard St.-Laurent, formerly The Main, runs south to north, roughly splitting the English-speaking western areas from the French-speaking east. The old Jewish neighborhood of the first half of the 20th century extended up The Main to avenue du Parc.
Today St.-Laurent is a mostly charmless mix of shlocky shops and cheap restaurants. The residents are largely Portuguese, and many signs of the Jewish community have disappeared. Yet what remains still makes the area a sightseeing must.
The only functioning synagogue remaining in the area is Temple Solomon at Clark and Bagg (3919 Clark; 514-288-0561). Created in 1921, the synagogue has Romanesque features on the exterior.
On the corner of Napoléon and Colonial, the Colonial Baths (3963 Coloniale; 514-285-0132), a nondescript, graffiti-emblazoned building, is still open, although only for men.
At a time when most Jewish apartments in the neighborhood had no hot water, these Turkish baths served an important and practical function.
On Fairmount, near avenue du Parc, is Montreal's oldest Hasidic neighborhood. The tree-lined streets are typically old Montreal: two- or three-story houses, many with staircases built outside to save space indoors. Families with lots of little children, the boys with earlocks flying under their bike helmets, linger outside on a warm evening.
Farther northwest, the Snowdon-Côte-des-Neiges neighborhood is home to the Jewish Information Referral Service (514-733-1818). Housed in a recently remodeled building at 1 Carré Cummings Square, it provides spaces for senior activities (in English and French), a cafeteria, gift shop, library and a two-story Holocaust Memorial Centre (514-345-2605). A small museum displays photographs and artifacts from pre-World War II Europe.
Across the street, at 5170 Côte-Ste.-Catherine, is the Saidye Bronfman Centre for the Arts (514-739-2301; www.saidyebronfman.org), which houses a Yiddish theater, art galleries, studios and a computer center. Also in the neighborhood, at 4894 rue St.-Kevin (514-737-3695), is Canada's oldest congregation housed in a modern building that takes up much of the block. Today largely serving North African and Middle Eastern refugees, the Spanish and Portuguese Synagogue, originally called Shearith Israel, follows Sefardic customs. The sanctuary is illuminated with colorful windows in a Star of David motif.
Around the corner, busy rue Victoria is crowded with Vietnamese and Indian restaurants and markets. A few blocks up, all kinds of Judaica can be found at Rodal's Hebrew Book and Gift Shop (4689 Van Horne; 514-733-1876). There are many synagogues, including the Chabad Centre (4691 Van Horne; 514-738-4654) and the Hungarian Beth Hazichoron (3910 de Courtrai; 514-733-8007).
Farther from the center of town is Côte-St.-Luc, a large area of apartment buildings and single-family houses. It's the home of the Cavendish Mall, where many Jews shop and eat at the glatt kosher Jerusalem Express (5800 Cavendish Boulevard, 514-488-5382). The largest synagogue in the neighborhood is the beautifully landscaped congregation Beth Israel Beth Aaron, a sprawling brick building that dominates its busy street corner (6800 Mackle Road; 514-487-1323).
Closer to the city center is Westmount, a prosperous, mainly English-speaking neighborhood. Rue Greene, south of Sherbrooke, is lined with chic boutiques, galleries and antiques shops. Westmount is the home of Canada's oldest Reform congregation, Temple Emanu-El (4100 Sherbrooke; 514-937-3575), founded in 1882 and joined in 1980 by Temple Beth Sholom. The modern sanctuary seating 1,000 is topped by a tent-like ceiling. A museum containing some 300 objects including Kurdish amulets, Italianketubot and an 18th-century Dutch Haggada is open before Friday evening services and by appointment.
At 450 Kensington, just off Sherbrooke, is Orthodox Congregation Shaar Hashomayim (514-937-9471), the largest in Montreal, which had its beginnings in 1846 in a rented room. The doors to the six-story sanctuary that accommodates 2,000 are the original ones from its 1922 building. An upstairs hall is lit by magnificent modern stained-glass windows depicting the burning bush.
General Sights
Montreal's main drag is rue Sherbrooke. Running from near the island's eastern end, it passes Olympic Park, home of the 1976 Olympic Stadium. Also in the park are the cantilevered Olympic Tower; the biological museum called the Biodome; and across the street, the Botanical Gardens, one of the world's largest.
Farther west, the street heads downtown, skirting McGill University. The McCord Museum (690 Sherbrooke; 514-398-7100) is one of Canada's most important history museums. Nearby is the Golden Square Mile, the city's financial hub. The Musée des Beaux-Arts (1379 Sherbrooke; 514-285-2000) was constructed in 1912 of Vermont marble and has a modern pavilion across the street designed by Israeli architect Moshe Safdie.
Paralleling Sherbrooke is rue Ste.-Catherine, perhaps the longest shopping street in North America. Elegant boutiques can be found on rue Laurier, parallel to Sherbrooke, and Ste.-Catherine farther north. Montreal's only museum of contemporary art, Musée d'art contemporain de Montreál, is at 185 Ste.-Catherine West (514-847-6226).
South of Ste.-Catherine, toward the river, is Old Montreal. With buildings dating from the 17th century, it was the city's commercial heart until the late 19th century. The place to visit is Place Jacques-Cartier, which leads down to the old port. Stroll around the old cobblestone streets and ride in a horse-drawn carriage, visit museums and see a replica of a 17th-century warship.
A vast network of subterranean shops, hotels, theaters and businesses are connected by sidewalks and by the Métro.
One of Montreal's best-known markets is the art deco-style Atwater, where people from Westmount shop at the cheese shops, bakeries, flower stands and butchers (though none is kosher).
A relaxing half-day outing is a boat trip on the 19th-century Canal de Lachine, opened in 1825 as part of a chain of canals built to facilitate shipping between Montreal and the Great Lakes. It travels from the Atwater Market through the Lachine area, an early center of Jewish life in western Montreal. The tour (514-846-0428) is accompanied by a Parks Canada guide.
Side Trips
Some three hours away by car, train or boat is Quebec City. North America's only walled town, it gets some 6.5 million visitors a year.
Jews have lived here for two centuries. In the past 30 to 40 years, many have left for English-speaking parts of the country. The community used to have a large Orthodox synagogue at rues Cremazie and Salaberry; the building now houses the Periscope Theatre. A column outside gives the history of the site and Hebrew letters are still visible on the façade. The current synagogue, also Orthodox, is in a house at 1251 Place de Mérici (418-688-3277), which seats about 50. A rabbi comes in weekly and on holidays from Montreal, arriving on Fridays and leaving Sundays.
Personalities
The Bronfman family, descendants of Yehiel and Minnie, who emigrated from Bessarabia, have been instrumental in Jewish and Zionist activities for decades. Samuel became a leader in the world distillery industry and a prominent philanthropist. His daughter, architect Phyllis Lambert, designed the Saidye Bronfman cultural center in honor of her mother; Samuel's sons, Edgar Sr. and Charles, stayed in the liquor business and continued the tradition of Jewish philanthropy.
Israeli-born Yoav Talmi is the music director of the Quebec Symphony. Poet-songwriter Leonard Cohen is a native son and comedian Mort Sahl comes from Montreal, as does actor William Shatner.
Reading
The novels and short story collections of Mordecai Richler, such asThe Apprenticeship of Duddy Kravits (Pocket Books) offer a rich view of mid-20th-century Jewish Montreal. Trevanian's 1976 police procedural, The Main (Harcourt), is set in Montreal's old Jewish neighborhood.
Recommendations
Montreal's summers are hot and its winters are quite cold, making spring and fall the best seasons to visit.
Some downtown hotels are the sleek new Sofitel, the Best Western Ville-Marie and the elegant old Ritz-Carlton. Further information is available from Tourisme Québec (877-266-5687; www.bonjourquebec.com).
Kosher restaurants include Bistrolé (5375 Queen Mary Road; 514-487-6455); Chez Benny (5071 Queen Mary Road; 514-735-1836); and Casa Linga (5095 Queen Mary Road; 514-737-2272). Pizza Pita (5710 Victoria; 514-731-7482), Pizzeria Tatti (6540 Darlington; 514-734-8289) and Pizza Manne (5834 Westminster; 514-369-0550) all serve kosher you-know-what. Kosher grocery stores and bakeries can be found in Outremont, Côte-St.-Luc and in the Van Horne shopping center, among other places.
Free Jewish walking tours are offered periodically by the Jewish Public Library at the Federation CJA; talk to Roxanna Brown at 514-345-2627. Allan Raymond (514-489-8741) also gives private tours of Jewish Montreal.
An excellent general guidebook to Montreal is published by Insight Guides. The Jewish Information Referral Service (jirs@fedcjamtl.org) publishes a Quick Guide to Jewish Montreal.
Finding one's way around Montreal is as easy as discovering the city's rich Jewish heritage.