Family Matters: Get It in Writing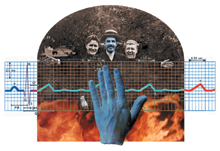 End-of-life issues are difficult, but recent news headlines have shown that putting off uncomfortable discussions now can mean conflict for yourself and your loved ones later.
Nearly 12 years have passed since my maternal grandfather, at the age of 79, had a massive stroke that left him in a persistent vegetative state (PVS). He couldn't speak or get out of bed and needed a feeding tube to survive.
My mother's siblings insisted that their effervescent father, the life of every party, would never want to live this way. My mother agreed until the doctor told her that if she denied permission to insert the feeding tube she would essentially be murdering her father. Though she would be passively withholding nutrition (not actively injecting him with a lethal dose of, say, morphine), the doctor believed it was all the same.
The case was taken to the hospital ethics committee, and they agreed it would be permissible to withhold nutrition. We consulted medical experts, discussing his age, history of heart problems and deteriorating physical condition. We also reviewed conversations my grandfather had had with his rabbi. After about two weeks my mother and her siblings decided not to have a feeding tube inserted and left him receiving fluids intravenously. Within a month after his stroke, my grandfather passed away.
To this day, my mother second-guesses herself. She lies awake at night thinking about how her dad, an avid golfer, reacted in the hospital when the PGA golf tournament was on television and his eyes rolled toward the screen when the theme song played. Did he know the tournament was on television? Did he recognize the tune? Or was it an automatic response to the light and sound of the monitor?
Patients in PVS, like my grandfather and Terri Schiavo—whose tragic story filled newspapers earlier this year—have lost higher brain function but retain non-cognitive functions. Spontaneous movements can occur. Some patients cry or even laugh. My grandfather's doctors told us there was minimal brain activity, but it did not stop us from repeatedly analyzing every response, or lack thereof. When he grabbed a ring I dangled before him and managed to slip it onto his finger, was he just responding to the sight and touch of shimmering smooth silver or was he trying to tell us that he was still the same costume-jewelry salesman he had been for 50 years, now trapped in a defective body?
When my mother wept at his bedside, stroked his hand and asked, "Dad, what should I do? Blink once if you want to live, twice if you want to die," he stared at her for a moment and then, like a frustrated child, turned his head away. She still wonders whether he was avoiding the topic or if he even knew who she was.
Had my grandfather expressed his wishes in writing, had he signed a living will or openly talked about end-of-life choices with his family, as my grandmother did, my mother would be spared the guilt that will undoubtedly plague her the rest of her life. Instead, he played golf. He read the paper. He waved his hand in the air to shoo away the topic of death as if it were a swarm of hovering mosquitoes.
My grandfather was a warm and loving man who would do anything for his friends and family. Had he only known what lay ahead there is no question he would have discussed the issue—if only for the sake of my mother, whom he adored.
My grandfather's story has served as a lesson for our community of family, friends and colleagues. I've known for a while that it was just a matter of time before another story, rich in conflict, drama and pain, would serve the same purpose for the larger community, perhaps the world, about the importance of living wills and discussing end-of-life choices.
Doctors, social workers and other health care professionals have been trying to impart this wisdom for years; it's unfortunate that it took Schiavo's life and death to hammer it home.
I believe in her heart my mother knows she and her siblings made the right choice, despite insensitive comments from those who disagreed and ambiguous physical responses from my grandfather. It was truly a blessing that she and her siblings ultimately agreed. Had they not, my mother could have lost them as well as her father.
At the core of cases like these are many difficult ethical debates. Do we have a right to die? Is brain death the same as death? Is a feeding tube considered medicine? Is it murder when you reverse an action in the absence of which a person would have died?
Without a living will or health care proxy, who has the right to chart the course for an incapacitated patient? Does a doctor really know best because of medical expertise or does the family truly know what would be in the patient's best interest? The list goes on and on.
As the heated battle surrounding the Schiavo case proved, there are no universally correct answers. Each of us is guided by our own moral compass. For my mother, like many others, knowing where her religion stood on euthanasia was of great import.
You would think because the primary players in my grandfather's case were of the same faith—the doctor an Orthodox Jew, my mother Conservative, her siblings and father Reform—that religion would not have been a source of strife.
Instead, the friction between the factions was proof of the truth of the old adage: ask a question of two rabbis and you'll get three answers.
One of the most controversial issues in secular and Judaic ethics is the distinction between prolonging life and prolonging dying. It is written in Genesis 9:6, "Whoever now sheds human blood, for that human shall his blood be shed, for in God's image he made humankind." We are instructed to regard our lives as sacred because God is sacred, and we are all created in God's image.
Because of this biblical statement and others, Judaism in general prohibits active euthanasia; however, there is a sympathetic trend in Jewish law that sanctions the withdrawal of factors that may artificially delay the patient's demise in the final phase. So, although we are advised to err on the side of life and forbidden to hasten death, halakha simultaneously authorizes compassion. Throw ever-changing medical information into the mix and what you get is a cloudy definition of when the final phase begins and where to draw the line between compassion, dignity and murder.
It's no wonder that even rabbis within the same denomination respectfully disagree.
The vast spectrum of interpretations is why discussing end-of-life treatment is so important. In 1990, the Orthodox Agudath Israel of America developed the Halachic Living Will for those seeking assurance that their future will be in accordance with their views of religious law. It directs that all decisions regarding the handling and disposition of the body after death follow Orthodox Jewish tradition. It also instructs the agent to consult with and abide by the guidance of the Orthodox rabbinical authority the patient had designated in the will.
Whether you choose the Halachic Living Will or a standard one, another maxim deserves attention: Man plans and God laughs. So, if you go through the trouble of spelling out your wishes, be sure to give copies to your doctor and your proxy.
Carry one in your wallet or purse because if it's not readily available, it is useless during an emergency and measures may be taken that you never would have wanted. Once you decide on a proxy, sit down and have a face-to-face conversation with that individual so you can clearly explain your choices and offer him or her an opportunity to ask questions.
My husband and I are only in our early thirties but we have expressed our wishes to each other and to those we love. There's no telling what the specific circumstances may be, but I know having the discussion now will make it easier for everyone later.
If it accomplishes nothing else, I will have attempted to spare my family the second-guessing, the sleepless nights and self-inflicted scarlet letter my mother wears. No matter how often she is told she did the right thing, that it is what he would have wanted, that he would have been proud of the strength she displayed in a time of crisis, her response has been consistent since the day he died: "I'm gonna burn in hell for what I did."
Living Wills
The American Bar Association's Web site is an excellent source of living will and other health care advanced-planning information, www.abanet.org/aging/ toolkit. It provides scripted conversations and directed questions to guide those interested in choosing a health care agent or proxy, as well as information on other end-of-life issues.
For Jewish perspectives on euthanasia, contact your local rabbi or the following organizations:
Agudath Israel of America 212-797-9000
The Orthodox Union 212-563-4000; www.ou.org
The Rabbinical Council of America, 212-807-7888 www.rabbis.org
The Reconstructionist Rabbinical College 212-576-0800; www.rrc.edu
The Union for Reform Judaism 212-650-4000; www.urj.org
The United Synagogue of Conservative Judaism 212-533-7800; www.uscj.org