Profile: Harvey Fierstein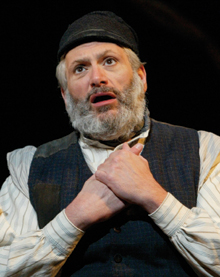 Bringing a softer side—and a raspy voice—to the role of Tevye in Fiddler on the Roof is Broadway's proudly gay and proudly Jewish sometimes drag queen.
When Harvey Fierstein sawFiddler on the Roof for the first time at the age of 10, he was shocked. Though he went to Broadway shows twice a month with his family, none had featured a stage full of Jews. "This was in the days when everyone changed their names," Fierstein recalls. "For a kid in Hebrew school trying to figure out his Jewish identity, to see a man talking to God, and it was our God" was electrifying.
Now, 41 years later, Fierstein himself is Tevye, startling audiences who know him best as the roudly gay, four-time Tony-winning playwright and actor who has often portrayed drag queens. Along with 60 pounds, he has shed his laspt role as Hairspray's Miss Edna, left his mascara and falsies behind and poured himself into the character of a bearded shtetlmilkman, the married father of five daughters. But the gleam in his eye, the comically elastic grimace, the smile that dissolves into pain and loss, the warm glance to the audience that registers every emotion and, of course, the unmistakably gravelly voice, remain clearly Harvey.
Fierstein is becoming a hero for a new generation of Jewish children. One night, he recalls, a little boy with a yarmulke was waiting for an autograph after the show. "He was just staring at me," says Fierstein. "I said, 'Are you okay, kid?' He looked at me and said, 'Are you really Jewish?' I knew I was doing for that boy what Zero [Mostel] did for me, what Herschel Bernardi did for me. It was a wonderful thing to know." He counts Barbra Streisand among the other few openly Jewish performers he idolized as a child.
New York Times critic Ben Brantley lauded Fierstein's performance in Fiddler, noting that "even at his quietest, [he] has the presence of a waking volcano…. Every phrase he speaks or sings, as he shifts uncannily among registers, becomes an event."
Fierstein has won two Tonys for Torch Song Trilogy; one for La Cage aux Folles and one for Hairspray—each in a different category (writing and acting in dramas and musicals). He has appeared in more than 60 Off-Broadway plays and 30 films; written and performed in many of his own productions; toured with a club act, "This Is Not Going to be Pretty"; and written books from Safe Sex, an exploration of the effects of AIDS, to The Sissy Duckling, a children's work about accepting differences that is based on an animated short film of the same name. His run in Fiddler is scheduled to end January 8.
Offstage, Fierstein chats amiably about everything from shopping (he's not a clotheshorse) to the afterlife (he doesn't believe in it), growling only at a loud cellphone, the scourge of actors during performances. We meet at a restaurant down the street from the theater; he is wearing denim shorts, a black, hip-hop-inspired sports shirt and rimless glasses. His hair and beard are naturally gray. Immediately, he discloses a soft spot for Hadassah: His mother, Jacqueline, a teacher, is a life member. He helped her write skits and remembers the Hadassah "gift bar," a fund-raiser for which she kept small gifts in the trunk of her car.
Before he digs into his cobb salad (no potatoes), he throws salt over his shoulder, among the numerous actor's superstitions that he doesn't believe in but does anyway. His father was very superstitious; ironically, he died on Friday the 13th. Fierstein has dedicated his performance in Fiddler to his memory (it was his father's favorite show).
Playing Tevye hasn't deepened Fierstein's Jewish identity—it has always been strong. His great-grandparents immigrated to America (he doesn't know from where); he grew up "Jew-surrounded" in Brooklyn on the same block as the local yeshiva and Jewish community center and attended a Conservative Hebrew school. ButFiddler has allowed him to bring back the "ghosts" of his childhood: his father, Irving, a handkerchief manufacturer; the rabbi who lived across the street; the men who hung out on the stoop of his house during the High Holidays; the women who played mahjong.
He spins anecdotes about the "basic, easily attainable emotions" of the show: When Tevye declares his daughter Chava dead because of her relationship with non-Jewish Fietke, "My eyes are so filled with tears I can barely see the stage; when the scene is over I go offstage screaming and crying, blow my nose, wipe my eyes, and by the time I walk around the back of the stage, I come back on in a good mood." How does he do it? "It's a job," he says simply.
The show appeals to bubbes and zeides, teenage girls and non-Jews alike. He recalls a performance at which one section was filled with Dominican nuns; the second, with a "Middle America girls' bowling team with matching jackets embroidered with bowling pins, sucking super Blow Pops"; and the third, with Hasidim. "As the show went on," Fierstein says, "there was literally no difference between their reaction. All three groups cried, all three groups laughed."
Alisa Solomon, professor of theater at the City University of New York graduate center and the author of Re-Dressing the Canon: Essays on Theater and Gender (Routledge), calls Fierstein a "pioneering voice in the development of openly gay theater and expression," characterizing him as "forthright and unashamed." Even in the theater, which has so many gay and lesbian performers, she says, "those identities had been hidden or suppressed. He made that visibility compelling and sympathetic for all kinds of audiences, not exclusively for the gay community."
To the role of Tevye, she says, he "brings a heimishness, a very appealing softness." The "ghosts of his previous performances" suggest a different way of thinking about the image of the Jewish patriarch. "The idea of Jewish masculinity went through a phase of toughness and sternness; yes, loving and lovable, but with a kind of strictness. In early anti-Semitic lore, Jewish men were portrayed as effeminate; we tried to escape that. Harvey brings us back in a positive way to that softer image."
Offstage, he's more a mother than a father figure. "His dressing room is always open," says Tricia Paoluccio, who plays Chava. "He's so thoughtful it makes it easy to love him as a daughter." As a Tony presenter this past year, she says, Fierstein was entitled to $20,000 worth of gifts; he asked for women's items and divided them among the many women in the cast.
He dressed in drag as Mrs. Claus for the Macy's Thanksgiving Day Parade in 2003, promoting same-sex marriage in an op-ed piece that appeared beforehand in The New York Times. The uproar it aroused caused Macy's to issue a statement that Fierstein was appearing not as Mrs. Claus but as Edna Turnblad. He continues to be active in gay rights and AIDS advocacy efforts: "We're busy fighting," he says. "When it comes to any kind of prejudice there are great lies that go on. At the moment the great lie is, 'I don't hate homosexuals; I hate the sin.' Or that homosexuality is curable…. My brother and I were brought up the same way…. He's as heterosexual as can be and I'm as gay as a row of pink tents…. I don't care if you hate gay people, they have the same rights as other Americans."
Fierstein compares the self-loathing in the gay community with that of past generations of American Jews who sought to hide their identities. He also worries about growing anti-Semitism. "These are the fights that are almost never-ending," he says, sighing, "hate of the stranger, hate of the other."
He was only 13 when he came out to his family. His parents, he says, had "no choice" but to be supportive since the family philosophy was "there's the family, and there's the world."
That attitude resulted from his father's upbringing, spent in orphanages since his mother had died in childbirth. "I'm not saying they were happy about it," Fierstein clarifies, "but those emotions belonged to them." He is still close to his mother, to whom he attributes his sense of humor, and his brother Ronald, a personal manager in the entertainment business with whom he has collaborated on several projects.
As a teenager, Fierstein helped found a community theater, the Gallery Players (it is still in existence), where he took his only acting lessons. By 15, he had developed his own drag act under the name Virginia Hamm. He also studied painting, receiving a fine-arts degree from Pratt University, but soon turned to writing plays; some were produced Off Off Broadway. In 1971, he debuted in Andy Warhol's Pork. After a breakup with a lover, his therapist suggested he write about his experiences: That resulted in one of the acts that evolved into Torch Song Trilogy, the story of a gay man whose bisexual lover jilts him for a woman. To this day, says Fierstein, "I do not deal with loss well. It's one of the things I aspire to."
His parents insisted on a fall-back career, so Fierstein also received his teaching license. The week after he won his first Tony, the Board of Education sent him a notice: "They had a job for me in the Bronx," he says.
Though he doesn't paint anymore, he enjoys quilting, cooking and taking care of the one remaining cat from the four pets he used to have—all rescued animals—in his Connecticut home. Fierstein does not have a partner or children.
While he is on Broadway, he says, "You can't do anything. It's six days a week, eight shows a week. Ethel Merman used to call it the most demanding lover in the world. It's a marriage that has no pity." His future projects? "I have no idea," he answers.
According to Fierstein's version of the story (they vary), it was his idea to play Tevye. "When they put up this production, I said to Susan Bristow from the Nederlanders [one of the producers], 'You know who should star in that show? Me.' She said, 'As what, Yente?' I was still playing Hairspray. I said, 'You will eat those words,' and seven months later, she called and said, 'All right, do you want me to eat the words?'"
Though Fierstein calls himself an atheist, he refers to a personal faith that centers on the belief that "we are all of this earth. We're all interconnected, therefore we need to take care of each other," he explains.
There might be no better description of Fierstein than the song fromLa Cage: "I am what I am/I am my own special creation…/Life's not worth a damn/'til you can say, Hey world, I am what I am."