The Arts: A Musical Coat of Many Colors
The New York music scene is bursting with Yiddish reggae and Judaic jazz. The medley of sounds is bringing Jewish rhythms to a modern beat.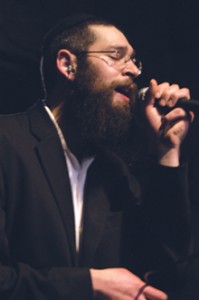 At the Knitting Factory, a hip club on New York's Lower East Side, a lively Purim- shpiel is under way.
Members of the mostly under-30 audience—a few 50- to 60- somethings are packed in as well—sport costumes and a fair share of tattoos and brightly colored hair. Everyone hollers with delight as they watch a leather-clad Haman and a cross-dressing Esther trade punchlines on stage.
Behind the actors, the band, made up of a large number of horn players and an even larger Brazilian-style rhythm section, threatens to spill off the wings of the stage. Led by trumpeter Frank London, the group is composed of London's Klezmer Brass AllStars and Scott Kettner's Maracatú New York. Between scenes in the shpiel, London raises his hand and leads a rowdy, dense goulash of New Orleans funk, samba and klezmer. This triple-decker carnival music sends the crowd into wild dancing across the club's floor.
Welcome to the contemporary New York Jewish music scene. From tried-and-true composer London to self-proclaimed Hasidic-reggae superstar Matisyahu, from experimental rock band Rashanim to biblical text sung over a global beat by Pharaoh's Daughter, artists are creating sounds that reflect their relationships to Judaism. And as diverse in their expression as Jewish religion and culture itself, these musicians are bringing tradition to radically different places.
"I think as Jews we've assimilated pretty much as far as we can into American culture; in some ways we've lost a lot of our own culture," says Aaron Bisman, cofounder of nonprofit music label and events producer JDub Records. "At this point, people [are beginning] to experiment with putting it out there, saying 'Hey, I'm Jewish, this is part of who I am and how I express myself,' and [they] haven't met with anti-Semitism and negativity, but… with huge audiences of people who feel similarly."
It is, in fact, the most obviously Jewish performer, Matisyahu, who is making the biggest waves. An incongruous figure on the reggae stage with his long, dark beard and big kippa, the 25-year-old is one of the Jewish scene's youngest and most successful figures, as well as one of its most Orthodox. Live at Stubbs, his second album on the JDub label, made the Top Ten of Billboard's reggae charts, selling over 40,000 copies and still counting. He has appeared at major reggae festivals, on MTV and on the Jimmy Kimmel Liveshow.
Matisyahu, whose birth name is Matthew Miller, blends classic reggae with hip-hop influences. He raps and sings in a pure, high tenor voice with a Jamaican-sounding accent. Listening to his songs, in fact, it's sometimes hard to tell that the singer is not Rastafarian—except that his lyrics are explicitly Jewish. His songs mention Hashem (God) instead of Jah (the Rastafarian word for God) and reference Crown Heights rather than Africa. For example the lyrics of "Candle": "You light up my lamp; Hashem my G-d illuminates my darkness./ Rise at midnight, sing songs till the dawn, King David said it best."
And since the wordless melody is a tradition shared by Hasidim and reggae, there are sometimes Shlomo Carlebach-style niggunimwoven into the music—for example, in "King Without a Crown."
Many reggae songs, in fact, are explicitly religious, often referring to people and places from the Bible, to the Israelites and Babylon. In a way, by appropriating the sounds and rhythms of reggae and its culture, Matisyahu is reversing the direction of influence.
"It's all truth," he says. "As long as something is true, two truths can work together…. Judaism doesn't own truth, and hip-hop or reggae don't own truth. There's true things in music and in different religions, and if you can find those truths and bring them out, then they can complement each other."
Matisyahu's family was Reform, but he felt little connection to Judaism. He became a Lubavitch Hasid only a few years ago after a trip to Israel. The musician sees no contradiction, however, in expressing his Jewish faith and beliefs using reggae, ostensibly the music of another religion, or hip-hop.
"The basis of Judaism is that the physical world has a spiritual underpinning," Matisyahu explains, "and that underpinning is God, and everything in the world is in the image of God. So in reggae music, you also have a music that lends itself to spirituality, a meditative way of zoning into the world."
The spiritual links this newest reggae star with London, one of the Jewish music scene's founders. The musical settings on London's latest album, Hazonos (Tzadik), are jazz, and he connects the genre to spiritual elements in Judaism. On Hazonos, Cantor Jacob Mendelson sings melodies written by famous cantors—from Berele Chagy to Moshe Koussevitzky—over London's jazz settings.
It's a surprising choice, but for London, such combinations make intuitive sense. "Trying to capture the ecstatic energy of a Hasidictish [party], or the spiritual intensity of a deep piece of chazzones, leads me to explore not only Hasids and cantors, but also John Coltrane, punk music and Armenian duduk music," he says.
And the musical connections work well: Jazz's meditative and ecstatic qualities and liturgical melodies harmonize. The album's most striking piece, "Sheyibone Beys Hamikdosh (In the House)," sets Koussevitzky's original cantorial melody to a funky, organ-fueled groove, something that might raise a few eyebrows in shul.
London has performed with many major musicians in the Jewish world, as well as artists outside the scene, including David Byrne, LL Cool J and They Might Be Giants. He is currently working on a record with his band, the Klezmer Brass AllStars, a k a Di Shikere Kapelye (The Drunken Band), that makes another unusual connection, between carnival music in Jewish, Brazilian and West Indian traditions. "The great Eastern Parkway unity of West Indians and Hasids," London says of the album Carnival Conspiracy (Piranha), referring to the area in Brooklyn where Hasidic Jews and Caribbean expatriates live side by side. If the AllStar's set at the Knitting Factory is any indication, this music has a real future on the dance floor.
If London has chosen to focus on Hasidic sounds, Pharaoh's Daughter blends in music from another part of the Jewish globe—Africa and the Middle East. The eight-member ensemble includes Basya Schechter, Daphna Mor, Meg Okura, Yuval Lion, Shanir Ezra Blumenkranz, Noah Hoffeld, Daniel Freedman and Jason Lindner. The band's global sound comes largely from lead singer-songwriter Schechter's experiences as a young adult traveling through Africa, Turkey and India—"places that were cheap and untouched by modernity"—and absorbing their music.
Their 2004 album, Out of the Reeds (Tzadik), was inspired by teachings from Schechter's childhood. The band set traditional Jewish texts to original music, using a Turkish oud, a cello, Middle Eastern and Indian percussion, an electric guitar and other instruments. Far-flung cultures are united seamlessly: the folk song "Shnirele Perele" takes on new life, the sing-song of the Yiddish word imposed on a Middle Eastern rhythm. "West African Niggun" combines Hasidic and African influences in an original wordless melody. "Afilu," the powerful opener to Out of the Reeds, is a swirling mix of cultures, a Middle East-meets-psychedelic-rock that breaks into an Indian tabla beat midway through. But the lyrics are a Hebrew phrase Schechter heard her grandfather say when she was a child.
"He was a little old man," she explains, "and he would literally tell me every time I walked through the door: 'Basyila, afilu im herev hada moonahat al tzavaro shel adam, al yimna atzmo min harahamim'—'Even when the sharpest edge of the sword is at your neck, it's never too late to ask for compassion.'"
Schechter believes this piece of wisdom, along with the biblical texts, songs and prayers she uses as lyrics on the album, make up some of the better parts of the tradition she learned from her Orthodox upbringing.
While Schechter grew up immersed in Jewish culture, Jon Madof, electric guitarist and leader of the band Rashanim, became interested in Judaism more recently. "I didn't know anything about Jewish music until about five or six years ago—I mean, only peripherally," he admits.
Named after the noisemakers used on Purim, Rashanim includes Mathias Kunzli and Shanir Ezra Blumenkranz. The instrumental trio's sound is a mix of jazz and rock.
For a long time, Madof's religious and musical interests were Buddhism and jazz. In the late 1990's, however, he became intrigued by Middle Eastern and Balkan sounds. At one point, a piece by jazz bassist Mark Johnson caught his ear. "Something clicked for me," Madof recalls, "because the drummer was playing a frame drum," a Middle Eastern percussion instrument. He also met his future wife, who was more religiously observant than he.
Around the same time, Madof discovered the downtown Jewish music scene and John Zorn, an avant-garde composer-musician who founded the Tzadik label and is one of the key figures in the scene. A few years ago, Rashanim was signed by Tzadik.
The group's self-titled first album is influenced by the Balkan and African sounds that started Madof's journey. Complex and unusual rhythms stretch and twist some familiar Jewish melodies. For example, Rashanim's cover of Conservative Rabbi Moshe Rothblum's "V'Shamru" melody has a changing number of beats per measure. "I remember hearing some Balkan stuff and reading that people were dancing to this," Madof says.
Aside from its title, the Jewish elements in Rashanim's newest release, Masada Rock, are somewhat harder to find. The songs are all arrangements of materials from Zorn's "Masada" songbook.
Masada Rock reflects Zorn's basic philosophy of Jewish music: that it doesn't have to have obvious Jewish elements to be part of Jewish tradition. In fact, the album sounds more like a melding of psychedelic rock and experimental jazz than anything else. However, interspersed, almost hidden, throughout are Middle Eastern and klezmer influences.
Madof is not too concerned with issues of Jewish tradition. "As time goes on," he says, "I'm more comfortable with being on a Jewish label and in a Jewish scene and just making music that feels natural for me and not worrying so much if it's Jewish."
It is ironic, then, that artists such as London and Schechter, whose works are conscious continuations and riffs on Jewish culture, are considered quite untraditional, too.
"Everything I do is motivated by the desire to…make good, vital music with a…spiritual and aesthetic sensibility that acts as an inspiration," says London. "This is our Jewish tradition. I feel that much of my music is very traditional, but is also informed by many narratives."
Schechter, who broke with Orthodoxy after college, is motivated by traditional texts—from a nontraditional perspective.
"I'm interested in texts that give voice to the unheard," she says. "Things that have been omitted from exploration in the Torah are [what] I am most drawn to. I think they shed light on a bigger picture or a darker side."
Pharaoh's Daughter's upcoming album, Hagar, due to be released next spring, will focus on women who have been given short shrift by traditional Judaism.
"What about the rape of Tamar?" asks Schechter, who is also part of the house band of Congregation B'nai Jeshurun in New York. "Let's give voice to it."
Musicians with strong religious ties [and] open minds toward Jewish and other musical traditions beyond klezmer are taking the overall cutting-edge Jewish music scene in new and exciting directions that reflect the diversity of the Jewish historical experience," says music critic Seth Rogovoy. "In some ways, the more diverse and experimental the music becomes, the more authentic it really is in relation to Jewish culture."
It all began in the mid-1990's when Jewish artists in the downtown New York jazz world began looking to their roots as a source of inspiration. Zorn created the Radical Jewish Music series on Tzadik and introduced a new Jewish beat in clubs like Tonic and the Knitting Factory. By encouraging artists to create individual connections to Judaism in music, Zorn helped open a door to a different way of thinking. At around that time, The Klezmatics, cofounded by London, popularized hip Jewish klezmer.
Tzadik still puts out most of the key recordings from the scene. Today, however, JDub and Piranha also produce albums and there is no longer a central club for these artists as the Knitting Factory once provided. Groups continue to play in New York clubs, but some, including Rashanim and Pharaoh's Daughter, have found greater popularity in Europe.
Fresh talent has seen both increased media attention and popularity, and new venues continue to emerge. Makor/Steinhardt Center, on the Upper West Side, has proven to be a popular home for experimental Jewish music, and Zorn recently opened The Stone, a not-for-profit downtown club. Musicians have also performed at Joe's Pub and Satalla.
JDub, supported by a Joshua Venture Fellowship, the Nathan Fund and Bikkurim, has been front-and-center in promoting new Jewish musicians with a range of popular styles.
"We don't work in the Jewish world," says Bisman, who launched JDub with Ben Hesse in 2002. "We take Jewish music into the real world…. Hillels and college campus organizations were only seeing a small percentage of young, college-age Jews, and beyond college there's really no Jewish organizations that are hitting anybody…. [By] taking Jewish music and programming it in regular music venues, places where people are already hanging out, and aggressively marketing it…we're reaching people."
The scene draws increasingly diverse audiences. "In the beginning, I remember the audiences in '91, '92 were the classic East Village black- leather audience interested in unique and experimental culture," recalls Michael Dorf, founder and owner of the Knitting Factory. "I think as it got a little more aboveground, it started to pull in tourists and a much more diverse Jewish community."
Dorf runs the annual New York Jewish Music & Heritage Festival; in its second year, it is the world's largest Jewish cultural festival. This festival and other events such as Jewzapalooza last month and the Jewish Beat series at the Brooklyn Academy of Music last winter continue to attract both religious and secular.
A recent JDub show featuring Yiddish rapper So-Called, at the Lower East Side rock club The Slipper Room, drew a dressed-down crowd in their early twenties, as well as a smaller group of Hasidim. On a street in Brooklyn, posters for Matisyahu show up alongside those for mainstream reggae groups. Last July, the musician brought his blend of authentic reggae style and Jewish lyrics to the annual New York Reggae Carifest festival.
Says Rogovoy, "Matisyahu, Frank London, Basya Schechter and Jon Madof are united in [their] deep…rooting in traditional Jewish culture. They know more than just the music, but they are also omnivorous musicians.
"They bring an entire world to their music, and an entire music to their world."
Attention All Roadies 
For more information about upcoming CD's and to find venues in New York and around the world, check out the following Web sites:
Frank London (includes the Klezmer Brass AllStars and a link to The Klezmatics): www.franklondon.com
Matisyahu www.matisyahu.org
Pharaoh's Daughter www.pharaohsdaughter.com
Rashanim www.rashanim.com

Recording Labels

Jdub Records www.jdubrecords.org
Tzadik Records www.tzadik.com
Piranha Records (Jewish Worlds section) www.piranha.de

Venues

www.oyhoo.com-Information on festivals and events from Jewzapalooza to the New York Jewish Music & Heritage Festival, courtesy of Downtown Arts Development
Joe's Pub 212-539-8770 https://web.joespub.com
Knitting Factory 212-219-3132 www.knittingfactory.com
Makor/Steinhardt Center 212-601-1000 www.92y.org
Satalla 212-576-1155 www.satalla.com
The Stone www.thestonenyc.com
Tonic 212-368-7501 www.tonicnyc.com