Commentary: The Better Angels of Our Nature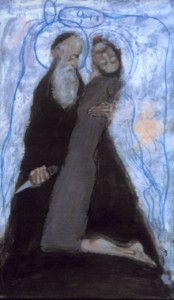 And Abraham stretched forth his hand, and took the knife to slay his son.—Genesis 22:10
As a pediatrician, I have always been disturbed and repelled by the story of the Akeda, a tale of infanticide, and each year it makes me rethink my faith in a God who would request such a sacrifice. As a Jew I start with the premise that life is sacred. So what exactly am I supposed to take away from this story? If God demands blind, submissive faith, what role does free will have? If God wants human sacrifice, it's no wonder we have suicide bombers. I have never been able to accept the premise that Abraham's religious devotion is exemplified by his willingness to commit an immoral sacrifice.
Last year I became obsessed with the Akeda, poring over the Hebrew text desperately seeking an alternate meaning. The story haunted my days and the rhythm of the words pursued me into my dreams. Finally, perhaps because of the hunger-induced clarity of Yom Kippur, I came to understand it in a way that resonates with my core Jewish values.
I see that the Akeda is really about internalizing right and wrong and learning to control our impulses. We should celebrate not Abraham's unquestioning faith but his ability to freely choose good.
The English translations make clear that Isaac is the intended sacrifice; the Hebrew text, however, leaves room for interpretation. One could argue that God doesn't ask Abraham to sacrifice Isaac but that the patriarch erroneously assumes he does. We see Abraham's mental conflict: He procrastinates, traveling around for three days. And when Isaac asks what will be sacrificed, he is given an indirect and cryptic answer.
Despite uncertainty, Abraham continues. Does God's voice drive him? Rabbi Michael Lerner, editor of Tikkun magazine, suggests Abraham does not hear God's voice asking him to sacrifice Isaac but is acting out a "repetition compulsion." Abraham is carrying out the barbaric ritual that was common in his culture. The Torah graphically describes how Isaac is bound, how Abraham—butcher's knife in hand—hangs over his neck.
The text then states that an "angel" stops Abraham from slaughtering Isaac. It is not much of a stretch to imagine this metaphorical angel is part of Abraham, perhaps his superego or conscience. I visualize a hand outstretched over a bound figure, the leather straps of the sacrifice unwinding and rewinding around Abraham's hand like tefilin: "And you shall bind them as a sign on your hand."
What is the true test of Abraham's will? After all, it is difficult to hear God's voice and it is only at the final moment that Abraham is able to overcome his confusion and hear God clearly, to move beyond his past to make a different choice. He chooses life, turns his back on the death cults and reaches for a higher truth. He finds God within himself—and passes the test.
The Akeda neatly concludes with the sacrifice of a ram whose horn just happens to be tangled in a bush. This same horn is blown on Rosh Hashana, beckoning us to reexamine this event. Today, I no longer see in it an admonition to aspire to blind faith. Instead, I see it as a celebration of Abraham's—and our—ability to freely choose good. At Rosh Hashana, Jews everywhere examine their consciences, explore their actions and weigh their choices. This year when I read the Akeda I will understand that Abraham's test is not so different from our own.
Shelley Lanzkowsky, M.D., lives in Morristown, New Jersey.