Hadassah Convention 2005 : What So Proudly We Hail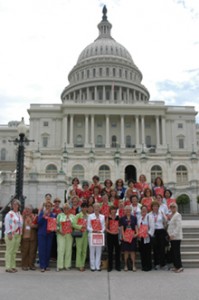 Queen Esther proved how effective a woman can be when she stands up to be heard. Three thousand years later, when Hadassah, the organization named for the Persian queen, held its 91st annual national convention in Washington, D.C., more than 2,000 women stood up and were heard on a range of pressing issues, from stem cell research to foreign aid to the separation of church and state.
The theme of the convention, held July 17 to 20, was "What So Proudly We Hail," reflecting Hadassah's pride in two great nations. Cochairs Judy Palkovitz and Joyce Rabin opened the gathering with "The Star-Spangled Banner" and "Hatikvah" as American and Israeli flags waved. National president June Walker spoke of the power of women to make change. "To what does America owe its singular prosperity and growing strength?" she asked, paraphrasing Alexis de Tocqueville. "To the superiority of its women."
Dynamic women of all ages abounded. At the opening session, Representative Debbie Wasserman Schultz, Democrat of Florida, one of only three women under 40 serving in the United States Congress, encouraged convention delegates to support the Stem Cell Research Enhancement Act, passed by the House in May and just then reaching the Senate. "In Washington it takes courage to stand up for what you believe in," she said. "Go to your senators this week and urge them to pass the House bill without amendments."
At a Monday caucus—The First Amendment: Are Your Freedoms at Risk?—speakers Gloria Feldt, immediate past president of Planned Parenthood, and Nadine Strossen, president of the American Civil Liberties Union, spoke about the recent disintegration of religious neutrality in government, an issue of particular concern for Jews. "The president and political candidates have a right to express their religious preferences," said Strossen, "but Bush's Christian zeal has had an overweening effect on government policies." Feldt expressed concern over threats to privacy rights in the areas of abortion and birth control. "Roe v. Wade [1973] and Griswald v. Connecticut [1965]…are being tied together by the far right," she said. "Reproductive rights are fundamental human rights."
Also on Monday, a plenary with some of this country's most impassioned activists from left, right and center discussed the role of women in politics and policy; the panel was moderated by Dee Dee Myers, who served as press secretary in the Clinton White House. "Women now make up 50 percent of the business world, make 80 percent of consumer decisions and vote in larger numbers, too," said Myers. "But the majority of women voted for Kerry and Gore and men voted for Bush. Do women make a real difference in policy?"
Representative Judy Biggert, Republican of Illinois, offered one response. "In the House of Representatives," she said, "I've found as a woman that you can have your issues, but you have to build consensus, like we did with the Violence Against Women Act."
"You need to come to issues with a consciousness of what women's lives are like and how you translate those lives into action," said Letty Cottin Pogrebin, cofounder of Ms. Magazine. "Otherwise, you're just a female impersonator." Countered political analyst Linda Chavez, "Being female may or may not be something that matters to a female politician. Terrorism was the issue that brought women to Bush in 2004."
Another panelist saw a shift in the making. "Women who went for Bush are now changing and bringing men with them in the polls," asserted Ellen Malcolm, president of the pro-choice advocacy group Emily's List. "It's about governmental intervention into privacy—particularly as Roe v. Wade becomes an issue. I think the Democrats will have an opportunity to take back Congress in 2006."
Another key topic among delegates and speakers was the Gaza disengagement, scheduled to take place a few weeks later. "If the disengagement goes as successfully as we hope it will, the door is open for diplomatic progress," said Tamara Cofman Wittes, a research fellow at the Saban Center for Middle East Policy. "But if the Palestinians can't establish control…then it will be hard for Israel to view them as a future partner." At the same session, Shlomo Avineri, professor of political science at the Hebrew University of Jerusalem, addressed the efforts of Palestinian Authority President Mahmoud Abbas to control groups like Hamas and Islamic Jihad. "We don't know if he'll be successful," Avineri observed, "but at least there is intentionality."
"Prime Minister Sharon is going at [the disengagement] at great personal and political risk, and at a high financial cost to Israel," said Ester Kurz, director of legislative strategy and policy at the American Israel Public Affairs Committee. American Jews cannot afford to take foreign aid to Israel for granted, she cautioned.
The political discussion continued Tuesday morning when 1,500 delegates, carrying signs from every state, boarded buses to Capitol Hill, where they met with their representatives in Congress. For many it was the highlight of the four-day gathering.
Hadassah delegates from Colorado received warm thanks from Representative Diana DeGette, Democrat of Colorado and a cosponsor of the stem cell research bill. "Hadassah was one of the first grass-roots groups to come out for stem cell research," she recalled. "That was enormously helpful in getting the bill going."
In a standing-room-only conference room, Representative Brad Sherman, Democrat of California, spoke to the California delegation about the importance of sanctions against Iran. "While the Iranian people may hate and fear their government, they're proud of having nuclear weapons," he said. "And when Iran has nuclear weapons, they can smuggle them into the United States."
Representative Sue Kelly, Republican of New York, spoke to the Empire State delegation about the need for the Arab Bank Accountability Act. "The Arab Bank in the U.S.," she said, "is a conduit for Saudi money, money that supports extremist groups and pays the families of Palestinian suicide bombers. It must be closed."
Senator Charles Schumer, Democrat of New York, also addressed the New York delegation. "Because Israel has shown strength, there is a chance for peace," he said. "I salute Prime Minister Sharon and hope that he can succeed with the disengagement."
A highlight of any Hadassah convention is the chance to hear firsthand about Hadassah's Israel projects. At a plenary, Shlomo Mor-Yosef, director general of the Hadassah Medical Organization, thanked members for a year that included the completion of the Judy and Sidney Swartz Center for Emergency Medicine and HMO's nomination for the Nobel Peace Prize. "It's very special to stand here with you," he told delegates. "It's a feeling of partnership, of accomplishment and of doing together—you and the hospital staff."
Meir Leibergall, head of orthopedics, informed delegates that Hadassah is creating a bone substitute to heal fractures and regenerate bone with minimally invasive surgery. "We were among the first to do computer-guided hip replacement," he said. "We're now using stem cell replacement of bone marrow. I look to the day when instead of mending broken bones, we restore them."
"We were the first to show that it's possible to obtain various cell types from embryonic stem cells," said Benjamin Reubinoff, director of the Department of Obstetrics and Gynecology and director of the Hadassah Research Center of Human Embryonic Stem Cells. "With your support, HMO will be a central player in curing the debilitating diseases that plague mankind."
Dr. José Cohen, a neurosurgeon, spoke of how he used an innovative coil technique to stop the bleeding and remove a bullet from the brain of David Ben-Gigi, a soldier who was shot while on patrol. "If the power of medicine can save the soldiers who risk their lives for Israel, then each of you is a partner in saving lives," Dr. Cohen said.
Ben-Gigi was there to greet Hadassah, accompanied by his wife and child. "Saving lives isn't an abstract concept for us—it means my wife has a husband and my little girl has a father," said the soldier. His wife was seven months pregnant when he was injured. "I don't just want to thank you, I want to bless you."
Hadassah continues to play an essential role in educating young Israelis. Hadassah College Jerusalem is currently serving over 1,600 students and hopes to reach an enrollment of 2,000 within five years. It recently added a department of environmental health sciences, an area of expertise that desperately needs filling in Israel.
The college's Pre-Academic Preparatory Program helps students who are disadvantaged catch up so they can enter college. "All our youth are gifted," said Rifka Shaul, director of the program, at the session Building Foundations for the Future, "but some open their gifts later than others."
At the Hadassah Neurim Youth Village, sports are vital to developing self-esteem of youngsters from troubled backgrounds. "Our village strives for excellence in sports and academics," said director Nachum Katz at a Youth Aliyah/Children-at-Risk Workshop. "When our athletes see the tremendous efforts that their counselors and coaches [put into] them, they give back in kind." One such athlete is Lena Polin, an 11th-grader and top-ranked javelin thrower in her age group in Israel. "My true home is in Neurim, with 30 other kids and my group parents," she said. "We have everything we need, thanks to you."
The Hadassah Career Counseling Institute has thus far helped 1.5 million Israelis find their place in the job market. "The unemployed come in looking miserable, and after counseling and support they have hope again," said HCCI director Yitzhak Garty.
This has been a banner year for Young Judaea. Camp Tel Yehudah in New York experienced its biggest enrollment in 20 years. And construction on Beit Ar-El, the Judaean youth hostel in Jerusalem, will be complete next month, with Year Course moving in January 2006. Stacy Berkowitz, director of Hamagshimim, Young Judaea's college movement, spoke about the establishment of the Caravan for Democracy, which brought 20 speakers from Israel to colleges in the United States this year and trained 23 Hamagshimim Israel Fellows as positive representatives of Israel on campus. "A year ago at the University of Michigan, only 20 percent of the editorials [relating to the Arab-Israel conflict] in the The Michigan Daily were pro-Israel," she said. "A year after the fellowship, that number is 70 percent."
In all the ways one can measure an organization's health, Hadassah is going strong. In a report sung to tunes from Fiddler on the Roof—which drew howls of laughter from the audience, particularly when national treasurer Ruth B Hurwitz and her real-life husband sang "Do You Love Me?"—Hadassah announced its income total of $135,552,000 for fiscal year 2004-2005. Hadassah International, which held its convention in Nice, France, earlier this year in support of French Jews, raised $6 million for Hadassah hospitals.
More than 200 delegates designated as Young Women/Young Leaders attended convention this year, many of them for the first time. "I'm an attorney, and I wanted to go to Capitol Hill to be part of this convention," said first-time attendee Annette Rosen, 42, copresident of the Annie Leff Group, Houston chapter. "It's been awesome; what amazes me at every level of Hadassah is the dynamism of the women involved."
At Tuesday night's banquet, June Walker emphasized the theme of patriotism. "We can't help but feel proud as Americans to walk through our magnificent capital," she said. "But let us not forget, we're here as Hadassah members with a magnificent commitment—we have come to Washington to stand up for Israel."
That "magnificent commitment" was embodied in this year's Henrietta Szold Award winners, outgoing ambassador to Israel Daniel Kurtzer and his wife, Sheila Kurtzer. He was the first Jew to serve as a United States ambassador in the Middle East, first in Egypt and then in Israel.
"Even during times of stress, Israel is confident enough to build, to survive and move forward," said Ambassador Kurtzer. "I'm happy to report to you—members of what must be the most self-confident and optimistic organization in the world—that Israel is thriving."
In Israel, Sheila served as president of Hadassah International's Corps Diplomatique, a group of ambassadors and spouses who support HMO.
"Each of you in your own way has brought Hadassah to where it is today," she told the delegates. "Please accept my admiration and respect."
If Hadassah women know how to work hard, they also know how to have fun. At the opening session the sketch comedy troupe The Capitol Steps showed just how funny politics can be, while at the Tuesday night banquet singer and Broadway star Dudu Fisher delighted the delegates and had them dancing in the aisles.
On the final morning of convention, delegates gathered for a final panel on the America-Israel relationship, and speakers again turned to the impending disengagement in Gaza. "The vast majority of Israelis believe that disengagement is critical for security, for economics and to create conditions for a meaningful process of dialogue," said Daniel Ayalon, Israel's ambassador to the United States, who also thanked Hadassah for its aid to Israel and humanity.
"My one blanching criticism is that I don't think America [is] doing enough today, right now, to help this situation move toward a wholesome settlement between [Israel and the Palestinians]," said Delaware Senator Joseph Biden Jr., ranking Democrat on the Senate Foreign Relations Committee. "We've got a chance here that we haven't had in the 32 years I've been a senator."
As the convention came to an end, there was reflection on how much the four days had accomplished. "We are incredibly proud to be part of an organization that practices tikkun olam and cares so much about Israel," said cochair Joyce Rabin. "We wanted to interweave pride in Israel and pride in being American Jews into the sessions, and I think we succeeded," added cochair Judy Palkovitz.
"The sense of sisterhood we have at Hadassah is special because we've all come to know each other through our passion for Israel," said June Walker, who instructed delegates to "take that passion with you, bottle it up and pass it around."
Conventional Wisdom 
"I can't emphasize enough the importance of a Day on the Hill. Repeat it. Come back. Meet with those who don't agree with you."
—Representative Carolyn Maloney, Democrat of New York
"At 21, I went to Israel and worked on a kibbutz. I serve on the Armed Services Committee and the Educational Workforce Committee, and I bring to my job every day that time and that love of Israel."
—Representative Susan Davis, Democrat of California
"The road map to peace must cut through Arab schools and textbooks. The battle for peace is in the classrooms."
—Representative Steve Israel, Democrat of New York
on a bill that would help monitor hate curriculum in the Arab world 
"Like you, I care very much about the U.S.-Israel relationship. I want the peace process to go forward. At the same time, we can't expect negotiations in the midst of mortar attacks and ambushes on Israeli citizens."
—Representative Howard Berman, Democrat of California
"Iran is the worst danger. Saddam Hussein was a standard fascist thug, but Iran is full of religious fanatics that will use nuclear weapons against Israel. We need a better policy on Iran."
—Representative Jerry Nadler, Democrat of New York on HR-282
"Women politicians are not taken seriously enough. You hear too much about her clothes, her hair and what she looks like. No one ever talks about George Bush's outfit."
—Representative Judy Biggert, Republican of Illinois
"…the American public favors stem cell research. This could become the civil rights issue of the 21st century. Americans want the right to these treatments…and they're being thwarted by ignorance."
—Daniel Perry, president, Coalition for the Advancement of Medical Research

"I speak to a lot of young women today and ask 'Are you a feminist'? They say, 'No, I'm not a feminist, but I want a career and equal pay and a husband who shares childcare, but I'm not a feminist.' Where did we go wrong?"
—Dee Dee Myers, former White House press secretary

"Going to Israel as a nurse was the most important thing I've done in my life other than giving birth to my children." —Florence Nathanson
one of the first health care professionals to work at a Hadassah facility 
"This convention is a life-altering experience. There's such camaraderie…and it's inspiring to see that Hadassah has such a large voice. And I've learned a lot about genetic testing and stem cell research."
—Ronda Finkelstein, nurse, member, Zippora chapter, Broward County, Florida 
"If there hadn't been an Israel, we'd have had to invent one."
—Senator Joseph Biden Jr., Democrat of Delaware