Israeli Life: High Holidays for First-Timers
Secular Israelis yearning for a spiritual connection but alienated by conventional Judaism can now choose from a whole range of innovative programs.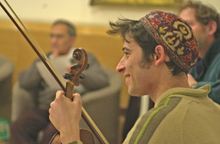 In Israel, as Rosh Hashana approaches, a hush descends over the land.
Intensive courses on teshuva(repentance) are taught inyeshivot, and people rise before dawn to recite the haunting selihot, crying to God for forgiveness and a good year. This year, after the painful removal of settlers from Gaza by their fellow Jews, there is a particular need for healing and forgiveness.
For secular Israelis, disconnected from Jewish tradition and uncomfortable in a synagogue, the atmosphere can be particularly trying.
"It is difficult to be oblivious to the atmosphere in Jerusalem during the month of Elul [the month preceding Rosh Hashana]," says Yair Harel, a musician. Harel is one of the leaders of Kehilot Sharot (Communities Singing). The three-year-old organization, founded by Yossi Ochana and supported by the Avichai Foundation, teaches Israelis—religious and nonreligious, men and women—to create and sing piyyutim, hymns. At this time of the year they focus on the High Holidays. Kehilot sharot is one of several options that have sprung up for secular Israelis hungry for a spiritual connection to Judaism outside the traditional setting. The most popular of the yom tov endeavors is the opening of community centers for holiday services. The most established of these programs is Yom Kippur for Everyone, supported primarily by the Commission on Jewish Identity and Renewal of the UJA-Federation in New York with help from Israeli government ministries and the San Francisco federation. It began six years ago with a small pilot program created by the Orthodox Tzohar Forum of Rabbis, whose aim is to foster better relations between religious and secular Jews. Prompted by then-Minister of Diaspora Affairs Rabbi Michael Melchior, the Israel Association of Community Centers took over the program four years ago, and soon it was functioning in 10 communities. "According to the Avichai Survey on Jewish Practice, 70 percent of Israelis do not attend synagogue," says Maurice Goldstein, Israeli liason to UJA-Federation in New York. "For over ten years, we've tried to create alternative gateways to Judaism outside the synagogues. Yom Kippur for Everyone fits with this agenda. Since then, holiday celebration has expanded to include Rosh Hashana, Hanukka, Pesah, Purim and Rosh Hodesh." "[Yom Kippur for Everyone] became so popular," says Eli Gur, director of Jewish Community Renewal at IACC, "that by 2004 we were organizing services in over 100 community centers, with 30,000 people attending." Before a holiday, local leaders and the neighborhood center's steering committee decide which kind of services, Reform, Conservative or Orthodox, are appropriate for their community. Workshops on customs and symbols of the holiday precede services, and user-friendly prayerbooks are helpful for those who grew up without any Jewish background. "There is a complete Yom Kippur service in certain centers," says Gur. "Those leading the prayers pause for discussions about the meaning of certain prayers, and people in the congregation are able to discuss their feelings." In more traditional neighborhoods the community leadership might contact Tzohar for guidance. "The rabbis are guests of the community," explains Gur. "No one can tell people how to dress or where to sit. Families can sit together, but there are also sections for those who seek gender separation." Secular Israelis have returned to studying the sources, but there is also a need for a spiritual community life, and I don't mean only sing-ins or studying Bialik," says Rani Jaeger, a fellow at the Shalom Hartmann Institute in Jerusalem. He created the Israeli Prayer House at Alma Hebrew College in Tel Aviv for Shabbat services. It attracts 70 people each week, and by popular request Jaeger is now organizing Rosh Hashana and Yom Kippur services. "The High Holidays raise doubts for secular Israelis…because we pray to God with a question mark," he says. "We discuss our doubts. We might not come to a consensus, but the questions do not destroy us, either." Incorporating prayer into one's life sometimes starts out in a small, personal way. Eleonora Mitnizky and her husband began a Reform Yom Kippur service in their home in Ashdod five years ago. Mitnizky, who had been a Yiddish actress in Kiev, participated in a Reform leadership seminar in Israel and felt the need for the service. "If I would have told my friends to come to shul, they would have laughed at me," she says. "They're not used to it. Instead, we put up a Russian sign in our neighborhood announcing a discussion of Kol Nidre. We discussed selihot and asking forgiveness. People were astonished at the wisdom of Judaism. They learned that one must ask forgiveness from one's fellow man before God will grant forgiveness. We let them air all their questions." Eleonora Gaichman, who also made aliya from Eastern Europe, took part in the Mitnizky's first service. "I felt like I finally found a place on Yom Kippur where we can feel that we're also Jews," she recalls. Gaichman had had a very negative experience attending traditional synagogue services. "People could not care less whether I was there or not," she says, "but [my family and I] came to Israel, and we want to be part of the country." In their second year there was not enough room in the Mitnizky's living room to accommodate all who wanted to participate. Since then services take place in a community center, under the auspices of IACC. "I [now] realize that Yom Kippur is not a sad day," says Gaichman, "but brings happiness because it is an opportunity to create a direct connection with God. Our whole family comes to services. I was once afraid to fast, but I've learned that I can get along without food one day. My soul is full." IACC also works with the Institute of Holidays of the Kibbutz Movement at Kibbutz Beit Hashita, which maintains an archive of materials on creative ways to celebrate holidays. The institute sends people out to teach new olim about yom tov. "The important thing is that Shabbat and holidays should not be like every other day," says Binyamin Yogev, director of the archive. In some Kibbutzim holiday celebrations are restoring community spirit. "Once, everything was celebrated in the community," says Yogev. "But [with] privatization, these practices became less common. Now there seems to be a desire to reestablish community practices. On Rosh Hashana eve, there is a discussion about the past year, giving an account of what happened in the kibbutz and the country." At Beit Hashita, Yom Kippur became identified with the Yom Kippur War. The kibbutz lost 11 of its sons and members would wear black and say Yizkor. "After the war, we were humbled," says Shuri Minart, a widow who lives on the kibbutz. "We thought that we could change the world, but we learned that not everything is in our hands." Recently, kibbutz members have begun wearing the more traditional white as a way of connecting to the holiday. They do not claim to be religious, but they end the day pleading, "Open the gates, open the gates."