The Jewish Traveler: Cincinnati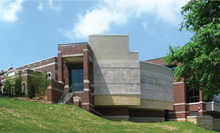 The pioneering spirit that brought Americans West likewise drew Jews to this riverfront city. They prospered in business and politics—and developed a new movement of Judaism.
History
Community
Sites
Other Sites
Personalities
Recommendations
On June 4, 2005, the Cincinnati Rabbinical School of the Hebrew Union College–Jewish Institute of Religion ordained seven rabbis at the Plum Street Temple, continuing a tradition that began in 1883 with the ordination of the first four rabbis to be trained in the United States. That earlier landmark occasion in American Jewish history brought the nation's leading Orthodox and Reform rabbis and hundreds of visiting Jews to this Midwestern city.
Visitors today can savor a downtown riverfront skyline that includes the Roebling Suspension Bridge, forerunner to the Brooklyn Bridge; art deco edifices such as the Cincinnati Museum Center; and the strikingly modern glass, metal and concrete Lois & Richard Rosenthal Center for Contemporary Art.
Cincinnati beyond the riverfront is built upon its hills, extending for more than 77 square miles. The Jewish community long ago left downtown for the nearby Avondale and Walnut Hills neighborhoods and later moved north to the suburban areas of Roselawn, Golf Manor, Amberley Village, Blue Ash, Montgomery, Clifton and Sycamore. Today, the Jewish population of greater Cincinnati is approximately 20,000.
Whether one is looking to explore the roots of Reform Judaism in this country, take a steamboat cruise along the Ohio River or catch a Cincinnati Reds baseball game, the "Queen City of the West" offers something for all.
History 
The first Jew to settle in Cincinnati was English-born peddler Joseph Jonas, who arrived from Philadelphia on March 8, 1817. He became a successful watchmaker and silversmith and lived on Broadway between Fifth Street and Harrison. Like Jonas, most early Jews settled in downtown Cincinnati, along the river.
The Jewish cemetery at Chestnut Street and Central Avenue had its first burial in 1821. Today it stands behind walls and gates.
By 1824, 10 Jewish men, most from England, banded together to form Congregation Bene Israel, making it the oldest congregation west of the Alleghenies. Bene Israel had built its first temple by 1836 at Broadway and Sixth Street. Today, Bene Israel is known as the Rockdale Temple; one of its former houses of worship was located on Rockdale Avenue—and the name stuck.
In 1830, the Jewish population numbered about 100 out of 25,000 Cincinnatians.The Jewish population kept growing, and the city flourished during the steamboat era as an important gateway to the West. By 1840, German Jews, many from Bavaria, founded B'nai Yeshurun as a liberal Orthodox congregation. They dedicated their first house of worship, the Lodge Street Synagogue, in 1848.
Another early synagogue still in existence, Adath Israel Congregation (today located in Amberley Village at 3201 East Galbraith Road; 513-793-1800; www.adath-israel. org), was founded in 1847 as the Polish Synagogue at Lodge Alley. It is one of the oldest Conservative synagogues in America.
The city's Jews were able community organizers. In 1849, Cincinnati became home to the first B'nai B'rith lodge in the West. And in 1854, the Jewish Hospital of Cincinnati opened; it was the first Jewish hospital in the United States.
Central to the activities of 19th-century Cincinnati Jewry was Rabbi Isaac Mayer Wise, who in 1853 accepted the call of B'nai Yeshurun to serve as rabbi for life with the intention of giving Judaism a new and powerful impetus. Under his leadership, Reform Judaism supplanted liberal Orthodoxy in the congregation. Wise was instrumental in founding the Union of American Hebrew Congregations in 1873, the Hebrew Union College in 1875 and the Central Conference of American Rabbis in 1889. He led these institutions until his death in 1900.
At the same time, Bene Israel hired Rabbi Max Lilienthal, who was recommended by Wise in 1855. Together the two shaped the American movement based on a more progressive interpretation of Judaism.
In 1868, Charles and Max Fleischmann set up the first factory to make compressed yeast, which grew into Fleischmann's Yeast. Dov Behr Manischewitz created America's first matza factory in the 1880's, using mass production to make inexpensive matza of uniform size. Joseph Jonas was elected to the state legislature as early as 1859, and by 1900, the city mayoral race was between two Jews—Julius Fleischmann, who won, and Alfred M. Cohen.
The Orthodox in the 19th and 20th centuries had their own leaders, including: Rabbi Schachne Isaacs of Congregation Bet Tefillah; Rabbi Abraham Jacob Gerson Lesser of Bet Hamedrash Hagodol; and Rabbi Eliezer Silver, who served as the leader of the Cincinnati Vaad Hoier and the Kneseth Israel Congregation (still in existence in Roselawn at 6780 West Farm Acres Drive; 513-678-3237).
By 1910, Cincinnati's Jewish population, swelled by an influx of Orthodox Jews from Eastern Europe, had surged to 28,000 and made up 7.7 percent of the city's population. Between 1933 and 1941, with the rise of Adolf Hitler, about 1,000 Central European Jewish refugees settled in Cincinnati, many of whom had relatives here.
Community 
Take Reading Road north out of the city to reach many of the Jewish areas. Along the way, you may spot buildings with Hebrew writing that were once synagogues and are now homes or churches. In Kenwood, the Jewish Community Center (7420 Montgomery Road; 513-761-7500; www. jcc-cinci.com) offers programs for adults and youths. In recent years there has been an influx of Russian and Ukrainian Jews, and the JCC has tried to meet their needs, as has Chabad of Southern Ohio (in Roselawn at 1636 Summit Road; 513-821-5100; www2.eos.net/chabad), which runs the F.R.E.E. Russian Center with English-language classes for adults and Talmud Torah for youngsters. Chabad also has a community center in Blue Ash (3977 Hunt Road; 513-793-5200; www.chabadcenterba.com).
The Jewish Information Network (4050 Executive Park Drive, Suite 300; 513-985-1514; www.jewishcincin nati.org), a program of the Jewish Federation of Cincinnati, is the one-stop shop for all things Jewish. Call and ask for recommendations for anything from where to find the best dill pickles and pastrami to locating families willing to host visitors on Jewish holidays.
Rockdale Temple, in Amberley Village at 8501 Ridge Road (513-891-9900; https://oh014.urj.net) lies on a sprawling campus owned by the Jewish Foundation of Cincinnati. The JCC has future plans to move from its Montgomery Road headquarters to the campus.
To read about local events, pick up a copy of The American Israelite, the oldest English-Jewish weekly in America, founded by Rabbi Wise in 1854 (www.american israelite.com).
And Hadassah has a decades-long presence in the city: The local chapter office is in Blue Ash at 10901 Reed Hartman Highway, Suite 117 (513-821-6157; cin cinnati@hadassah.org).
Sights
Cincinnati's public spaces testify to the role its Jewish citizens have played in the city's development. In downtown Eden Park (950 Eden Park Drive; 513-352-4080), visitors can take in the botanical delights of the Krohn Conservatory, a greenhouse named for Irwin Krohn, founder of Red Cross Shoes and a member of the Board of Park Commissioners from 1912 to 1948. Also in the park is the Seasongood Pavilion, a covered stage and tree-shaded amphitheater named for Cincinnati Mayor Murray Seasongood (1926 to 1930).
A more recent addition to the Cincinnati landscape is the Aronoff Center for the Arts (650 Walnut Street; 513-721-3344; www.cincinnatiarts.org/venues/aronoff), named for State Senator Stanley Aronoff, which houses three theaters. The Lois & Richard Rosenthal Center for Contemporary Art at 44 East Sixth Street (513-345-8400; www. contemporaryartscenter.org) is named for the prominent philanthropy and arts patrons. The modern building is the design of 2004 Pritzker Award-winning architect Zaha Hadid. A highlight through January 8, 2006, is Honey, I Shrunk the Kids, which shows the work of Israeli video artist Guy Ben-Ner, who performs with his children.
The Hebrew Union College–jewish institute of Religion (in Clifton, at 3101 Clifton Avenue; 513-221-1875; www.huc.edu) has graduated more than 2,600 rabbis and 400 cantors and has additional campuses in New York, Los Angeles and Jerusalem. HUC's first classes were held in the basement of Bene Israel, which in October 1875 was at Eighth and Mound Streets. By 1881, HUC had moved to a house on West Sixth Street, and in 1913 relocated to its present 20-acre campus. A visit is notable for the sights inside—not for the architecture, a hodgepodge of buildings constructed over the years.
Mayerson Hall houses the Skirball Museum Cincinnati (www.huc.edu/museums/cn; Monday to Thursday 11 to 4, Sundays 2 to 5), which showcases the ongoing exhibit "An Eternal People: The Jewish Experience." Treasures include one of the original Qumran jars that contained a Dead Sea Scroll, a Mandaic bowl inscribed with an Aramaic incantation and the Weinberg Torah of Rheda, Germany, that survived Kristallnacht because it was out of the synagogue for repairs.
Suspended above that Torah is a desecrated one from Neveklov, Czechoslovakia, which was trashed by the Nazis. It is part of the interactive "Mapping Our Tears" exhibit, housed in a re-created attic that showcases memorabilia of local Holocaust survivors and rescuers.
The Jacob Rader Marcus Center of the American Jewish Archives (www.americanjewisharchives.org; Monday to Friday 9 to 5) collects documents of the American Jewish experience and is named for its founder. Rabbi Marcus taught at HUC and authored numerous volumes on European and American Jewish history. A small selection of its collection, including synagogue records, photographs and personal papers, is on display in the archives' lobby.
Klau Library (www.huc.edu/librar ies/cincy) has some 440,000 books of Judaica, including a sizable cookbook collection that ranges from The Jewish Manual by "a Lady," published in London in 1846, to Crisco Recipes for the Jewish Housewife, published in Cincinnati by Proctor & Gamble in 1933. Ask for a tour of the adjacent Dalsheimer Rare Book Building, home to manuscripts from the Kaifeng Jewish community and other gems such as illustratedhaggadot and issues of the 19th-century American Jewess journal.
Before you leave the campus, stop by the bookstore to purchase a copy of the excellent history The Jews of Cincinnati by Jonathan D. Sarna and Nancy H. Klein (published by HUC-JIR and not widely available).
Close by in Clifton is the Hillel Jewish Student Center at the University of Cincinnati (2615 Clifton Avenue; 513-221-6728; www.hillelcincinnati. org), whose interior is decorated with salvaged Judaica, including lions that once guarded a Torah Ark, marble HUC donor boards and stained-glass windows from one of Bene Israel's former synagogues. Kosher meals are served on Shabbat and at other times during the week; call for a schedule of meals, and advance notice is appreciated. Services are open to the public.
B'nai Yeshurun is today the Isaac M. Wise Temple and boasts two religious facilities: the Plum Street Temple and the Wise Center (513-793-2556; www.wisetemple.org).
The ornate Byzantine-Moorish Plum Street Temple is downtown at 720 Plum Street. It features three arched entrances and two minarets rising 50 feet above the roof and is open for tours and on a nearly weekly basis for Sabbath services, programs and life-cycle events such as weddings and bar and bat mitzvas.
When services first began in this building in 1866, Rabbi Wise thought of the temple as his Alhambra. The national historic landmark features hand-painted walls with more than 130 different stencil designs in blues, browns, reds and sand, glittering gold chandeliers and stained-glass windows. Fourteen bands of Hebrew inscriptions surround the interior and lights circle the inside. The congregation renovated the interior in 1995 and the results are magnificent.
The congregation's headquarters are at the Wise Center in Amberley Village at 8329 Ridge Road. The site includes the Wohl Chapel, a religious school, library and social hall.
Other Sights 
Step back in time at the Cincinnati History Museum at the Cincinnati Museum Center (1301 Western Avenue; 800-733-2077; www.cincymuse um.org; Monday to Saturday 10 to 5, Sunday 11 to 6) at Union Terminal. Check out the case on Jewish Cincinnatians in the exhibit on 19th-century newcomers.
At the Cincinnati Art Museum in Eden Park (953 Eden Park Drive; 513-721-2787; www.cincinnatiartmu seum.org; Tuesday and Thursday to Sunday 11 to 5, Wednesday 11 to 9) you can explore the community's rich artistic heritage in the Cincinnati Wing. Look for the 19th-century Jewish sculptor Moses Jacob Ezekiel's EveHearing the Voice and Judith; painter Henry Mosler's The Quadroon Girl and Chimney Corner; and the pottery of Jewish decorator Sara Sax, who worked for the renowned Rookwood pottery company in Mt. Adams.
Elsewhere in the museum are artifacts from the biblical excavations of archaeologist Nelson Glueck, who also served as head of HUC-JIR from 1947 to 1971. His Nabataean artifacts, the largest collection outside of Jordan, are part of a traveling exhibit "Petra: Lost City of Stone," which will be in Canada from October 29 through January 2007.
The National Underground Railroad Freedom Center (50 East Freedom Way; 513-333-7500; www.freedom center.org; Tuesday to Sunday 11 to 5) sits on the north bank of the Ohio River, in the mid-19th century the dividing line between slave-owning Kentucky and free-soil Ohio.
The center chronicles the system of cooperation among slaves, free blacks, abolitionists, sympathetic whites and Native Americans. Highlights include a re-created wooden slave pen; theBrothers of the Borderland movie narrated by Oprah Winfrey; and the Hall of Everyday Freedom Heroes, showcasing freedom fighters such as Jewish labor leader David Dubinsky and Mississippi civil rights advocate Rabbi Perry E. Nussbaum.
A few blocks away on the riverfront sits the Great American Ball Park (100 Main Street; 513-765-7000; www.cincinnatireds.com), home of baseball's National League Cincinnati Reds. The team's history is preserved in the adjacent Reds Hall of Fame and Museum (513-765-7576). Learn about Jewish radio announcer Harry Hartman, who in the 1930's coined "Going, going, gone" for homers. Jewish team members have included Cal "Abie" Abrams, Lip Pike, Richie Scheinblum and Art Shamsky.
Personalities 
Filmmaker Steven Spielberg was born in Cincinnati, as was James Levine, the Boston Symphony Orchestra music director who made his debut with the Cincinnati Symphony Orchestra at age 10. The provocative host of The Jerry Springer Show was the city's mayor from 1977 to 1978.
Dr. Albert Sabin, developer of the oral polio vaccine, worked at the University of Cincinnati for 30 years, and the Vontz Center for Molecular Studies at the university's medical center has an exhibit in its lobby about him (3125 Eden Avenue; 513-558-4553).
Also born in Cincinnati were New York Times editor and publisher Adolph Ochs and civil engineer Joseph Strauss, designer of San Francisco's majestic Golden Gate Bridge.
Recommendations 
The art deco Hilton Cincinnati Netherland Plaza Hotel (35 West Fifth Street; 513-421-9100; www.hilton. com) provides luxurious accommodations and is close to Plum Street Temple and several attractions. The Vernon Manor Hotel (400 Oak Street; 513-281-3300; www.vernon-manor.com) is near HUC-JIR. There are no hotels in walking distance of the Orthodox synagogues, but members of Golf Manor Synagogue (6442 Stover Avenue; 513-531-6654; www.golfmanorsynagogue. org) offer home hospitality.
While many of the sights are downtown, kosher dining isn't. In Blue Ash, Marx Hot Bagels (9701 Kenwood Road; 513-891-5542) is a dairy restaurant. Bilker's grocery (9708 Kenwood Road; 513-791-5600) carries many kosher foods. Check www.kosher delight.com/Ohio.htm for take-outs.
You don't need to go to Cincinnati to eat Manischewitz matza, but the next time you open a box, think of the city and its many contributions to American Jewry.