Letter from Jerusalem: Key(board) to Coexistence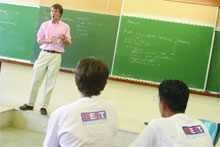 Believing that the fate of Israelis and Palestinians rests on their ability to work together, M.I.T. students have created a 'social start-up' to bridge the political divide.
The steady patter of fingers typing on computer keyboards is suddenly broken by the sound of rising voices. A Palestinian girl, Salam, and an Israeli boy, Yohanan, are arguing over what to call the country they are in. Between them sits Rula, who is Palestinian. She has no time for their bickering. "He says Israel and she says Palestine and I'm in the middle and I say, 'Shut up, I want to work.'" Rula, 16, with pink nail polish and thick, ink-black hair that spills down her back, is one of the mixed group of Palestinian and Israeli 10th and 11th graders from Jerusalem and Bethlehem who have come together at a computer camp to learn Java, a computer language. In this politically charged city, the sleek computer lab on the campus of the Hebrew University of Jerusalem is one of the few places where students can meet someone their own age "from the other side."
They are participants in a new program, Middle East Education Through Technology, or MEET (https://meet.csail.mit.edu), supported by Massachusetts Institute of Technology, which recently completed its second summer. The camp began last year with 30 Jerusalem 10th graders. Most of them returned this summer along with a new class of 30 additional students, including five from Bethlehem.
The program is the brainchild of Yaron Binur, 27, an Israeli computer science student at M.I.T. who had returned from teaching computer programming in Kenya with an idea: If teaching computers could help bridge the digital divide in Africa, why not use it to bridge the political divide in his native Israel?
Binur began MEET, which he describes as a "social start-up," with his sister, Anat Binur, a recent M.I.T. graduate, and his childhood friend Assaf Harlap. The three study abroad during the year and return during the summers to help run their initiative. In addition to M.I.T.'s sponsorship, support comes from local high-technology businesses and other donors; Hebrew University has made available its facilities.
The diverse group has included religious Jews who once lived in West Bank communities; immigrants from the former Soviet Union; children of secular left-wing parents; Palestinian Muslims and Christians. And there is a mix of working- and middle-class backgrounds.
Participants are picked after a rigorous round of tests and interviews to determine that they have both leadership qualities and the intellectual aptitude to excel in computer programming. Once chosen the teenagers are informed of two ground rules: They must speak to each other and to their instructors only in English, the lingua franca of the business world, and they must cooperate.
"We tell them teamwork is hard," said Yaron Binur. "It's true for anyone you work with [and] who you don't agree with, and it's doubly true for Israelis and Palestinians. We say we're a team and we're working together." Binur believes students will rise to high expectations. "I expect them to be leaders," he says, "to have goals, to step up to the plate."
He does not, however, expect them to be the best of friends. What MEET is about—and what the fate of the Israelis and Palestinians rests on, Binur argues—is the ability to work together.
Hunkered down in front of a computer screen, Rula looks over Java code. The students used the computer language to create a touchscreen map for their project.
"I'm doing quality assurance," she says, and introduces other members of her team including a project manager and a business manager—fellow students who are also helping write the computer code for the project.
Behind her, Miri, 16, an Israeli with honey-colored hair, is working with another team of five on "Math in Space," an educational computer game they created.
"We believe when you learn with fun you learn better," she says, sitting beside her teammate, Abdullah. Together they are selecting the math questions and animation for the group's game.
When MEET began in 2004, the student instructors could not at first differentiate between Israelis and Palestinians. But it became hard to ignore that the "[Palestinians] would sit on one side and the Israelis the other," says Max Goldman, a recent M.I.T. graduate and one of the American instructors. Things began to shift, however, when the students started working in pairs and teams. "What happened was that just as much as you had Palestinians working with Israelis, you had girls working with boys and shy people working with more aggressive people—you were working with kids, period. What sort of happened is that somewhere in that jumble of noise…you have these Palestinians and Israelis working together…and in several cases we achieved exactly what we wanted to achieve—that these kids respect each other and find these are people they can work with."
Goldman recounts the story of Salam. At the end of last summer, she sketched out an idea for the Web site she and her team were designing. To make her idea come to life, however, she knew she would need the help of one of the team's strongest programmers—an Israeli boy named Orr. So she went to him and together they made it happen. "That is where you want to be," Goldman explains.
Most Israelis and Palestinians grow up with minimal contact. When the two sides do meet, interactions are often hostile. For Palestinians coming of age in East Jerusalem and Bethlehem, Israelis are the soldiers who check their identification cards at military checkpoints and rumble into their towns in tanks. Israeli children have grown up to the sound of ambulances racing to terror attacks and often equate Palestinians with terrorists.
MEET's organizers want students to maintain their connection throughout the school year. The teenagers gather on a monthly basis to work on programming projects with the assistance of mentors from high-tech companies, including several from Intel. Companies such as Samsung, Sun Microsystems, Internet Gold and Elbit have also been involved in MEET, as has Al-Quds, the Palestinian university in East Jerusalem.
The students also get together for outings to bowling alleys and parks.
Although the Israeli and Palestinian students live nearby geographically, the physical divide of roadblocks and political frictions often prevents them from visiting each other. They come to activities in taxi vans arranged for them by MEET.
The Bethlehem students received month-long permits from the Israeli Army to attend the camp this past summer. They roomed together at a hostel in the Old City and returned home on the weekends. Throughout the year they will be issued special permits to enter Jerusalem to attend project meetings.
One group used its monthly meetings last year to create virtual home tours so they would be able to see where each of them lived on computer screen, if not in person.
Omer Shadky, the group's mentor, is an Israeli computer programmer who was drawn to MEET because it did not have the politicization found in almost every other sphere of life. Technology, he believes, can provide a common ground. "[It] is a combined language," he says. "You don't write it in Hebrew or Arabic but in code, and everyone speaks its language."
This year, MEET raised enough money to reach its $150,000 budget, and next year a $250,000 budget is planned so more students from other cities can attend. The camp does not charge its students. The M.I.T. instructors are paid a stipend, and all of their expenses, including airfare and housing, are covered.
Following a publicity campaign on campus, MEET became a major draw among M.I.T. students, with almost 60 applications for 8 positions this past summer. Among those accepted was a Korean student who hopes to re-create the model for North and South Korean students one day.
Michal Bruck worked as a coordinator of Young Judaea programs in California before joining MEET as its general manager alongside her Palestinian counterpart, Abeer Hazboun. Together the two supervise and administrate the coexistence program.
Bruck, 30, an Israeli, says working with MEET has changed the way she looks at the conflict. "It creates an alternative for the future where we work together and not against each other," she adds.
Mazan, the father of a second-year Palestinian student named Intisar, says his daughter's involvement in MEET has taken him by happy surprise. "I also know computers, but not as well as Intisar," he says. "At the beginning I didn't really think we would have Israeli people in our house [referring to a visit by some of the Israeli staff of MEET], that Intisar could go to a computer camp at Hebrew University, but it happened."
Intisar, 16, wants to be a computer scientist so she can contribute to her people. "We must start to develop," she says. "Learning programming is an excellent thing for the future."
She recalls the first day of the camp in the summer of 2004 when the Israelis and Palestinians felt awkward with each other. "It was the first time we met students from other cultures," she says. "As time has gone by it has become easier and finally we are used to each other." She and Miri are now friends; they meet at the Malka mall in Jerusalem to shop, and during a recent trip there caught the Olsen twins movie New York Minute.
Binur is looking toward the future—to expanding the number of students, placing them in internships in high-tech companies and finding paying clients for their projects. Ultimately, he sees them becoming leaders in their communities. "We're not stopping here," he says. "We're going to make it better. This is a starting point for us."
Dina Kraft is a freelance journalist based in Tel Aviv.