Profile: Mike Burstyn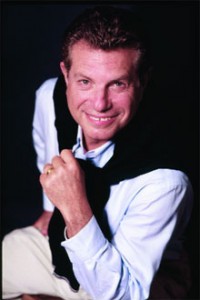 At home on the stage' truly describes the performer who has basked in the footlights Broadway and beyond—since he was a baby in his Yiddish-actor mother's womb.
On a late spring afternoon, Mike Burstyn is sitting in the lobby outside the Kaufmann Concert Hall at the 92nd Street Y in New York waiting to be summoned to rehearse his bit in a performance that will take place that evening. The event is a tribute to the late Broadway composer Cy Coleman. Dressed in a casual beige suit with an open-collared blue shirt, the 60-year-old New York-born actor and singer is calm and re-laxed, happy to schmooze, and exhibiting no signs of pre-performance jitters.
It's no surprise, given that the stage has been Burstyn's home for the last 53 years. His Yiddish-theater parents, Pesach'ke Burstein and Lillian Lux, drafted young "Motele" and his twin sister, Susan ("Zisele"), into their musical comedy act while touring the postwar world. They played wherever Yiddish-speaking audiences survived, including Argentina, Uruguay, South Africa, Poland and Israel, to which the family made aliya in 1962.
Today, however, it's not for his Yiddish background that Burstyn is being called on to perform, but for his mainstream musical-theater chops. In 1981, Burstyn flew from Israel—where he reigned as one of that nation's premier film stars—to New York to audition for the lead role as Jim Dale's replacement in the Tony Award-winning show Barnum. Against all odds, even against the advice of his own agent, Burstyn got the role, thereby establishing for himself the solid Broadway credentials that until that point had evaded him, as they had evaded his parents before him.
Burstyn credits his big break to the show's songwriter, Cy Coleman himself, who championed his cause among a group of producers who were reluctant to cast a relative unknown—and one with an accent, to boot. "The rest is history," says the well-scrubbed, curly haired actor, who speaks English in cadences that are half-Brooklyn, half-Tel Aviv. "It brought me back to the States after many years. I starred on Broadway in Barnum for a year. It changed my life, my career, everything since that moment, thanks to Cy Coleman."
So on this beautiful spring day, Burstyn is thrilled to return from his home in Israel to his native New York with his wife, Cyona, to take part in a tribute to one of his mentors. "This is payback," he says. "This is what I owe Cy."
Burstyn has been spending more time in his birthplace lately, having starred this past year in On Second Avenue, the Folksbiene Yiddish Theatre's tribute to the heyday of Yiddish musical theater. The show reopens this month at the JCC in Manhattan.
Burstyn has come full circle with his critically acclaimed role in On Second Avenue—of which The New York Times said he "radiat[ed] affability like a cheery fireplace on a cold night," and Newsday remarked on "showmanship so easygoing he never breaks a sweat" and for which he garnered one of several Drama Desk Award nominations. Figuratively reuniting him with his parents and his artistic and cultural inheritance, the show's most memorable moment comes early in the second act, which opens with a film clip of Burstyn's father doing his Mexican cowboy routine to the tune of "Galitsyaner Cavalero." After a few minutes of the circa 1961 clip, Burstyn walks onstage dressed exactly like his father and finishes the tune; it's as if Pesach'ke walked off the screen and onto the stage and becomes Mike. They look alike, sound alike and move alike, and the chills it evokes in the crowd are palpable.
My father was 64 years old when he made that, close to my age now, so we're starting to look more alike," acknowledges Burstyn, who adopted the original spelling of his family's name, which was Bursztyn in Polish (pronounced BUR-shteyn in Yiddish), in 1972. "Living with him and working with him for so many years, I absorbed a lot by osmosis."
"He is very much his father's and mother's son," says Zalmen Mlotek, artistic director of the Folksbiene. "Pesach'ke had a charm about him… like a Maurice Chevalier and Menashe Skulnick combined. Mike has charm and charisma. He's funny, and people in the audience love him."
"He has honored his mother and father throughout his career," says Bruce Adler, Burstyn's fellow performer and oldest friend—the two were onstage together before they were born, their mothers having performed in the same show while pregnant. "We are both very proud of where we come from and who our families were and their place in the world of theater. There's intense pride in them and the lessons we learned from them."
As a child, those lessons were learned in hotel rooms and on stages around the world. "Our parents didn't want to leave us behind while they were traveling constantly," says Burstyn, an inveterate reader and father of Peter, 36, and Adam, 33. "We attended schools all over the world. I went to school first in New York, then in Argentina, in Brazil, in Paris, in Israel and in South Africa." Burstyn has a sense of being a citizen of the world. "I'm not an American in Argentina; I feel like I'm an Argentinean when I'm there," he says. "Same thing in Israel or in Paris."
This wasn't always the case in the place that was to become Burstyn's adopted home. The first time he and his parents, now deceased, went to Israel to perform in the late 1950's, they were practically chased out of the country, as recounted in The Komediant, a documentary about the family. At the time, the goal of the recently forged nation was to foster a new, Israeli Hebrew culture to the exclusion of diaspora cultures and languages. Ardent protests by pro-Hebrew partisans made it impossible for the Bursteins to perform in Yiddish.
By the time the family was invited back to Israel in 1962, however, things had loosened up. Hebrew had won the battle for primacy as the national language, and native Yiddish speakers were growing nostalgic for the sort of classic, prewar Yiddish entertainment that the "Four Bursteins," as they were called, provided. The fact that their act included two Yiddish-speaking teenagers made them a phenomenon, and their 1965 production of Itsik Manger's Megillah was a national sensation, softening the opposition to Yiddish. The critically acclaimed production improved mameloshen's standing among the cultural intelligentsia; it was voted best play by both the Israeli theater critics and the International Theatre Institute that held its convention in Israel in 1965; and there wasn't an Israeli politician who didn't go to see it.
It also made young Motele into a more recognizable star, paving the way for his greatest personal success: the Forrest Gump-like title role in Kuni Leml, the first big-budget, Technicolor musical in Israeli cinema.
"Kuni Leml did for me what The Graduate did for Dustin Hoffman—it turned me into a major film star," says Burstyn, who was 21 years old at the time. It also left him with a major dilemma: To become a true Israeli star he had to leave his family's act and break out on his own in Hebrew roles. "I knew I was abandoning them professionally, but I had to," he says. "Otherwise I would have become a middle-aged Yiddish actor myself, with no future, really."
He subsequently amassed credits on stage and screen in Israel and abroad. In addition to Barnum, his Broadway credits include Inquest (in which he was hissed and booed eight times a week as Roy Cohn persecuting the Rosenbergs) and Ain't Broadway Grand, for which he received an Outer Critics Circle nomination. His touring and Off Broadway credits include the title role in the musical Jolson, a portrayal of Mayer Rothschild in The Rothschilds, as well as roles in Fiorello, Circus Life, Guys and Dolls and The Prisoner of Second Avenue. In recent years Burstyn has been showing up more frequently on American television, including roles in The Cosby Mysteries, Law & Order, HBO's Dog Watch and As the World Turns.
Burstyn's sister, Susan, did not share his enthusiasm for the life of the theater; she opted instead for the life of a suburban homemaker and today lives in Westfield, New Jersey.
Burstyn is now committed to the perpetuation of Yiddish as a spoken language. "They've asked me many times to work with the Folksbiene, and either I wasn't available or frankly the subject matter didn't interest me," he says. "When they mentioned [On Second Avenue], I said, first of all, I'd like to do it because I think the material will reach the audiences we've lost. And, secondly, to help the Folksbiene. Their goal is my goal: to make sure that Yiddish doesn't disappear as a spoken language.
"Twenty years ago, baby boomers like myself were still young," he adds. "Today we're getting into a mentality of looking back and trying not to lose touch with our parents and grandparents and our traditions. And I think we're also trying to pass it on to future generations so it's not going to be lost. We are really the last link in that chain between the Yiddish-speaking generation and present and future generations. It's up to us."
Author Seth Rogovoy is editor-in-chief of Berkshire Living Magazine.