On the Street Where They Lived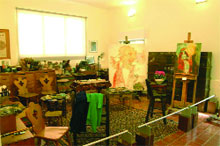 It's just one block long, yet Tel Aviv's Bialik Street is rich in history, architecture, personalities and art. Like the larger city, this small neighborhood is recognized for its beautiful white International-style buildings. But the intellectual life and Zionist spirit that flourished among the street's residents—especially the poet after whom the street is named can be captured in an intimate stroll.
Allenby Road, Tel Aviv's main artery, throbs with urban vitality. Shoppers crowd the pavement, lingering at bookstalls and haggling over the prices of bolts of fabric and silver etrog boxes. Car horns blast, brakes screech and musical scales emanating from a piano emporium compete with the rumble of passing buses. Passersby dodge skateboarding adolescents and weave their way through a parade of stroller-pushing moms and energetic toddlers coming from the nearby Carmel market. Yet, with a simple right turn onto tree-lined Bialik Street, modern, frenetic Tel Aviv recedes and the past holds sway. In this quiet enclave, named for the poet who once lived there, the pace of life eases and, mysteriously, pedestrians walk more slowly and talk more softly. Sunlight spangles the gardens planted by the early residents—Zionist dreamers and activists who laid the foundations of the intellectual and artistic life of Israel. Happily, the ambience created by Hayyim Nahman Bialik and his neighbors endures, as do their lovely homes, most of them constructed in the distinctive Bauhaus architecture that characterized early Tel Aviv. Many of the buildings have been renovated and gentrified, but the integrity of their design has been retained and a stroll down the sea-scented street (a scant 10-minute walk from the Mediterranean) is a trip through history. Each residence has its own dramatic story, each door- name and number plaque recalling lives lived during the pioneering period of the first modern Jewish city, when courage and idealism melded.
It was to No. 1 Bialik Street, a sprawling three-story house with street-level storefronts and numerous balconies, oddly protruding in multiple directions, that Moritz Shenberg, a talented goldsmith and the owner of no less than 17 shops in Yafo (Jaffa), brought his dark-haired bride, Liba, in 1922. Although the area was largely undeveloped and occasionally haunted by the shebab, Arab ruffians, Shenberg did not fear for his young wife's safety. He kept a small armory of guns, which earned him the title "Protector of the Jews"—and the respect of that same shebab who soon recognized his bravery and determination. Shenberg let it be known that the Jews who had elected to live on this new street would not be frightened away from their homes.
(In 2001, Arab hostility again penetrated the quiet refuge on Bialik when a terrorist attack shattered windows and ignited small fires. Fortunately there were no fatalities and all vestiges of the damage swiftly disappeared. On Bialik Street there are no memorials to hatred and violence.)
The enterprising goldsmith rented street-level space to Tzvi Ratzki and his family, and they established a café that soon became the cultural nexus of the young city; it was a magnet for artists, poets and novelists who sat for hours at the small tables, sipping the excellent coffee and eating the delicious strudel made by Tzvi's wife, G'veret Ratzki. On any given afternoon, tables would be occupied by poets Bialik, Saul Tchernichowsky, Abraham Shlonski and Nathan Alterman, who often sat with their pens poised over open notebooks. Across the room the painter Reuven Rubin captured the scene in his ever-present sketchbook. David Ben-Gurion, Chaim Arlosoroff and Meir Dizengoff, the political architects of the Yishuv, met there, sitting in close proximity to British officers who stopped by for the proverbial "cuppa." Among the signers of the Cafe Ratzki guestbook was Albert Einstein.
On the whole, the Ratzkis—who described these scenes in Sefer Zikhronot Shel Ratzki, their family memoir—were generous hosts, proud of the artists who festooned their menus with drawings and wrote bits of verse on their walls and tabletops, often offering their creative efforts in lieu of payment. The café no longer exists, but on any given day, an art student can be found sketching the classic building with its complicated tiers of balconies, indifferent to the admiring glances of children whose families now lay claim to the coveted apartments within.
Cafe Ratzki had a friendly competitor next door at No. 2, the one-time home of the Mintz family, in whose garden a slightly more elegant café, replete with flowering trees and a simulated replica of a Parisian streetlight, flourished. Originally a left-bank manqué gathering place, the café underwent various incarnations through the years. At one point it offered an anglophilic "Five o'clock Tea" menu with cucumber sandwiches to tempt the Brits stationed in Tel Aviv during the Mandate. Eventually, it became My Coffee Shop, a favorite gathering place where transplanted British "Anglos" once perused The Jerusalem Post, The International Herald Tribune and Time, always available on wooden winders.
Tel Aviv preschoolers attended a progressive kindergarten at No. 4 Bialik, where Shandy Yanuski and Batya Paz taught reading and writing, organized a small band and exhibited their students' drawings and paintings. A 1928 photograph shows the two grave-eyed teachers surrounded by smiling, immaculately dressed children (each with a white triangular handkerchief pinned to the collar). But it is the drawing of a trio of small musicians in sandals and short pants—a drummer, a chubby bugler wearing an Ottoman-style turban and a skinny violinist sporting an oversize sun hat—by Nahum Gutman, himself a Bialik Street resident, that captures the school's spirit. (In 1965, Gutman, an Expressionist painter who worked in oils and watercolors and was a scenery designer, illustrated Bialik's book Va'yehi Ha'yom, And It Was the Day). The glorious, white three-story house at No. 6 was the home of Ephraim Rapaport, a bacteriologist of international renown, and his wife, Dora, also a bacteriologist. Yitzchak Schwartz, a noted architect, designed the large, welcoming Bauhaus residence, now bordered by the great conifers that sprang from the saplings the Rapaports planted in 1931. Their neighbor at No. 9 was Dr. Ephraim Sinai, director of the eye clinic at what was then the Hadassah Hospital of Tel Aviv, and his family. The house is much admired for its railed balconies of fretted iron and graceful French doors. Many other physicians lived on Bialik Street, and Hadassah's medical breakthroughs were surely discussed as they gathered on the Sinai balcony at twilight when, as Bialik wrote in his poem "Shabbat Hamalka," "the sun on the treetops no longer is seen." Perhaps the most important house on the street, rivaled only by Bialik's, is the home and studio at No. 14, where influential artist Reuven Rubin lived with his wife, Esther. It is here that he painted—in a naive style with light, clear colors—many of the works that would be exhibited in the most distinguished galleries and museums of the world. His canvases such as Balcony in Tel Aviv and Orange Groves Near Jaffa capture the pioneering spirit and beauty of his country, seascapes and street scenes. He and Esther loved their urban villa with its sharp, clean lines and the wide balconies that afforded the views and light so essential to his work (see cover).
Close friends, both Rubin and Bialik translated their love of the land into art. In his review of Rubin's 1926 exhibition, Bialik wrote: "Eretz Yisrael has given [the artist] her gardens and valleys…the stones and the plants. This land of Israel appears to us as a spring from the legend—the legend of Eretz Yisrael."
This mutuality of Zionist commitment informed their intimacy. They often talked long into the night, and when they went with their wives to Cafe Ratzki, the short walk home often took hours: First Bialik would escort Rubin to his house, and Rubin would then return the favor. Back and forth, up and down, the poet and the artist walked, deep in conversation, lost in dreams, until at last their wives reclaimed them.
Rubin's home is now Beit Rubin Museum, where 45 of his works form a permanent collection—pictures of young pioneers, Arabs, mothers nursing their babies—and where other exhibitions of Israeli art are also displayed. Teachers bring their classes here on day trips, and the corridors echo with the voices of children asking questions about the artist: Did he really know all the people he painted? Why don't his trees stand straight? Art students linger to study Rubin's technique and wander to the windows to look out at the scenes that captured his imagination. Guests are also welcome to visit his studio. A short film, which captures both the spirit of the painter and that of the city he re-created, can be viewed in a small alcove.
The Rubins must have been bemused by their next-door neighbor at No. 15. Dina Shoshana Goldberg, the reclusive English spinster who lived in the large dun-colored house, was a Zionist visionary. Long before the establishment of the state, she dreamed of Jewish sovereignty and had an escutcheon carved above her portico de-picting a Jewish star flanked by two lions of Judah. Goldberg crowned the design with her own name in Hebrew lettering. There it remains, an elusive clue to the unsolved mystery of the woman who was seldom seen on the street where she lived.
Further down Bialik at No. 19 is the classic, pink-stucco mansion with its graceful circular balconies where Dr. Gerhardt Shreibman, who headed Hadassah's American Zionist Medical Unit during World War I, lived with his family. It was perhaps in his garden that Henrietta Szold, a frequent visitor, discussed the ideological blueprint for the Hadassah Medical Organization, a natural outgrowth of Dr. Shreibman's essential and successful effort. Today, in the beautifully landscaped garden, Ikea lawn furniture is strategically placed beneath leafy trees. (Bauhaus architects would have no quarrel with the sleek Swedish designs.)
No. 21 Bialik, which once housed the offices of the architectural firm of Barkai and Rechter, early Tel Aviv architects, is now, fittingly enough, the Bauhaus Tel Aviv gallery, a pet project of American philanthropist Ronald Lauder. The restored apartments showcase preserved blueprints, architectural drawings, photographs, textiles, metalwork and other archival materials of the movement responsible for the structural development of Tel Aviv.
Devorah Baron, who lived much of her life and eventually died in Bialik 22-A (which has since been demolished), was the daughter of a rabbi from Belarus. She was already an accomplished Hebrew writer when she made aliya in 1911. She married Yosef Aharonovitz, a Labor Zionist leader and editor of Hapoel Hatza'ir, and became the literary editor of that magazine. During World War I, the couple, like many other Jewish intellectuals, were pressured by uncertainties of life in Palestine under the British and moved to Egypt. When they returned they chose to live in the house directly adjacent to the revered Bialik's. There they edited their magazine, hosted aspiring writers and artists and produced their own distinguished body of work. In 1927, Baron published a collection of short stories, Sippurim (Stories), and in 1934 she received the first Bialik Prize for literature. Her husband died in 1937, but she continued their literary work, remaining a prolific fiction writer. Although confined to her sickbed during her later years, she wrote a series of stories describing the world she saw through "the window of an invalid's room." That window, of course, overlooked Bialik Street, and it was the life of her neighborhood that she captured in her short story "B'lev Ha'kerah" ("In the Heart of Ice"), one of her last works.
The city of Tel Aviv did not exist in 1909 when the Ukrainian-born Bialik, already renowned in literary circles, first visited Eretz Yisrael. But on a sunny afternoon in Jaffa, a prescient photograph was taken: The debonair poet, sporting a wide-brimmed white hat, is smiling down at a small boy standing beside his mother. The child is Nahum Gutman, whose whimsical sketches would one day capture the spirit of Bialik Street and whose distinctive mosaic is at the entry of the Old City Hall at No. 27 (also formerly the Museum of the History of Tel Aviv-Jaffa). Though no longer open, it is worth stopping to look at the architecture and the mosaic.
Fifteen years later, in 1924, the era's greatest living Hebrew poet came to reside here. His arrival was a proud and joyous occasion for the neighborhood. It was in the heart of what is now called "little Tel Aviv"—on the slight incline of Givat Bezalel, overlooking the street that would bear his name—that he built his home. His two-story residence, with its turrets and pointed arches, surrounded by his well-tended garden, reflects his prosperity.
It is said that during the traditional two-hour period of rest from 2 to 4 in the afternoon, Bialik Street was closed to traffic and a sign read: "Quiet! The Poet Sleeps," an odd mandate for cacophonous Tel Aviv. On Shabbat, Bialik hosted an oneg (party), and the cultural aristocracy of Tel Aviv would flock to 22 Bialik for discussions ranging from the day's Torah portion to heated critiques of fiction, poetry and, of course, politics.
The poet lived in that house until his death in 1934, a decade of great literary achievement. Legend has it that the skies above Bialik Street darkened on the day of his death, as though the street was in mourning.
Now called Beit Bialik Museum, the ground floor is a library frequented by students. Mothers can be found walking through the garden with toddlers, sometimes singing the enduringly popular songs Bialik wrote. One sunny afternoon a small girl's voice could be heard in the garden singing "El Ha-Tzippor" ("To a Bird"), the poet's verses set to a modern melody.
Bialik's second-floor study remains unchanged. The dark furnishings are formal, reminiscent of his Mitteleuropa origins. There is his desk, the inkwell dry now, and resting beside it his pen. It was in that room that he wrote and managed the publishing house he founded. In a nearby room the poet's works—he wrote 94 books with translations in 28 languages—his poems and wonderful collection of aggadot (legends) are displayed under glass, but his words will never be relegated to the past.
It is with wistful envy of another era, and of lives daringly lived, that one leaves this street of dreamers. Still, it is reassuring to know that life continues in measured pace in this place where, night after night, a poet and an artist retraced their steps, where children chanted the alef bet in a progressive nursery school and an ailing writer took solace from the scene below her window.