Family Matters: Full Hands and a Fresh Start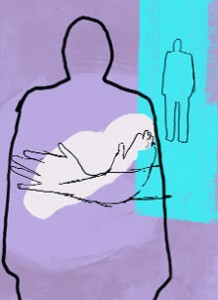 A bris has a way of opening one's mind to the traditions handed down from father to son and opening one's heart to the possibilities embodied in the new generation.
Almost since the day I learned my wife was pregnant I secretly worried we would have a boy. Excited as I was to become a father, my relationship with my own father has been difficult, filled with harsh words and awkward silences, and I feared my relationship with my son would inevitably turn out the same. Though in most ways I am nothing like my father, a workaholic businessman with an awful rage, I am acutely sensitive to those ways I am like him. It has never been difficult to imagine my son feeling around me as I have always felt around my father: fearful, anxious, angry and invisible.
As our due-date got closer, my anxiety grew. Though logic told me otherwise, and I knew I was seeing the future through the clouded lens of my past, I was convinced a son would retreat from me into a hard, sullen shell, reserving his tenderness for his mother.
I imagined offers of financial support or walks in the park, my efforts to be close to him, met with monosyllables and shrugs.
Indeed, in the days leading up to the birth, in my thinking there seemed precious little I could offer a son that my loving wife wouldn't be able to offer a thousandfold.
Around this time, my wife and I began discussing who, in the event we did have a boy, would hold him at his bris. Though we knew the tradition of honoring a grandfather as sandak, Lisa's father, squeamish and religiously nonobservant, was never a serious consideration, and, of course, my own father, gruff and grandiose, seemed less than ideal.
Lisa, herself having been victim to my father's criticisms and callousness, had especially strong objections to the idea of him holding our newborn at such a tender moment. On a pragmatic level, she wasn't convinced my father was capable of comforting a baby; on a symbolic one, she felt that to give him the honor would somehow be starting off our new family on the wrong foot.
When she suggested I do it, I was hesitant: For one thing, I feared insulting my father, who I knew would hope—even expect—to be given the honor. More important, I wondered whether this wasn't a time to focus on something greater than my difficulties with my father.
Indeed, the whole meaning of the bris for me—more than God, more than the commandment, more than anything "religious"—lay in its power to physically connect my son to me and through me to countless generations of Jewish men beginning with Abraham. What better way to symbolize that awesome lineage than having my father hold his grandson at the bris? Maybe it could even heal some of the hurt between my father and me. But Lisa wasn't convinced. Back and forth we went, consulting our rabbi, our friends and our therapists, until at long last I agreed: If we had a boy, I would hold him. (Secretly, of course, I hoped for a girl.)
Nothing could have prepared me for the overwhelming feelings when our son was born. All the fears and worries of the preceding weeks vanished in a rush of tears; I'd never felt happier in my life.
Before my tears had even dried, however, I remembered my promise to my wife—and my worries. How would I break the news to my father?
So I did what I had always done growing up—I told my mother, who sounded predictably concerned. "Are you even allowed to hold your own son at his bris?" she asked. I replied that no law dictates who gets the honor, but our rabbi had said it was okay for me to hold him, preferable even as, in theory, the father is supposed to perform the actual circumcision. In other words, technically speaking, the closer I was the better.
Though she made no mention of my father, I hoped she would pass along the message.
On the morning of the event, still doubting my decision, I swaddled our tiny son and carried him out to the front yard where the day was overcast and the street quiet. I told him that what was about to happen would hurt, probably a great deal, but that I believed in its importance—in its power to initiate him into a long and rich tradition. No matter what, I promised, I would be with him through the entire ordeal.
Back inside I saw my father, with whom I had yet to speak a word about the bris. Had my mother told him I would be holding the baby?
Instead, as we had so often done with important matters, we tiptoed around the topic, filling the silence with idle chatter and empty exchanges. But now, with the bris just minutes away and my father still unaware of his role, albeit a small one, I had no choice but to broach the subject. So reluctantly I explained the logistics of how, prior to the circumcision, the baby was to be passed from one grandparent to another.
"Whatever you want," he said abruptly, ending the discussion before it had even started. Relieved as I was for the conversation to be over, I sensed his hurt and disappointment.
By the time the mohel arrived, Lisa was in tears and my own anxiety was thundering. We stood holding hands as the baby was injected with anesthesia. We brought him into the living room where friends and family said, "Barukh haba," welcome. The baby was passed from one grandparent to the next—from Lisa's mother to my mother, from her father to my father—and to the rabbi, who touched him to Elijah's chair and handed him to me. Finally, I carried him to a small table in the middle of the room where the mohel stood waiting.
The room was hushed, save for the rabbi humming a niggun. The grandparents were standing in a row adjacent to the table. Lisa sat safely across the room; I sat at the table, holding our baby.
The mohel quietly explained how I should pin down his arms and legs—when I did he immediately began to cry. I kissed his small forehead, trying to reassure him, but as the mohel swabbed down his penis his cries grew louder still.
Just then my father stepped forward, stood behind me and patted my back. Preoccupied though I was, I felt surprised, confused even: Had he approached of his own accord? More important, why? As a gesture of support? Could it be that he wasn't that angry after all? Or was he trying as he often did to assert his authority in the face of my decision to act against his wishes?
I felt uneasy yet, on another level, utterly relieved. And when the mohel handed me a wine-soaked cloth, I gave it to my father, who placed it in the baby's mouth.
Now things began to happen quickly: The mohel placed the Magen clamp on the baby's penis, the baby cried out and kicked in my hands, I handed the mohel a scalpel, the mohel said a prayer and Lisa's mother asked, "Is it over yet?" Only as the mohel went to make his cut, however, did it occur to me what was actually going on here: I was holding my son at his bris!
Why should I have been so startled by such an obvious fact? Hadn't I promised my wife as much weeks earlier? Hadn't I promised my son that very morning to hold him till the very end?
In truth, however, I'd never been entirely committed to the job—that is, until now.
As the baby continued to struggle in my hands—as I continued to assure him that he was not alone, that I loved him, that it would all be over soon—I began to understand something about my new role.
In the months before he was born, fathering a son seemed like a dreadful test of my capacity to withstand my son's anger and sullenness, now I glimpsed new possibilities—possibilities of tenderness and truth-telling and emotional connection. I understood that our relationship didn't need to be anything like my relationship with my father. Indeed, in holding my son at his bris, I was doing something my father had never done for me; already our relationship was different.
But it was more than this: I was choosing to connect to my family in an entirely different way than my father has related to his. I was choosing to be a father who soothes his son rather than terrorizes him; I was choosing to be a husband who respects his wife's wishes rather than dismisses them; I was choosing to be a man who protects the emotional needs of his loved ones rather than crushes them.
It was a way of being as radically different from my father as any I could possibly imagine. And yet, in the days and weeks that followed, as I tried this new way on for size, I wondered whether in some strange and improbable manner, my father, in coming to stand behind me, wasn't offering me a blessing for this very thing I wanted most, to live a different life than his.
After the mohel finished, I picked up my son and held him tightly. He had done wonderfully, and I told him so, feeling even more love and tenderness for him even than I had the day he was born.
Then, recognizing that there were some limits to what I could offer him, I handed him to my wife to be breast-fed.
Andrew Cohen is a writer and instructor of English at Pacific University in Oregon. He lives with his wife and son, Ezra Lev, in Portland.