Travel and Taste Niches – How else to see Israel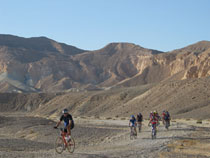 From horseback rides in the Galilee and through forests near Safed to digging shoulder to shoulder with top archaeologists at a Herodian temple site, there is no shortage of ways to experience Israel. For the rugged traveler there are jeep trips in the Golan Heights where riders share trails with goats and mountain bike adventures that cross the desert one day and explore Jerusalem's back alleys the next. And for the gourmet there's another sort of exploration at boutique wineries and innovative dairies that dot the country, serving up fine Cabernet Sauvignons, Shirazes and goat cheese.
Mountain Biking
After bumping over the cinnamon-colored dirt trail, around bends and down sloping hills, the cyclists come to an abrupt halt to admire a snow-white dove walking out of the reeds. The bucolic spot is about 10 miles east of Tel Aviv on the path along the Yarkon River that eventually winds all the way to Jerusalem.
Mountain biking has caught on among Israelis in recent years and now tourists are also coming along for the ride.
"It's a great way to truly see the country," said Avishay Dekel, who leads tourists and natives on bike trips, arranging food and accommodations—under the stars or in hotels—along the way.
For about $135 a day for overnight trips, Dekel takes riders wherever they choose—from the Golan Heights and Galilee to the desert. Tours are tailored to the level of the rider. More experienced riders tend to bring their own bikes, while others rent. Dekel also offers tours on tandem bicycles for the physically challenged (011-972-52-365-2431; www.israelbiketours.co.il).
Yoav Bahat organizes bike trips including half-day rides around Jerusalem from nearby Kibbutz Tsuba and also runs combined camping and bike trips (972-52-337-0865; www.tzubike.co.il).
"The idea is to combine the camping and the outdoor adventure with a challenging bike trip that takes us on donkey and goat trails," Bahat said.
In the Negev Desert in the south of Israel, there are several companies that rent mountain bikes and run tours for all levels of rider. At Alen-Desert Adventure tours (972-8-659-5555;www.negevland.co.il), groups can hire a guide for about $87 a day and the entire family, from adults to children, can rent bicycles for about $15 per day.
Horseback Riding
Hop in the saddle and ride out to see a corner of the country, or all of it. Horseback riding in Israel is now expanding beyond one-hour trail treks, and some stables are offering opportunities for custom-designed trips across the country.
At the Ramot Ranch in the southern Golan, guides lead riders on short trails that overlook the Sea of Galilee. More experienced riders can canter up and down rolling hills where "you can ride for days on end without coming across main roads and cities," according to ranch owner Justine Peleg. Riders of all levels are welcome, from those aged 10 and up. Prices vary for rides of several days, but a daylong ride will average $140 per person and a short one-hour trail ride is about $20 (972-57-736-4752;www.ramotranch.co.il).
On extended treks riders can sleep outside and still enjoy catered dinners or have accommodations arranged at bed and breakfasts along the way. Some riders have taken up the challenge of seeing the entire length of the country from the saddle.
At the Bat Yaar Ranch outside of Safed there are short treks in the surrounding forest and longer two-day trips that cost between $325 and $435. Along the way guides teach about nature and local history (972-4-692-1991).
Archaeological Digs
Volunteers can use their own hands to uncover Israel's past, unearthing the chipped remnants of a water cistern, an olive press or even the foundations of an ancient city. There are many opportunities to volunteer on archaeological digs and the experience can be as short as an afternoon or as long as several weeks.
The Israel Antiquities Authority helps match volunteers with sites in need of workers. Some of the digs are free, others charge a fee to cover accommodations. Information on current digs can be found by searching "archaeological excavations" on the foreign ministry Web site (www. mfa.gov.il) or through the IAA (972-2-620-4679;www.antiquities.org.il).
Last summer volunteers worked at a range of sites including the excavation of Tel Dor, between Tel Aviv and Haifa; it was a major port from the Canaanite, Phoenician, Hellenistic and Roman periods.
Volunteers, whose enthusiasm is harnessed to dig and haul heavy baskets of earth and shards, usually are not required to have any prior experience. At a dig site days typically begin at dawn and end around noon. The afternoon hours are often dedicated to informal lectures about the history of the site by expedition leaders.
For groups in Israel on a tight schedule, a company called Archaeological Seminars (972-2-586-2011; www.archesem.com) provides two or three hours of digging in a labyrinth of underground rooms near Beit Guvrin, 35 miles south of Jerusalem. Beit Guvrin is thought to be the ancestral home of King Herod.
Jeep Tours
Rumbling through the Golan Heights toward old Syrian bunkers or ascending a trail shared with goats, jeep tours take visitors off the beaten track and off road altogether. Most tours offer a few hours of fun with a professional driver, but some operators can arrange overnight trips of several days where meals are eaten around a campfire and one can sleep under the stars.
There are also opportunities for treks where visitors are taught how to drive their own jeeps. "We teach people how to drive in sand, snow and mud, and how to go up and down stairs," said Ofer Ogash, who runs a jeep touring company called 4×4 (972-52-243-6973; www.4×4.co.il). His trips traverse the country and cross into Egypt and Jordan. Prices vary, but a day of training with a guide costs about $325 per family or group.
In the Golan Heights, Jimmy Shaal runs Jimmy Jeep (972-4-676-3406). Shaal, who settled in the Golan after climbing its heights by foot in 1967 during the Six-Day War, takes many of his American visitors on "security tours," where they can climb through bunkers used by Syria; he tells them about the battles that took place here. A two-hour tour for a group of up to seven costs about $120.
"What makes jeep trips special is that you can reach places you cannot get to by car," Shaal said. "What you would take a whole day to hike you can reach in an hour."
Israel's breathtaking desert landscape makes for ideal jeep touring. In Eilat, look into Red Sea Sports (972-8-633-3666;www.redseasports.co.il); and in the Dead Sea area, check out Ein Gedi Safari (972-8-659-4760; ein-gedi@doryanet.co.il).
Wineries
The Natuf winery was born in a small cowshed on Meir Ekel's property. For the past 10 years Ekel and his good friend Zeev Cinamon have been producing Cabernet Sauvignon, Shiraz and even their own brand of a sweet and smoky port from grapes grown in the nearby Jerusalem foothills. Their low-key operation is one of some 200 boutique wineries in Israel, many of which offer tours and tastings.
At the Natuf winery on Moshav Truman visitors are offered glasses of wine to taste straight from oak barrels while standing under a pergola next to the cowshed where it all began.
"We are returning to our roots," said Ekel of the local winemaking industry, noting that ancient vats unearthed nearby were used to store wines that were once shipped across the Roman Empire. (To make an appointment to visit, phone 972-3-971-1051 or e-mail Cinamon at zeevc@savion.huji.ac.il.)
Israel's diverse climates make for a range of wines, and visitors can travel the country tasting the effects of geography. The region just south of Jerusalem also hosts a large concentration of wineries; the area's warm days and cool nights make it prime grape-growing territory. A wine tour can begin in the north in the Golan Heights, home to some of Israel's best-known labels. One recommended stop for high quality Cabernet Sauvignon is Bazelet ha'Golan, located on Moshav Kidmat Zvi (972-4-682-7223). The boutique winery produces both kosher and nonkosher wines.
Another recommended stop is the kosher Tabor Winery in the Galilee (972-4-676-0444; www.taborwin ery.co.il), which is known for its fine Sauvignon Blanc.
In the Judean Hills near Jerusalem, Domaine du Castel (972-2-534-2249; www.castel.co.il) is well-regarded as an especially picturesque and fine winery. Since 2003, all of its bottles have been kosher.
Cheese Tasting
In the land of milk and honey it is cheese that is stealing the show. Small family-run dairies—most of them using goat and sheep milk—have been springing up across the country.
Many of the local cheese makers learned their craft in Europe and have been busy honing their skills back home producing fine smoked mozzarella, Brie, sheep milk feta and other dairy delights. The quality and range of cheeses, including organic varieties, have never been so good and plentiful and that is good news for the hungry traveler who can plan a route according to his or her stomach.
In the Galilee there are several small dairies like the kosher Ha'Noked in Moshav Gilon, where visitors can sample a selection of goat cheeses and then stay on for a country-style meal at its restaurant with views of the sea below. To make a reservation for a tour or a meal, phone 972-4-956-6062.
In the Negev a network of privately owned farms run dairies and offer tastings and lectures on their cheese making. Daniel Kornmehl and his wife, Anat, run the Kornmehl Farm (972-52-278-8051;info@kornmehl.co.il), 12 miles south of Beersheba. Their dairy is well-loved for its versions of camembert, Brie and hard and semi-hard cheeses.
"I think it is a trend around the world that people want higher level and better tasting products," said Kornmehl, who took courses in cheese making in France and Italy.
Another popular dairy is on the Har Eitan Farm in the hills west of Jerusalem. Run by long-time and much acclaimed cheese maker Shai Seltzer, the dairy (972-54-440-3762) holds tastings and runs seminars on cheese making and goat farming.
Bon appetite and bon voyage!