Profile: Jack Klugman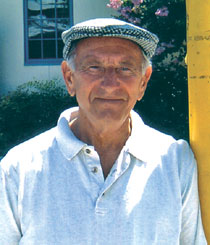 These days, one of television's most beloved stars is on the road promoting his book 'Tony and Me,' about close friend, fellow actor and Jew, Tony Randall.
Jack Klugman answers the door to his beachside Malibu apartment wearing a white polo shirt and khakis. Medium height, he has thinning hair and looks like he takes care of himself. Beyond the hall, lined by photos and drawings of him with colleagues, the living room is comfortably furnished—and remarkably neat.
"There's lots of stuff," he says in a raspy voice that is the result of a vocal chord lost to throat cancer, "but I picked it up off the floor before you came."
Though it has been 30 years since The Odd Couple was a television series, it's still hard not to associate this 83-year-old veteran of stage, films and the golden age of television with Oscar Madison, the messy sportswriter half of the show. And Klugman has rekindled those memories by publishing Tony and Me (Good Hill), the story of his friendship with Tony Randall, who played ever-so-tidy Felix Unger. Randall died in 2004.
I wanted people to know about Tony and how wonderful he was," Klugman says, adding that most people undervalue their ties with other people. "I never had a chance to tell him how much he meant to me."
He is promoting the book with the help of his 42-year-old son, Adam, an advertising professional. (Another son, David, 47, is a psychologist.)
"My father and I have come a very long way in our relationship," Adam Klugman says, "so that to find ourselves here after all of these years, working on such a great project together, confirms all of our best hopes. We have become more than father and son. We are now colleagues. And even better than that, we are good friends."
Born in 1922 in South Philadelphia, part of a dwindling Jewish community in a rough Italian neighborhood, Klugman always considered himself a loner, but he warmly remembers his family: "There were six of us—eight with my mother and father—and we never had any money, but we always had enough food to eat." The synagogue, though only four doors away, played little role in the future actor's life.
"I think the first time I went in there was when my father died," he recalls. "I was 12, to say Kaddish." His mother supported the family by working as a milliner; Klugman cultivated his street smarts, grew a little tough and learned to gamble.
During World War II, he served eight months in the Army, but a kidney problem led to a medical discharge. Threatened with "collection" for a gambling debt, he fled to Pittsburgh and talked his way into the acting program at Carnegie Tech (today's Carnegie Mellon), with tuition covered by his Uncle Sam. He thrived there. After a couple of years of acting school, he left for New York and never looked back. "I was 25, 26 when I went to New York," Klugman says. "I'd been in the Army and I didn't know where I was headed. But I knew it was a better life than I had in Philadelphia."
His first big theatrical part was in Mr. Roberts with Henry Fonda. "In 1949, I got the second lead—the part of the doc—on the road," Klugman notes. His connection with Fonda led to other parts, including Juror No. 5 in the film 12 Angry Men.
"What a cast!" Klugman exclaims, his intense blue eyes sparkling. "It was wonderful. That was a labor of love; everybody was there every minute of every day. We got $900 bucks a week; everybody made $3,600 on that picture. It was a joy. These guys getting $20 million to do a movie now, they don't have as much fun as I did."
By the mid-1950's, klugman was working regularly in live television, performing on such showcases as Kraft Television Theatre, Studio One and Playhouse 90. "I did three live hour shows in three and a half weeks," he says. "I was at a party once and Johnny Mercer"—the songwriter—"was there. He said, 'Holy mackerel, I haven't seen you on television in half an hour.' I was on all the time."
In 1965, Neil Simon's The Odd Couple opened on Broadway, starring Walter Matthau and Art Carney in a plot based loosely on the night-and-day personalities of Simon's brother, Danny, and agent Roy Gerber, who roomed together briefly after their wives left them.
"Walter was brilliant," Klugman says. "The audiences loved him." But when Matthau took a leave to film The Fortune Cookie, Klugman stepped into what he considers the greatest comedy written in the 20th century.
It's always a challenge to follow an actor who originates a role, but Klugman says he eventually fixed on a pivotal moment that allowed him to make the part his own: When the two housemates are fighting, Oscar says, "…you moved in, my closest and dearest friend."
"I knew that was the essence of the play," he says, "because if he's a close, dear friend, you can't throw him out. It's 'I love you, but I can't live with you.' That's where the conflict is. And that's what I played—the essence of love."
He played to standing-room-only audiences, too, and went on to re-create the role in London.
Then, in 1970, he and Tony Randall began their collaboration. Over five seasons, the television series' plots branched out—there were scenes in a hospital and a monastery; the pair even tried to compete on Password, in what became Klugman's favorite episode. Other actors joined the cast; Klugman's then wife, Brett Somers, the mother of his children, played Oscar's ex-wife. They married in 1956 and divorced after 19 years; Klugman never remarried but has had a serious relationship with Peggy Crosby for several years.
"We had the best writers in the business," Klugman says. "I'd say, where's the love scene, the scene where I say, 'I love you, Felix, but I can't do that. You're asking me to go too far.' That gave it substance."
His interest in the show's scripts didn't escape the critics. Says Tim Williams, assistant editor of TV Guide Magazine, "We made a point of noting that both Klugman and Randall were concerned with the scripts. They went over them meticulously, and if they weren't up to the standard, the men weren't shy about bringing that to the producers' attention."
Like Klugman, Randall was Jewish. If their personalities edged toward their roles—Klugman liked to smoke and gamble; Randall hated cigarettes and preferred opera—Klugman insists that what motivated both men was a respect for their craft. "We loved the theater," he says, "and from the love of theater came the chemistry."
The series ended in 1975, and Klugman's next project was Quincy, M.E., in which he played a crime-solving medical examiner. At first he hated the show's scripts, which were heavy on cops and robbers rather than the social-injustice themes he had signed on for. After 10 episodes he threatened to quit. Eventually, Klugman got control of the series.
"I started to do all the shows I stole from 60 Minutes and newspaper headlines," he says. "Story lines touched on topics from sudden infant death syndrome to orphans and drugs."
"From his early days in TV," says Alex Ben Block, editor of TelevisionWeek, "Jack Klugman had poise and presence. He wasn't just a lightweight and obviously not a pretty face. On Quincy, he'd get emotional and worked up over cases. You felt he was projecting his values onto the screen."
Quincy ran for seven and a half years. "It's a rarity in Hollywood to do two successful shows in a row," says Williams. "And with two parts that are so different, that's a real achievement. It speaks to his talent and to how much the audience liked him."
In 1989, as Klugman prepared to do a stage revival of 12 Angry Men, he was diagnosed with throat cancer. Surgery left him healthy but with a single vocal chord—and no voice. He credits Randall for restoring his confidence and his career. "I was so vulnerable, and he treated me so well," Klugman remembers. "He was the first one to visit me in the hospital. I couldn't talk at all. He said, 'Let's face it, Jack. You never did sound like Richard Burton.' And when he left, he said, 'When you're ready to go back to work, we'll find you a venue.'"
Indeed, three years after the operation, randall tapped Klugman for a performance in New York of The Odd Couple as a benefit for the National Actors Theatre. It was Randall's dream to have an American repertory theater for the classics, and he poured millions of his own money into it. Though Klugman's voice sounded like sandpaper on wood, it was enough for a comeback. He later performed in Actors Theatre productions of Three Men on a Horse and The Sunshine Boys.
Since then, Klugman has developed a one-man theatrical show and also starred in several regional productions of Jeffrey Sweet's The Value of Names, about two men whose friendship was transformed by the blacklist.
Earlier this year, Klugman appeared in When Do We Eat?, a film about a dysfunctional Jewish family at a Passover Seder. "I play the grandfather. It's a pretty good film, but," he adds candidly, "I'd rather have television because you have more control."
Still, he seems to relish every opportunity to practice his craft. "As an actor, if you really got your eye on the work, you grow every time," he explains. "You grow because of the rehearsals; you grow because of the part…. I tell my kids, you have control of nothing else except your work."
He leavens the acting projects with forays to the track. "It's a great escape for me," he says. "I used to bet a lot. Now I bet very little—$6, $10. I enjoy it." And he travels: He's planning trips to Russia and Africa this year and Israel in 2007. And then there is the time spent with his grandaughters—Olivia, 8, and Katharine, 3.
He recalls a previous journey to Israel more than 20 years ago. "When I was in a bus on the way to the hotel, I passed a street with the sign in Hebrew letters, and I just burst into tears," Klugman recalls. "It gave me pride; well, I always had pride"—but still it was something to be in a place—"where being Jewish was wonderful."
For now, he'll put some profits from his book into the National Actors Theatre, and, most of all, he would love to see a theater named for Randall. It's one actor's dream for another—a tribute to a close, dear friend.