Medicine: From Lab to Tablet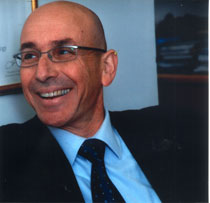 For the past 17 years Hadasit has been guiding Israeli medical innovations through the long process that starts in the laboratory and ends in the pharmacy.
It takes more than 10 years and $800 million to turn a good idea into a medicine, therapy or medical test and get it licensed. For every 10 ideas put through their first trials, only one makes it to the next stage of testing. And this massive investment of time and money is conducted against an ever-present risk: Will this idea sell 14 years from now, or will another solution get there first and soak up its market?
With all the risks, however, the development of new medications and new biotechnologies can be vastly profitable. Worldwide sales of vaccines alone are expected to double to more than $20 billion in the next five years.
Among the multinationals and conglomerates in the global medical research arena, the Hadassah–Hebrew University Medical Center at Ein Kerem is a noted player. The therapeutic, diagnostic and biomedical devices that Hadassah has developed range from an improved chemotherapy regimen and a slow-release biodegradable chip for gum disease, to transcutaneous pain relievers, computerized no-radiation diagnostic instruments for breast cancer, a flexible wave-guided fiber for endoscopic surgery and intelligent medical sensors that direct surgical instruments via real-time virtual images.
Each year, some 200 United States Food and Drug Administration-certified clinical trials are run in Hadassah's 160 departments. But it has taken more than this to make the Hadassah Medical Organization a powerhouse of medical development.
"Hadassah's talented and often brilliant scientists and physicians are not always as capable when it comes to commercializing their intellectual property," says Dr. Rafi Hofstein, president and CEO of Hadasit, Hadassah's technology transfer company. "That is where Hadasit comes in."
Created in 1988, Hadasit Ltd. (www.hadasit.co.il) steers Hadassah inventions down the long, often treacherous road from laboratory to international marketplace.
"Our role is selling innovative technology at the right time, in the right way, at the right price," says Dr. Hofstein, an alumnus of the Weizmann Institute of Science and Harvard Medical School. "That means both conducting the business side—the tortuous patenting process, drafting and filing licensing agreements and so on—as well as bringing in investors and organizing launches…."
With 20 years in biotechnology business development, the past six of them at the helm of Hadasit, Dr. Hofstein has led the company in ways that are often as novel and audacious as the ideas he helps develop and sell.
"Hadasit started by out-licensing its inventions, [meaning] selling patented ideas to multinational pharmaceutical and medical device manufacturers," he explains. "Conventional practice at that time was finding buyers as soon as there was a patent. About 10 years ago, however, practice changed. The multinationals decided it was premature to purchase projects early in their development. They opened their own [research and development] centers instead, and the buyers melted away."
Now, the pendulum has swung back, with industry giants finding in-house R&D neither productive nor cost-effective. But Hadasit's several hundred patents are not as readily available to them as they once were.
"Hadasit didn't spend that buyer-less decade standing idle," says Dr. Hofstein. "We developed a different business paradigm. We now bridge the average 10-plus-year gap between the patenting of an idea and its market-readiness by establishing start-up companies and bringing in investors whose money enables the idea to be taken through the development milestones."
Hadasit currently has more than 20 "daughter" companies. One, for example, is working on cures for neurological diseases such as Parkinson's by transplanting stem cells to produce new nerve cells. Others are developing therapies for cancer, autoimmune diseases, cardiovascular disorders, as well as cell therapy, diagnostics and medical devices.
One Hadassah company is developing a blood test to identify those at risk for post-traumatic stress disorder (PTSD). Early diagnosis is key to successful treatment of PTSD. It occurs in about one in 10 people who experience trauma and is characterized by sleeping disorders, difficulty concentrating, irritability, nightmares and flashbacks—disabling symptoms that can persist for years.
Led by psychiatry department head Dr. Arie Shalev, Hadassah's psychiatrists had long suspected that a physiological signature may be left in the blood that foreshadows PTSD.
The intifada produced the numbers of trauma survivors needed to search for this signature. Blood from these patients was tested within hours of trauma and four months later. They found what they were looking for in the DNA of white blood cells: an unmistakable signature that correlates with the onset of PTSD.
To accelerate development of this unique test, Hadasit has incorporated a new company. "The test will enable early identification and thus better treatment for PTSD patients," says Dr. Shalev. "The start-up will also allow us to take our research further. Now that we've found the markers, we want to identify the genes involved. This will, we believe, shed light on the biological processes in our bodies that cause mental disease and show us how to develop ways to prevent such diseases."
Some Hadasit start-ups are better served by merger and acquisition than by remaining independent. Hapto-Biotech is one example: Hapto has codeveloped a biotech bandage that promotes healing and regenerates tissue in hard-to-heal wounds, such as diabetic ulcers. It may also have applications in orthopedic and dental procedures, and in cosmetic surgery.
Impregnated with a combination of synthetic peptides and collagen, the bandage is about to start clinical trials in Israel and is under evaluation by the Food and Drug Administration. The trials are a product of a three-year joint venture between Hapto and Ortec International, Inc., a New York tissue-engineering company that trades on the NASDAQ stock exchange. The bandage's peptides were developed by Hadassah's Dr. Raphael Gorodesky and Dr. Gerard Marx; its collagen biomaterial was contributed by Ortec. Joint research between the two began in 2002, and they are now discussing merger and acquisition, which will give Hapto investors shares in Ortec.
"This merger, now under negotiation, will be a first in merging Hadasit start-ups with large companies," says Dr. Hofstein. "It will make Hapto a NASDAQ-traded company in which Hadasit retains shares."
Merger and acquisition is not the only way that Hadasit has increased the sophistication and efficiency of its financing. In late 2005, it created Hadasit Bioholding Ltd. (HBL), which began trading on the Tel Aviv Stock Exchange this year.
"We selected nine Hadasit portfolios and sent our holdings in each to HBL," says Dr. Hofstein. "This cluster of companies is working in three distinct areas: inflammatory and autoimmune diseases; cancer diagnostics, monitoring and therapy; and tissue repair relying on stem cell technologies. Their value prior to investment was $14 million. The intent is to raise about the same amount again, bringing HBL's stock value to at least $26 million even before it begins to play on the Tel Aviv stock market."
HBL makes Hadasit, once again, a pioneer in Israel's biotech industry. The year 2007 will see the company take the lead again when it moves 20-plus start-ups now working in Hadassah–Hebrew University Medical Center at Ein Kerem to a biotech park that will open nearby on the hospital campus. Jointly built and run by a newly created Hadassah–Hebrew University foundation named UNIHAD, it will be the first medical research-oriented industrial park in Israel. Covering 96,840 square feet in five stories, the park will serve as incubator to some 25 life sciences start-ups, all of which will have easy access to the state-of-the-art facilities and services at the Hadassah–Hebrew University Medical Center and Medical School.
Finding new ways to understand disease and create medicines is a complex undertaking. It is also very expensive, with researchers caught in the Catch-22 of needing results to obtain funds and needing funds to obtain results.
"It's against this background that Hadasit operates, embracing new ways of accelerating early-stage life science projects," says Dr. Hofstein. "We create value from intellectual property to raise the money that will allow medicine to advance worldwide, so that it will ultimately become accessible to all who need it."