Jewelers to the World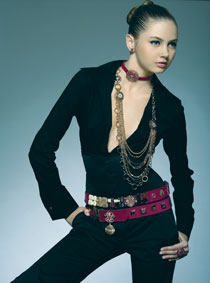 Ayala Bar was an incessant doodler. Even the sternest of her elementary schoolteachers in the Tel Aviv suburb where she grew up could not force the dark-eyed little girl to dam the current of squiggles and color that transformed her drab, brown notebook into a palette of rainbow hues. That's fortunate for jewelry lovers around the world who today collect the handmade necklaces, bracelets, brooches and earrings that flow from the font of Bar's creativity.
Twice every year, a new 250-piece collection of Bar's trendsetting costume jewelry—vivid glass beads, fabric-turned-into-handmade buttons, semiprecious stones and crystals—emerge in curious shapes and mosaic designs from the Ayala Bar Design Studio in Givatayim, a city near Tel Aviv. From there they are sent to her retail outlet in Tel Aviv's Neve Tzedek neighborhood and to museum shops (including The Victoria and Albert Museum in London and The Jewish Museum in New York), boutiques and exclusive emporia in the United States, Canada, Europe and the Far East (Takashimaya in Japan and Singapore).
If Bar's designs don't sound like the sleek ultramodern silver Israel was known for a decade ago, that's because the fashion jewelry pouring out of the country today is decorative and romantic, and Bar is one of the initiators of the trend. Though she was born in Israel, her jewelry recalls ancestry that goes back to Afghanistan and Turkey.
One of her necklaces has 15 different elements suspended from a chain: horseshoes made of beads; curved comets of periwinkle; trapezoids of crystal in shades of green, purple, orange, yellow, pink, navy and turquoise (it costs about $150).
Who needs a scarf when a multicolored necklace can provide a delightful and dramatic accent to that little black dress?
Bar isn't the only designer whose jewelry is selling internationally. Supermodel Claudia Schiffer was spotted in Beverly Hills wearing a Leetal Kalmanson design. And singer Britney Spears is just one of many celebrities seen adorning herself with the Victorian-style necklaces of Michal Negrin, probably the best known of the new designers.
Fashion innovator Negrin's highly exotic, emotive chandelier earrings and wide chokers have attracted increased attention over the years, particularly since Spears and actors Nicole Kidman and Demi Moore have appeared in public bedecked in her distinctive necklaces.
"There's a daring in our designs that catches your eye," says Bar. "We're not restricted by traditional techniques and take a fresh approach to the materials."
Inspired by Bar and Negrin are many other artists who share their love of color, whimsy and sparkle. Kalmanson, for example, uses luminous oversized European crystals set in specially designed metal. Her pieces are available in her LK showroom in the Hamashtela Center in Tel Aviv and in department stores and boutiques in New York, Paris, Moscow and London.
Another jewelry maker, Talma Keshet of Rishon Lezion, spends her weekends matching up odd-shaped and colored pearls to create her signature long-stemmed, flower-shaped gold and pearl earrings.
Keshet, Maya Ofir and Dganit Hen make rings, pendants, bracelets and brooches that use a lot of sterling silver and gold. They also use semiprecious gemstones—aquamarine, citrine, tourmaline—though their designs are not as effusively layered as those of Bar and Negrin.
Keshet's collections use 9-karat and 14-karat gold combined with silver that is set with such gems as opal, garnet, topaz and moonstone. One striking ring features sculpted miniature leaves and has a large oval rose-cut opal.
Hen, whose works are available online from the Ethnics Artists' Co-operative (as are the designs of Bar and Keshet) blends classic Israeli silver and gold with funky designs and colors. One sterling silver and gold bracelet glows with the variously shaped beads of amethyst, aquamarine, iolite and quartz.
Ofir, who lives and works in the Ein Hod artists' village near Haifa, strings together richly colored hand-painted glass beads and ancient stones. Her pieces are sold in the shops at the Israel Museum in Jerusalem, the Scribble Museum in Los Angeles and The Jewish Museum in New York.
But with her line of more than 1,500 designs, it is Michal Negrin's brand that is the most recognized. Born on Kibbutz Na'an near Lod (best known for its invention of the drip-irrigation system), the young designer—her name was Michal Green until she married Meir Negrin, who now manages her company—loved rummaging through bins of Victorian postcards in secondhand shops and fashioning jewelry with delicate flowers and bright colors.
The self-taught Negrin favors the frilly, fanciful and fun. Her work reflects her fascination with romanticism and its obsession with natural forms, mostly flowers and trees. Pieces can be as extravagant as a three-sided, multitiered necklace with yellow and red stones or as unique as a gem-studded hamsa or Star of David.
One of her exceptional chokers features row after row of tiny buttercups accented with pink and green and lace; it sells for as much as $650. Negrin's earrings start as low as $10 but her creations grow in price with the complexity of design.
Negrin's first signature shop opened in 1993 on Tel Aviv's fashionable Sheinkin Street. Today, she employs more than 200 Israelis, including many immigrants, to make her jewelry. There are 37 Michal Negrin shops worldwide—in Israel, the United States, France, England, Spain, Australia, the Czech Republic, Singapore, including 9 in Japan.
Whether her shop is in Aventura, Florida, or on Madison Avenue in New York, Negrin designs the boudoir-style interior with marble blooms, love seats and chandeliers that combine cozy and chic. Her line has expanded to chocolates and undergarments, shawls, shower curtains, pillow tassels, tiles and furniture.
Her international following is such that customers who attended the Madison Avenue opening in November 2005 told the store manager that they had already visited her posh shops in Israel and Prague.
One of her most popular shops is in the duty-free area at Tel Aviv's Ben-Gurion Airport; the location is fitting since she is David Ben-Gurion's great-granddaughter (the prime minister's original name was David Green).
"Ayala Bar and Michal Negrin opened the way for other Israeli fashion jewelry and I have the greatest respect for them," says 32-year-old Kalmanson, a sabra from Tel Aviv who broke onto the scene two years ago.
Like Negrin and Bar, though, many of these artists started out selling their original, handmade earrings in Nahalat Binyamin, Tel Aviv's popular open-air market (open Tuesdays and Fridays).
For a short time, Bar and Negrin shared a shop in Tel Aviv, but they soon went their separate ways. Bar brought in her father and sisters to help with her growing business. One of Negrin's sisters, Adaya, who makes jewelry similar to hers, branched out on her own.
"Nahalat Binyamin is the equivalent of having a showroom in the middle of town with no overhead," says the dark-haired Bar, 48. "Suddenly, I had customers who would turn up on a regular basis and look for new pieces."
Also affected by—and affecting—the trend is Laly Cohen. An art teacher with an interest in Kabbala, she was busy creating stained-glass windows in a synagogue when she held up the odd-shaped pieces of colored glass to the light and knew the deep reds, pinks and purples would make magnificent jewelry.
A native of Beersheba, she also admired the silver Bedouin necklaces, with their busy designs, charms and amulets, hawked at the Beersheba Camel Market.
"What you make is what you like yourself," says Cohen, who today as a full-time designer employs physically and emotionally challenged adults.
Cohen adds semiprecious stones to her creations and uses colors of the Negev—natural copper, tin and brass. She then sets the stones and stained glass into primitive designs sometimes plated with silver or 24-karat gold. Her works include, for instance, asymetric garnet earrings matched to a necklace of amethysts, citrons and agates on a pink pearl background outlined in bright copper. She also uses Swarovski crystals for her rings, bracelets and brooches.
Cohen's first customers were women from the wealthy Beersheba suburbs of Omar and Meitar. One of them brought a friend to Cohen's studio: Tzvia Peres Walden, Shimon Peres's linguist daughter. Walden subsequently wore the jewelry in Paris, where it caught the eye of a retailer.
Laly Jewelry Design, in business now for 15 years, sells its wares in Spain and England. Six years ago, her success continued and Cohen's naturalistic jewelry caught on in the United States, Canada and Japan.
"The market for Israeli fashion jewelry is steadily growing," says Reli Stav, the Israel Export Institute's executive for jewelry. "People like the look… although it's not cheap [because of high labor costs]. Our jewelry has personality and it's affordable for the woman who wants to make a personal fashion statement. Unlike a classic gold necklace or diamond that might cost far more, she's wearing a conversation piece."
According to curators at the Israel Museum, even in times of austerity, a love of jewelry has long characterized this land of ascetic desert-living people: Nose rings, necklaces and bracelets have been unearthed amid the pottery and coins of archaeological digs.
The delight in beautifying accessories was first expressed in carved animal bone and teeth, later in bronze, glass, silver and gold; jewelry was fashioned alongside farming and household tools.
In 1906, Bezalel–The School of Handicrafts in Jerusalem (today the Bezalel Academy of Art and Design) was named after the biblical artist who brought Divine inspiration to the design and decoration of the holy vessels. In the 1930's, diamond merchants and craftsmen fled to Palestine from the Netherlands and Belgium, making the soon-to-be-created state an international diamond-trading center for polished and rough stones.
The arrival of large numbers of Yemenite Jews in 1949—whose expertise was intricate silver filigree—bolstered the already established industry of silversmiths. Other local designers used the ubiquitous blue-green Eilat stones.
The best-known jewelry artist of the early years was Chaim Paz, who still runs Idit, the large studio and retail store in downtown Jerusalem. His work had the clean lines and modern designs that typified Israeli jewelry making. Paz created a much-copied "Jerusalem of Gold" necklace and pin based on the Talmudic story of Rabbi Akiva giving his wife, Rachel, a necklace in recognition of her decades of support and patience while he studied Torah.
The necklace features a delicate, jagged outline of the city suspended from each end on a chain. The pin has a golden Jerusalem growing out of a dark semi-circle.
Golda Meir often wore one of Paz's pins, an abstract "Burning Bush" (see photo, page 24), when she went to speak abroad. Paz, now 75, is still making new designs, but the old ones hold a nostalgic charm for some of his customers. "Even 40 years later, people still come into the store to ask for 'Golda's pin,'" he says. But Paz, too, has been affected by the trend for romance, and his latest line has more flowers than his earlier geometric designs.
The talent and creativity of individual jewelers underline the untapped potential of the industry in the country, according to Amotz Weinberg, president of the Shenkar College of Engineering and Design in Tel Aviv. He sees the level of recent export—$350 million of finished jewelry in 2004—as far below what it could be.
"I'm openly envious of the $4 billion jewelry export of nearby Italy," Weinberg confesses. "We have the talent here, craft, imagination and even our own polished diamonds. There's no reason why we can't be leaders. Jewelry is a perfect product for Israel because it reflects the uniqueness of design and the added value of an intellectual property."
To harness that potential and bolster the industry, five years ago Weinberg turned to Hans Stern, the Brazilian jewelry magnate whose fine jewelry is sold in Israel and around the world. Stern came to Brazil as a refugee from Nazi Germany in 1939 and worked his way up from a shipping clerk. When he was in his twenties, he sold his prized accordion and used the money to start a jewelry business, which now operates 180 luxury shops worldwide.
Agreeing with Weinberg's assessment of the enormous potential of the jewelry industry in Israel, Stern lent his name and financial patronage to establishing and maintaining Shenkar's four-year-old department of jewelry design, which teaches metal-smithing, setting, engraving, enameling and marketing as well as design. The first graduates are just now beginning to enter the work force.
The dearth of tourism during the intifada nudged many enterprising wholesalers and retailers to sell their jewelry on the Internet.
"Customers who weren't coming regularly felt they could both enjoy the jewelry and support the economy," says David Yomtov, who manages the Ethnics Artists' Co-operative on Jaffa Road, in the downtown Jerusalem area that was frequently the site of terrorist bombings during the intifada.
Now, in quieter times, he still fills orders weekly for the nearly 30 established and new Israeli artists who exhibit jewelry on the group's Web site, one of many online sources for Israeli jewelry.
As the demand for Israeli jewelry grows, in Ayala Bar's workshop tens of thousands of beads from all over the world, grouped by colors, fill row after row of transparent containers. Bar begins a new design by mixing colors until she comes up with combinations she likes. When she's finished, the models go into production. Ninety-six percent of the finished products are exported.
On a recent trip to the United States, Bar admired a pair of earrings in a shop window and said, "Look," as she tugged at her husband's arm, "someone makes jewelry just like mine!" She went inside and, to her surprise, saw the earrings were hers.
A distributor had beat her to Santa Fe, New Mexico.