The Arts: Stolen Images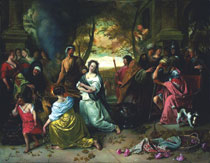 The Nazis confiscated art treasures from Jewish homes and businesses throughout Europe: Today, survivors and their heirs are tracking down these lost works and reclaiming them.
It was a simple swap: A Camille Pissarro painting for the freedom of Lilly Cassirer Neubauer and her husband, Otto. A Nazi-appointed appraiser forced her to sell "Rue St.-Honoré, Après-Midi, Effet de Pluie" for 900 Reichsmarks—about $360 at the time and much less than its worth.
But when the couple fled Munich in 1939, they could not take the funds, which had been paid into a blocked bank account. "Lilly exchanged the painting for her life and that of her husband," said her great-grandson, David Highland Cassirer.
Although the postwar German government voided the sale, Neubauer, a member of the prominent German Jewish Cassirer family of intellectuals, publishers and businessmen, never recovered the Pissarro. It was sold multiple times. In 1993, the Spanish government paid $350 million for the collection of Swiss industrialist and Nazi supporter Baron Hans Heinrich Thyssen-Bornemisza; today, the collection is in the renovated Villahermosa Palace in Madrid, now called the Thyssen-Bornemisza Museum. Among the works in the baron's possession—the second-largest private collection in the world—was the Pissarro.
The Cassirers had spent five years trying to recover the Pissarro through quiet negotiations and diplomatic channels. Finally, last May, Neubauer's grandson, Claude Cassirer, filed a federal lawsuit in California against Spain and the Thyssen-Bornemisza Collection Foundation to recover the painting, which has an estimated value of $20 million. "Here was a family that essentially used its money to raise Hitler from obscurity…and that later was a big supplier to the Nazi armaments machine," said David Highland Cassirer. "To have this painting hanging in a museum named for some of the most celebrated Nazi collaborators in history is deeply disturbing."
Millions of european jews were forced to sell or abandon their homes and businesses during World War II, their assets plundered or confiscated. Among the staggering material losses of the Holocaust, works of art often seem particularly significant to survivors and their heirs because they represent a last emotional connection to lost family.
Simon Goodman is one of the heirs of Friedrich and Louise Gutmann of Heemstede, the Netherlands, whose looted collection included an Edgar Degas monotype, "Landscape With Smokestacks."
"The Degas was hanging on my grandmother's drawing- room wall, and she ended up in a gas chamber. I cannot let it go," he said. But let it go he did. Gutmann's heirs were forced to reach a settlement with the Degas's current owner in 1998 because they lacked funds to litigate their claim.
In January, the heirs of exiled Viennese sugar magnate and patron of the arts Ferdinand Bloch-Bauer won a protracted battle with Austria to recover five paintings by Gustav Klimt, including a celebrated golden portrait of Adele Bloch-Bauer that hangs in Österreichische Galerie Belvedere, the Austrian national gallery. The Klimts' combined value has been estimated between $200 million and $300 million. And only weeks after the Bloch-Bauer decision, the Dutch government agreed to return more than 200 Old Masters in its national collection to the heirs of Jacques Goudstikker, a prominent Jewish art dealer in Amsterdam who died in 1940 while fleeing the Nazis.
Bloch-Bauer's niece, Maria Altmann, who fled Austria in 1938 and later settled in California, led the family's fight to recover the Klimts. After she won a landmark legal victory in 2004, when the United States Supreme Court ruled that Altmann could sue the Republic of Austria in the United States, Austria agreed to arbitration. "I felt the whole time that the law, justice, was on my side," said Altmann, 90. "I was hoping to live to see this happen."
The Bloch-Bauer and Goudstikker claims originated immediately after World War II, when heirs first tried to recover the artworks. Neither family succeeded. It was as if the artworks had been stolen twice—by Germans and subsequently by postwar governments. The families each launched their claims anew in the late 1990's. They initially met stiff resistance from the Austrian and Dutch governments and filed lawsuits in the United States and the Netherlands.
"They ended up spending a great deal on litigation and, yes, in the end, they prevailed…," said Willi Korte, a prominent independent art investigator who works in the United States and Germany. "Do not forget how thorny the path was to success. These cases are exceptional in many ways and do not represent the great majority of art-restitution claims."
Thomas Kline, an attorney at the Andrews Kurth firm in Washington who has represented both claimants and museums, agreed. "The blockbuster claims are going forward: those based on the biggest prewar dealers, the biggest collectors and claims against the national collections," he said. Smaller claims, however, are not so likely to succeed. And there were many Jewish families who have no surviving members or records. Among his current cases is a claim by the heir of a German Jewish refugee for Gustave Courbet's "Le Grand Pont," which since 1981 has been on loan from Herbert Schaefer to the Yale University Art Gallery. "Who would be looking for Josephine Weinmann's Courbet if her son were not still alive and had the resources to pursue it?" Kline wondered.
A constellation of factors has changed the climate for the recovery of Nazi-looted art in the last decade. Commemorations of the 50th anniversary of the end of World War II offered opportunities to reflect on what was called "unfinished business." The opening of archives in Eastern Europe provided documentation of human atrocities and material losses. Lynn H. Nicholas's 1994 book, The Rape of Europa: The Fate of Europe's Treasures in the Third Reich and the Second World War (Vintage), and The Lost Museum: The Nazi Conspiracy to Steal the World's Greatest Works of Art (Basic Books), published in English in 1997 by Hector Feliciano, revived public attention. And two stunning 1995 exhibitions in Russia, at the State Hermitage Museum in St. Petersburg and The Pushkin State Museum of Fine Arts in Moscow, unveiled masterpieces that had been carted out of Germany by the Red Army as reparations for massive Soviet losses at the hands of the Nazis. Although the Russian exhibitions raised profound questions of ownership, they were accompanied by relief that artistic treasures, hidden for a half century, had not been destroyed.
At that time, the displaced objects were referred to as "trophy art" and "spoils of war." The focus dramatically changed to Jewish losses in January 1998, when New York District Attorney Robert Morgenthau subpoenaed an Egon Schiele painting, "Portrait of Wally" (see cover).
The Schiele was on temporary loan from the Austrian-financed Leopold Museum in Vienna to the Museum of Modern Art in New York. It was recognized by the heirs of Lea Bondi Jaray, a gallery owner in Vienna who was compelled to surrender the painting before she fled from the Nazis in 1938. The Schiele remains at the heart of an international legal battle, pending in federal court in New York, over whether it should be considered stolen property under the United States National Stolen Property Act.
Morgenthau's seizure of the painting set in motion a flurry of activity. The American Association of Museums (AAM) and the Association of Art Museum Directors (AAMD) developed guidelines to research objects in their collections that had been in Europe between 1933 and 1945 and that had dubious or unclear provenance.
In December 1998, the United States State Department convened the Washington Conference on Holocaust-Era Assets, at which 44 nations endorsed the so-called Washington Principles, protocols regarding the location, identification and restitution of Nazi-looted art in public collections.
"In theory, all the pieces are in place," said Ori Z. Soltes, a lecturer in fine arts and theology at Georgetown University. However, Soltes, the former director of the B'nai B'rith Klutznick National Jewish Museum in Washington, noted that the AAM, AAMD and Washington Principles are voluntary. "Since nothing is binding, nothing is dealt with except under duress…."
The Nazi Genocide was accompanied by an unprecedented campaign of looting, confiscation, forced transfers and destruction of cultural property in Europe. Historians have attempted to compile estimates of losses, but records are incomplete or destroyed.
What is known is that after the war, Allied Forces uncovered caches of moveable looted goods, including art and gold. The United States military restituted some 3.68 million works of art to the countries of the works' origin; those nations were responsible for locating the owners, according to the 2000 report of the Presidential Advisory Commission on Holocaust Assets. There are still debates and grievances about how seriously governments attempted to reunite works with owners or heirs. (Heirless properties, including art, books and Judaica, were turned over to a now defunct organization called the Jewish Cultural Reconstruction, which distributed the objects primarily to Jewish institutions in Israel and the West.)
Many of the works had entered the art market, which operated throughout the war. The Nazis sold confiscated art to raise cash. Unscrupulous dealers, including some Jewish ones, took advantage of desperate Jews who sold pieces to finance their escape. Switzerland in particular became a market for so-called flight assets, objects that were transferred to prevent them from being seized by the Nazis.
Over the last 60 years, these objects were sold or donated—they are rarely found in the hands of the original thieves. Given the absence of regulation in the art market and the willingness to buy and sell without diligent checks of title, many museums and private collections contain items that were looted or sold under duress.
Both the original owner and the current possessor may have moral claims to the works, but legal ownership can vary. Most Western legal systems are not geared to redress losses that occurred decades earlier and in other countries.
In many nations, claims may be barred because statutes of limitation have expired. Claims and the rights of a current possessor may be confounded when art crosses borders. It is not clear which law should apply. In addition, most nations have laws that protect good-faith purchasers and penalize original owners for lack of diligence in searching for artworks. Also, certain losses are not universally recognized as looted assets. "The crucial thing in many of the cases is the definition of…a forced sale," said Nicholas. "The very narrow and legalistic judgments of the first rounds of restitution in all countries are not acceptable to present morality and knowledge of history and the Holocaust."
For example, only Germany recognizes that the sale of flight assets after the 1935 Nuremberg laws constitutes a "sale under duress." The reasoning is that had the individual not been a Jew, he or she would not have been compelled to flee, would not be destitute upon arrival in a country of haven and compelled to sell his or her remaining assets to survive.
There are no omnibus measures that are suitable for art claims, especially in the United States, where most museums are private and ownership disputes are viewed as civil matters. The New York State Banking Department established its Holocaust Claims Processing Office in 1997 to try to resolve claims quietly and without litigation. Since then, it has accepted 142 art claims from 19 states and 9 countries covering 25,000 objects. A small staff of lawyers, linguists and historians has so far secured the return of 12 artworks; it is a laborious process.
"Each of the 142 claims has been unique in terms of the items sought," said Catherine Lillie, the office's director. "They also have been unique in the questions raised and the additional research they've required."
In the United States, the AAM has also developed the Nazi-Era Provenance Internet Portal (www.nepip.org). The idea was to create a database that linked to American museums and identified items in their collections that were in Europe during the Nazi era. At the end of February 2006, some 16,410 objects from 144 museums were listed.
The portal is valuable, if one knows what he or she is looking for. Museums have their own styles of research, including the breadth of information listed. And while the portal can be searched by an artist's name, country of origin, a painting's name and with keywords, it cannot be searched by family name. The portal currently includes 171 Picassos, 156 Rembrandts, 155 works by Degas, 81 Pissarros, 79 Cezannes, 48 van Goghs and 46 Gauguins. This does not necessarily indicate that the objects are tainted; there were postwar restitutions and legitimate war-era and postwar sales.
Information on an artwork's provenance—its chain of ownership—is often sketchy. "The whole meaning of provenance has changed," explained Jane Kallir, codirector of Galerie St. Etienne in New York, which specializes in Austrian and German Expressionism. "Provenance used to be a casual recitation of a picture's history. Researchers gathered information from all the available sources, but did not necessarily look at that information with a magnifying glass, either in terms of what it meant regarding legitimacy of title or what it meant regarding the Holocaust years."
Claimants and museums find provenance research burdensome and expensive. "Just the early stages of our research have taken enormous resources," said Don Bacigalupi, director of the Toledo Museum of Art in Ohio, which owns a Paul Gauguin painting, "Street Scene in Tahiti," that is currently the subject of a pending court case. Heirs of prewar owner Martha Nathan argue that the piece was sold under duress in Switzerland; the museums contends the sale was fair and valid.
"We absolutely have responsibility to take [provenance research] on, but it is incredibly complicated," Bacigalupi said. "The paper trail about provenance history is often deposited, if it even exists, in a variety of settings around the world. They may be in private family collections of memorabilia and files; they may be in governmental archives, institutional archives. There is no central repository for that documentary material, so simply to find each piece of the trail for one object is like finding a needle in a haystack, and like finding a needle in haystacks around the world."
Some museums do not conduct additional research to clarify the history until a claimant comes forward. Others, such as the North Carolina Museum of Art, take the initiative. North Carolina became a model for restitution after a claim was lodged for Lucas Cranach the Elder's "Madonna and Child in a Landscape." Research by the museum and Lillie's office confirmed that the 16th-century painting had been confiscated from the home of Viennese industrialist Philip von Gomperz in 1940. The case was resolved in 2000 when the museum reacquired the painting as a partial purchase and partial gift of the Gomperz heirs.
"We learned from the shock of the Cranach case that it is far better to be proactive than reactive," said John W. Coffey, the museum's curator of American and modern art. Artworks with undocumented gaps of ownership between 1932 and 1946 were reviewed by a professional provenance researcher, who was able to exonerate some important works in the collection.
"Museums and collectors are more willing than they were a decade ago to acknowledge legitimate claims and to settle them prior to litigation," said attorney Jeremy G. Epstein, a litigation partner at Shearman & Sterling in New York, whose clients include museums and dealers. "I don't see any change, however, in the willingness of museums and collectors to dispute claims that may be tenuous. I would not characterize museums as recalcitrant. Most museums have put their entire collections on Web sites, which makes the assertion of claims easier than it was a decade ago. I also think museums are reluctant to incur the stigma of having works in their possession, title to which is disputed." In general, American museums say that the number of looted objects that could have made their way into their collections is small. In Toledo, for instance, among some 25,000 objects, about 200 were in Europe between 1933 and 1945, explained Bacigalupi, who also chairs the AAM's Internet project.
However, Thomas Kline countered, "there is no basis for any kind of a numbers game. The order of magnitude of the theft will never be known. The order of magnitude of the returns was undoubtedly very great; large numbers of objects were returned through heroic postwar efforts. Those efforts fell short… [and] came to be seen as inconsistent with foreign policy, fell victim to indifference and cold war tensions and other agendas. These efforts trickled off in the 1960's. West Germany paid partial compensation to some claimants, and Holocaust art restitution trickled off the radar screen."
"Right now these claims are on everyone's radar screen," explained Jane Kallir. "But there are fashions in art-world issues, and they tend to come and go." These days, she added, attention to war-era ownership is working its way into the fiber of the art world. Major auction houses and museums have provenance researchers. Sellers and buyers routinely check objects with the Art Loss Register (ALR), a private international database of lost and stolen art formed in 1991 by auction houses, art trade associations and the insurance industry.
"The unfortunate thing is that this did not happen 50 years ago," Kallir said. "This sort of scrutiny would have been more productive and meaningful [then]…."
The scrutiny can lead to surprises. Thomas Bennigson of Oakland, California, was unaware that he had a claim to a Pablo Picasso painting until the $10 million "Femme en Blanc" was due to be sold. In 2001, the Picasso's history was investigated by the ALR at the request of a potential buyer. Sarah Jackson, the ALR's director of historic claims, found a letter in Berlin from a French dealer referring to the 1940 theft of the Picasso he had been storing for Carlota Landsberg of Berlin.
Bennigson, Landsberg's grandson, learned of the piece when the ALR contacted him in 2002. The painting at the time was owned by a Chicago collector and philanthropist, Marilynn Alsdorf. Last year, she agreed to a $6.5 million settlement with Bennigson under which Alsdorf gained incontestable title to the painting.
As more artwork is identified and located, other nations are questioning the moral and legal ownership of their holdings. Since the seizure of Jaray's Schiele in New York, a number of European countries, such as Austria and Britain, have enacted restitution laws and policies or established independent spoliation panels to review claims.
The existence of such policies and panels, however, does not ensure the recovery of looted art, even when the evidence is clear and the intentions are good. In Britain, for instance, Israeli Uri Peled's claim for four Old Masters drawings exposed the conflict between the government's restitution policy and its cultural laws. A British spoliation panel said the drawings should be returned to Peled, the grandson of Arthur Feldmann, a Jewish lawyer whose some 750 artworks were seized after the 1939 Nazi invasion of Brno, Czechoslovakia. However, the British Museum Act bars national museums from disposing of works of art, and in lieu of restitution, Britain is offering compensation to Peled.
Much has changed in the last decade. "Ten years ago, we would not have had the Bloch-Bauer decision, we would not have the Goudstikker decision," Lillie said.
Much, however, remains the same. Many claimants, for example, continue to be frustrated at the expense and time required to pursue a painting. Others rue their dependence on factors far beyond their control, such as the possibility that a piece may come onto the art market and present the opportunity to make a claim, such as the case of the heirs of Margarethe Mauthner, who claimed a Max Liebermann painting, "Holländische Dorfstrasse–Zandvoort," when it was listed in an estate auction held last September in Munich.
Willie Korte worries that most countries have left their legal situations as is, without special provisions for Nazi-era losses. "Instead of changing the law, they have subscribed to a political-moral commitment," he said, "and I think we all know that these political-moral commitments have a tendency to wear off if nobody pushes them."
Marilyn Henry is a contributing editor at ARTnews magazine in New York.