The Jewish Traveler: Louisville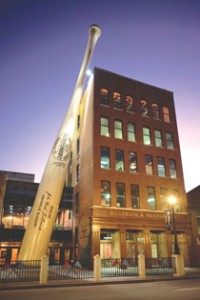 Jews have long taken an active role in this Southern city's history, from original land surveying and settling to bourbon distilling and baseball.
You can't miss the baseball bat protruding into the Kentucky sky: it is the world's largest—120 feet of steel—leaning casually against the side of the Louisville Slugger Museum in its namesake city. The slugger's impressive dimensions match the importance of this riverfront city, not only to baseball, but also to politics, medicine, literature, architecture, Americana and Jewish history.
Only about one percent of Louisville's population is Jewish, but the community's visible role here is reflected in the three elementary schools, eight streets, three parks and planetarium named for Jewish leaders and philanthropists. Its most famous son, Louis Brandeis, was appointed to the United States Supreme Court in 1916; current mayor Jerry Abramson, also Jewish, has held office for 30 years, the longest mayoral tenure in Louisville history.
Louisville's downtown area is an eclectic mix of historic districts, museums, galleries, shops, restaurants and high-rise office buildings. The city also boasts 12,000 acres of parkland and a park system designed by Frederick Law Olmstead.
At white-pillared Churchill Downs, Kentucky Derby fever rages throughout the spring. Statues of horses stand atop taverns and decorate lawns and museum entrances everywhere, no matter what the season.
History
Louisville (pronounced variously as Lou-wee-ville, Lou-a-ville or Lou-ville) was founded in 1778 by Revolutionary War General George Rogers Clark where a series of rapids in the Ohio River caused settlers heading west to disembark. Philadelphia merchants Bernard and Michael Gratz partially financed some of Clark's expeditions. They shipped their goods through a small port on the Kentucky River that was later named for them; Gratz, Kentucky, 65 miles east of Louisville, still exists.
Jacob Cohen and Isaiah Isaacs, German Jews who settled in Richmond, Virginia, and became business partners in merchandise and real estate, hired Daniel Boone in 1781 to survey the Kentucky region of Virginia (the two were not yet separate states).
The first Jewish settlers abandoned most religious practices, married non-Jews and raised Christian families. But by the early 1800's, the Israelite Benevolent Society, a charitable and mutual aid organization, had been founded by 10 men who were dry-goods merchants, clothiers and auctioneers. With an influx of German Jews mid-century, the first synagogue, later known as Adath Israel, was organized in 1843. The sixth Reform congregation chartered in the United States, its tendencies were so liberal that, in 1891, members voted to have the main Shabbat service of the week on Sunday mornings. Louisville's proximity to Cincinnati, the cradle of Reform Judaism, influenced its strong Reform roots.
As hundreds of traditional German and Polish Jews settled in Louisville in the 1840's and 1850's, they established their own synagogues and institutions. Many began as peddlers, clerks or small shopkeepers; a few became professionals or successful entrepreneurs in bourbon distilling and clothing. Louisville's B'nai B'rith was the 14th lodge established in the country (1852); its YMHA (now the Jewish Community Center of Louisville), founded in 1878, provided hospitality for Jewish soldiers stationed at Camp Taylor during World War I, which was copied by the United Service Organizations (USO) during World War II, and founded a community orchestra that later became the Louisville Orchestra.
By 1881, the city's Jewish population had grown to 3,000; but another wave of East European immigrants escaping pogroms in the next half century swelled the numbers to 12,500 by 1927. The community split along German-Russian and Reform-Orthodox lines. The newcomers set up shop in tailoring and cigar-making and opened pharmacies and groceries, clustering downtown along Preston Street in a Yiddish-speaking enclave. They created five new congregations (four were Orthodox), a Yiddish literary society and a number of Zionist organizations, including a Hadassah chapter, founded in 1919 (no longer active today). Henrietta Szold visited in 1925.
The community's population began declining when immigration slowed after World War I. As Jews acculturated into American life, distinctions between German and East European Jews blurred. By the mid-1900's, Jews left the area along Main and Preston Streets for the suburban Highlands-Taylorsville vicinity, though some Jewish-owned stores still remain downtown. About 900 immigrants from the former Soviet Union arrived in the 1990's, increasing the Jewish population to nearly 9,000.
Community
Although the Highlands has a higher concentration of Jewish residents than other areas, no distinctive neighborhood with Jewish stores and restaurants marks the presence of Jews in Louisville today. A 1990 Jewish Community Federation of Louisville survey found that 14 percent of the community is Orthodox, 38-percent Conservative and 40-percent Reform. About half of Louisville's Jews were born and raised in Kentucky; the others relocated here for jobs at the hospital, university or local corporations.
Louisville's synagogues tell a story of partnerships and mergers. The Temple, a 1977 joining of Adath Israel and Brith Sholom, serves 1,100 Reform families in its sprawling campus on 10 wooded acres at 5101 U.S. Highway 42 (502-423-1818; www.thetemple.urj.net). The congregation has reincorporated many traditional practices but remains in the forefront of change, hiring the first husband-and-wife team, who both serve as senior rabbis in an equal capacity. The Conservative Adath Jeshurun (2401 Woodbourne Avenue; 502-458-5359; www.adathjeshurun.com) draws about 600 families. Temple Shalom (4615 Lowe Road; 502-458-4739; https://ky003.urj.net), a much smaller Reform congregation, and Keneseth Israel (2531 Taylorsville Road; 502-459-2780;www.kenesethisrael.com), a once-Orthodox congregation that joined the Conservative movement in 1994, merged their religious schools in 2001.
Keneseth Israel's stained-glass windows, designed by local artist William Fischer, offer a striking sight from the street and are perhaps the most well recognized Judaic art in Louisville. The community's numerous Orthodox synagogues have largely vanished, leaving only Anshei Sfard (502-451-3122;www.ansheisfard.com); the community mikve stands on its grounds (3700 Dutchmans Lane). The JCC is located at 3600 Dutchmans Lane (502-459-0660; www.jccoflouisville.org), across the street from the Eliahu Academy day school.
Sights
Only New York's SoHo district has more 19th-century cast-iron storefronts than Louisville's West Main and surrounding streets, where vestiges of the Jewish presence remain. Along Main Street, the original names of the buildings are imprinted in the sidewalks. Walking tours are by appointment through the Main Street Association (502-561-3493, www.mainstreetassociation.com).
Statues of Thomas Jefferson in front of the Jefferson County Courthouse and of Abraham Lincoln in front of the Free Public Library at Third and York were gifts of Isaac W. Bernheim, a German immigrant, distillery pioneer and philanthropist. During World War II, Bernheim used his vast fortune to buy freedom for European Jews; according to one estimate, he sponsored between 300 and 350 refugees. He also left his imprint at the Bernheim Arboretum and Research Forest in Clermont, 20 minutes south of Louisville (502-955-8512; www.bernheim.org).
Bourbon, designated "America's Native Spirit" by a 1964 Act of Congress, still has a Jewish connection in Louisville. Heaven Hill Distillery, owned by the Shapira family, maintains offices at 528 Main Street, its distillery at 1701 W. Breckenridge and its bottling plant 45 minutes east in Bardstown. After the repeal of Prohibition, brothers Ed, David, Mose, George and Gary Shapira invested in a start-up distilling company while continuing their department store business; Heaven Hill is now the largest family-owned distillery in the country with an inventory that exceeds 675,000 barrels. The Bardstown facility's Bourbon Heritage Center, with exhibits, movies and tastings, is located at 1311 Gilkey Run Road (502-337-6410;www.bourbonheritagecenter.com).
In Old Louisville (First, Second and Third Streets, from Hill Street downtown) you can glimpse the glory of Louisville's old synagogues, now converted into churches. The Greater Bethel Temple Apostolic Church took over Adath Israel's building on Third Street, but its massive Greek Revival front still bears this ecumenical motto: "Mine House Shall Be a House of Prayer for all People." Adath Jeshurun's former red-domed, yellow Byzantine-style quarters at Brook and College Streets is home to Unity of Louisville. The Brandeis home, a modest brick, late-19th-century townhouse at 310 E. Broadway, has no special sign identifying its illustrious former owners. It now houses the headquarters of American Turners, a gymnastic and political group that originated in Germany and attracted many Jewish members.
You'll hear the word "Jewish" bandied about in Louisville, not necessarily in regard to a community or individual, but as a shortened reference to Jewish Hospital, located at 200 Abraham Flexner Way in the downtown area. Founded in 1903 by Jewish physicians whose practice at other hospitals was restricted, it is today a leading hospital in hand surgery and artificial-heart transplants.
The hospital has a mezuza on every door as well as a kosher kitchen. A stained-glass frieze with the image of a Torah scroll in the Rudd Heart and Lung Institute was a gift from the Jewish federation.
The University of Louisville's Colonial-style Brandeis School of Law, named for the Supreme Court Justice in 1997 and located at 2301 Third Street, houses Brandeis's 250,000 books and papers. His cremated remains are buried beneath the portico; a plaque marks the spot. The university's Rauch Planetarium honors the memory of Joseph Rauch, rabbi at Adath Israel from 1912 to 1957 and a member of several university boards. Rauch was so renowned for his ecumenical and communal work that after one interfaith service, so the story goes, he was even asked to serve as leader of a black Episcopal church.
Leave the downtown area for the Frances Shapiro-Weitzenhoffer Archives Room of The Temple. Glass cases lining the perimeter of the room detail Louisville's Jewish history, highlight its eminent members and follow the early years of the Reform movement. Adath Israel, for instance, was the first synagogue to adopt Rabbi Isaac Mayer Wise's 1857 prayer book, Minhag America, two months before his own congregation in Cincinnati. A High Holidays edition, dating from 1866, was found behind the walls of an old apartment building demolished during Louisville's urban renewal in the 1960's. Retrieved by workmen, the scattered pages were returned to The Temple.
Other siddurim, talitot, wimples, Torah scrolls, Seder plates and Kiddush cups paint a picture of the community's life-cycle events and religious observance. The archives' other treasures include an invitation sent to Rauch for the first dinner and conference of the American Committee for the Hebrew University, the Weizmann Institute of Science and the Technion, held in Princeton, New Jersey. Dated April 19, 1950, it was signed by the committee's president, Albert Einstein. Another letter, from Franklin Delano Roosevelt, congratulates Adath Israel on its 100th anniversary in 1943. Handwritten notes from Brandeis to a cousin who had emigrated to Palestine augment the collection of Brandeis memorabilia. The Speed Art Museum, 2035 S. Third Street (www.speedmuseum. org), Kentucky's oldest and largest art museum, features paintings from the 17th and 18th centuries with biblical themes: Benjamin West's "Elisha Raising the Shunamite's Son," Christoforo Savolina's "Expulsion of Hagar," Nicolas Loir's "Rachael Hiding the Idols of Her Father," "Jacob's Dream" by Murillo's Workshop and Giovanni Pittoni's "Sacrifice of Isaac."
Louisville's numerous performing arts companies include the JCC CenterStage Theatre and the JCC Orchestra. The 87-year-old theater company performs works of Jewish and general interest. The Filson Historical Society and Museum (1310 Third Street; www.filsonhistorical.org) preserves the history of the Ohio Valley. Its artifacts range from letters written by Meriwether Lewis, William Clark and Daniel Boone to Bernheim's papers and an 1830 manuscript that refers to an "Old Hebrew cemetery."
Locust Grove, a landmark site on 55 acres (561 Blankenbaker Lane; www.locustgrove.org), tells the story of early Kentucky history and George Rogers Clark. The 1790 Georgian mansion, buildings and gardens were part of the estate of William Croghan, Clark's brother-in-law and survey partner. Clark spent his last nine years on the estate, which also hosted three United States presidents—James Monroe, Andrew Jackson and Zachary Taylor.
Lovers of "America's Native Spirit" can follow the bourbon trail in Kentucky from Heaven Hill in Bardstown to Jim Beam in Clermont, Makers Mark in Loretto, Four Roses and Wild Turkey in Lawrenceburg and Buffalo Trace in Franklin County (Kentucky Distillers' Association; www.kybourbon.com).
Side Trip
Established in 1937, the Daniel Boone National Forest (www.fs.fed.us/r8/boone) in the Appalachian foothills of eastern Kentucky encompasses 700,000 acres of mostly rugged terrain, characterized by steep ridges, narrow ravines, sandstone cliffs, winding rivers and streams. Over 100 developed recreation sites and 600 miles of trail offer picnicking, camping, swimming, boating, bird watching, hiking, horseback riding and sightseeing. For natural scenery, drive the Zilpo or Red River Gorge Scenic Byways, especially brilliant with foliage during the fall.
In the middle of the forest lies the grave of Jacob Troxel, a Revolutionary War soldier whose tombstone, dated 1810, has a Magen David at the top. Family lore says that Troxel traveled to Kentucky, traded with the Indians and married a Cherokee Indian princess named Cornblossom.
Personalities
Barney Dreyfuss (1865-1932) founded his own baseball team in Louisville and later bought the Pittsburgh Pirates. He started the World Series in 1903 and created the position of commissioner of baseball. Scholar, lawyer and author Lewis Naphtali Dembitz (1837-1907), Louis Brandeis' uncle, wrote the revised translation of Exodus and Leviticus for a Jewish Publication Society translation of the Bible, translated Uncle Tom's Cabin into German and represented Kentucky Republicans at the 1860 convention that nominated Lincoln. Brandeis changed his middle name from David to Dembitz in honor of his uncle.
Reading
Written histories of the area include Carol Ely's Jewish Louisville: Portrait of a Community (Jewish Community Federation of Louisville) and Lee Weissbach's Synagogues of Kentucky: Architecture and History (University Press of Kentucky), which explores religious institutions. Simcha Kling, long-time rabbi of Adath Jeshurun, wrote Embracing Judaism, an introduction to Judaism and supportive guide for Jews-by-choice (revised by Carl Perkins, published by the Rabbinical Assembly).
Recommendations
The Kentucky Derby (www.kentuckyderby.com), to be held this year on May 6, is preceded by two weeks of festivities, including Thunder over Louisville, the nation's largest fireworks display.
Extended StayAmerica Louisville (www.extendedstayamerica.com) and the Breckinridge Inn (www.breckinridgeinn.com) are in walking distance of the Orthodox Anshei Sfard. Some visitors have made arrangements to stay at Four Courts Senior Center (502-451-0990), in walking distance of the Conservative synagogues. Café J (502-459-0660), the only kosher restaurant in Kentucky, is located in the JCC and offers meat and dairy dishes, eat-in or take-out.
The Jewish Community Federation operates an extensive Web site (www.jewishlouisville.com); for general information, contact the Louisville Visitors Bureau (www.gotolouisville.com) or the Center for Heritage Tourism (www.chtky.org).
Visitors to Louisville will not be surprised to find the gracious welcome Irving Berlin (who was not from Louisville) immortalized in his song, "When You're Down in Louisville (Call on Me)": If you're ever so lucky to be down in Kentucky/ Don't forget to stop at Louie, Louie, Louisville/ And call on me.