Feature: An Affair to Remember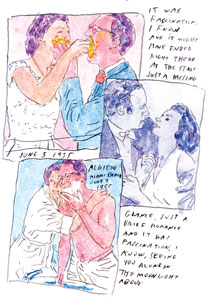 June. Fifty years ago.
It was a momentous occasion.
I tenderly offered Sonny an engagement ring in a little box. She screamed. Her mother screamed. Her father hugged her and cried. Me, he just stared at. He had some trouble with me.
"Young man, what is it you do again?" he asked.
Within minutes, the house was hopping with aunts and uncles and cousins, all of them drinking schnapps, mazel toving and diving into the bagels and lox, whitefish and Entenmann's cookies that had seemingly showed up the same time as the ring.
Soon afterward, a few of her uncles and cousins took me aside and whispered, "Why didn't you call us before you proposed?" Apparently, Murray, their brother-in-law, could have gotten me a bigger ring for half the price.
We were finally engaged and pledged our troth, whatever that means. Sonny had bought an expensive bright red dress at Lord & Taylor, and we did the whole "this is my fiancé" thing for both our families.
I had been getting tired of schlepping from my home every evening to Sonny's home, an hour away, where conversation would quickly move to necking for three hours, only to then wobbly schlep back to my home.
So one evening I turned to her and said, "Let's get married."
One Saturday night, amid the monumental ordeal of organizing the wedding—all that arguing, adding, crossing out and adding and crossing out again— we snuck away. Sonny wore her new bright red dress. We splurged on an expensive dinner at the posh Marlton Manor in Cherry Hill, New Jersey, where our filet mignons were a wallet-boggling $2.50 each, and if I could get away without tipping the attendant in the men's room and the parking valet, we'd have just enough for dessert.
When we had started dating, I introduced Sonny to obscure foreign films and the films of the 1930's and 40's. We loved the beautiful black-and-white Intermezzo, starring Leslie Howard and a young Ingrid Bergman in a little café in Budapest. They were infatuated, in love, holding hands and drowning in each other's eyes, all while a romantic Gypsy orchestra played "Fascination."
It was charming, and here in another lifetime, we, too, sat infatuated, in love, holding hands and drowning in each other's eyes while we whispered the lyrics together with the orchestra playing "Fascination": "It was fascination I know/ seeing you alone in the moonlight above./ Then I touched your hand and next moment I kissed you./ Fascination turned into love." And we both agreed that at our children's weddings, we would have no klezmer, no hucklebuck and no rock 'n' roll, just a Gypsy orchestra playing "Fascination."
On a frazzling day in June everything suddenly came together, and with the signing of the ketuba, our wedding came to pass. Rabbi Forman kvelled: "Dearest Sonny and Marvin, this is the most wonderful day of your life, for you begin a new family among our people, a family that never before existed. It is a special pleasure to recite the blessings and declare you husband and wife. May the Lord cause His countenance to shine upon you, just as your love is a radiance that shines upon all of us, and may He grant you, your family and all of humanity the precious gift of peace. Amen. Mazel tov!" And that was that.
We spent our first honeymoon night at the Ritz in Philadelphia. The room cost us $17; there was a basket of fruit from the manager waiting for us. Sonny put on her new honeymoon negligee and I put on my new honeymoon pajamas, and it suddenly occurred to me that I was in a room, alone, with a woman other than my mother, forever.
Sonny's beauty-parlor hairdo had been sprayed with Krylon and was unmovable. She claims it was the first time she had ever gone to bed without rollers in her hair.
She was trembling. I was trembling. We trembled to sleep together.
Our total honeymoon package for two weeks in Miami, including airfare for the both of us, cost $395. When our plane, which carried many other newlyweds, all of them infatuated with hope and commitment, arrived in Miami, it was hot! hot! hot!
The strip of hotels and expensive stores that made up Collins Avenue from Lincoln Road to the newest deluxe hotel, the Fontainebleau, was bright, opulent and very Neiman Marcus-y. It was the Rodeo Drive of the 1950's.
Some newlyweds we met were staying at the Deauville or the Sans Souci or the Nautilus. The guys in business with their fathers stayed at the Fontainebleau. Struggling young artists (like myself) booked the Algiers. Everything was kitschy and gold, and yet Sonny thought it was all wonderful and beautiful.
Both of us were exhausted, but that first night we dressed up, Sonny in a new silk shantung suit, and me in my new honeymoon jacket and tie. We went down to the welcoming party in the Sophie Tucker Room and drank one free pina colada with Larry the tummler, who sang "Stranger in Paradise" every time somebody walked past him. We visited the chimpanzee zoo, saw a man wrestle an alligator and took a boat ride through the Everglades. The only thing missing were the Ice Capades.
In those days, the bigger hotels had nightclubs with stars such as Tony Bennett, Martin and Lewis, and Frank Sinatra as well as noisy patrons in mink coats and diamonds and men in cummerbunds smoking expensive cigars.
The Algiers had Julius LaRosa singing, "Jingle Jangle Jingle, I've got a girl in Kalamazoo."
It astonishes us today that it was all so long ago. Who are those two impossibly young people in our grainy, faded home movies—slim, tanned, elegant and with all their own teeth, infused with the fruity perfume of the summer darkness in Miami Beach, and very much in love?
And now 50 years later, still infatuated with each other, we remember the achingly beautiful moments of our wedding and honeymoon a lifetime ago.
Our kids wanted to throw us a 50th wedding extravaganza but Sonny zapped that plan due to the huge party they threw for her on her 70th birthday. Instead, we had a nice quiet affair with 100 guests (instead of 200). Even though the party was catered, Sonny cooked for two weeks to make sure there was plenty of broost and kasha.
And so our 50th came in like the Marx Brothers on New Year's Eve, and we were surrounded and honored by all of our kids and family and friends. Then, a day later, our 50th left quietly like a cat on tiptoes, and we settled into our 51st, watching Dr. Phil and obscure foreign films, eating ice cream and pretzels and dipping into the bowls of M&M's and Hershey's Kisses we buy for our grandchildren.
But something strange and untoward came along with the 50th wedding anniversary—the embarrassing and worrisome difficulty of remembering names.
We used to think it was just us, but it also happens to our best friends. Conversations, I am sad to report, often go like this: "What's his name? She's our C.P.A.'s Bert! And the other one married to my cousin's cousin's Renee you know who I mean? Manny!" And Sonny would say, "That's not who it is—it's oh, you know who I mean."
One recent evening we came across those two actors we loved in that 1930's film. "What were their names? You know who I mean—what was the name of that picture? They were in Warsaw in that little café…no, not Warsaw…. And the Gypsy orchestra played that song we love—you know which one I mean?"
Our kids had wanted a disc jockey at their weddings and thought we had lost it when we suggested that they have a Gypsy orchestra. Since my heart was set on the orchestra as we had promised ourselves, I was ecstatic when I had a great (and romantic) idea: My unique anniversary present to Sonny would be to have our very own private Gypsy orchestra, one that would come to our house and play for just Sonny and me.
There weren't too many Gypsy orchestras listed in the Yellow Pages, but I finally found one that would come to the house and play for an hour, for $2,000.
For $2,000 we could have flown to Budapest and found our own charming little café with a Gypsy orchestra.
But since Sonny's feet hurt her and my back hurts me, and we need our nap in the afternoon, and we always have doctors' appointments, trying to decide which doctors we have appointments with, and which doctor is for her feet or my back, we will stay on the couch and cuddle, with our ice cream and pretzels and remember that wonderful little Gypsy orchestra in the café playing our favorite song, "Stranger in Paradise." No, never mind. It was "Bésame Mucho."