Letter from Jerusalem: The Wild Ones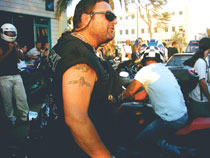 Motorcycles in Israel are not new, but the culture around them continues to evolve, attracting a colorful and diverse group of men and women—even children.
At first the sound is a distant buzz. You keep driving, but the rumble gets deeper and louder. You look in your rearview mirror and see a single headlight gaining on you rapidly. Suddenly it's almost on top of you, then it roars by with the whoosh of a jet.
In a moment, the brightly colored bike, with its rider in sleek leathers bent low, is already far ahead. But here comes another whoosh, then another and another. Israeli riders are out in a pack enjoying their favorite pastime, a spin around the country.
One such biker is Benny Loupovitz. When he became a Harley man, he went whole hog (as Harley-Davidsons are called). In 1990, he changed his surname to Biker and opened his own shop for motorcycle spare parts in south Tel Aviv. He even found a new, bike-loving wife, whom he'd met when she hitched a ride in his sidecar.
Jews and hogs? jews as bikers? certainly, despite the image of bikers as beer-swilling thugs. Not only are there Jewish clubs in North America (Star of Davidson in Armonk, New York, and King David Bikers in south Florida are but two), Israel is full of people who are mad about bikes, especially Harleys.
"A motorcycle is not like a car, which anyone can drive," says Biker, 43, a veteran of an Israel Defense Forces combat unit. "It's more personal. You love it more: the chrome, the parts you bring from abroad. You enjoy the ride more, and you're outdoors."
Hundreds of Israeli men and women belong to biker clubs; a print magazine (Moto), two online magazines (www.riders.co.il andwww.fullgaz.co.il) and several Web sites (one example iswww.biker.co.il), some specializing in racing or off-roading, offer the latest news. In 2004, an Israeli completed the 6,908-mile Paris-Dakar Rally—an off-road endurance race—for the first time.
Biker says there are 350 Harleys in Israel, and according to the Transport Ministry, at the end of 2005 there were 80,894 two-wheel vehicles, more than 1 for every 100 men, women and children. (The United States has about three times the number of two-wheel vehicles per 100 inhabitants.)
True, some of those Israeli two-wheelers are scooters, used primarily for relatively cheap and quick transportation, especially on Tel Aviv's congested roads. That still leaves plenty of big-bike enthusiasts. But none can compete with the burly, pony-tailed, tattooed Biker in devotion to motorcycles in general and Harley-Davidson, the American legend, in particular.
"The vibration of the Harley is special," he says. "No other bike has succeeded in duplicating the pleasure and the power."
Biker's home is a shrine, and he is the high priest, dressed in full regalia: a T-shirt with the Harley logo plus the name of the 150-member local Harley club, Riders of Israel; Harley bracelets and neck chains; even a wedding ring (his wife has a matching one) adorned with the logo.
The walls in Biker's living room are lined with framed articles about him; every nook and cranny is stuffed with accessories emblazoned with the Harley insignia: pendulum clock, phone, vase, salt and pepper shakers. The coffee table is a plate of glass resting on a 1938 engine.
In a fully equipped workshop in his yard, Biker takes apart and rebuilds old Harleys, treating them like clay to be shaped. As he puts it, "Each one is like a sculpture. No two are alike."
Until the 1980's, motorcycles could be imported only by individuals. Then the law changed to allow commercial import. Today they are big business; Biker's store at 36 Chlenov is but 1 of more than 100 motorcycle-related businesses in Tel Aviv alone.
On Saturdays, packs of helmeted riders dressed in colorful leathers roar around the country. According to writer Tuvi Arbel, the experience "recycles" or re-creates the kind of camaraderie and bonding Israeli men feel when they do their reserve military service each year.
While some bikers are eating up the roads, others gather to race, compete in freestyle jumps and ride off-road. Until the passage of a new law in December 2005, all vehicle racing in Israel was illegal, but that didn't stop the clandestine import of racing bikes, or the races themselves, including competitions by children. Among the racers is Itzik Kelner, a 34-year-old architect and father of two from Hod Hasharon, who says that the existence of about 10 racing associations is testimony to the popularity of motor sports in Israel.
The events include motocross (races on a closed track that involve jumping over mounds); freestyle jumping; and Enduro (off-road endurance races), Kelner says. Some 60 to 70 bikers turn up for Enduro races, and 20 to 25 for motocross races, which, he notes, "are much more demanding in terms of the amount of time needed to train and physical stamina."
Because the motorcycles involved cannot be used for ordinary riding and have to be transported on trailers to the events—and because racers have to share the costs of the track, the ambulance, the judges and insurance—these sports are expensive. "The people who do it are not necessarily rich, but they are crazy about it," Kelner says.
Not only is he crazy about it, his 4-year-old son, Omer, already has a child-sized motorcycle, as does Biker's 7-year-old, fittingly-named son, Bikey. "There are races for older children; between the adults' races the younger children take a spin around the track," Kelner says.
And it's never too early to start. "In the U.S., a motocross rider reaches his peak at age 17," he explains. "To achieve that, he has to start at 4 or 5."
The new law will regulate competitions for adults, as well as for children over the age of 8. Biker believes the law will create jobs—for builders and maintainers of new tracks, judges and marshals—and will keep riders from driving wildly on the highways.
Israeli bikers meet regularly in cafés to show off their wheels and talk bikes: parts, repairs, new models. Riders of Israel meets on Thursday afternoons at Café Bono near Netanya. The Web site of the Israel Motorcycle Club (www.motorcycle.org.il) recently announced that a new meeting place, Menta Café in Afula, attracted 50 bikers to the inaugural Friday afternoon meeting. In Jerusalem, the bikers meet on Friday afternoons at the Diez Café.
At a recent gathering at the Diez, Yirmi Yaacoby, 38, tries to explain the attraction of the two-wheel wonder he has been riding for two years. "You buy it for the power," he says of his red-and-black 600 cc. Kawasaki ZZR. "It's like an addiction," adds Yaacoby, a therapist for juvenile drug addicts. "You keep seeking more and more." And, he admits, it offers an emotional release: "I want to go wild."
For radio broadcast technician Moshe Levy, 29, a bike adds spice to life and attracts girls, but most of all, it provides a sense of freedom. "It gives you wings," he says of his Kawasaki 900 Ninja. "When you sit on it and start it up, you feel the wings sprouting out of your back."
But the socializing at bikers' clubs is not limited to bike talk. Yaacoby has brought a cake to celebrate the birthday of Maya Saban, a remedial teacher who is the group's coordinator. Another member has brought a cake to celebrate the birth of his first child.
Biker, too, has a softer side. "Every Rosh Hashana we go to hospitals, bring presents to the kids who have cancer and get them to smile," he says. "We put them on the bikes and give them a ride. The important thing is that smile." Biker, who has met motorcyclists in many countries—on a trip to Greece he got to know the Eagle's Nails, a tough group like the Hell's Angels—insists there is no difference between Israeli riders and those elsewhere. "They share the same love, the same kind of riding, the same problems," he says.
But there is one important characteristic that differentiates some Israeli bikers: their thirst for knowledge about their country. They use their rides not only to see the scenery, but also to visit archaeological sites. On a sunny midwinter Saturday, more than 100 riders from around the country visited Herodion, the hilltop fortress-palace and burial place of Herod, seven miles south of Jerusalem. They made sure to bring along a tour guide to explain the excavations.
Not all Israeli motorcyclists go riding on Saturday. Biker says he has several friends who became religious but kept their Harleys, which they ride to Safed on weekdays to visit holy graves. "A Harley habit is a lifetime thing," he says.
Bikers are not a new phenomenon in Israel. In 1930, a group of young athletes set out on motorcycles from Tel Aviv to visit Jewish communities all the way to Belgium. Their mission was to promote the first Maccabiah, the Jewish Olympics, scheduled to be held in Tel Aviv in 1932 and which was to include motorcycle events.
In the second promotional Maccabiah tour, from May to July 1931, a dozen bikers covered 5,825 miles. After leaving Tel Aviv, they crossed the Sinai Desert to Egypt, sailed to Greece, then rumbled through Bulgaria, Yugoslavia, Austria, Germany and France. They hopped a ferry to England, where they were hosted by the Rothschilds, and returned via Lebanon. A photo from the second Maccabiah in April 1935 shows dozens of cyclists riding into the stadium at the opening ceremony.
It was the British who introduced motorcycles to the region. As in nearly all the armies of the time, motorcyclists played an important role in the British Army. T.E. Lawrence wrote to a friend: "When my mood gets too hot I haul out my motor-bike and hurl it at top-speed over these unfit roads hour after hour."
After World War II, storehouses full of motorcycles belonging to the British were left in Cyprus, and many were imported to Palestine, according to Ben-Ami Behrendt, 70, the former owner of a motorcycle repair shop in Jerusalem. In 1957, the United States donated 22 Harleys to the Israel Police and Israel Defense Forces, says Biker, who owns two of them today. The IDF still uses Harleys: in 2005, the Military Police bought 60 new ones.
In the first decades of motorcycle use in Israel, cars were a luxury. "Motorcycles were for poor people," says Biker, who grew up in Jaffa. "My father used to take me on his Lambretta. It was just a means of transportation." But nowadays in Israel, motorcycles can be very expensive because of taxes and insurance costs. According to Biker, a new Harley costs between $30,000 and $40,000. Yaacoby sold his car to buy his bike.
The intimidating insurance costs are partly a function of the dangers of motorcycle riding. According to Israel's National Road Safety Authority, during the three-year period from 2002 to 2004, the rate per thousand of two-wheel vehicles involved in fatal accidents was more than double that of private cars.
Yaacoby had a head-on collision six years ago that left him in a cast for three months; the bike was totaled. "But as soon as I recuperated," he says, "I bought a bike."
Biker says he has platinum and screws in his bones, but "after each accident I got a bigger bike."
Accidents simply do not deter Biker and others like him. "You feel the bike, the vibration, the power," he says. "You and the bike are one. It's the real thing."