Family Matters: Working Late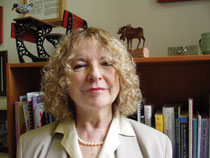 Pola Rosen, 65, never imagined she would spend her retirement riding in a truck along bumpy New York streets atop piles of newspapers. Yet after she left teaching 11 years ago, she began going on ride-alongs to ensure that copies of the newspaper Education Update, her brainchild and the focus of her post-retirement endeavors, were delivered to the right addresses.
"At 54," she says, "you begin to think about your own mortality. You begin to think about the legacy you will leave. If you're lucky, you have a degree of financial stability. Your children are doing well. You're free from all the things that occupied your time.… [So] why stop working in your fifties when you can launch a new career?"
According to the conference Board, a nonprofit business research organization, about 64 million baby boomers are poised to retire within the next five years (see sidebar, page 68).
"The…increasing number of physically and psychologically healthy men and women in their seventies, eighties and nineties has created the best-educated and healthiest generation of retirees the world has ever known," says Thomas E. Endres, director of the Civic Engagement Initiative at the National Council on Aging (www.ncoa.org) and head of RespectAbility (www.respectability.org), a multiyear project to expand volunteer and work options for older adults.
Many retirees spend their latter years focusing on family, volunteering or in leisurely pursuits; some will choose the path taken by Rosen—tapping into old skills or creating new ones to build careers in education, journalism, art and numerous other professions.
Seymour Roseman of Boynton Beach, Florida, turned interest and talent into a vocation. Roseman spent 40 years traversing New York, from Manhattan to Westchester County, going from stores to hospitals to correctional facilities in his father's wholesale milk business. During his spare time, and to save a bit of money, he would tinker in furniture making and clock repair, developing a knack for craftwork.
Roseman used to love rising early to follow a daily milk route, and retirement at age 57 in 1979 left him unsure of how to spend his time. Luckily, a fortuitous turn in the road literally brought him to a small sign in Irvington, New York, advertising stained glass-making courses, and on impulse, he signed up. Twenty-seven years later, his sun-filled home is filled with brilliant color and novel designs that are his labor of love.
Roseman, who pads humbly amid his works in sneakers and Bermuda shorts, has an air-conditioned workshop in his garage where he has created, among other pieces, a replica of the Temple consisting of 3,000 pieces of stained glass. He says his wife, Hilda, inspires his work. She allows him freedom of time and shares her ideas, particularly about color: He has difficulty distinguishing between certain colors, he concedes with a laugh.
Roseman has never sold anything he made. What does not illuminate his kitchen, living room, hall and bedroom finds its way into the homes of friends. He contributed a large stained glass window of the Ten Commandments guarded by two Lions of Judah to the Jewish Federation of South Palm Beach County.
"I can teach anybody the craft," Roseman claims, and today, it's not unusual to find a small group meeting in his garage, trying their hand at sketching and cutting.
Ethel goldstein was part of a group of about 10 senior women who studied with Roseman for six months. She learned how to mesh pieces of glass by cutting and soldering them together, creating a small stained glass window, perfume trays and tissue boxes. Roseman sets an example for his students with his patience and enthusiasm. Aside from learning a new skill, they glean something equally valuable: Goldstein gained enough confidence to go on to a new hobby—fashioning beaded hats.
While retirees such as Roseman choose new occupations as a path toward self-fulfillment, for others a post-retirement job—whether full- or part-time—is a necessity. According to researchers, Americans have gained about 20 to 30 more years of active life over the preceding generation. Increased life span brings a dilemma: Is quitting at age 65 affordable? A 2003 survey by the AARP showed that many who return to work cite the need for money and health benefits.
In a recent Washington Post Magazine article, Gail Sheehy, author of New Passages (Ballantine), which discusses the stages of the adult life cycle, acknowledges that "the brand-new expectation to continue to work in one way or another is fueled not only by their desire to feel a continuing sense of purpose and social participation, but also because they must be prepared to support themselves for greatly elongated lives."
However, without large mortgages and children to raise and with the benefits of Medicare, many seniors can focus on achieving a balance between fiscal needs and personal satisfaction.
"When you take on a second career you might not be worrying as much about the amount of money you earn as you did in your original profession," points out Benjamin W. Mintz of Washington, D.C., a former government lawyer who became a tenured professor at the Columbus School of Law at The Catholic University after retirement. "It might supplement your other income."
Whether as supplement for Social Security and savings or not, a number of retirees develop vocations that are an extension of their old careers.
"I could have remained a federal judge for the rest of my life," says Sherman Finesilver of Denver. "I loved it. I could have taken senior status, taking only the cases I wanted. But it was time to write."
Finesilver, still judicial looking at age 77 and always dressed impeccably, is recounting his personal and professional experiences in an autobiography. He is also writing about his legal decisions, which, he says, in general were influenced by biblical tradition. For example, his strong support of environmental protection laws grew from the biblical requirement to allow fields to lie fallow every 7th year.
Yet it is his initial failure at law school that is the touchstone for his book, which he hopes to finish this year. "I came from a poor family," says Finesilver, who retired in 1995 at age 68, "a kid from the west side of Denver, not overly bright…and," he adds, "I flunked law school."
After failing his courses at the University of Colorado Law School, Finesilver enrolled in night school, passed the bar in 1952 and, at the age of 27, was appointed county judge. In 1971, he was appointed to a federal judgeship by President Richard Nixon.
"I was on a short list of nine people to be considered for a Supreme Court judgeship," says Finesilver. "Sandra Day O'Connor got the appointment. Because I had ruled upholding a woman's right to choose in Colorado, I was further barred from being considered for any judgeships."
Finesilver has written about his experiences for Reader's Digest. His article, "The Day I Flunked Out of Law School," got responses from all over the country, "success stories on how I gave them encouragement," he recalls.
Writing has also shaped Argentina-born Pola Rosen's retirement, though her current career is an extension of the work she did in public schools, as a college professor in special education and as the mother of three.
Her 36-page Education Update (www.educationupdate.com) began as an 8-pager, with the interviewing, writing and distributing all done from her home. Supported by advertising and private donations and distributed for free, the award-winning paper is today mailed to New York City public schools and some private schools. The writers are of all ages, including high school students, college interns and freelancers.
One of Rosen's frequent contributers is Joan Baum, 69, who describes herelf as a multiple retiree. She was a professor of English at City University of New York's York College for 25 years, then became executive director of the University Faculty Senate at CUNY for three years and spent five years running a career development program at Marymount Manhattan College.
Today, she teaches a course at OSHER Institute for Older Adults at New York University.
Baum heralds the paper for its wide range of educational articles, including, she says, "personal interviews with college presidents, educators and political figures. All disciplines are covered with particular attention to stories that rarely get reported."
One such story was the three-part series "Education Behind Bars." It explored, through interviews, programs in Bedford prison and Rikers Island, both in New York, that enable inmates to pursue high school and college degrees and reduced the rate of recidivism by about 70 percent.
"I saw the need for a single vehicle that would bring education information to parents and teachers," Rosen explains. "My newspaper reaches 200,000 readers and gets 2 million hits a month on the Internet."
Rosen tells of the day she delivered papers to a doorman on the Upper East Side. "He opened [it] and started reading," she recalls. "I'll never forget the feeling. I said, 'Wow! Someone is reading…my paper."
Rosen herself received inspiration at Project Continuum, a program at Barnard College in New York. Its aim is to assist alumnae in navigating post-retirement life. Established in 2003, the organization helps women cope with retirement issues through discussion, support groups led by volunteer therapists and cultural outings.
"Many of the women who come to us are in their late sixties and early seventies," explains project coordinator Annette Kahn. "They are interested in continuing to work and are looking for ways to do it.… They face an age issue. Project Continuum helps these women contend with the questions, 'What's out there and how do you find it?'"
For example, she explains, women can try to network with trade organizations or volunteer with professional organizations.
Project Continuum is far from the only program to focus on work after retirement. The Open Road: America Looks at Aging (www.theopenroad film.com), a documentary that dis-cusses the various paths Americans are exploring as they age, including working beyond their retirement years, premiered on PBS last July.
Monster.com, a popular job-seekers Web site, has a dedicated URL for older workers, https://careersat50.monster.com, with articles on everything from the psychological effects of seeking a career to resume and interview help. The AARP site, www.aarp.org, has numerous articles on the subject as well.
Despite the challenges of learning new skills, many retirees are happy with the steps they have taken.
"When I first started," recalls Rosen, who was recently named director of Project Continuum, "I was cautioned about not having journalism or business experience. I'd look at my watch and say, 'I don't have time to intern and learn. I have to plunge in.' To anyone who is thinking of doing something new, I say, 'Do it. Learn along the way.'"
"Retirement is an obsolete word," says Abigail Trafford, a Washington Post columnist featured in The Open Road. "People are maybe leaving their jobs where they've been for 10 or 20 years, but they're not going to retire. You don't retire. You go on and do something else."