An Idea that Clicked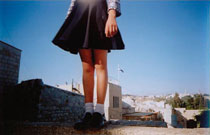 With stories and images of Jerusalem always newsworthy, professional photographers are a familiar sight in the holy city. New York photographer Jason Eskenazi had a different idea: In the summer of 2004, armed with Canon point-and-shoot cameras and 250 rolls of film, he recruited 24 Jewish and Arab youngsters to turn their lenses on their native city. Following are some of the results of his "Beyond the Wall" project (www.kids-with-cameras.org/jerusalem).
The 8-to-12-year-olds met with Eskenazi twice weekly; speaking neither Hebrew nor Arabic, he used translators. They snapped shots of friends, family, rabbis, churches, homes, playgrounds, the barrier wall—and themselves.
A newcomer to the Middle East strife that even affects children, Eskenazi had to teach them separately in their own quarters. After their photo albums were compiled, he shared each group's with the other, bringing together the two best photographers, Raneen and Tzvi (only first names are given).
The initiative was supported by a grant from Kids With Cameras, Academy Award-winning director and photographer Zana Briski's nonprofit organization.
Eskenazi sees the children as seeds of the same tree that branched off into separate walled-off gardens. "I hope that somewhere down the road," he says, "some of these kids will remember taking pictures and stop to think how their counterpart sees the world."
Eskenazi is working toward creating an exhibit of the images in the United States, before taking them back home—to the children in Jerusalem.