Sun Rays, Sea Waves, Brainstorms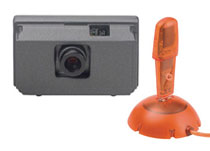 The sun finally seems to be shining on Avi Brenmiller. After a decade of struggling to sell the world on how effective solar thermals can be in generating electric power, Solel, the Israeli company where Brenmiller is C.E.O., recently registered a flurry of sales to customers in the United States and Spain.
The biggest deal, for 48,000 of Solel's most advanced solar collectors, was with FPL Energy, one of America's leaders in alternative methods of generating electricity; another was to the local government of Granada, Spain.
The collectors, parabolic curved mirrors inside what looks like a large cut-away pipe, concentrate about 64 square feet of the sun's rays into an area about three square inches to heat a liquid to a boil, producing steam that runs an electricity-generating turbine. The current deals are part of an $80-million package of contracts that Solel has announced in 2006, after years of sales in the doldrums.
Solel isn't alone in its good fortune. All in all, there are increasing signs that the high-technology industry, a main engine of Israel's sharp economic growth during the first half of the 1990's, is on the move again. Exports are climbing rapidly (up nearly 10 percent in 2005, to $16.6 billion) and demand for engineers, scientists and other tech-savvy workers is up 19 percent. Even better, international venture capitalists seeking companies that develop new and exotic technologies put $1.5 billion into Israeli start-ups last year. Though that figure is only half of what it was in 2000, the peak year before a contracting world economy and the shock waves of 9/11 sent high technology everywhere into a tailspin, it is still the best figure in years.
For the alternative-energy field, however, things are looking brighter than they did in the economic spurt of the previous century. A predecessor to Solel, the now-bankrupt Jerusalem-based Luz Industries installed similar technology in the mid-1990's in the desert of Southern California, setting up 9 power plants to supply 500,000 households. Luz failed largely because 10 years ago the world thought oil prices would stay cheap. Now, with a barrel of crude hovering between $70 and $80, Brenmiller is certain that alternative energy's time has come.
"It's not about speculation," he says, sitting in his office in Solel's plant in Beit Shemesh. "Demand in India and China is growing [and]…the supply of oil is limited."
One big difference between the 1990's and today is an understanding, finally, of what excessive burning of oil and coal does to the environment.
"The fields of alternative and renewable energy aren't going to go away," says Eitan Yudilevich, executive director of BIRD Foundation (Israel-U.S. Binational Industrial Research and Development), which pairs firms from the two countries in joint ventures. "And that's true even if oil prices go down."
Alternative-energy expert David Faiman, a professor at Ben-Gurion University in the Negev, notes that though a small country like Israel can do little to slow global warming, on a local level the immediate health consequences of continued burning of fossil fuels are likely to be catastrophic. In generating electricity, Faiman says, "Israel creates a lot of local filth."
Given these conditions—including President Bush's interest in alternative, renewable energy and a bill in both houses of the United States Congress providing funds for joint Israeli-American energy research—Brenmiller predicts that Solel's revenues, less than $5 million in 2005, will reach into the hundreds of millions of dollars in the next few years.
Shmuel Ovadia of S.D.E. Energy is also focusing on alternative-energy sources. For 10 years he has been trying to popularize the idea that harnessing the power of ocean waves can generate electricity; he now reports increased interest in his invention. Ovadia's small company, based in the Kfar Shalem neighborhood of Tel Aviv, has been subsisting mostly on research and development grants from the Ministry of Industry and Trade's Office of the Chief Scientist. Ovadia believes high energy prices have stimulated interest in the last year, and he is now working with several governments of seaside countries, including India and Sri Lanka, on plans to build pilot plants.
Another key indicator of growing economic strength is the ability of Israeli companies to raise money with an initial public offering (IPO) of its shares on a stock exchange. Israel has the 3rd largest number of companies (about 100, after the United States and Canada) listed on the NASDAQ in New York, the prime exchange for technology-oriented firms, but the market for new share offerings is still far below its apogee in 1999-2000, when investors gobbled up all tech shares at premium prices. "We're now at the levels of 1997, before the peak," says Alan Feld, founder and managing partner of Herzliya-based Vintage Ventures. "There is still a lot of uncertainty in the financial markets, and investors are usually somewhat troubled by companies with a high-risk profile," a category that includes most young technology companies, Israeli or not.
In the past, Israeli technology firms were most successful in computer infrastructure and networking, software and information technology, including the initial development of VoIP (Voice over Internet Protocol), which paved the way for large-scale use of the Internet for telephone calls. Today, there are still ultra-successful companies in these fields, including Check Point Software Technologies, developer of the firewall system for protecting commercial firms' computers from unwanted penetration and theft of commercial data; and Amdocs and Comverse Technology, both world leaders in billing and administration systems for telecommunications service providers.
But the current focus has shifted slightly to other sectors. Among them is biotechnology, including both the development of new drugs and medical devices. In this growth field, where most of the companies are less than 10 years old, the two biggest names are one established company and one relative newcomer. The old hand is Teva, a world leader in the production of generic pharmaceuticals; Teva also has developed a few drugs of its own, principally Copaxone, a treatment for multiple sclerosis that has reached sales of $1 million a year. The newcomer is Given Imaging, headquartered in Yokneam not far from Haifa, developer of a digital camera, light source and tiny transmitter packed into a swallowable capsule about the size of a multivitamin used for examination of the esophagus and parts of the small intestine previously unreachable by conventional endoscopy.
A natural Israeli advantage in the technology field is the national ability to think outside the box and come up with novel and unconventional solutions. That's a capability that has been encouraged and nurtured by the Israel Defense Forces' famed technology units, including Talpiot, which provides communications and imaging experts for the IDF's Intelligence Corps, and Mamdas, the Air Force's software development center. And until recently, more than half of the budding entrepreneurs in Israeli tech firms spent their military service in one of these selective units or as pilots in the elite ranks of the Air Force. Other new ideas come out of Israel's defense industries, especially from the Lavi, the country's attempt to build a jet fighter of its own design, which was cancelled in the late 1980's for lack of funds.
The defense industry continues to generate innovative products. One example is Trophy Active Protection for tanks and armored vehicles, developed jointly by the government-owned Rafael Arms Development Authority and Israel Aircraft Industries (IAI). The system, which passed United States military field tests with flying colors, was designed to protect tanks such as Israel's Merkava and the slow-moving, armor-plated Stryker combat vehicles the United States deploys in Iraq. Trophy creates an impenetrable field around the vehicle with four radars to detect incoming antiarmor missiles and two rocket launchers that automatically shoot down threatening projectiles. In the field test, the Stryker destroyed one rocket-propelled grenade in flight and diverted a second shell off-course.
In the wake of a 2002 attack in Kenya, when two shoulder-held anti-aircraft missiles fired by Al Qaeda terrorists narrowly missed an Israeli Boeing 757, the world began looking for ways to protect commercial aircraft.
First on the market was Flight Guard by IAI, a radar-based system that releases burning flares to steer the missiles' heat-seeking targeting systems away from the planes' engines. Saying that it does not discuss security matters, El Al Israel Airlines declined to confirm reports in Defense News Weekly that Flight Guards were installed in some of its aircraft this year. But responding to an article in Der Spiegel, the German news weekly, that some European countries won't allow planes with Flight Guard to fly into their airports because of the danger of collateral damage should the incendiary flares fall to the ground, an unnamed Israeli source told the Yediot Aharonot newspaper that, "instead of thanking Israel [for the defense system], some countries are sticking their heads in the sand."
Universities in Israel also nurture more than their fair share of technology companies. For example, Amnon Shashua, head of the computer science department at the Hebrew University of Jerusalem, is now working on his second company. An expert in getting computers to understand three-dimensional images, Shashua first formed CogniTens, which creates optical-measurement devices for the automaking and aerospace industries. Shashua's second company, Mobileye, has built a small computer that, when attached to an optical sensor, can perform a variety of road-safety tasks, including detecting impending collisions, helping drivers maintain a safe distance from the car ahead of them and telling motorists when it is dangerous to change lanes. Some of the devices have already been installed in trucks in Denmark and Canada: According to a company spokesperson, "We have signed contracts with five of the world's top automakers and five of the top fifteen so-called 'tier 1' suppliers of automotive accessories, including General Motors affiliate Delphi. At first Mobileye will be installed as original equipment only in top-of-the-line automobiles."
Serial entrepreneurs like Shashua are good for the industry, says Joseph Morgenstern, publisher of Israel High-Tech and Investment Report, an industry newsletter. "They give Israeli high tech an edge it didn't have…because it brings in experience in management that was lacking in the early days…when scientific expertise was in much greater supply than business acumen."
It may take some time before motorists in North America and Europe can use Mobileye technology, but Israeli tech already affects their lives in unexpected ways.
Computer users around the world enjoy the benefits of pencil-sized DiskOnKey "flash drives" containing large amounts of memory, which earlier this year was chosen by PC Magazine as one of the 10 greatest gadgets of the last 50 years. It was developed by Israel's M-systems and in late July, while fighting was going on in Lebanon, the California-based San- Disk, another giant in the computer-memory field, showed its faith in M-systems by paying $1.55 billion for the Kfar Saba-based firm.
And beginning in mid-July, passengers on the New York subway system were able to take advantage of another Israeli innovation: Users of Citibank contactless credit cards and payment tags could pay their fare on the 4, 5 and 6 lines at some stations in the Bronx, Queens and Brooklyn by tapping their cards on special devices built into subway turnstiles. On Track Innovations of Rosh Pina provided the technological platform for the microprocessors in the tags.
With products like these, Israeli technology has increasingly become part of the lives of people all over the world. But Morgenstern, for one, doesn't think that is a sign that the industry can be classified as mature.
"From the investor's side, maturity is not a positive," he says. "They like to be with the start-ups, the young companies where there's adventure and excitement," he says. "To me, maturity means being over the hill. Israel is a long way from being that."
Hanan Sher is senior editor at The Jerusalem Report.