CONVENTION 2006: Drawing Strength from one another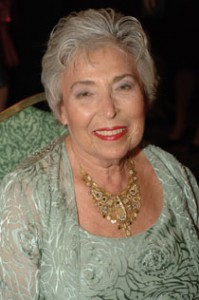 When organizers planned Hadassah's 92nd annual convention, held July 23 to 26 in Nashville, Tennessee, they could not have known that Israel would be in crisis. On June 25, Hamas terrorists in Gaza kidnapped Israel Defense Forces Cpl. Gilad Shalit, and on July 12, Hezbollah, based in Lebanon, killed eight soldiers and took two more hostage in a cross-border raid, forcing Israel to defend itself on two fronts. As Israelis huddled in bomb shelters and Katyusha rockets rained on northern Israel, Hadassah women came together in record numbers to declare their support for Israel and, most of all, roll up their sleeves and figure out how to help.
"When we ordered our plane tickets, we had no idea how important it would be for us to be together now," National President June Walker told 2,000 delegates assembled in the Gaylord Opryland™ resort and convention center. "Instead of fretting at home, watching the TV, changing channels and calling Israel—we have come here to plan and to act. You must now step up your advocacy on behalf of Israel."
"Our concern for the people of Israel is palpable," said convention cochair Judy Palkovitz at the opening session. "Our excitement about convention is tempered by anxiety," added cochair Barbara Topol, who explained that this year's programming had been modified to keep delegates up-to-date on the crisis.
As the convention began, Hadassah was already acting. Refugees from the north were flooding areas of Israel beyond the range of Hezbollah's rockets. Delegates learned that Hadassah's Jerusalem hospitals were filling with patients, Youth Aliyah villages were welcoming refugee families and Hadassah College Jerusalem was taking in displaced students. The first night of convention saw the launch of the $1-million Emergency Crisis Campaign to help Hadassah's Israel projects meet the needs of the conflict.
At the hospitals, workers took on extra shifts and opened emergency clinics. But, at the same time, the patient load was increasing and Hadassah's staff was thinning. In addition to doctors called to Army reserve units, two teams of doctors and social workers were dispatched to bomb shelters in Nahariya to treat traumatized patients. "War is not waged by an army or an air force but by a nation, a people," Dr. Shlomo Mor-Yosef, Hadassah Medical Organization director general, told delegates at Sunday's HMO plenary. "The Army gets its power from civilians and we civilians are getting our power from you—from America and from Hadassah."
Dr. Mor-Yosef wasn't the only one who joined Hadassah despite pressing responsibilities at home. Daniel Ayalon, Israel's ambassador to the United States, who also spoke at the HMO plenary, came to Nashville to talk directly about the importance of Hadassah's support. "What you do assures the friendship between the United States and Israel," he declared. "Thank you for your faith, help, support, visits—in good times and bad—and for your medical organization, the premier hospital in the region."
Though the conflict was never far from anyone's mind, the convention took stock of Hadassah's many projects and the organization's progress over the past year. Among the delegation of Hadassah medical staff that came to discuss the hospital's achievements were three extraordinary female physicians.
"Good clinical work should always be connected to research," said Dr. Drorith Hochner-Celnikier, head of obstetrics at Hadassah University Hospital on Mount Scopus. "Due to [the hospital's] partnership with [Hadassah in America], we are able to proceed and succeed. Thank you on behalf of my family, my people and my country." Dr. Hochner-Celnikier is working to characterize genes that can prevent a pregnancy's progression, as well as looking at the effects of hormones on postmenopausal women and studying the gender gap in cardiac arrest and treatment, to name just a few of her projects.
"The acts you do are the wind beneath our wings that allow us to fly high above other hospitals in Israel and, in some cases, the world," said Dr. Dina Ben-Yehuda, head of hematology at Hadassah University Medical Center at Ein Kerem; she and her staff are trying to decode the mechanisms that drive malignant cells in metastatic cancers.
Leukemia patient Andrea Moriah is one of Dr. Ben-Yehuda's successes. "I feel I represent many patients who had the good fortune to fall into the…hands of Hadassah and Dina Ben-Yehuda," she said.
Hadassah has Israel's only center for the treatment of metabolic disorders, and it is one of the best in the world. "My research stems from the parents' pain and my desire is to find the cause of the illness, their damaged genes," said Dr. Orly Elpeleg, head of the Center for Pediatric Metabolic Diseases at Ein Kerem. "I can't give them the healthy children they dreamt of…. I can give them control of their lives again."
One such family is the Birenzweigs; Dr. Elpeleg isolated the gene that caused the family's metabolic illness and also helped their son Benjamin manage his disease. "You at Hadassah and Professor Elpeleg gave us the courage to go on," said his mother, Hadassah Birenzweig.
Days before delegates arrived in Nashville, Meir Shfeya Youth Aliyah village, near Zikhron Yaakov, received 40 families from the north and Hadassah-Neurim, near Netanya, took in 400 children—some of them Ethiopian immigrants who had made aliya just two months earlier. More were expected.
These youth villages have, over the past year, continued their important work with high-risk teens, offering them a safe, loving environment. Students at Meir Shfeya have opened their own winery; over 100 children worked on the project. "Shfeya, where I live and work, is a symbol of all that's best about American Jewry," said Lauren Stern Kedem, coordinator of the school's English department. "I feel proud to be part of the work Hadassah does to make the world a better place."
As the fighting began, 1,000 youngsters were in Young Judaea's Israel programs. Both students and staff were committed to staying.
"As someone whose Jewish identity was never strong before this trip, you gave me the most important year of my life," said Nathan Winkler from New Jersey, who recently returned from Year Course and is attending Columbia University in New York.
Hadassah College Jerusalem also felt the pressure of the conflict. Three weeks after the fighting started, 100 of its students had been called up to the reserves. "Many of our students are now fighting to secure Israel's future," Nava Ben-Zvi, president of the college, told delegates. "We look to you to secure their future when they return to our college." Ben-Zvi also reported on the school's progress. "Enrollment is up over 100 percent over last year," she said. "The communications department has room for 45 students and got over 400 applications this year." She anticipates that enrollment will reach 2,500 by the year 2010.
In addition to reports on how Hadassah institutions are involved in serving Israel during the crisis, delegates attended numerous sessions in which experts discussed military and diplomatic causes of the war and its implications. In a session on "Israel at the Crossroads," speakers agreed that if Israel is to prosper it must rid Lebanon of Hezbollah and insist on secure borders: "In attacking northern Israel, Hezbollah and Iran miscalculated the Israeli response," said Michael Herzog, IDF brigadier general (ret.) and visiting fellow at the Washington Institute for Near East Policy. "This is about the core of Israeli existence—we're fighting to defend northern Israel from attack."
Ron Dermer, economic affairs minister for the Israeli Embassy in Washington, D.C., pointed out that before the conflict the country's economy was thriving, with more patents registered in the United States than Russia, China and India combined. "This conflict," he asserted, "is about a bunch of fanatics from the 7th century wanting to destroy a country that enthusiastically embraces the 21st century."
Though delegates were focused on Israel, Daniel Pipes, director of the Middle East Forum, noted that radical Islam is also becoming a threat in Europe, where a growing Muslim population could go in one of two directions—moderation under the influence of host nations or domination built on Islamic nationalism and declining European birth rates. "Jihad and radical Islam will only go away if [they] can be translated and reinterpreted into modernism," he said. "It's up to Muslim clerics to begin."
Hadassah delegates also learned about local history at a panel discussion on Jews in the South. M. Alexis Scott, publisher of the Atlanta Daily World, gave a condensed history of Jewish-black relations, including the fracture of recent decades. "We must emphasize our common connection to Judeo-Christian values," she said. "Dialogue and sharing at conventions like this one are the key to positive relationships. It's up to us women to make peace; frankly, I don't think the men are up to it."
"We should write the Ten Commandments on our hearts, not engrave them on government monuments," said Melissa Rogers, religion and public policy professor at Wake Forest University in North Carolina, who also spoke at the panel on Southern Jewish life. She expressed concern about the erosion of the First Amendment in public life. "We need to open the lines of communication between Christians and other faiths."
Protecting First Amendment freedoms was also the focus of a session on science policy. "Evolution is different than other establishment-clause issues," said Eric Rothschild, an attorney who represented 11 parents in a suit against the Dover, Pennsylvania, school district over the teaching of intelligent design in science classes. "Opponents of evolution have developed disguises, like saying that intelligent design is science and not religion."
Two other presenters defended science against ideology with regard to drugs and environmental policies. "We must insist that the F.D.A. go back to its critical role of making decisions based on science and that people there are allowed to do their jobs," said Susan Wood, who resigned as director of the Office of Women's Health at the Food and Drug Administration after the government ignored the F.D.A.'s recommendation that Plan B emergency contraception be available over the counter for adult women. (Plan B was approved for over-the-counter sales in late August.)
"We need a stronger energy policy, and we need to let our legislators know this," said Barbara Lerman-Golumb, acting executive director of the Coalition on the Environment and Jewish Life.
There were plenty of strong, passionate female speakers at this convention, many of them groundbreakers in their fields. One session that highlighted this was entitled "Women Shaping the Future."
"We've always had to come from outside the box and do things differently," said Marie C. Wilson, president and founder of The White House Project, which works to give women equal access to political office.
"Before we can go forward we have to go back," said Lynn Sherr, an ABC News correspondent. "I urge everyone to remember our history, especially when it comes to women's issues. I want things to change but I also want women to remember what it took to get here."
"Without the women in this room, we're lost," said Olivia Cohen-Cutler, senior vice president of broadcast standards and practices at ABC. "Change doesn't happen at the top unless there's a grass-roots commitment first."
As they do every year, Hadassah's convention planners saw to it that delegates would experience their locale—in this case planting their feet firmly on Tennessee soil. The convention theme "Step to the Rhythm of Our Lives" evoked Nashville's role as the capital of country music. However, as delegates arrived in a serious mood, many wondered if they would be able to enjoy the regional culture. As it turned out, the hosts and celebrities—from Nashville Mayor Bill Purcell to Grammy Award-winning country star Pam Tillis—went out of their way to welcome Hadassah and express appreciation for its work. In addition to the serious deliberations, the convention had dancing and singing, country-style, much of it enjoyed as a form of release.
One person who touched delegates in particular was Linda Hooper, principal of Whitwell Middle School in Tennessee. Her work to foster tolerance in a school with almost no diversity resulted in an education project in which students collected six million paperclips, one for each Jewish victim of the Nazis. The project became part of a Holocaust memorial and is documented in the film Paper Clips.
"It's hard to be 13, 14, 15 years old and learn to tolerate all kinds of people," said Hooper, "but we wanted to teach our children to embrace, respect and love the very diverse population of this globe."
Even in the midst of a crisis, there were reasons for optimism and even laughter. A film-noir treasurer's report featured National Treasurer Ruth B Hurwitz dressed in a trench coat, packing a revolver and taking shots of Manishewitz as she fought off thieves bent on stealing $172,314,000, the total income Hadassah generated this past year. In addition, the Founders Dinner held during convention raised over $5.5 million.
Hadassah's young women continue to make their mark; more than 200 came to Nashville from around the country. The Young Founders program celebrated its 10th anniversary, and Take a Stand!, the young women's fund-raising and advocacy initiative for stem cell research that began at last year's convention, has already raised $620,000. Now they have set their sights on $1 million.
"This convention was an affirmation of all the wonderful things we do and how they affect Israel," said 36-year-old Dahlia Harris, an outreach counselor for teens from the Greater Cleveland chapter. "We really do have the power to help so many people."
The banquet is always a convention high point. "This is a day the city of Nashville has looked forward to for a long time," said Purcell, who visited Israel and Hadassah hospitals when he was elected in 1999. "What I saw in your hospitals was a place that really understands how to care for people—Hadassah touched me in every way."
Author and lecturer Blu Greenberg and her husband, Rabbi Irving "Yitz" Greenberg, president of the Jewish Life Network/Steinhardt Foundation, received this year's Henrietta Szold Award. "Our personal and professional lives have been bound up with Hadassah for decades," said Blu Greenberg, who recalled that four years ago, when their son died in a bike accident in Israel, they donated six of his organs at Hadassah Hospital. "A week after shiva, we went to visit the liver recipient, a father of seven; only then did we realize he was Arab. In the darkest moment of my life, I found this act of morality incredibly touching."
"The re-creation of the State of Israel is our assertion in the face of…the Shoah…that life is stronger than death," said Yitz Greenberg. "Israel can nurture our identity and our soul even as we help sustain and nurture Israel."
Attending convention was perhaps the closest thing delegates could do to simulate the feeling of being in Israel, of being with family when things are hard. And at the convention's closing session, the emphasis was on moving forward. "The fact that Warren Buffet is making his first major investment outside the U.S. in Israel says a lot about the Israeli economy," said entrepreneur Jonathan Medved, who emphasized the importance of publicizing Israel's high-technology revolution. (A few days later, Buffet, who paid $4 billion for an 80-percent share of Iscar, a tool-making company in northern Israel, said that the conflict would not deter him from future investments.) "As soon as this conflict is over, visit Israel's north," said Daniel C. Kurtzer, former United States ambassador to Israel. "Don't let the tourism die—go there. It's absolutely essential."
As it turned out, the organization didn't wait that long. Moments after Kurtzer spoke, Hadassah announced the Emergency Mission to Israel that left on August 7. Attendees would tour Haifa and the north, bringing gifts to children in bomb shelters and visiting the Youth Aliyah villages that were sheltering children and families.
"Each one of you must take the learning, leadership, dynamism and inspiration you've experienced here back to your communities," said June Walker at the closing breakfast. "That's the real rhythm of our lives."