Journey to the East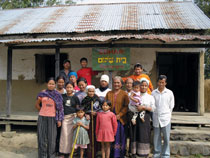 Tucked into remote regions of Manipur and Mizoram in India, a group of people is struggling to reclaim a heritage that goes back to the 10 lost tribes. Poverty, political tensions and natural disasters stand in their way.
The Ohel Shavei synagogue in the village of Phailen is little more than a mud and bamboo shack with a rusting tin roof. Hardly the grandiose building I would think of as a synagogue in America. But here, in a remote corner of northeast India, the primitive structure does not reflect a poverty of spirit.
I have come to the Indian states of Manipur and Mizoram, which straddle the border between Bangladesh and Myanmar (Burma), to visit the Bnei Menashe, a community of 7,000 from the Kuki and Mizo tribes who are eager to learn about Judaism. This is the first leg of a trip back to my own roots—I was born in Calcutta, about 1,500 miles west of Manipur—and I have been back to India only once before in the 42 years that have passed since I left as a child of 6. But Calcutta's Jewish community has dwindled down to about 35 elderly people, and in creating my itinerary for this trip, I realized with sadness that the two remaining Calcutta synagogues—magnificent edifices with deep personal significance—would not even have a minyan for Shabbat. I decided to begin the trip by immersing myself in a vibrant, fascinating and growing community: the Bnei Menashe.
Mostly raised Christian, the Bnei Menashe now follow halakha [Jewish law], claiming their ancestry goes back to Manasseh, one of the lost tribes exiled from Israel by the Assyrians in 723 B.C.E. But their story surpasses the community's legend of ancient wanderings through Afghanistan, Tibet, China, Burma and India, to become a modern-day journey of Jewish discovery, unwavering faith and Zionist yearning.
My own journey is hardly as long or circuitous. Still, it's not easy to get here, and not just in terms of geography or logistics. Any visitor must have a special permit—a separate one for each state—to even set foot outside the airports. I had applied for these in advance from New York with the help of the Bnei Menashe Councils in India. The permit for Manipur especially seems harder to get than a ticket to the Super Bowl. It requires a hefty fee and no small amount of finesse. When my sister Flora and I board the plane to Manipur, I still don't know if the permit has come through.
At Imphal Airport in Manipur's capital city, armed Indian soldiers in fatigues greet us with fearsome scowls, rifles trained and ready. I know not to take it personally: Ethnic tension between various Manipuri tribal groups fighting each other and the government of India for self-determination has resulted in a permanent military presence. Blockades, violence and power failures disrupt life daily.
A handsome man with a shock of black hair and wire-rimmed glasses waves a piece of paper—and I breathe easy. This is Yigal Hangshing, head of the Manipur Bnei Menashe Council. With the paperwork completed, we head into Imphal, a noisy urban center and home to three synagogues.
Imphal. We climb up the stairs to the Beith El Synagogue in the dark. The power has been out for five hours. Light from the open windows illuminates the room that serves as a sanctuary, but there's not much to see: Except for the turquoise-painted bima, blue plastic chairs, an Ark with a navy curtain that holds two small Torahs, two calendars, a clock and a lace mehitza, the room is bare. (Many Bnei Menashe synagogues are rented or built by Shavei Israel, a Jerusalem-based group whose mission is to "assists lost Jews seeking to return to the Jewish people.")
Hangshing, who serves as guide and interpreter, introduces us to leaders of the 140-member community— "small-time businessmen" mostly in their forties who practice Judaism but are not yet officially converted. The Bnei Menashe who have chosen Judaism tend to be between the ages of 20 and 45. Elders are 45 and older. (That makes me rethink my concept of age.)
The group shares customs from times gone by. Men often marry maternal cousins, emulating the marriages of Isaac and Jacob. No musical instruments or singing are allowed for seven days in a house of mourning, I learn later; afterward, the house is cleaned and only then can family members sing again. They even call on Manasseh (or Manmasseh or Menassiah) in times of trouble.
"When there is an earthquake, landslide, something unusual, people used to shout, 'Please, Manmasseh's children are still living. We remember you,'" Hangshing explains. "We say like that, Manmasseh…. We have been lost for so many years so it falls out a different pronunciation."
Natural disasters aside, it is the political tension in Manipur that causes the most difficulties. It disrupts Jewish observance, the leaders say, and it's one of the reasons they want to make aliya.
"Any moment a blockade can happen," one of the men says, with Hangshing translating. "When any festival or Shabbat falls on that day, you cannot move to the synagogue, you cannot worship, you cannot say prayers and you cannot see each other. That's why the earlier we leave this place the better."
"Would you think of going to any place besides Israel?" I ask. "No," they all say, and the lights come on.
Later, Flora tells me that our encounter at the Imphal synagogue left her in tears: "They just sat in the dark with such seriousness and piety and innocence. They were so connected to Judaism and to prayer." A teacher of Bible and rabbinics at Solomon Schechter High School of Essex and Union in New Jersey, she adds that she can't help but contrast the Manipuris to many American Jews. "These people are just dying to learn," she says. "In the U.S. so many people just take it or leave it, and when they can get it, many don't even care."
Churachandpur. From Imphal, the road to Churachandpur, home to 2,000 Bnei Menashe who practice Judaism, sweeps by the Thangjing Mountains; school girls in saffron sweaters and maroon skirts; cremations marked by fires and watery immersions; and oblivious cows intent on their breakfasts in the rice paddies. In these poorest of areas, signs along the way ask, "I am AIDS educated. Are you?" and "Any patch with loss of sensation may be leprosy."
Hangshing takes out a small siddur and says tefilat haderekh (the traveler's prayer). Shortly into the ride, I understand why. Here, as in most of India, drivers beep their horns loudly to warn pedestrians, cows, bullock carts, bikes and motorcycles that they are approaching. It is as if we are in a video game, swerving at the last moment to avoid getting hit—or hitting others. At a security check, Hangshing tells us to stay in the car but takes our passports to show the soldiers. They glare at us but allow us through.
Hangshing is almost 50 and lives in Kangpokpi—a town with 300 Bnei Menashe two hours north of Imphal. He serves the community voluntarily.
"Before joining Judaism," he relates, "I wasn't practicing anything." In college, he read Leon Uris's Exodus, which touched him so deeply that he "made repentance, teshuva. I thought I was almost redeemed. From that geula, redemption, I chose my name, Yigal [God will redeem]." The oldest of his four children, Yechiel, 24, made aliya in 2000 and is now serving in the Israeli Army.
Members of the Churachandpur community greet us at the Shavei Israel Hebrew Center, which houses a synagogue, mikve and yeshiva. The ORT Computer Center at Shavei Israel, with 6 computers and 30 students, functions sporadically because electricity functions sporadically. Caroline Touthang, 23, a Manipuri college student and computer teacher, delineates some of the community's difficulties. Though there is a mohel, there is no Jewish library or shohet (ritual slaughterer); kashrut means abstaining from eating nonkosher animals. Verbal abuse in fanatically Christian villages has forced some to move to more moderate areas.
Touthang's family "joined Judaism" in 1996 when she was 13. "We just left behind our Christian identity and began attending shul," she says.
Her father, a farmer and village leader, was a drunkard until he was "born again, read the Bible and found out we were Jews," she recalls. "In the beginning the rest of the family was against it, but after three months we became convinced there is only one God." It's not just Touthang's excellent English—she admits she is a bookworm—that makes her such a good representative for the Bnei Menashe, but also her pride in the community, her knowledge, spunk, openness and modesty.
K. Sila, a 73-year-old elder from the village of Zohar, chants an ancient fragment of a song that refers to the crossing of the Red Sea, one of the most convincing proofs of the community's Israelite roots. The chant is full of tung-tung sounds that I can't replicate, so I ask Touthang to sing. She finally agrees to overlook the halakha of kol isha, which prohibits women from singing in the presence of men. "Mah ashiv la-Shem," her mellifluous voice soars. "How can I repay God for all God's gifts to me? I will pay my vows to God, in the presence of God's people."
Aizawl. Jeremiah Hnamte, secretary of the Bnei Menashe Council in Mizoram, picks us up the next day at Aizawl airport, an hour's drive from Aizawl itself. A cooler, calmer mountain spirit reigns in Mizoram, largely due to the peace treaty signed in 1986 between the Mizo National Front and the Indian government. Winding roads that twist through gorgeous vistas of the Lushai and Durtlang hills evoke Jerusalem, and in Aizawl, the citadel-like capital, shop names wax biblical: Israel Electricals, Moses Travels, Rabboni Art Production. Stilt houses built into the craggy hills 4,000 feet above sea level look like they have been tacked on haphazardly. The streets are so narrow that a double-parked car triggers a traffic jam.
Hnamte, a printer and manufacturer of bamboo products, tells us that his grandfather tried to go to Israel by foot in 1955. "They didn't know anything about Judaism," he recalls. "But they said they wanted to go back to their land." And he recounts a vision his mother had: "She didn't know Hebrew, nothing, but when she closed her eyes she told us to bring water, dipped her finger in the water like ink, and wrote the letters in the dirt that she saw in her vision. She wrote kuf, daled, shin [together it spells kodesh, holy]. Later, people from Manipur read it and told us what it was."
Azriel Hmar, 36, an adviser for Shavei Israel, takes us to his home for tea. It's election day in the region, so he asks his 9-year-old daughter, Annie, "Which party are you?"
"We are Israel," she answers.
"She is never ashamed of being Israel," Hmar says proudly. His mother, an active church elder, discourages him from making aliya; he is the only one in his family who follows Judaism. One of his grandfathers passed down customs with biblical echoes—not eating sea and land animals together, for instance, or anything with an irregular structure, like a double banana. Hmar's interest in Judaism was piqued at an evangelical meeting that compared Mizo and Israel.
Passionate about proving the community's Israelite roots, he takes us to meet B. Sanghnuna, a Christian historian and retired government official, who traces the "Luz Israels" (or Lushai, as the British called the Bnei Menashe, a corruption of Lu Se, 10 tribes) to Jacob's dream at Beth El, previously called Luz. Sanghnuna shows us a report from the National DNA Analysis Center in Calcutta, which tested 414 people belonging to 5 Mizo communities, that revealed traces of genetic relatedness between them and those of Middle Eastern lineage. "Their claim to Jewish ancestry cannot be excluded," the report concluded. (Genetic tests performed in Israel at the Technion in Haifa, however, contradict the Calcutta center's findings.)
Hmar also arranges and translates interviews with Christian elders who have childhood memories of village priests preparing animal sacrifices for healing the ill.
Zaduha Pawi, 79, remembers accompanying his father as he sanctified a special place on a little hill outside the village, making a circle with a rope that no one but he, the priest, could cross. He put an animal's limbs, liver and lung in three baskets, checking to make sure there were no irregularities. "At last he prayed: 'You, big rock, big mountain, big tree and big river, listen to us: We are coming with our father Menassiah,'" Pawi recalls. "'We ask our father Menassiah, stop making sick the people.'"
Proof or no proof, it is the Bnei Menashe's simple, sincere devotion to Judaism that makes the greatest impression on me. During Kabbalat Shabbat in Aizawl's Shavei Israel Hebrew Center, I remember Touthang's voice. She would have blended in perfectly with the striking, Burmese-looking women in long skirts and knitted caps, who poured their souls into a Carlebach "Mizmor le-David." They sing Ashkenazic versions of "Yedid Nefesh" and "Tzaddik Katamar" in the measured, harmonious cadences of the Presbyterian hymns they grew up with, adding to the men's voices beyond the mehitza. It is beautiful, but it's also a little dissonant, these Indians who don't look Indian, who say they are descendants of ancient Semites, yet who have absorbed Christian and East European melodies.
I know that people have trouble believing I am from India. My fair skin, especially, inherited from my Baghdadi ancestry, doesn't fit the picture. I find myself startled by the same thing in the Bnei Menashe. I am privileged to know the Calcutta tropes and melodies brought to India from Syria and Iraq, but they are unconsciously laced with the Western nuances of my mostly American upbringing. I struggle with the truth of this melange in myself and wonder if the Bnei Menashe are that different.
Yitzhak Kolney, the 24-year-old Shavei emissary, gives a d'var Torah in Mizo. At the end of the service, he asks me to say a few words. I say what is in my heart: that in the United States our synagogues are a lot fancier, but the singing and the spirit in Mizoram are unmatched. Only later, after my visit to Calcutta, will I be able to contemplate the deeper contrast: the Calcutta synagogues stand empty, with no one to breathe life into their neshamot.
We stay for dinner—fish, lentils, rice and salads—with Kolney, his wife, Adina, and a host of teenagers. We learn that Kolney grew up in Aizawl, was circumcised at 9 after his family left Christianity, learned Hebrew on his own, made aliya to Kiryat Arba with his family when he was 17, converted at 18, studied in Israeli yeshivot and served in the Israeli Army. His father works in the Cave of Makhpelah in Hebron.
Many people mistakenly assume the Bnei Menashe want to go to Israel for economic reasons, says Leon Fanai, a 38-year-old graphic designer whose grandfather and great-grandfather were missionaries. "I am content with my life here," explains Fanai, who began questioning Christianity as a teenager, "but my spirit doesn't feel contented. I can't find books, I can't get a good shiur [class]."
His wife, Leora, says that her Christian friends tell her that not believing in Jesus is the path to hell.
"They try to convince us we are doing the wrong thing," she says, "but we are positive."
---
A Hidden History
When British missionaries entered northeast India in the late 1800's, they found that the local tribesmen worshiped one God and were familiar with biblical stories. The British converted most of them to Christianity, yet many members of the group—now called the Bnei Menashe—held on to a belief that they were descendants of ancient Israel. According to the community's oral tradition, before reaching India, they were persecuted by the Chinese and were forced to give up their books, rituals and customs, making it difficult to prove Jewish lineage.
The birth of Israel may have sparked the early stirrings of the community's Jewish awakening, says Michael Freund, chairman and founder of Shavei Israel. About 30 years ago, a group of Bnei Menashe—without any outside influence—decided to return to Judaism and began living according to halakha. They wrote to the Hebrew University of Jerusalem for information, and an Indian Jew in Israel passed the letter on to Rabbi Eliyahu Avichail, whose Amishav organization was the first dedicated to assisting lost Jews. After repeated visits, Avichail became convinced of their authenticity.
Only a small percentage of Bnei Menashe have embraced Judaism; they often have close relatives who are still Christian. Mizoram is essentially a Christian state; Manipur is mostly Hindu but with strong Christian pockets. The Bnei Menashe who practice Judaism distance themselves from the politically oriented Chinlung Israel Peoples Convention, Bnei Menashe who claim ancient roots but cling to Christianity and want to declare an independent Bnei Menashe state on lands in India, Bangladesh and Myanmar.
Though 800 Bnei Menashe have made aliya and converted in Israel, three years ago, Avraham Poraz, the interior minister from the secular Shinui Party, froze the aliya, objecting to their Orthodoxy and their settling beyond the Green Line. In March 2005, the Sefardic chief rabbi of Israel officially recognized the Bnei Menashe as "descendents of Israel." In September of that year, two rabbinic courts converted 218 Bnei Menashe in Mizoram, making them eligible for aliya under the Law of Return. They did not continue to Manipur because the Indian government objected to the conversions of its citizens. The Bnei Menashe who remain in India are in a Catch-22. They cannot move to Israel unless they convert. But the Indian government's decision, which Israel is honoring, will not allow them to convert. However, the 218 Bnei Menashe from Mizoram will make aliya this month.
"It is a triumph of the Jewish spirit," says Freund, "and a testament to the power of Jewish identity." —R.M.