Letter from Jerusalem: Feeling Left Out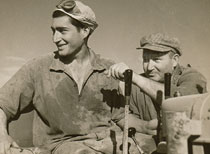 The word 'Zionist' belongs to both the right and left of the political divide. Using the term incorrectly displays ignorance of Israel's history—and deserves to be corrected.
A trend is something you notice well after it begins, at the uncertain point when background noise gets loud enough that you suddenly hear it.
I noticed the shift in popular use of "Zionism" in English when my family hosted a pair of bright American college students for Friday night dinner. They were in Jerusalem, as I remember, on a study tour of the Israeli-Palestinian conflict. Our Shabbat customs were an exhibit of the Israeli side. As we set the table, one young woman described the Palestinian lecturers they had heard. And Israelis, I asked?
Yes, she said, they had listened to a couple of West Bank settlers who were "very Zionist."
I was startled. An Israeli, describing the same people, would have said "hawkish" or "right wing."
Most israeli jews, i gently explained to my guest, would call themselves Zionists, whether they are on the left or the right. I myself, I said, am a Zionist, and I'm on the dovish side of Israeli politics. She listened studiously, as if taking mental notes and trying to understand another unexpected quirk of this strange land.
In my own unwritten notes, I could have marked her down as lacking historical background for her visit. But I realized this wasn't actually the first time I had heard "Zionist" misconstrued—by an American visitor or in the media—as referring to only one side of the Israeli and Jewish political spectrum. My guest was merely following the trend. And now that I was aware of the background noise, I heard it even more.
Some time after, for instance, I saw a Newsweek article on how disgraced lobbyist Jack Abramoff allegedly channeled charity funds raised for American inner-city youth to a West Bank settlement. Abramoff, Newsweek explained, was described by an associate as "a super-Zionist." By implication, he would have been a lesser Zionist, if a Zionist at all, if he were less supportive of settlements.
More recently, chance browsing led me to a column in Canada's National Post on efforts to rejuvenate The New Republic (a magazine for which I wrote in the 1990's). Editor-in-chief Martin Peretz, said the National Post's columnist, was "a Zionist," as indicated by The New York Times's portrayal of him as having "never met an Israeli military offensive he didn't like." Ergo, those critical of some offensives—a class including many Knesset members, former Israel Defense Forces' officers, reservists and average Israelis—might not qualify as Zionists.
One reason for presuming that "Zionist" applies only to those who would like to see hard-line Israeli policies may be the recent prominence of those who call themselves "Christian Zionists"—conservative evangelicals who profess enthusiastic support for the Jewish state. Their support comes packaged with faith-based rejection of peace efforts or territorial concessions. One spokesman is Pat Robertson, who last January explained former Prime Minister Ariel Sharon's stroke as Divine punishment for his withdrawal from Gaza.
Whether "Christian Zionism" is Zionism at all is arguable: It is based on a theology that sees the Jews as unwitting harbingers of the Second Coming and has little to do with Zionism's worldly goal of making Jews into a sovereign nation controlling their own fate. Nonetheless, the Christian-right connection strengthens the perceptions that real Zionists are on the political right.
Another factor may be the widening use of "post-Zionist" as a pejorative among Jews. Post-Zionist started as a term in Israeli intellectual debates. It was used by younger historians who claimed that the previous generation of Israeli scholars had been more interested in patriotism than in objectivity. But the term soon became an epithet to be hurled at any iconoclast, particularly one on the left. By implication, real Zionists lean rightward.
Fact is, "Zionism" isn't alone as a name for a belief system that is often misused these days. I have spotted reporters in the American press using "Christian" to refer only to evangelicals, or only to the Christian right. This fits the way some conservative evangelicals use the word, but why should a journalist go along with that? Were I a Catholic, or a liberal Protestant, I imagine I would be infuriated to find myself written out of my own religion. Likewise, the lazy sometimes use "Islamic" to mean "Islamic fundamentalist." This eases circular reasoning: If only extremists are truly Islamic, then clearly Islam is extremist.
I find the selective use of "zionist" personally offensive. Nearly 30 years after I chose to leave the United States to live in the Jewish state, how did I lose my credentials? It is also communally damaging: If, for instance, American Jewish college students are convinced that being a Zionist means one can criticize the Gaza pullout but not settlement building, quite a few young people might feel they must choose between identifying with Israel and their liberal political views. That's a false choice.
Most of all, making "Zionist" interchangeable with "right winger" reveals ignorance. Historically, Zionism refers to the modern movement that sought to restore Jewish life as a nation in the Jewish homeland. But there were always many variations on the theme. For some Zionists, cultural renewal was more important than political independence. For others, an independent Jewish society had to be religious, or socialist, or a model of liberal democracy. Still others identified with the European right in the 1920's and 1930's. In the years before and after independence, the socialists were clearly the dominant group.
The Six-Day War of 1967 reshaped Israeli politics. Before, left and right largely referred to one's economic positions, as in Europe. Afterward, the terms gradually came to refer to views about territory. For the right—secular and religious—an essential goal of Zionism was that Israel regain rule of the entire historic homeland of the Jewish people. The conquests of 1967 constituted a leap forward toward that goal. Establishing settlements in the new area was the next essential step, while giving up land would be a retreat from Zionism.
For the left, zionism's key goal is a democratic Jewish state in the historic homeland, not in all of it. That state should fulfill the ideals laid out in Israel's declaration of independence—it should "be based on freedom, justice and peace as envisaged by the prophets of Israel" and it must "ensure complete equality of social and political rights to all its inhabitants." At the same time, the dominant culture should be Jewish, and the country be open to all Jews who wish to come. To achieve those goals, it's essential that Israel maintain a clear Jewish majority.
From the left's perspective, achieving independence was a great leap toward fulfilling Zionism, but much remained to be done to shape a just society. While Israel had no choice but to defend itself in 1967, continuing to rule the West Bank in fact contradicts Zionism. For if Israel annexes the territory and grants citizenship to the Palestinians, it will no longer have a Jewish majority. If it goes on controlling the West Bank while leaving Palestinians disenfranchised, it undermines its own democratic ideals.
In my years of journalism, I have interviewed many Israeli settlers and right-wing politicians who believed deeply they were doing what Zionism demanded of them. I don't doubt their sincerity.
I have also listened to human rights lawyers, antisettlement activists, opponents of the first war in Lebanon and the second, organizers of Israeli-Palestinian dialogue groups and left-wing members of Knesset. Deep in the conversation, when we have talked long enough to get past business to gut feelings, they often tell me they are acting as patriots and Zionists.
I don't expect the debate over what Zionism demands to end soon. In the meantime, the word Zionist belongs to both sides in the argument. It's worth correcting those who err.