Letter from London: The Shofar in Trafalgar Square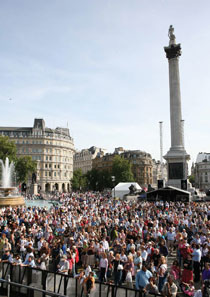 As British Jews celebrate the last 350 years, there are many accomplishments to be proud of; what clouds the occasion is resurgent anti-Semitism.
A royal (but certifiably kosher) reception, hosted by Queen Elizabeth II, will take place at St. James's Palace in London on November 28. Lining up to shake Her Majesty's hand will be Jewish barons, bankers and businessmen, with a sprinkling of media moguls, High Court judges, rabbis, academics, physicians, lawyers and representatives of the arts.
This gathering will be a high point in a year of celebrations—with events from art exhibits to concerts, a film festival and symposia—marking the 350th anniversary of the reestablishment of Jewish life in Britain.
The first recorded Jewish presence in Great Britain coincided with the Norman Conquest in 1066, but the Jews were expelled in 1290 by King Edward I.
The queen is one of many paying tribute to British Jewry. "As the oldest minority faith community in this country," said Prime Minister Tony Blair at a June commemorative service at the Bevis Marks Synagogue in London, "you show how identity through faith can be combined with a deep loyalty to our nation."
Indeed jews are prominent in every walk of national life; most notably, there are 51 Jewish peers in the House of Lords (out of 724)—one of them, Dame Julia Neuberger, is a rabbi—and 22 Jews in the House of Commons (out of 659). A Jew, Michael Grade, is chairman of the BBC.
Blair's description of the Jewish community as well-integrated was interpreted by some observers as a message to Muslim extremists who have advocated the establishment of a caliphate, a Muslim religious state, in the United Kingdom and the imposition of Islamic law. There are an estimated 1.6 million Muslims in the United Kingdom, making them the largest religious minority in the country.
The Jewish community numbers 290,000 and relations between the two groups are uneasy, especially since young Muslims have been responsible for many attacks against Jews, which have been on the rise. There are groups working to improve ties between the two communities at both the academic and grassroots levels, but progress is slow, rising and falling depending on the state of the Arab-Israeli conflict.
While British Jewry has many accomplishments to celebrate—for example, there have been eight Jewish Lord Mayors of London—the distress it feels from the reemergence of anti-Semitism is an undeniable undercurrent. On August 25, staff at the kosher restaurant La Maison du Café on Golders Green Road were attacked by two men who threatened the owner with a knife. Also in August, a gang of youths beat a 12-year-old Jewish girl unconscious after asking about her religion.
The Community Security Trust, which monitors anti-Semitic acts and provides consultation and protection for the Jewish community, recorded 132 anti-Semitic incidents across the country last summer during the 33 days of the Israeli-Hezbollah conflict. (There were 39 during the same period the previous year.) Synagogues were daubed with graffiti, Jewish leaders received hate mail and ordinary people were subjected to insults and vandalism, the twin themes being that Jews were responsible for the deaths of innocents in Lebanon and that Hitler was right to seek the extermination of the Jews.
But even before the war, anti-jewish violence had increased. In January 2006, Sir Jonathan Sacks, the Ashkenazic chief rabbi, said a "[kind of] tsunami of anti-Semitism" was sweeping across Europe and he warned that Holocaust denial and hatred of the Jewish people were becoming increasingly evident on television and in books.
Finally, in September, a report on anti-Semitism 10 months in the making was released by a 14-member parliamentary committee, representing the three major political parties. (None of the committee members are active in Middle East politics or are Jewish.) Its chairman, Denis MacShane, of the ruling Labor Party, did not equivocate.
"Anti-Semitism is back," he proclaimed in the Guardian blog on September 7. "Too many British citizens—who happened to be born Jewish—now face harassment, intimidation and assault that is unacceptable in democratic Britain. Their synagogues are attacked. Their children jostled and insulted going to school. Their social events require levels of security protection that no other faith or community has to undertake."
The report noted that "calls to boycott contacts with intellectuals and academics working in Israel are an assault on academic freedom and intellectual exchange."
The report demanded that government, police and educators take active steps to combat the increase in anti-Semitism. Among its dozens of recommendations is for the government to offer greater security for the community, which already spends large sums for its synagogues, schools and institutions. The report also asked for more research on the link "between the conflict in the Middle East and attacks on the Jewish community."
On September 3, in a response to the report, Sacks wrote in the national Sunday newspaper The Observer that the new anti-Semitism is "real and dangerous."
"Is Britain an anti-Semitic country?" he asked. "No. But that is the wrong question. The right question is: Are inflammatory anti-Semitic articles, speeches, cartoons and television programs being communicated through global media in such a way as to constitute an incitement to people to acts of violence against Jews? Unquestionably yes."
Also on September 3, Mitch Simmons, campaigns director of the Union of Jewish Students, wrote in The Observer of the latest propaganda tactic: "The language and imagery of anti-Semitism are now directed at Israel and Zionism, so that when a Jew is targeted and bullied for [his] Zionism, no one can accuse the perpetrator of anti-Semitism."
Part of the problem is that the Arab propaganda and a propensity of the British media—notably the BBC and left-leaning newspapers such as The Guardian and The Independent—to favor Arab "victims" against Israeli "attackers" has put the Jewish community on the defensive. Although Jewish groups have spent millions countering the propaganda, their efforts have been dismissed by one of London's best-known newspaper columnists (most recently for the Daily Mail), Melanie Phillips, who is Jewish.
In one of her more trenchant commentaries, Phillips, author of Londonistan (Encounter Books), denounced community leaders for adhering to "minhag Anglia, the historic custom of the leaders of British Jewry to be craven and servile, to be terrified of rocking the boat and drawing attention to the fact that they are different, that they are Jews…. Above all," she continued, "they are frightened that if they say anything about anti-Semitism they will provoke even more of it."
It is true that, until very recently, the effort to present Israel's case has been uncoordinated and piecemeal, and the image of Israel in press, radio and television is only very slowly being turned around. But the anti-Israel barrage has coincided with, or is a reflection of, a surge in anti-Semitism generally, in which it has become increasingly difficult to isolate anti-Zionism as a separate malady.
Phillips reawakened echoes of the controversy that rocked British Jewry in the years before the establishment of the State of Israel. Its then leaders, drawn mainly from long-established families, and the grass-roots, mostly 2nd- or 3rd-generation offspring of Russian and Polish immigrants, were sharply divided over the amount and nature of the opposition they should mount to Britain as the mandatory authority in Palestine. The leadership favored a go-slow approach. The masses demanded a vigorous campaign on behalf of a Jewish state and took to the streets of London against their own government. It was a gutsy thing to do so soon after the end of World War II and when the Irgun and Stern Gang were attacking British forces in Palestine.
Though that particular episode in British Jewish history was not recalled during the year's events, there were serious reexaminations of the past and of relevant social and community issues. One lecture series, for instance, looked at "Islam and the Jews: Commonalities and Conflict"; and a panel discussion focused on "Jews and Others: Multiculturalism Today."
There was also time for fun. On September 17, the community turned out in London's Trafalgar Square for "Simcha on the Square," where entertainment included klezmer, cantorial, Sefardic and world music (featured was "Rule Britannia" played by a battery of shofarot)—and free food. A related event was the Jewish Museum of London's "Identities 2006" (on display through November 12), a specially commissioned film and photography exhibit that illustrates the diversity of British Jews. One standout in the museum's collection is Rembrandt's etching of Manasseh ben Israel, the Amsterdam rabbi who successfully petitioned the lord protector, Oliver Cromwell, to allow Jews to reenter England.
The nationwide Jewish culture festival (www.british jews350.org.uk), which began in December 2005 and continues through the end of next month, has given the community an opportunity to not only examine its own past and its place in British history but to secure its future in the diverse country that England has become.
There have been music workshops, staged plays, publications and heritage walks. The question, "Why Did Cromwell Take Us Back?" was explored in a seminar and in a new play, both presented at the London Jewish Cultural Centre. A new book, Expulsion: England's Jewish Solution (Tempus) by British historian Richard Huscroft, looks at the period of 1066 to 1290.
"Jewish Artists in Britain—Works from the Ben Uri Museum Collection," with early works by Solomon Hart, Simeon Solomon, Solomon J. Solomon and contemporary works from Frank Auerbach, Leon Kossoff and Julie Held, was just one art event among many.
Still to come in this month and next are, to name a few events, a Leeds Day Limmud (a conference of Jewish learning); lectures by Sir Martin Gilbert and Chief Rabbi Sacks; a Hungarian music soiree; and the musical drama The Petition—a Kind of History.
The celebrations have so far included tributes in a special session of the House of Commons in June. Representatives of the main political parties recalled the Jewish experience in the country—both the bad (Britain's quota of Jews allowed into the country during World War II) and good (the Kindertransport program, which saved 10,000 Jewish children from the Nazis).
Laborite Andrew Dismore was one of seven speakers who lauded the Jewish contribution. He recalled outstanding Jews: Isaac Rosenberg, a World War I poet, killed in action; David Salomons, a founder of the London and Westminster Bank, elected sheriff of London in 1835 and, in 1855, the city's first Jewish Lord Mayor; the Rothschild banking family, especially Lionel de Rothschild, who was elected a minister of Parliament but was unable to take his seat as he would not make the statutory declaration "on the true faith of a Christian" as required. It took four successive election victories until, in 1858, the oath was amended, allowing him to become the first practicing Jew to serve. Dismore also mentioned Benjamin Disraeli, who though raised in the Anglican faith was England's first, and so far only, Jewish-born prime minister; Olympics track star Harold Abrahams (made famous in the film Chariots of Fire); and philanthropist Sir Moses Montefiore.
The public nature of the celebrations stood in sharp contrast to the almost surreptitious manner in which Jews reentered the life of Britain three and a half centuries ago. Though Cromwell could not get England's commercial, political or church leaders to support a Jewish return, he effected their resettlement in an informal way. Today, despite the concern about anti-Semitism, at heart, this remains a community confident of its place in British society. British Jewry has traveled a long way in 350 years and has no intention of returning to the shadows from which it emerged in 1656.
Geoffrey Paul is a former editor-in-chief of the London Jewish Chronicle. He was made an Officer of the British Empire by the queen in 1991 for services to journalism.