The Arts: Rethinking Jewish Museums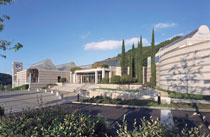 Many institutions of Jewish arts and culture are going through a metamorphosis, changing their exhibitions—even their buildings—to attract newer and broader audiences.
One evening last summer, Jack Shiner, 40, brought his girlfriend and her sister to The Jewish Museum in New York. They didn't come to look at the exhibits.
The evening's fare included screenings of two television episodes that reflected the Jewish view of justice: one from the 1960's detective show The Mod Squad; the other from the political drama The West Wing, part of the museum's popular SummerNights series of Jewish-themed screenings. "I thought the museum might have some interesting takes on Judaism," said Shiner.
A little later, Sori Yamabe, 24, and Rieko Shiba, 36, two Japanese-born students living in New York, were among the audience of singles, young families with babies, parents with teenagers and retirees who enjoyed a Latin jazz ensemble. The two had seen a newspaper announcement for the event, and while in the museum, visited the core exhibit, "Culture and Continuity: The Jewish Journey."
"I thought about The Jewish Museum the same way as a general museum," said Yamabe. "The exhibit was more about culture and history than just the art."
As arts and culture have emerged as a path to Jewish identity, Jewish museums in the United States are transforming themselves into dynamic centers of continuity, multiculturalism and outreach for Jewish and non-Jewish audiences, young and old, tourists and locals. More and more these institutions are harnessing the recent renaissance in Jewish culture by offering a fusion of innovative exhibitions, lectures, performances and films in addition to redesigning their buildings and permanent offerings.
Jewish museums are places to have broad and open experiences with Judaism," says Carole R. Zawatsky, executive director of the Maltz Museum of Jewish Heritage in Cleveland (216-593-0575;www.maltzjewishmuseum.org), which opened in 2005. "They fit a niche in American Jewish life as the town square.… Places families would think about for toddler time and singles for a glass of wine." The non-Jewish audience is "vastly important," she adds. "Non-Jews learn who Jews are, and Jews think about how we fit into the larger landscape."
The Council of American Jewish Museums estimates its 75 member organizations—a tenfold increase since the group's founding 30 years ago—attract over a million visitors a year. Of its members, 26 are synagogue-affiliated; 19, stand-alone; 9 are historic sites; 7, JCC- affiliated; 7, seminary-affiliated; and 7 are Holocaust museums.
While retaining their core of affiliated, 40-and-older visitors, the museums are now targeting "younger, sophisticated urbanites, catching them where they are seeking culture, not necessarily where they are seeking religious identity," notes Joanne Marks Kauvar, CAJM's executive director.
Changing exhibits provide a complementary and versatile opportunity for eclectic or edgier approaches to the presentation of Jewish material objects. For instance, a recent exhibition at San Francisco's Contemporary Jewish Museum (415-344-8802;www.thecjm.org), "Scents of Purpose: Artists Interpret the Spice Box," continued what has now become a Jewish museum tradition—inviting artists of all backgrounds from around the country to create original interpretations of Jewish ritual objects. One example was Sharon Siskin's "Scratch and Sniff Yiddishe Calendar," which paired each month with a matching holiday food aroma: apples and honey for September; latke-scented stickers for December. The exhibit included historic spice boxes, a listening station with sounds of havdala ceremonies from a dozen countries as well as areas illustrating the use of scent in other religious practices.
In 2004, the CJM took a step toward reaching a younger and more diverse audience by placing the word "contemporary" front and center in its name, says Connie Wolf, museum director and CEO. The museum, which was founded in 1984 as the Jewish Museum San Francisco, also broke ground this summer on a $46- million facility that will open in spring 2008. The new building, designed by architect Daniel Libeskind, is an adaptive reuse of the 1907 Jesse Street Power Substation located in the heart of the city's downtown cultural district.
Libeskind's design includes a striking steel and mirror cube-like extension of the historic brick and terracotta building; his concept uses the Hebrew letters het and yud (a reference to the word l'chaim, to life). "Just as the power station refueled San Francisco after the 1906 earthquake, this facility will refuel Jewish life in our community," says Wolf. "It embraces our belief in the future of Jewish culture and art."
In general, Jewish communities are increasing their investment in museums, notes Joan Rosenbaum, director of The Jewish Museum. In addition to the CJM, Philadelphia's National Museum of American Jewish History has engaged the Polshek Partnership, architects of the Clinton Presidential Library, for its $135-million museum on a new site and has already raised over 60 percent of its goal. In Los Angeles, the $210-million campus of the Skirball Cultural Center, designed by Moshe Safdie, nestles into the Santa Monica mountains. In Chicago, the Spertus Museum began construction in October on a $55-million building with a 10-story glass façade on Michigan Avenue. Add up the millions that are being spent for expansions, renovations and eye-catching buildings designed by high-profile architects and you get some idea of the pivotal role museums hope to play in American Jewish life.
The new paradigm facing Jewish museums is not without its challenges, says Grace Cohen Grossman, author of Jewish Museums of the World (Hugh Lauter Levin) and Skirball's senior curator for Judaica and Americana. "The question is…can we really do anything to help further the cause of Jewish identity in America?" she asks. "If we are going to be more than keepers of Jewish history and heritage, if we are going to be preservers, we will only be successful if we have the conviction that we are conveying an authentic message…."
Marketing that clear message is vital, explains Rosenbaum: "In a world of cultural institutions competing for audience and donors, it is important to be clear about your brand." For The Jewish Museum (212-423-3200; www.thejewishmuseum.org), which redid its core exhibit in 2003, that means highlighting its identity as an art museum that presents Jewish culture beyond exhibitions, creating rich and varied experiences, including a café, performance spaces for events such as SummerNights, classrooms and rooms for private events—all of which also provide additional revenue.
The hot word in exhibitions is "immersive," surrounding visitors with objects, film, video and computer technology to create an absorbing learning experience. Walk into the Maltz's core exhibition, "An American Story," and you are greeted by a huge mural of immigrants clutching their suitcases. Soon, you are walking down a re-creation of a street in Cleveland at the turn of the century, complete with the sounds of streetcars and the clip-clopping of horses; replicas of mom-and-pop shops, tenements and an ironworks shop; and computer touchscreens that challenge visitors to take a current citizenship test.
A video on Jews in the Armed Forces includes a reenactment of a Civil War Seder (based on an 1868 newspaper description of a Seder on the battlefield in 1862) and an interview with a Jewish Marine who returned from Iraq. The streetscapes shift into the 1930's, a time of uncertainty, with a film about bigotry in the dark and quiet Hate Theater. Next, a looming Superman—the character invented by two Jewish high schoolers in Cleveland—bursts through the walls. Beyond that, an installation on the Holocaust unfolds. An open, light-filled section follows, reflecting the creation of the State of Israel. The journey concludes in a gallery undulating with pinks, purples and blues, mirroring the vibrancy of Jewish life today. Several interactive stations are placed throughout.
"Interactivity in museums is about 25 years old," explains Lori Starr, senior vice president of the Skirball Cultural Center, "since it became possible to have a touchscreen." For example, at the end of a recent Skirball exhibit exploring Albert Einstein's legacy through diary entries, photographs, manuscripts—even love letters, report cards and his F.B.I. file—two computer stations invited visitors to ask questions and share their own Einstein stories. One visitor wrote that her father rode the train to New York from Princeton with Einstein on numerous occasions. While she was not told the exact contents of their in-depth conversations, she did know that they compared the sack lunches their wives prepared them.
"Incorporating visitors' stories is the direction in future exhibitions," Starr says. Following the show "Romance & Ritual: Celebrating the Jewish Wedding," visitors' vows, invitations and ketubot were archived. "Our visitors' own stories are so compelling, bringing life to objects, that we want to incorporate [them] into our permanent collection," says Starr. She notes another change of direction: Museums are reaching out increasingly to communities to help interpret their displays. Some even receive windfalls.
The National Museum of American Jewish History (215-923-3811;www.nmajh.org) recently received 10,000 cultural objects from Rabbi Peter H. Schweitzer. The collection, which includes Lower East Side street signs, optometrist charts in Hebrew, a set of 1920's postcards of medieval rabbis, a map of Cohen Island, Alaska, and Hadassah memorabilia, will almost double the museum's holdings of 13,000 objects, says its director, Gwen Goodman.
But it will take the museum's new building to properly showcase the collection. As of now, its small space, attached to Congregation Mikveh Israel, is just about enough to serve up a sampling, a "Forshspeis!," as the exhibition is appropriately titled. Still, amid the display of glass seltzer bottles, herring containers, deli menus, receipts and clocks, a "memory box" on a Formica dinette invites visitors to share their favorite food stories. "My father owned a little grocery store in Atlantic City," wrote Mina Smith-Segal. "I can still smell the kosher pickles."
Ironically, even as the museums are reaching out to the Jewish community, they are increasingly viewing themselves in a cultural context not bounded by religion or ethnicity. "The kinds of topics we address and wrestle with are relevant to broad audiences," says Zawatsky. Jewish museums not only embrace the same trends as general museums but even partner with them. The Einstein exhibition was jointly organized by the American Museum of Natural History in New York, the Skirball and the Hebrew University of Jerusalem; The Jewish Museum's Modigliani show traveled to the Art Gallery of Ontario in Toronto and The Phillips Collection in Washington, D.C.
Nowhere is the universal and multicultural component more evident than at the Skirball (310-440-4500; www.skirball.org), which defines itself as a "Jewish institution in an American context." Its core exhibition presents Jewish life from antiquity to modern times, but its programming—a concert series, for instance, showcasing a Malian blues guitarist and an Italian singer-songwriter—embraces all cultural identities. "The Jewish thread is no more precious—and no less—than any other," its mission declares. Interestingly, says Grossman, Jewish museums in Berlin, Cape Town and Melbourne espouse the same confluence of Jewish and democratic values in their mission statements.
Expansion can spur museums to rethink their direction. Spertus's new core exhibit will address the "ethical concerns of a Judaica collection" in an approach spearheaded by a dual Judaica and contemporary curatorial team, says Rosen. The facility will also show two-thirds of the museum's collection—now mostly closed to the public—using innovative display methods (312-322-1700;www.spertus.edu).
Several museums, including Spertus and the Judah L. Magnes Museum in Berkeley, California, hope technology will further their museums' accessibility as rigorous research centers. The Magnes (510-549-6950; www.magnes.org), which is also preparing to move to downtown Berkeley in 2009, anticipates being the first Judaica museum to use "open storage"—housing its collection in storage spaces visible to the public. This would serve simultaneously as a research tool and display space for its 11,000 objects. "It would make our historical collections accessible physically, intellectually and of interest to the broadest audience," notes Alla Efimova, the Magnes's chief curator.
Education for children, say museum directors, remains another major goal, but once again curators are approaching it in fresh and nonlinear ways tailored to different audiences. For example, the cover of Skirball's school-outreach brochure features smiling Asian students. In fact, non-Jewish school groups comprise a major audience for many museums. Skirball offers free busing for schools in need, extends performers' gigs so they can work with school groups and provides regular programs on topics from immigration journeys to Jewish rites of passage. Noah's pArk, its new children's gallery for ages 3 to 8 (scheduled to open in 2007), retells the story of Noah's Ark in 300 cultures. "The ark is a metaphor for the world," says Starr.
"The more broadly we define who our audience is and the more we make sure everyone feels counted, the more we add a dimension we need in American Jewish life," says Zawatsky. "We cannot err on the side of inclusivity."
---
Museums Online
Museums are now available 24/7 through their Web sites. In addition to hours, directions and exhibit information, many institutions, including The Jewish Museum in New York and The National Museum of American Jewish History in Philadelphia, feature exhibitions and interactive pages. Here are other worthy sites:
Lower East Side Tenement Museum in New York,www.tenement.org, has a virtual tour of 97 Orchard Street and a folk song project
Museum of Jewish Heritage in New York, www.mjhnyc.org
United States Holocaust Memorial Museum in Washington, D.C., www.ushmm.org, features the award-winning 'Anne Frank the Writer: An Unfinished Story'
---
Teaching Jewish Art
Corine Wegener grew up Episcopalian in a small Missouri town, so it's no wonder that the Institute in Jewish Art at the Jewish Theological Seminary in New York taught her everything she knows about Judaism. Before she participated in the inaugural session of the Institute in 2004, it was only with advice and assistance from others that she was able to curate the Harold and Mickey Smith Gallery of Jewish Arts and Culture, part of her job as curator of the Decorative Arts Gallery at the Minneapolis Institute of Arts.
Now, she says, she has not only gained "tremendous self-confidence," with the help of a museum trustee, she also raised $500,000 to expand the Judaica collection.
The Institute, which hosted its second group this year, was designed for museum curators in Jewish ceremonial art. It has courses on the development of Judaica, halakha and mitzvot and trains curators how to teach universal values using their collections (the importance of charity from tzedaka boxes, for instance).
"Judaica may be part of a museum's collection, but the staff may not be knowledgeable in the field," says director Vivian Mann, who also advises JTS's master's degree program in Jewish art and visual culture and serves as the New York Jewish Museum's Judaica chair. Funded by the Henry Luce Foundation, the Institute attracted 19 institutions this year (13 secular and 6 Jewish) ranging from the Guggenheim in New York and the Getty in Los Angeles to the Goldsmith Museum at Chizuk Amuno Congregation in Baltimore.
"For so long the literature of art history said that Jews have no art," says Mann. "We want to make people more aware of the existence of Jewish art and how it ties into the larger culture." —R.M.
For more information, go to www.jtsa.edu/progs/art/ija