Profile: Mitch Albom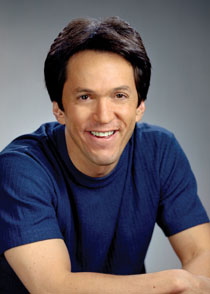 Whether reporting from a locker room or the bedside of an ill mentor, this writer humanizes the universal, reaching millions with his words.
Prior to the publication of Tuesdays With Morrie in 1997, Mitch Albom sent his completed manuscript to several friends for their evaluation. One opinion that stands out in his memory is that of writer Amy Tan. "She called me back after she'd read it," he recalls, "and said, 'I have two things to tell you. One, I think it's a really great book. Two, you're about to become everyone's rabbi.'"
Albom sits over a bowl of lentil soup in a corner booth of one of his favorite restaurants, a few miles from his suburban Detroit home. It's the kind of place where he was well known long before Tuesdays With Morrie (Anchor); on the dessert menu is "Mitch Albom's Amaretto Tofutti Pie." Arriving in Detroit in 1985, he quickly made a name for himself as a sports columnist for the Detroit Free Press and later as a commentator on ESPN television. He has won the Associated Press Sports Editors "columnist of the year" award more than a dozen times—an honor no other writer has received more than once. The Columbia Journalism Review calls him "a sports writer in a league of his own."
I'm not really comfortable with the word fame," he says. Referring to the sports figures he covers on a daily basis, he adds, "I work with famous people." Still, after Tuesdays With Morrie, which is based on the time he spent with his college mentor, Morrie Schwartz, who was dying of ALS, the nature of his public persona changed. "When [I was] on television or in the newspapers, strangers would come up to me and ask, 'Who's going to win the football game?'" he observes. "But after Tuesdays With Morrie they were coming up and saying, 'My grandmother just died of cancer and the last thing we did was read your book together.' People in wheelchairs would come up to me and say they felt a kinship because I wrote about someone who died, and they wanted to talk about it. I've met many people who, within a month of when I saw them, were dead."
After Tuesdays With Morrie, which sold more than six million copies in hardcover, came Albom's first novel, The Five People You Meet in Heaven (Hyperion). Now he's back on the best-seller list with his new novel, For One More Day, published in September by Hyperion. Each one of his books makes a splash that seems to be different than that of any other. His new novel, about a down-and-out ex-baseball player who gets to spend a day with his mother eight years after her death, is the first book being sold at Starbucks. That means the best-selling author of the last decade has increased exponentially the number of stores that sell his books.
Those strangers who approach him in public seem to play an important role in his path as a writer. "Each time, the previous book sort of leads me to the next one," he notes. "Tuesdays With Morrie led to The Five People You Meet in Heaven because a lot of people were asking me, 'Do you believe Morrie went to heaven?' and 'What do you think was the value of his life?' And after The Five People You Meet in Heaven, I found a lot of people would come up to me and say, 'I love the idea of being able to see someone I loved again. I wish I could have another day.'"
Somewhere between the wisdom imparted by Morrie Schwartz—for example, that life's spiritual, emotional and intellectual rewards are of greater value than the material—and the outsized egos of the sports world he encounters daily, Albom has comfortably assimilated his success. A slight man with a mop of black hair, he looks younger than his 48 years. He still writes two syndicated columns for the Detroit Free Press—one on sports and one that revolves mostly around American culture and values—in addition to his books, television appearances and two radio shows: The Mitch Albom Show and The Monday Sports Albom, both based at WJR in Detroit.
There is, however, a limit to his versatility—or at least to his time. He expresses regret over not being able to pursue his first career choice, which was music. "I taught myself to be a writer," he remarks. "But music is where I feel the most innate connection between my head and my heart." Albom's wife, Janine, is a professional singer; she played a big band singer in the television movie of The Five People You Meet in Heaven (Tuesdays With Morrie was also adapted for television).
Albom's music has been featured in television movies and recorded by the late singer Warren Zevon. Albom also plays keyboard and tours occasionally with a group made up of published authors including Stephen King, Scott Turow, Dave Barry and Amy Tan; their self-deprecating name: The Rock Bottom Remainders.
Though he doesn't connect the dots himself, Albom fulfilled Tan's prophecy naturally. The son of Ira and Rhoda Albom—he says he talks to them "at least every other day"—he grew up outside Philadelphia, where he attended Akiba Hebrew Academy. He went on to Brandeis University, where he met his now famous professor, and then to Columbia University, where he earned master's degrees in business and journalism. Now, more than 25 years after he left day school, his Jewish education continues. In fact, he speaks of a mentor who seems to rival Morrie in his estimation.
"I spend a lot of time with my rabbi from my childhood," he says. "His name is Albert Lewis. I've been visiting with him for the last three or four years. I fly in to Philadelphia, much like my visits with Morrie, and we sit and talk about Jewish spirituality. There'll be times I see him a couple of times a month and times when I'll see him once every two or three months, and I'll talk to him at least every couple of weeks on the phone."
As with his books, at least part of Albom's motivation in seeking the teaching of Rabbi Lewis is the questions people ask him. "I talk about a lot of things on a national level and with readers and I realized I don't really know what my own religion says about, say, euthanasia," he explains. "So it has engendered a deeper curiosity of Judaism's take on things."
Lewis, who is rabbi emeritus of the Conservative Temple Beth Sholom in Cherry Hill, New Jersey, says his relationship with Albom is "very warm." "I don't see him only as Mitch the writer," he says. "I see him as Mitch the mensch. He and I schmooze about the world. When he comes he has a mike and a recorder. He asks questions and I ask him questions. It's a give and take."
Albom says his recent studies may lead him to one thing some readers have found wanting in his books—Jewish characters. "One of my next couple of books will deal with faith," he says. "It's something…that will have a lot of Jewish issues in it…. [Rabbi Lewis] is a big inspiration for why I want to do it."
Despite the semiautobiographical nature of his two novels to date, his main characters have been nominally Christian. "I'm very Jewishly identified in my soul," he says. "I had a good, strong Jewish education. But maybe subliminally I don't want to be too autobiographical. I did not want Chick [the main character of For One More Day, some of whose experiences came from the author's childhood] to be me. He's the product of a terrible home life. I didn't have that." Albom jokes that his own father wants to know why he is always creating central characters who have terrible fathers. "So a lot of people are asking to be represented, not just Jewish people," he notes.
Though his books have had phenomenal success with readers, Albom is aware that the reviews have been mixed. "I'm aware that generally, if the reviews are bad, they say things like, 'It's too sentimental,'" he notes, his voice rising slightly. "I think that's praise. Most [people] are proudly sentimental. Your favorite movie is always something like It's a Wonderful Life. It's not some dysfunctional art film. Your favorite song is the one they played at summer camp when you were with your first girlfriend."
If he doesn't disown sentimentality, however, some of Albom's biggest fans over the years have defended him from the word. The late Jack Lemmon, who won an Emmy for playing Morrie in the ABC television movie of the book, once told Larry King, "I really wonder if [Mitch] knows how terrific that book really is. It is the opposite of a sentimental soap opera." Asked if he had a favorite role, Lemmon responded, "In my entire career I cannot imagine picking something over Morrie."
Albom shows some of his own sentimentality when he talks about his books being read in schools. "I saw Matt Millen, president of the [Detroit] Lions, at halftime today and he told me his teenage daughter just got assigned to read Tuesdays With Morrie and wanted to know if she can call me and get some inside information," he says. "When did I become homework?"
Albom and his wife, who is not Jewish, have no children. "I'd love to have children," he says. "But when you get to our age it's less planning than hoping. Fortunately, [we] have 15 nieces and nephews, all of whom have kind of made our house their playground." Though he observes it is not the same as being a parent, he takes some satisfaction in knowing that the wisdom he passes along to his readers is a form of continuity.
"What are you learning all this stuff for if not to share it with somebody else?" he asks.
Despite having met and interviewed many prominent figures, Albom resists pinning the "wise" label on celebrities. "What resonates with me are people who aren't famous—like Morrie, like my rabbi, like people down the block," he says. When pressed, however, he admits to being inspired by the poet Maya Angelou and former senator and basketball star Bill Bradley.
Whether the people he writes and talks about are long-term mentors or one-time encounters, Albom clearly has a talent for holding on to what he learns from them, as if he is practicing one of Morrie's teachings—"death ends a life, but not a relationship."
"I never wanted to write any sequels to Tuesdays With Morrie," he muses. "But the things that Morrie made me think about will probably be with me the rest of my life and I imagine will permeate my writing for the rest of my days."