The Arts: Jewish Theater Breaks a Leg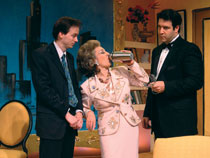 Despite setbacks and competition from other media, Jewish drama companies are still around—though one company is clearly stealing the show.
Plastering the walls of Ari Roth's tiny office at the Jewish Community Center in Washington, D.C., are photos of past productions that he has directed for Theater J, the resident Jewish theater company he has helmed for the last nine years. But one would never guess, in looking at the images of costumed actors playing rabbis and refugees, that Roth is a powerhouse in American theater.
Dubbed by The New York Times as the "premier theater for premieres," Theater J has been the first to showcase the works of world-class playwrights, including Richard Greenberg, Wendy Wasserstein, Joyce Carol Oates and Ariel Dorfman. The Times also lauded Roth for bringing a "rare mix of professional polish, thoughtful dramaturgy and nervy experimentation."
Yet the success of theater j is atypical. In general, Jewish theater finds itself at a crossroads. Compared to a generation ago, increasing numbers of playwrights incorporate Jewish themes into their work; however, the number of Jewish repertory companies is on the decline, and plays about Jewish life are now being produced by mainstream theater companies throughout the country.
At the same time, theater no longer holds the cultural power it once did, with recorded entertainment of so many kinds relentlessly piped into American homes. National surveys of arts audiences show that baby boomers are disproportionately represented in theater seats, with younger people more interested in concerts and films.
For example, even as the Jewish population of Atlanta has mushroomed from 30,000 to 130,000, it has become more difficult to get people into theaters. In particular, young couples with families tend not to choose the theater when they have a night out.
"Disposable income is less of a problem than disposable time," quips Mira Hirsch, founder of the Jewish Theatre of the South at the Atlanta JCC and president of the Association for Jewish Theatre, an 18-member umbrella group of Jewish repertory companies.
Live theater is often a hard sell even to Jews, for whom the Yiddish theater was such an important cultural institution and communal glue at the turn of the last century. "This is unfortunate, given that for some Jews, going to a Jewish theater is their only Jewish touchstone, their only Jewish gathering place," adds Hirsch.
Half the member companies of Hirsch's organization are housed in JCC buildings, yet the trend is away from incorporating dedicated theater spaces. The typical suburban JCC's multipurpose rooms are "purposeful for nobody," Hirsch laments, since they generally lack fixed seating and modern stage equipment. And while JCC's provide needed funding, they also tend to have other fund-raising priorities. A number of major JCC's have lost their theater companies after moving to the suburbs.
Given these challenges, Roth's success is remarkable. He knows what works on stage, having himself penned 13 full-length plays. He also organizes many supporting events in tandem with his productions. For example, for its ongoing series, Voices From a Changing Middle East, Theater J sponsors panel discussions, readings, solo performances and Peace Cafés—post-performance discussions where Jews, Muslims and Christians share food and conversation about the Israeli-Palestinian conflict.
By collaborating with other major theater companies in the D.C. area, Roth boosts his theater's involvement in the city's overall cultural scene. And by persuading major playwrights to use his theater as a testing ground for their new work, he turns his location—just far enough from the bright lights of Broadway—to his advantage. While he is obligated to program his season around the lectures, music festivals and other events that take place in the performance space in the JCC, he is able to present five or six plays a year when many other Jewish theater companies manage only two or three.
Other artistic directors of Jewish theaters envy Roth's location in the nation's capital. Washington's relative proximity to New York, the high average income of the population in the surrounding region—five out of ten of the wealthiest counties in the nation are in the D.C. metro area—and the liberal, intellectual bent of the audience have all given Theater J myriad opportunities to flourish, both financially and artistically.
However, roth's own talent, ambition and charisma cannot be underestimated. He took over Theater J in 1997, just after the Washington JCC reopened to great fanfare in the same ritzy Dupont Circle neighborhood from which it had decamped for the suburbs in the 1960's. The budget was low, and so was the attendance at productions.
The maverick artistic director captured public attention by not shying away from controversy, as in his inspired pairing of Clifford Odets's Depression-era one-act play about a cab driver's strike, Waiting for Lefty, with his own Still Waiting, about contemporary D.C. cab drivers who had tried but failed to unionize. He continues to produce his own work between plays that have had successful New York runs, such as Tony Kushner's Homebody/Kabul and Woody Allen's one-act shows, Central Park West and Riverside Drive.
He has also found playwrights who use Jewish themes while making those themes resonate beyond the Jewish community. "The playwrights we work with are the backbone of the American theater," Roth says. "For some, the Jewish content is quite explicit; for others, it is more associative, more a matter of context."
In turn, playwrights are quick to sing Roth's praises. Robert Brustein, considered the dean of American theater for founding both the Yale Drama School and the American Repertory Theater at Harvard, was thrilled with the way he was treated by Roth, who recently produced two of his works, Shlemiel the First and Spring Forward, Fall Back. As Brustein puts it, "I got the royal treatment."
Hirsch notes that Roth is unusual in being both a playwright and an artistic director and that playwrights naturally tend to trust another playwright to help shepherd their work onto the stage. Yet she points out all Jewish theaters now have opportunities to push the envelope in ways that would have seemed risky in the past.
"What you feed your community helps to establish their taste," Hirsch says, explaining that Jewish drama can be edgier nowadays because Jews have stopped, for the most part, asking if every historical development is good for the Jews.
Jewish dramatists are increasingly able to take greater risks and investigate formerly taboo subjects. "We're very fortunate that we live in a time and place where we can put Jewish characters on stage who are in conflict with one other or even with the law," says Hirsch. "To present the Jew exclusively as the victim is not real, honest or even interesting." For example, Jeffrey Sweet's The Action Against Sol Schumann, about a concentration camp survivor accused of brutalizing his fellow Jews, is the type of play that Jewish repertory companies no longer steer away from.
Like many other jewish cultural institutions, Jewish theater companies find themselves needing to reach out to non-Jewish audience members—not to mention directors and actors.
When Hirsch passed out refrigerator magnets with her company's logo and phone number at the annual Independence Day Parade in Dunwoody, a heavily Jewish suburb of Atlanta, many non-Jewish parade-goers were surprised to be seen as potential subscribers. Non-Jews are likely to confuse a Jewish theater with a religious institution, explains Hirsch, whose theater has produced plays such as Affluenza!, James Sherman's comedic take on American greed, and The Disputation by Hyam Maccoby, about the confrontation between Nahmanides and Pablo Christiani.
To balance their budgets many companies will include a Neil Simon play in their season or a toe-tapping musical, such as Fiddler on the Roof. Some have broadened their offerings beyond that. Ralph Meranto, who began his acting career two decades ago by playing Seymour in Little Shop of Horrors, now runs CenterStage theater company at the JCC of Rochester, New York, where he is currently presenting a season that includes One Flew Over the Cuckoo's Nest and You're a Good Man, Charlie Brown.
Meranto, himself a non-Jew, is still struggling to define his theater's mission—to decide if his company should present Jewish-themed works or simply view itself as a secular theater that happens to be housed in a JCC.
Rapidly declining levels of Jewish literacy mean that even Jewish audiences frequently require some explanation of what a play is about. Ernest Joselovitz's Vilna's Got a Golem, a play about the 16th-century clay creature that went on a Frankenstein-like rampage, was confused in some Phoenix theater-goers' minds with the character Gollum from The Lord of the Rings films. In general, plays about the Holocaust are often helped by historical timelines in the program notes, and any play with Yiddish expressions—even when presented in New York—is now accompanied by a glossary that provides English translations of unfamiliar phrases.
The cast can also require help in understanding Jewish concepts, especially if some of them are not Jewish actors. Janet Arnold is artistic director of the Arizona Jewish
Theatre Company in Phoenix, where there is a large local Hispanic population; Arnold often casts Hispanic actors in Jewish roles.
She recalls once taking the cast of The Chosen down to the local Chabad House for Simhat Torah, where they learned how to drink schnapps and dance with the Torah. "I am thrilled that the actors learn a little about what it means to be Jewish through acting in Jewish plays," she says.
Jewish repertory companies in smaller cities tend to promote plays by local playwrights; for example, Theatre Ariel in Philadelphia gives preference to the works of Pennsylvania playwrights. While they do not have a large pool of actors from which to cast, these companies also like to cast actors with a reputations in the community.
When Hirsch cast Frank Wittow, founder of the half-century-old Academy Theater, in Jeff Baron's Visiting Mr. Green in 2004, she scored a triumph. Baron lauded Wittow as his favorite actor in the role after Eli Wallach, who starred in the play in New York. Kathy Janich of The Atlanta Journal-Constitution wrote that the theater company was doing "what it does best: a small play with Jewish sensibilities and a catch-in-your-heart universality."
The theater situation in canada is generally just as diverse. Four years ago, Avi Weisberg founded Teatron, a Jewish repertory company that rents space from the Bathurst JCC in Toronto. After a financial crisis in the mid-1990's forced the JCC to close its own theater, Weisberg brought Jewish theater back to the community with modern classics like Paddy Chayevsky's The Tenth Man and Arthur Laurents's Home of the Brave, featuring mostly Jewish actors. By discounting tickets to Jewish groups such as Hadassah-WIZO and B'nai B'rith and by his willingness to provide separate seating for men and women when local yeshiva students come to the theater, Weisberg has built an audience of knowledgeable—and often observant—Jewish patrons.
"I wanted to direct plays that have a true Jewish theme and a true Jewish message," he says, "plays that bring out the different dilemmas…that Jews have in the modern world."
However, The Leanor and Alvin Segal Theatre, which is housed in the Saidye Bronfman Centre for the Arts in Montreal, is taking much the same tack as CenterStage. Brynna Wasserman, director of the Segal Theater, presents a mix of classic and contemporary plays, mostly by non-Jewish playwrights. The center does have a separate Yiddish theater that produces a Yiddish-language play every year; last year, Wasserman directed Sholem Asch's God of Vengeance, a 1907 melodrama about a Polish Jewish brothel owner's quest for respectability.
Ellen Schiff, who has published several anthologies of American Jewish plays, works with the department of the National Foundation of Jewish Culture that commissions new works. She notes that New York remains a center for Jewish culture, even as the city's two long-time Jewish repertory companies, Stanley Brechner's American Jewish Theatre and Ran Avni's Jewish Repertory Theater, have closed their doors. However, there are still two companies that specialize in Jewish theater, the recently renamed 90-year-old National Yiddish Theatre– Folksbiene, which presents plays mostly in Yiddish, and Tuvia Tenenbom's Jewish Theater of New York, which has staged bizarre productions from the sexual fantasies of terrorists to love letters written to Adolf Hitler.
Schiff observes that Jewish repertory companies throughout the country generally keep a close eye on which Jewish-themed works are successful, both on and Off Broadway, such as Donald Margulies's Brooklyn Boy—which will be staged this year in different productions in Atlanta, Buffalo and Phoenix. But she notes that Jewish repertory companies often have to compete with mainstream ones for the rights to the same plays—a sign that Jewish theater has become more universal.
This point is echoed by Richard Siegel, who served as executive director of the NFJC for almost three decades before stepping down last year. He notes that while there are many talented playwrights working with Jewish themes, they prefer to have their work produced by non-Jewish, mainstream companies.
Siegel praises Theater J in particular for its focus on socially relevant drama that speaks to important Jewish issues. As an alternative model, he points to Traveling Jewish Theatre in San Francisco, which calls itself an "image-based" theater that uses physical movement, masks, puppetry and other highly visual means to create nonlinear interpretations of Jewish liturgy and history. But, says Siegel, "Traveling Jewish Theatre is more a part of the theater community than of the Jewish community in its vision-driven approach."
Meanwhile, Roth moves on with his own iconoclastic vision, preparing to unveil new works by Laura Shaine Cunningham and by Schindler's List author Thomas Keneally. "Our success," Roth explains, "lies in our fearlessness, our willingness to take a lot of risks to speak to the big issues of our time. Yet many of these plays are yet to be written; it is our job to help will them into existence."
Ted Merwin is the author of In Their Own Image: New York Jews in Jazz Age Popular Culture (Rutgers University Press).
---
Upcoming Productions
Arizona Jewish Theatre
COMPANY (Phoenix) 606-264-0402; www.azjewishtheatre.org
Brooklyn Boy (February 17 to March 4). Pulitzer Prize-winning Donald Margulies's tale of a novelist with unresolved issues about his Jewish identity whose book is optioned by Hollywood.
CenterStage (Rochester, New York)
585-461-2000 x235; www.jccrochester.org
A Fine Romance: The Songs and Stories of Jerome Kern (February 3 to 11). Revue of the work of the Academy Award-winning Jewish composer.
Jewish Ensemble Theatre (West Bloomfield, Michigan)
248-788-2900; www.jettheatre.org
Old Wicked Songs (February 13 to March 11). Jon Marans's award-winning play about a music teacher and an arrogant American Jewish piano prodigy.
Jewish Theatre of the South (Atlanta, Georgia)
770-395-2654; www.jplay.org
Born Guilty and Peter and the Wolf (and Me), two plays in repertory by Ari Roth (January 24 to March 4). In the first, based on a book by Peter Sichrovsky, children of Nazis describe their horrific legacy. In the second (top), the real-life Sichrovsky endorses a right-wing political party led by Joerg Haider.
New Jewish Theatre (St. Louis, Missouri)
314-442-3283; https://newjewishtheatre.org
Via Dolorosa by David Hare (January 24 to February 11). The British playwright's take on the Arab-Israeli conflict.
Teatron (Toronto, Canada)
416-781-5527; www.teatrontheatre.com
The Last Night of Ballyhoo (January 24 to January 28). Pulitzer Prize-winning Alfred Uhry's comedy about German Jews in Atlanta in the late 1930's.
Theater J (Washington, D.C.)
202-777-3229; www.theaterj.org
Sleeping Arrangements (January 9 to February 18). Dramatic treatment of Laura Shaine Cunningham's memoir about being raised by two uncles in the Bronx.
The Leanor and Alvin Segal Theatre (Montreal, Canada)
514-739-2301; www.saidyebronfman.org
Shakespeare for My Father (February 4 to 11). Actor Lynn Redgrave's tribute to her father, actor Michael Redgrave.
The National Yiddish Theatre–Folksbiene (New York)
212-279-4200; www.folksbiene.org
A Night at the Old Marketplace by I.L. Peretz, adapted by Frank London, Glen Berger and Alex Aron (January 27 to February 14). A musical adaptation of a poem about a wedding entertainer who seeks to raise a dead bride from the grave.
Traveling Jewish Theatre (San Francisco)
415-522-0786; www.atjt.com
Rose by Martin Sherman (January 4 to 28). An 80-year-old Holocaust survivor, living in Miami Beach, struggles to come to terms with her past.