Carnegie to Canter's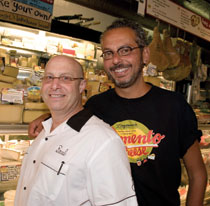 My first deli experience was during a vacation in the summer of 1955 when my family ate at Canter's Delicatessen in the Fairfax area of Los Angeles. I was 11 years old and the bustling deli—with its harried, ancient waiters carrying platters of sandwiches piled high with fragrant corned beef, pastrami and tongue, huge bowls of creamy coleslaw and plates of pickles—introduced me to flavors and characters I had not known in the small Arizona town where I lived.
In time, I learned that the food I discovered at Canter's not only connected me to my family's roots in Eastern Europe, it offered the same sense of identity and feeling of home to much of the American Jewish community. That's why delis and restaurants serving foods from Germany (pastrami, tongue, corned beef and salami), Poland, Lithuania and Hungary (borscht, smoked fish, blintzes, herring, kasha varnishkes and gefilte fish) have proliferated in the United States wherever there is a large Ashkenazic population. That Jewish cuisine was such a draw for early immigrants is not surprising. That it remains so for Jews today shows the continued connection to our cultural and gastronomic heritage.
Canter's is a multigenerational family business—not atypical for Jewish dining establishments. Opened by brothers Ben and Rubie Canter, their first deli was built in 1924 in Jersey City, New Jersey, but closed five years later after the stock market crash. In 1931, the family started anew in the predominantly Jewish Boyle Heights section of Los Angeles, where two hot dogs cost five cents—one in a bun and one in your hand. In 1953, Canter's moved to its present location, and to this day the kosher-style deli retains its Formica booths and art deco décor. Everything is made on the premises, from the breads and pastries to pickles, pastrami, corned beef, tongue, chopped liver and matza balls.
Besides the food, there is also the draw of a celebrity crowd. In the 1950's, it was Marilyn Monroe and Elvis Presley who came to Canter's for bagels and lox or a late night bowl of soup; today, it is Mel Brooks, Henry Winkler, Nicolas Cage and John Travolta.
Canter's continues to offer the traditional kreplach, split pea and mushroom barley soups, blintzes, knishes and stuffed cabbage, but it also appeals to the neighborhood's diversified clientele with Chef, Cobb and Chinese chicken salads, pastas and quesadillas.
Many of the most famous Jewish eateries serve what has become known as kosher-style food—traditional Ashkenazic fare that is not prepared in accordance with the laws of kashrut. For example, the establishments may not use kosher meat or may not keep meat and dairy products separate.
Even New York's Katz's Delicatessen, the New World's very first deli, is only kosher-style. Today, Katz's is much the same as it was when it first opened its doors in 1888 across the street from its present location on Houston Street on the Lower East Side. Here, you enter, take a ticket (which serves as your order tab) and go directly to the counter, where foot-long salamis are suspended overhead, to have a taste of the pastrami or corned beef before making your selection.
The renown of Katz's and other New York Jewish delis is such that some tourists insist on including a lunch stop at a deli-restaurant on their itinerary.
There are also many certified kosher restaurants in New York and other large cities. Ben's Kosher Deli and Restaurant (open on Shabbat) are in nine locations. The first opened in the Garment District in 1972; Ben's is famous for its kishke and chicken in the pot.
Mendy's Kosher Delicatessen has only been around for 15 years, but has established itself as the largest purveyor of kosher meals per day in New York. Its popularity grew after it was featured on Seinfeld several years ago. And following the trend in kosher restaurants, sushi is now a popular item on the menu. With six locations (though the one at Grand Central Station is dairy and one is in Brooklyn), you do not have far to go to find one.
It is worth noting the shuttering of two kosher New York landmarks: 2nd Avenue Deli, a 50-year-old institution in the East Village whose neon sign was taken down last January; and the dairy restaurant Ratner's, open from 1905 to 2002, which proudly served cheese blintzes to Governor Nelson Rockefeller and Robert Kennedy. Mobsters Bugsy Siegel and Meyer Lansky held court in the back, and Ratner's served as the watering hole for celebrities such as Al Jolson, Walter Matthau and Groucho Marx. What drew in the mostly lunch crowd to its Delancey Street location were the mouthwatering onion rolls, vegetarian chopped liver and vegetable cutlets. Ratner's traditional soups and blintzes (as well as deep-dish pizza) live on in the supermarket freezer case.
There is history in the kosher-style New York triumvirate of the Carnegie Delicatessen & Restaurant, Stage Deli and Lindy's, all on Seventh Avenue. At Carnegie, which opened in 1937, there are super-size sandwiches that draw such a crowd you can wait on line for an hour to get a seat. Their cheesecake, now in stores across the United States, is legend (but so are Lindy's and Junior's in Brooklyn). At Lindy's, which opened in 1921, you can reminisce about Damon Runyon writing Guys and Dolls in his private booth; at Stage Deli (also opened in 1937) you can see where The Beatles sat the night they first performed on The Ed Sullivan Show. And, of course, Walter Winchell wrote his columns while sitting in each of these delis.
To get to Junior's you have to cross the bridge to Brooklyn to the store that was founded by Harry Rosen and is today being tended by the family's third generation.
Some of the oldest establishments in downtown Chicago, San Francisco and Detroit closed their doors when the Jewish population moved to the suburbs. But even as some places closed—retiring waiters and waitresses who worked for 30, 40 or 50 years—new ones open.
In California, the most recent is D.Z. Akin's Delicatessen, which serves kosher-style fare to San Diego's burgeoning Jewish community. Opened in 1985, this deli and restaurant with Formica booths and a noisy, busy atmosphere has great chopped liver.
Another relative newcomer is Zingerman's Delicatessen in Ann Arbor, Michigan, which opened in the mid-1980's; their breads and meats are renowned not just in the Midwest but throughout the United States. For a college town, the kosher-style Zingerman's—run by Ari Weinzweig and Paul Saginaw—stands out as the place for local University of Michigan students to get their pastrami fix.
Then there are the other two guys—Jay Brown and Mark Jay Katzenberg—who started out with a small deli in Palm Beach, Florida, in 1981, and fittingly name their eatery TooJay's Original Gourmet Deli. Today this versatile restaurant has grown and is dispensing delicious kosher-style comfort food (deli, brisket, pot roast, liver and onions and matza ball soup) in 23 outlets throughout the state.
One cannot speak of Jewish gastronomy without mentioning the products that were, and still are, a part of the lure—and lore. There would be no egg cream without Herman Fox's U-bet Chocolate Flavor Syrup. When Louis Auster created the egg cream at his candy shop in Brooklyn in 1890, the name was his witty way of describing the richness of his drink, which has neither eggs nor cream, at a time when few could afford the luxury of either. So popular was this cocktail of chocolate syrup, seltzer and milk in the 1920's that syrup wars broke out among competing brands that wanted to be associated with the sweet drink.
Then there is Dr. Brown's Cel-Ray soda. Originally called Celery Tonic, it is made with celery seeds, sugar and seltzer. It was developed in 1869 by a physician and used to treat immigrant children's stomach upsets (the word tonic was dropped when the government objected to the medicinal implications). An acquired taste, some people swear it helps digest fat-laden salami sandwiches.
We owe the existence of Gold's horseradish to Tillie Gold, who in 1930 saved the grinder her cousin was using to grind horseradish root after he got hauled off to jail during an altercation. Tillie and her husband took up the enterprise of mixing the root with vinegar (the beets were added later)—now a staple alongside gefilte fish.
Whether it is a new dill, half sour or full sour, a deli meal wouldn't be complete without the pickle. The notion of pickling for preservation began around 4000 B.C.E. but it wasn't until 2030 B.C.E. that the practice of pickling cucumbers came about. Julius Caesar and Napoleon both fed pickles to their armies because it was believed to provide physical and spiritual strength. It is also related that Cleopatra ate a great amount of pickles to preserve her beauty.
At one time, the Lower East Side had the largest concentration of pickle stores in the United States. But now, commercial companies such as Heinz and Vlasic have learned how to speed up the pickling process—though no self-respecting deli will serve them. Barrel-cured pickles can still be found on the streets of the Lower East Side at Guss' Pickles (800-620-GUSS; www.gusspickle.com) or from The Pickle Guys (888-4-PICKLE;www.nycpickleguys.com).
Finally, let's not forget the sweet sold off the block: halvah. Its origins may be Middle Eastern, but thanks to Joyva, owner Nathan Radutzky's recipe, it became a best seller in the United States.
The dishes and environment in today's deli-restaurant still satisfy the cravings for Jewish ethnic cuisine. Once a sanctuary for lonely immigrants, these establishments remain a destination where families can take their children to enjoy good food and the comfort of community.
Sheryll Bellman is the author of America's Great Delis: Recipes and Traditions From Coast to Coast (Collectors Press).
---
Around the Country: Cold Cuts to Sushi
New York may have been the first, but the rest of the country has its share of great Jewish eateries as well.
Attman's kosher-style delicatessen (left) on Lombard Street, just minutes from Baltimore's Inner Harbor, opened its doors in 1915 in an area once called Corned Beef Row. Marc Attman, grandson of Harry Attman—who began by selling corned beef sandwiches to businessmen for a nickel from his small store—said that at one time, more corned beef was sold in East Baltimore than in any other place in the United States.
Shapiro's Delicatessen, south of downtown Indianapolis, opened in 1905. The kosher-style establishment is owned and managed by Brian Shapiro, whose great-grandfather was the primary food supplier to the czar's naval fleet in Russia.
The family-owned, kosher-style Corky & Lenny's deli, which opened in 1956 just outside Cleveland, is known for its chocolate phosphate—egg cream to the rest of us.
In Philadelphia, there is the 25-year-old Famous 4th Street Deli with its super-size sandwiches, delicious pickles and sometimes cranky waitresses.
In California, noteworthy family-owned, kosher-style delis include Nate'n Al's in Beverly Hills, run by the third-generation Mendelson brothers (a good place to eat whitefish); Art's in the San Fernando Valley (try the rice pudding); and Langer's in Los Angeles—the subway nicknamed "the pastrami express" brings hungry patrons from their offices downtown to Langer's for their pastrami fix. Pico Kosher Deli in West Los Angeles stands out as one of the few certified kosher delis on the West Coast and prides itself on extra-lean corned beef.
If you are in Boston, there is the top-rated Rubin's Kosher Restaurant Delicatessen in the suburb of Brookline (the sushi is the best outside Japan).
---
Shapiro's Delicatessen Stuffed Cabbage
– 2 heads cabbage
– 1 pound lean ground beef chuck
– 2 medium onions, finely chopped
– 1 celery stalk, finely chopped
– 1 egg, beaten
– 3 slices white bread soaked in 1/3 cup red wine
– 1/4 cup tomato juice
– 1 cup cooked rice
– 1 tsp salt, plus more to taste
– 1/2 tsp black pepper, plus more to taste
– 2 cups stewed tomatoes
– 1/2 cup tomato purée
– 1 cup water
– 1/2 cup brown sugar
– Juice of 1 lemon
– 6 gingersnap cookies (about 2 inches in diameter)
– 1/2 cup golden raisins
Core the cabbages and blanch in a large pot of boiling water until the leaves begin to loosen.
Combine the ground chuck, onions, celery and egg in a bowl. Mix in the wet bread. (Bare hands are good for this.) Add the tomato juice, rice, salt and pepper.
Carefully peel off the cabbage leaves and roll each one around the meat mixture. Tuck in the sides so they hold together. Repeat the steps until all the beef is wrapped; there should be 18-20 packets. Chop the remaining cabbage leaves and reserve 4 cups of cabbage.
To make the sauce, in a large stockpot heat the stewed tomatoes, tomato purée, water, brown sugar and lemon juice over medium heat. Crumble the gingersnaps and stir them into the mixture. Stir in the raisins and chopped cabbage leaves. Add more salt and pepper, as desired.
Carefully add the stuffed cabbage packets to the sauce. Cover the pot and cook over medium-low heat for 1 hour and 15 minutes. Check the pot occasionally and add 1/4 to 1/2 cup of tomato juice if the sauce seems to be drying out.
---
Lox to Latkes: Take Out, Mail Order
Ann Arbor
Baltimore
Brookline
California
Art's Deli (Studio City): 818-762-1221
Canter's Delicatessen (Los Angeles): 323-651-2030;www.cantersdeli.com
D.Z. Akin's (San Diego): 619-265-0218
Langer's (Los Angeles): 213-483-8050; www.langersdeli.com
Nate'n Al (Beverly Hills): 310-274-0101; www.natenal.com
Pico Kosher Deli (Los Angeles): 310 273-9381
Cleveland
Florida
Indianapolis
New York
Philadelphia
Famous 4th Street Deli: 215-922-3274