Interview: Jennifer Laszlo Mizrahi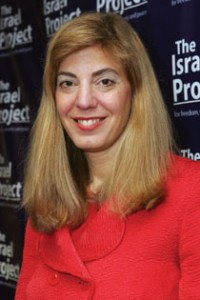 As founder and president of The Israel Project (TIP), Jennifer Laszlo Mizrahi is on the frontlines in the media war over Israel. A North Carolina native, Mizrahi, 42, is an internationally recognized expert on public policy and opinion research who has been a consultant to political candidates. She has worked on special White House projects, as well as for 60 United States senators and more than 120 representatives. According to its Web site (www.theisraelproject.org), TIP, based in Washington, D.C., and Jerusalem, provides journalists, leaders and opinion-makers accurate and timely information about Israel.
Q Why do people call The Israel Project a revolution in hasbara, pro-Israel information? How does it defer Jewish individuals or organizations from complaining about media bias or error?
A. We strengthen Israel's image and build support for public policies that make Israel safer. To do that, we are educational rather than confrontational, proactive rather than reactive. When a reporter is on a deadline and about to file a major story…we understand he needs to get the facts, sound bites or visuals to do the story right and in time for deadline. We work within that framework, knowing that complaints afterward aren't going to help very much. [We make sure] there are continuing conference calls between top Israeli leaders and the press in the States.
Q. Who are your target audiences?
A. [There are] three kinds of people. Some love Israel and always will; we work to reinforce their positive feelings. There are people who hate Israel and always will. Fortunately there are not many of them in America. Europe has more. They are a minority, whose minds we will never change, so we won't waste limited resourc-es trying to communicate with them. The bulk of our communications are [with] the persuadables.
Q. How do you reach persuadables?
A. Sometimes, lack of support stems from not knowing anything about the subject. You need to present clear, compelling information accurately. Many people then understand what the right thing is and what they need to do. Other times, misinformation from Israel's enemies has intentionally misled people [such as the recent attempts by Iran to deny the Holocaust and foster anti-Semitism]. We encourage them to look at the facts, enabling them to come to their own conclusion….
Q. Where do most Americans get their news of Israel?
A. Close to 70 percent list television as one of their two top media sources. More than 40 percent look first to newspapers or radio. And not all media are equal. Clearly The New York Times is very important to what is reflected in other media. Contrast that to university students who get only three percent from [these] media—which is why we have a terrific summer campus outreach training program in Washington, New York and Israel to develop dozens of great campus helpers.
Q. Are students turning to foreign media?
A. At elite campuses—Harvard, Yale, Princeton, Berkeley and Stanford—the BBC is playing an ever-increasing role. BBC is the largest media outlet in the world. People at Harvard watch it through the public television stations and its Web site, and it is also carried on NPR and cable. Some students who are very anti-Bush look to the BBC to reinforce their views. The BBC has resources that other media don't have because they are subsidized by the British government and can cover parts of the world other networks rarely touch [such as Africa and parts of former Soviet Asian countries]. But there is a new, disturbing analysis [by BBC] that examines the significant problems BBC has in covering Israel and the Middle East. Its reportage by and large is not positive for Israel's image.
Q. Why doesn't Israel have better hasbara?
A. Many good people are working on hasbara today—individuals like Miri Eisin, the new spokesperson for the prime minister. Some of the ambassadors are extraordinary: Ambassador [Dan] Gillerman and former ambassador [Daniel] Ayalon are doing tremendous work. [But] Israel's entire budget for hasbara is only $8 million. That includes resources for some 100 embassies and consulates around the world. It simply is not enough.
[Editor's note: Similar-sized countries, with fewer political challenges, spend up to 10 times as much.]
Q. What critical attribute does a spokesperson need?
A. They have to show they care about a solution for Israel and the Palestinians alike, for Israel and the Lebanese, for Israel and the Arab world. When listeners understand that Israel genuinely desires peace so that both Israelis and Palestinians can have a better future, then they are open to almost all Israeli spokespeople.
Q. What prompted you to open an office in Israel?
A. Seventy percent of what people around the world see about Israel comes from the almost 400 reporters permanently stationed [there]. After Washington, D.C., Israel has the second-largest concentration of journalists on earth. [These] foreign reporters need somebody to say, 'Here are the facts' or 'This is where you can find the facts.' You need to have clearinghouse events, as we have done with many Israeli officials, whether it is with Ehud Olmert, Natan Sharansky or one of the other leaders.
Q. What other media initiatives have you used?
A. We saw numerous reporters during the [Lebanon] war or Israel's withdrawal from Gaza who know next to nothing about Israel. They are parachuted in one day, and the very next day they are reporting to an audience of millions on the supposed realities of Israel. To help fill that gap, we have developed the intellicopter tour. I got the idea from President Bush. He talked about his love and understanding of Israel because of a helicopter tour he had shared with Ariel Sharon when he was still governor of Texas. What he remembered most was that there are ranches in Texas bigger than all of Israel. He couldn't believe it. [That is how] the idea of showing reporters the 'big picture'…came to me…. We have a two-and-a-half-hour guided tour where they see Israel's tiny size and its enormous security threats. We have taken more than 300 journalists [on the tour]. Over 100 million people around the world have seen stories and footage that have been shot through these tours. It is having a profound impact in helping reporters understand some of the key security issues as well as some of the solutions.
Q. What is Israel's most pressing security concern?
A. What grips me when I wake up every morning is Iran, which is actively pursuing nuclear weapons. A state sponsor of terrorism, it actively supports Hamas and Hezbollah and advocates wiping Israel off the map. Israel must help the world understand that this is not just Israel's problem. Right now the world thinks that the war in Iraq is very unsuccessful. Helping people understand you have to constructively engage Iran now so that a military conflict isn't necessary later is very complex when there is so much Iraqi war blowback in the winds of public opinion.
Q. Are there risks to Israel's playing a high-profile role in setting the world's approach to Iran's nuclearization?
A. Israel is not a partisan issue in America. But America isn't the only place that counts. One has to pay attention to the European Union, especially England, France and Germany. [Bush's} war in Iraq is very unpopular there. And the closeness between President Bush and Israel hurts Israel with public opinion in Europe. Nevertheless, opportunities exist, and they must be leveraged because this is an important moment in history where Israel's very survival is at stake. The Europeans have their own reasons to be very concerned about [Iranian President Mahmoud] Ahmadinejad and radical Islamic extremism and the threat of a nuclear Iran. They have their own problems with extremists—whether looking at France with eight million Muslims or the bus bombings in London or the train bombings in Madrid.