Medicine: Reducing Hospital Infections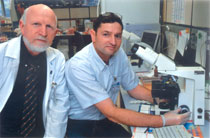 Through prevention and a revamped information and assessment program, Hadassah is taking on a scourge that has plagued hospitals for decades.
Hospitals can be dangerous places. Each year, some two million patients in the United States alone acquire infections during their hospital stays and, despite sophisticated therapies, over 90,000 of them die from these infections. About $1.7 billion is spent annually treating the 1 in 10 patients infected in Britain's hospitals—and this massive sum still fails to prevent the deaths of 5,000 of them.
Last year was declared the Year of Infection Control by the World Health Organization—and, by coincidence, also marked the launch of a sweeping multiyear infection-control program at the Hadassah–Hebrew University Medical Center in Jerusalem.
"In Hadassah, as in other hospitals in Israel, Europe and the United States, a tenth of patients will probably acquire an infection that does not originate from the admitting diagnosis," says Dr. Allon E. Moses, chairman of Hadassah's Department of Clinical Microbiology and Infectious Diseases. "These infections are estimated to double the mortality and morbidity risks for any hospitalized patient, as well as send hospital costs soaring."
Alarm bells about hospital-acquired infections have been ringing around the world for the past decade, but these contagions have nonetheless continued rising in both extent and severity. While no medical center anywhere has yet succeeded in eradicating them, the way to control their spread "is no secret from anyone," according to Dr. Moses.
It is widely known, for example, that hand hygiene in health care settings is the single most important factor in preventing transmission of bacteria—from those easily managed by antibiotics all the way to feared antibiotic-resistant super-bugs like methicillin-resistant staphylococus aureus and highly resistant Gram-negative bacteria.
"A minute spent washing hands with soap and water is sufficient," says Dr. Moses. "But think of the nurse who must wash her hands for a full minute after touching every patient, every bed, every sheet, every monitor or anything else around the patient. You are consigning her to an hour or more a day at the washbasins—which are not always as available as they should be. She's unlikely to do it every time. This is one problem we are trying to solve."
"Inducing behavioral change is a long and hard task, but it's a key factor in infection control and one that Hadassah is urgently addressing," says Dr. Shmuel Benenson, who joined Hadassah's clinical microbiology department last year as part of a revamped, freshly empowered infection-control team.
The urgency, he explains, is because the use and overuse of antibiotics during the past 60 years have stripped the "magic" from these so-called magic bullets, making them less and less effective against more and more bacteria. In the past decade alone, according to the United States Centers for Disease Control and Prevention, the number of bacteria resistant to different antibiotics increased tenfold, with almost all significant bacterial infections becoming resistant to the treatment of choice.
"Use of an antibiotic immediately triggers the bacterial-resistance mechanism," says Dr. Benenson. "The outcome for resistant infections is thus continually worsening, and with it morbidity, mortality and cost. More than 70 percent of bacteria in hospital-acquired infections today are resistant to at least one of the antibiotics commonly used to treat them."
While new antibiotics are needed to fight resistant bacteria, they are not being developed on any suitable scale. "It is economic nonsense for pharmaceutical companies to create medications that will be taken for short periods and rapidly [become] obsolete as bacteria develop resistance," explains Dr. Moses. "Their money is better invested in developing drugs to control lifetime conditions like diabetes, hypertension and high cholesterol."
This is bad news for everyone—and for hospital patients in particular. "Patients are especially susceptible to infection," says Dr. Benenson. "They are in a weakened state, and many have I.V. lines or catheters or are intubated or ventilated. Not only this, half of all hospital patients are on antibiotic therapy at any given time, which kills off sensitive bacteria but allows the resistant to survive and proliferate."
With antibiotics now recognized as a double-edged weapon, the approach to fighting hospital-acquired infections has been revised to focus firmly on prevention. According to Dr. Moses, Hadassah enters the battle with two major advantages. One is that its infection-control team is within a department comprising both infectious-disease physicians and units for clinical microbiology and clinical virology—not separate, as in many medical centers. This enables a totally integrated approach to managing infections.
The second advantage is full and active support from the highest levels of the medical center. "When, for example, a department head claimed hospital-acquired infections did not exist in his department and new measures were unnecessary, Hadassah's deputy hospital director was there to help convince him he was mistaken," recalls Dr. Benenson. "Infection control is not a one-man show. It can only succeed when it involves the entire hospital."
It was up to the infection-control team to build a system that involves everyone. They based it on three concentric circles. At its center is the team itself: Drs. Moses and Benenson; Prof. Colin Block, head of the clinical microbiology lab; and three public-health nurses specializing in infection control, two based at the Ein Kerem hospital and one at Mount Scopus.
The middle circle comprises a physician and a nurse from each of Hadassah's 40 departments. Appointed by their department heads, their task is to suggest, promote and implement infection-control measures.
The third circle is the revived and revitalized Hadassah Medical Organization Infection Control Committee, composed of management, medical and nonmedical staff, and chaired by Dr. Yuval Weiss, deputy director of the Ein Kerem hospital.