Building Dreams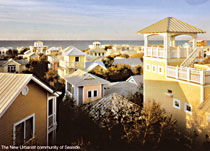 Where would the Sunshine State be without its Jewish moguls and builders? An exhibit at the Jewish Museum of Florida gives us the answer.
Florida's landscape and climate have always been a draw for real estate developers. In fact, the state's seemingly endless construction boom has had a deep impact on its Jewish community.
From happy seniors playing shuffleboard in retirement villages to hip club-goers sipping cocktails in restored Art Deco hotels, the story of Florida's Jews is intertwined with the history of its buildings and those who built them. Over 500 visuals, from old photographs, postcards and housing advertisements to floor plans, land deeds, tools—even a few sacks of concrete—illustrate that history in "Bonim: Jewish Developers Building Florida & Building Community," at the Jewish Museum of Florida (305-672-5044; www.jewishmuseum.com) in Miami Beach through March 11. "Bonim," which is Hebrew for builders, explores the Jewish visionaries behind Florida's thriving real estate world and the many structures and development trends that are their legacy.
Laid out entirely in the center of the museum's main exhibition floor and bordered by "Mosaic: Jewish Life in Florida," the museum's permanent holding, the builders exhibit is presented through informative and brightly colored display stations loosely grouped by locale.
They chronicle the little known histories, projects and personalities of 120 imaginative developers throughout the entire state, from South Miami to central Florida, as well as Pensacola, Tampa and Tallahassee. Rusted construction tools, concrete building blocks and industrial-strength metal scaffolding surround each station, testifying to the often rugged nature of the labor-intensive industry.
The striking visual centerpiece of the exhibit is the large vintage Florida state map printed on the museum floor. It spans the length of the main exhibition space and provides a nice experiential component to walking through the exhibit. Museum-goers literally traverse the Sunshine State as they take in the different displays.
Geographic regions and cities provide the organizing structure for most of the displays, and placards beckon with well-known place names such as Boca Raton and Miami. Noteworthy builders—for example, Shepard Broad, developer of Bay Harbor Islands—and their numerous projects sometimes garner their own additional space.
The museum itself is a grand venue in which to view this memorabilia since its edifice was designed by noted Art Deco architect Henry Hohauser in 1936. It was the home of the first Jewish congregation in Miami Beach and is on the National Register of Historic Places. The museum's copper dome, 80 stained-glass windows, marble bima and 8 deco chandeliers offer a taste of the bygone era of swanky Miami Beach.
"What was remarkable to me during the four years it took to gather the material to write this comprehensive exhibit was the breadth of contributions by Floridian Jews in this industry," says Marcia Jo Zerivitz, founding executive director and chief curator of the museum. "From developers providing an entire house to sell for $5,000 in the 1930's to spec houses today for $15 million, to zoning attorneys, architects, engineers, material suppliers and bankers—Jews were there."
The developers' impact, Zerivitz explains, is felt not only in the buildings but in infrastructure as well. "Drive on many Florida expressways and causeways named for Jews," she says, "and you have a sense of pride of the creativity and vision that our people have displayed since biblical times."
For these entrepreneurial individuals the saying "if you build it, they will come" was not simply a hopeful adage but a business model. Setting out when much of Florida was swampland and bug-infested wilderness, these developers lay the foundations for much of contemporary Florida, inventing housing concepts along the way.
In addition to showing their infrastructural legacy, the exhibition also explores the developers' impact on social change. Many of them were instrumental in creating nonsegregated businesses open to both Jews and blacks.
Until the 1930's, Jews could only live in the area of South Beach south of Fifth Street, and until the 1950's, most resorts and hotels in Miami Beach were restricted to gentiles. This created a formidable Jewish ghetto, albeit with palm trees and ocean views. "Bonim" highlights how, in 1929, Jewish developer Nathan Stone opened the Blackstone Hotel, the first building above Fifth Street that was open to Jews; a black-and-white postcard from the 1930's shows the regal 13-story hotel.
The Blackstone also became significant in the movement toward desegregation on South Beach. In 1954, it welcomed black ministers from the Southern Baptist Convention who were denied rooms elsewhere in Miami Beach. Though the hotel owners were threatened by segregationists for this bold move, the ministers remained without any incident, and the Blackstone Hotel paved the way for others to follow.
The exhibit devotes considerable space to one of the great forefathers of Florida's Jewish developers, Moses Levy. In the 1820's, he purchased 100,000 acres in North Central Florida and established the state's first agricultural settlement, drawing on his idealist values. He went on to introduce sugar cane and fruit trees and helped build the first public school in St. Augustine.
Levy's public-service legacy continued with his son, David Levy Yulee, who helped write Florida's Constitution and was Florida's first United States senator.
Levy's philanthropic interests were, and still are, shared by many of Florida's builders. For example, the display on Shepard Broad, a Russian immigrant, includes a description of his involvement in covert Zionist activities during Israel's battle for Independence in the 1940's. Broad secretly outfitted boats in Miami with supplies headed for Mandate Palestine.
The section on The Adler Group, developers of commercial office space projects, has a picture of the groundbreaking of The Greater Miami Jewish Federation building in 1970, cementing a longstanding philanthropic relationship between the family-owned company and the Jewish fund-raising organization.
"It's amazing to see the tradition that the Jewish community has in the real estate industry here in Florida," says Matthew Adler, executive vice president of The Adler Group and grandson of Sam I. Adler, the founder of the 50-year-old company. "I wish we had saved more of those old… marketing materials," he adds.
Scattered throughout the displays are beautiful vintage postcards depicting vacation destinations at iconic Miami Beach luxury resorts such as the Fontainebleau, the Royal Palm Hotel and The Tides. Colorful advertising brochures and time-worn floor plans, many of which can stand on their own as works of art, fill out some sections.
Both museum-goers and Florida homeowners may enjoy the old housing advertisements on display. One touts the $155-a-month rent for an apartment at the Harbor House in the upscale Bal Harbour neighborhood in Miami Beach; apartments there currently fetch millions.
Yet it is a testament to Florida's visionary developers that so much of the state is today considered among the most valuable property in the country.
Nearly all the stories in "Bonim" are about the transformation of unlivable land into residential and commercial properties. Through photography and brochures, the display on Cape Coral, a seaside town on the west coast of Florida, depicts the startling changes. In 1957, brothers Julius Leonard and Jack Rosen embarked on a massive engineering undertaking when they drained 114 square miles of raw acreage. Panels describe how the Rosens employed 2,000 people. The expensive machinery, also shown in old photographs, was used to assist in the daunting task of filling mangroves, clearing trees and dredging canals to build 3,500 homes; Cape Coral now boasts 150,000 residents.
"Bonim" also highlights the builders' pioneering marketing techniques. Marvin Wolff, developer of the city of Plantation near Fort Lauderdale, was one of the first to use golf carts to give tours to prospective buyers. A black-and-white picture from the 1960's depicts Wolff driving around with ladies in fancy hats.
French immigrant-turned-developer Henri Levy held what has now come to be known as a condo party on the undeveloped land that was to become the city of Surfside in Miami Beach. A black-and-white photograph of Levy's buyers' reception shows a small group of smartly dressed patrons wearing suits and hats and conversing and dining under an open-air tent on a sandy beach. The photograph's caption reads: "Henri Levy's selling shack of first Normandy Beach, 1924. Levy fed prospective buyers at his Normandy Beach north property, which became Surfside." Humble beginnings for modern-day real estate rituals that now include catered parties, sometimes even with paid celebrities in attendance.
One of the lasting imprints of the state's builders is the idea of recreational retirement. Developers created communities where the apartments were affordable to retirees and the amenities enticing.
The complexes usually include modern clubhouses with ample space for bingo and game nights; communal swimming pools, shuffleboard and golf courses, concert halls and other event spaces are also part of the facilities.
By building for high volume and keeping prices low (as low as $9,000 per unit in 1970), developers made a profit by charging for use of the facilities or for special events at the community clubhouses.
H. Irwin Levy, one of the developers of the popular Century Village communities in Broward and Palm Beach Counties, commissioned a $10- million clubhouse designed by exercise guru Richard Simmons for his West Palm Beach location. That kind of planning has proved its worth with over 20,000 units sold in the four Century Village properties.
Florida's developers also had a hand in creating the image of the idyllic coastal town, the most famous of which is Seaside in northern Florida's panhandle. The town's classic gabled roof homes with wood clapboard sides painted in sunny pastel colors were featured prominently in the 1996 film The Truman Show. The display on Seaside includes a color still from the movie.
Indeed, part of the success of the developers is their ability to shape the popular view of what is desirable in the real estate market, often creating an image or theme that appeals to potential homeowners.
A modern example of this is Tony Goldman's successful campaign to rehabilitate South Beach, the celebrated Art Deco district in Miami Beach. Famous for breathing new life into New York City's SoHo neighborhood in the 1980's, Goldman transformed South Beach by revitalizing an area that was once considered unsafe and seedy. He uses the historical features of the neighborhood to create exclusive and trendy living and work spaces that are now some of the most valuable properties in Florida.
The display on Goldman looks to his current project, the Miami neighborhood of Wynwood, an area that was once considered a blight on the city and is now home to artists, galleries and upscale condo developments. Since 2004, Goldman has steadily purchased 20 properties covering 10 acres and recently opened the Museum of Contemporary Art in North Miami in a converted warehouse.
From Moses Levy to Tony Goldman, over 180 years of development, there is certainly a lot to see at "Bonim," and visitors who allow themselves to be drawn into the stories will be greatly rewarded.
"This exhibit was a bear to put together," recalls museum exhibition designer Ira Newman. "But it was fun. With these community exhibits you learn so much and you work with so many different people, it really comes together."
Jewish builders transformed one of the least populated states in the nation into a vacation and retirement haven, and it is not hard to see in their work ethic and determination a reflection of the experiences of Jews in all of America over the last century. Many of the developers were East European immigrants who traveled south after building substantial fortunes in New York. They brought with them their business acumen and a willingness to strike out on uncharted territories.
Much as these moguls influenced the state's past, their experiences touch on the future as well. With growing concerns about environmental issues, real estate developers are not immune to criticism for encroaching on natural resources and rampant gentrification projects.
At the end of the exhibit, there is a "comments corner" where visitors are encouraged to write messages on cards, expressing their thoughts on development. One card reads: "Development is inevitable in this tropical paradise! The people don't stop relocating here." The handwritten cards, placed on the display boards, serve as signposts for the developers of the future.
We have the builders of Florida to thank for the economic and housing boom of the last century; it now rests on the shoulders of today's Jewish builders to build wisely.