The Jewish State of Florida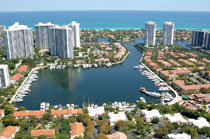 Sunny Florida isn't what it used to be. Its population is larger, more prosperous and younger. And Jewish neighborhoods are no longer monolithic: There are not only New York retirees but émigrés from Cuba, Argentina and France.
Ten years ago, if you had a craving for a bowl of kosher authentic French onion soup in Miami, you were out of luck. If you lived near Cape Canaveral and wanted to attend a communal Passover Seder, you would have to drive at least 40 miles. And 15 years ago, if you wanted to send your child to Jewish day school in the city of Hollywood, you would have to look elsewhere. These days, the Florida Jewish community is very much in luck as its infrastructure has evolved to fit increasingly sophisticated needs. Kosher French restaurants established by recent émigrés from France serve everything from cassoulet to feather-light crepes in the shopping centers that line South Florida's boulevards.
Chabad houses and synagogues have sprung up in remote parts of the state to service the growing neighborhoods that have branched out from recognized hubs. And all varieties of Jewish institutions, including day schools, community centers, nursing homes and federations, have doubled and tripled in some areas.
In a state generally seen as brimming with the elderly, Florida Jewry in particular has been characterized in the last two decades by increasing growth and prosperity. The state is still a sunny draw for retirees, but this is no longer your grandmother's Florida. Young families, ethnically diverse Jewish congregations and real estate entrepreneurs are changing the physical and social landscape of Florida's Jewish world. From the southernmost tip of the country on Key West to the idyllic seaside gated communities on the northern panhandle, with a Jewish population numbering 735,000, the state is home to the nation's third-largest Jewish community and possesses one the most densely populated Jewish cities outside Israel.
Miami has traditionally been the Jewish center of Florida, and while recent demographic studies indicate that the Jewish population in Miami is stable, it is now dwarfed by the growth of the counties directly north. Ira Sheskin, director of the Jewish Demography Project of the Sue and Leonard Miller Center for Contemporary Judaic Studies at the University of Miami, headed both a 2004 Miami Jewish demographics study and a more recent survey of South Palm Beach's Jewish community.
"There's been a real shift in the Jewish population of South Florida," Sheskin explained. "In the 1970's, Jewish meant Miami. Now it's expanded to Broward and Palm Beach counties. Boynton Beach is the fastest growing Jewish community in the country." In 1987, there were 9,300 Jews in Boynton Beach, while the study in 2005 reports a whopping 58,000. "Boynton Beach is the most densely populated Jewish area outside of Israel," he declared.
South Florida also has an increase in the number of Jewish families living here permanently. No longer primarily the haunt of snowbirds, the Jewish communities must now accommodate the needs of year-rounders.
All this rapid expansion pressures the Jewish communal professionals who must cater to this surging population. "Our demography has changed dramatically over the last 10 years," said William S. Bernstein, president and CEO of the Jewish Federation of South Palm Beach County. "We now have an 800-child day school, a significant increase…. We…have both a growing young population and a significant profile of people over 70 years old." Similarly, Boca Raton has five Jewish day schools filled to capacity, and its two nursing homes and other senior-care facilities have experienced increases.
"There's been a population explosion of seniors," said Jaclynn Faffer, executive director of Ruth Rales Jewish Family Service of South Palm Beach County, citing the need to provide home care, particularly for Florida's many Holocaust survivors.
In light of this demographic variety, organizations are offering a buffet of programs to fit people's needs. The Jewish Community Centers of the Greater Palm Beaches offer weekly "Mommy and Me" music classes as well as SeniorNet, computer classes for those 50 and over.
Sheskin's data shows that while the state itself contains the third- largest Jewish community, the South Florida corridor that stretches from Palm Beach County through Broward to Miami-Dade is home to 600,000 Jews, about 10 percent of American Jews and the country's second-largest concentration (the first is New York). This tri-county area comprises over 200 congregations, 4 Jewish federations, 20 day schools, 50 kosher restaurants, an acclaimed Jewish museum and a major Holocaust memorial.
Today, South Florida is one of the most culturally diverse regions in the country, boasting vibrant ethnic groups from the Caribbean and South America. The area is also home to different Jewish ethnicities. A major revelation of Sheskin's 2004 study of Miami Jewry is that approximately one-third of all Jewish adults are foreign-born, a higher percentage than any other in the nation. They hail mostly from Latin America, but a large percentage are Israeli and Russian.
"Certain parts of Miami are like 'Israel lite,'" said Ron Kolany, a 27-year-old realtor and resident of North Miami Beach, an area that is home to Israeli-owned businesses from restaurants and food markets to retail outlets. "In some strip malls, I can walk down and only speak Hebrew. If you ever want to feel like you're in Israel, come to Miami."
The same can be said of Hollywood. The Emerald Center Plaza, just down the road from Young Israel of Hollywood in Broward County, the largest Orthodox congregation in the city, contains only kosher restaurants, a kosher market and a Judaica store, most of which are Israeli-owned. On certain Sunday mornings, King David Bikers, a Jewish motorcycle riding association, meets in the shopping center for bagel breakfasts, their shiny Harleys gleaming against the Hebrew signs in the parking lot.
Miami's neighborhoods have come to include French Jews.
"In France, all the Jews talk about moving to Miami," explained Jean-David Cohen, a 34-year-old French Jew who immigrated to Miami with his wife, Noa Popovsky, three years ago. "Coming from Paris, Miami attracted us because it's literally the opposite of Paris: It's sunny and there's no anti-Semitism." The couple had experienced several anti-Semitic incidents in France that spurred their move. "We thought Miami would be a good place for us to start a business," Cohen said. "But, above all, we wanted to be in an environment [where] as Jews we would not feel threatened and could express Judaism freely, without fear."
The Shoppes at the Waterways in Aventura, north of Miami, built around the Loggerhead Club & Marina, has become a Franco-Jewish hot spot. Many French families have moved into the townhouse development neighboring the shops and entrepreneurs have opened kosher restaurants and fashion boutiques.
David Saltman, president of the Jewish Community Services of South Florida, said his agency has seen a steady influx not only of French Jews but of Argentinean Jewish immigrants in particular over the last four years. "The Argentinean population has been relocating to Miami for economic reasons," he noted. Over that period, the JCS has helped about 1,300 Argentinean families move to Miami; Saltman estimates there are about 5,000 in Miami.
As a result of this cultural richness, many synagogues have incorporated Spanish-language services. The Argentineans have settled throughout South Florida, including in Weston, a growing community in Broward County that Money Magazine recently ranked in the top 25 cities for job growth.
Florida has long been a haven for Latin Jews fleeing economic and political turmoil. The most prominent are the Cuban Jews, or "Jewbans," who began arriving in 1960 as part of the mass exodus of Cubans seeking political asylum after Fidel Castro's Communist takeover. According to historian Betty Heisler-Samuels, Jews had immigrated to Cuba from Eastern Europe in the 1920's and 1930's, when quotas to the United States were cut sharply. By 1959, they comprised a respectable percentage of Cuba's business community. Today, there are about 2,500 Cuban Jewish households in Miami-Dade County.
Prominent Cuban Jews include George Feldenkreis, CEO of Perry Ellis International and the first Cuban to serve on the board of the Greater Miami Jewish Federation. And though she doesn't consider herself a Jew, Republican Congress-woman Ileana Ros-Lehtinen, whose mother's family is Jewish, has been a supporter of the Jewish community (see story, page 34). The bulk of Cuban Jews live in Miami-Dade and operate real estate development and textile businesses.
The legacy of Miami's Cuban Jewish population includes architectural treasures such as the Cuban Hebrew Congregation in Miami Beach. Designed by Cuban Jewish architect Oscar Sklar, the synagogue has an organic, cave-like facade featuring stained-glass windows depicting the 12 tribes.
"I went on a trip to Israel, and the alleyways of Jerusalem felt like caves; I tried to incorporate that into the design," said Sklar.
The sanctuary's mural, also designed by Sklar, is made of fused colored glass and illustrates the Jewish holidays, forming a narrative of the Jewish life cycle. The candelabras on either side of the bima were designed in collaboration with Mexican Jewish artist Naomi Siegman. Shaped like a human arm, the light fixtures are eight feet tall, symbolizing strength.
There has also been a proliferation of Chabad houses. According to Sheskin, the number of households that affiliate with Chabad in South Florida has more than doubled over the past decade, with more than 50 congregations statewide. They can even be found in the remote Space and Treasure Coast (close to an area called Treasure Island), near Cape Canaveral in the northeast. The Chabad house on the University of Florida campus in Gainesville attracts 100 students most Friday nights for Shabbat dinner ("Sometimes it's more popular…than the Hillel on campus," said Joe Pack, a University of Florida student). In fact, with an estimated 6,500 Jewish students, the university enjoys the largest Jewish student population of any public university outside Israel; a new 23,000-square-foot Hillel center is testimony to a flourishing campus community.
The numbers of Jews in Florida were not always this impressive; most of the state was uninhabitable swampland until the 20th century. According to the Jewish Museum of Florida, the first Jewish settlement in Florida dates to 1763, when three Jews moved to Pensacola, in the northwest corner. Decades later, Moses Levy established a Jewish agricultural colony in Micanopy in 1822, creating a community on a 1,000-acre farm that hosted Florida's first fruit trees. Levy's son, David Levy Yulee, who converted to Christianity, was the first United States senator from Florida. In that year, 1845, when Florida became a state, the Jewish community numbered fewer than 100.
Meanwhile, another small community was developing in Key West. Legend has it that the first Jews who settled there were Hungarians shipwrecked in 1832. A Jewish congregation was organized in 1887, and Bnai Zion, the first synagogue in Key West, was dedicated in 1907. Key West Jews were involved in the cigar industry and consequently many became business partners and friends with Cubans, leading to Jewish support for Cuban independence during the 1890's.
Despite the settlements in Key West, the northern coast retained the majority of Florida's Jewish population well into the 20th century as synagogues and cemeteries in Jacksonville and Pensacola were chartered. The Miami area had no Jews until 1896, when a few settled there after Henry Flagler extended his railroad south.
The arrival of the railroad and South Florida's strategic military value during World War II increased development such that by the 1940's, Miami Beach was a gleaming, whimsical boomtown. The city became known for its casinos and nightlife and soon replaced Jacksonville as the largest Jewish population in the state. The burgeoning area proved an attractive pull for Jews from the Northeast looking for business opportunities and warmer climates.
Between 1940 and 1960, Florida's Jewish population ballooned to over 175,000 and continued to increase at a steady clip. In 1953, Miami elected its first, and only, Jewish mayor, Abe Aronowitz.
Midcentury, Miami also attracted its share of unsavory Jewish characters as several Jewish gangsters, including Meyer Lansky, settled in the Sunshine State. Miami Beach's Beth Jacob Congregation was known as "the gangster shul" since Lansky and his cronies often attended services there.
Built in 1936, Beth Jacob's second house of worship is an Art Deco gem, featuring a copper Moorish dome; today it houses the Jewish Museum of Florida. A stained-glass window is dedicated to Lansky, a generous supporter of the synagogue. Lansky stories abound, including that he loved to entertain at Joe's Stone Crabs, the venerated restaurant in Miami Beach started by the first Jews to settle there, Joe and Jennie Weiss. The Weiss's restaurant, established below Fifth Street, became a symbol of Jewish development.
Until the 1950's, most hotels and beach clubs were restricted to whites and gentiles; therefore, since Jews were unable to buy and develop properties above Fifth Street, the pocket below Fifth became an enclave of Jewish hotels and eateries.
As the robust Jewish communities of Florida continue to develop and transition from seasonal occupancy to year-round activity, they will have to contend with the changing needs of a demographically varied and culturally rich population. One thing is for sure—the pre-schools are just as crowded as the shuffleboard courts.
Sara Liss is a freelance writer living in Miami Beach. She has contributed to The Forward and Zeek: A Jewish Journal of Thought and Culture.