The Jewish Traveler: Palm Beach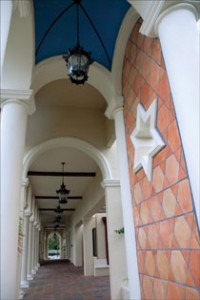 This legendary playground for genteel society has a murky history of anti-Semitism but times have changed. Today, Jews are a thriving part of this oceanside paradise.
It's official: Palm Beach County is now the most Jewish jurisdiction in the world outside Israel.
The county has an estimated 255,000 Jews living within its 1,974 square miles, equivalent to 20 percent of the population. That's a much higher concentration than even the New York metropolitan area.
Jews are still a rarity in Belle Glade, South Bay and the vast sugarcane farms along Lake Okeechobee and scattered throughout western Palm Beach County. But in the county's more densely populated eastern half, synagogues, bagel shops, kosher pizza joints, museums, Jewish educational institutions and even Yiddish clubs now seem almost as numerous as palm trees.
In fact, Palm Beach County has no less than 50 synagogues, including Reform, Conservative and Orthodox shuls as well as over 10 Chabad congregations.
All of this news means there is plenty to see for a Jewish traveler to Florida's largest county in size and third-largest in population.
---
History
The county's first Jews arrived in 1900, four years after resort builder Henry Flagler extended his railroad tracks to Miami. These Jewish merchants thrived on Clematis Street in downtown West Palm Beach, which was created to house workers serving luxurious Palm Beach, across the Intracoastal Waterway.
At that time, Jews were still an exotic and unwelcome minority in Palm Beach, where Flagler attached restrictive covenants to his land sales to keep Jews away. But that didn't stop them from settling elsewhere throughout the sparsely populated county. In 1924, six Jewish families dedicated Temple Beth Israel, a small, domed white structure that still sits at its original location in West Palm Beach, just a few blocks inland from the Intracoastal. In 1930, Carl N. Herman became the Reform temple's first full-time rabbi.
As World War II approached, the congregation welcomed Jewish soldiers, offering them a home away from home. In 1948, Rabbi Richard E. Singer became Beth Israel's new spiritual leader, and with postwar growth, that original building quickly became too small. The congregation changed its name to Temple Israel and moved to its current location along North Flagler Drive.
In the 1960's and 1970's, better drainage opened up large areas of the county to development, and air-conditioning lured more and more visitors from up north, convincing several to stay year-round. That's when the Jewish influx really began, fueled by middle-class New Yorkers in their early sixties flocking to the Sunshine State to live out their golden years.
More recently, the county has begun attracting large numbers of young families, and today there are enough Jews in Palm Beach County to support two thriving federations and five Jewish community centers. Yet old attitudes die hard; only seven years ago, the State of Florida threatened legal action to force Boca Raton's Royal Palm Yacht and Country Club to open its doors to Jews and other minorities.
The Breakers—Palm Beach's premier oceanfront resort, which once turned away Jews—now hosts Hadassah fund-raisers and Anti-Defamation League conventions. And since 1998, Hasidic Jews stage a menora-lighting ceremony every Hanukka at the intersection of Bradley Drive and Royal Poinciana Way in Palm Beach, a mere few blocks from Worth Avenue, one of the toniest shopping streets in the country.
---
Community
Administering to the burgeoning Jewish population are a host of preschools and day schools; newspapers (the largest is the Jewish Journal); and satellite offices of most major national Jewish institutions. Hadassah's Florida Atlantic Region (561-498-1012; www.farhadassah.org) is headquartered in Delray Beach. Florida Jews not yet of retirement age are active in a range of occupations, from medicine and high technology to financial services.
About 77 percent of the county's Jewish population lives in Boca Raton, Delray Beach, Boynton Beach and the western unincorporated areas of these three cities, according to a comprehensive study done last year by University of Miami demographer Ira Sheskin.
Boynton Beach—once a sleepy town located halfway between Boca Raton and West Palm Beach—has emerged as ground zero for the area's Jewish population explosion. Since 1999, the suburb of 52,000 has experienced a 63- percent numbers jump, while nearby Lake Worth has seen a 12-percent increase and Jewish households in the county's northern suburbs such as Palm Beach Gardens, North Palm Beach and Jupiter have grown by 45 percent.
Every day it seems a new synagogue is breaking ground in places that never saw Jews before, such as Greenacres (Temple Beth Tikvah) and Royal Palm Beach (Temple Beth Zion).
Among other things, Sheskin found that 42 percent of South Florida's 603,000 Jews now live in Palm Beach County and that Jews comprise 78 percent of the county's 230,000 seniors. Local Jewry continues to be the oldest in the nation with a median age of 70.
"Boca has the image of being almost entirely Jewish—and we have Seinfeld to thank for that," quips Boca Raton's Jewish mayor, Steve Abrams. (Jerry Seinfeld's fictional television parents, Morty and Helen Seinfeld, live in a sprawling retirement community called Del Boca Vista.)
Abrams says the part of his city east of I-95 is approximately 20-percent Jewish, but that the western part, which comprises about 200,000 people living in unincorporated Palm Beach County but using a Boca Raton postal address, is nearly 80-percent Jewish.
In fact, Boca's Temple Beth El, with 1,500 member families, is the largest Reform synagogue in the southeastern United States. Retirement havens have popped up all over the county. Delray Beach is home to Kings Point, a controlled-access community where 95 percent of the 14,000 residents are believed to be Jewish. The same is largely true of Century Village, founded by developer H. Irwin Levy in the 1960's. There are now two Century Villages in Palm Beach County—one in West Palm Beach and Boca Raton—with synagogues on-site.
Because the community is so new and the average age so high, only 1 percent of Palm Beach County's Jews were born there. Interestingly, just 13 percent of the county's Jews have married outside the faith—the lowest intermarriage rate in America.
---
Sights
Visitors hoping to put local Jewish history in perspective should drive by the remains of Temple Beth Israel, where Jewish life in Palm Beach County began. The little white shul, located on Broward Avenue in a residential neighborhood right off Flagler Drive, is currently fenced off and not accessible to the public, but that will soon change.
A developer plans to build high-rise condos on the site, which has led to an innovative $1.3 million project spearheaded by a group called Toward a More Perfect Union (561-659-4924;www.tmpu.org). TMPU—with input from the Jewish, Greek Orthodox and African-American communities—will dismantle the synagogue and float it on a barge up the Intracoastal Waterway to Martin County, where it will be warehoused until the temple can be floated back and reconstructed in the shadow of a new office building at Quadrille and Hibiscus Avenues in downtown West Palm Beach. The idea is to turn it into a cultural center honoring religious tolerance.
Reform Temple Israel is a well-known Jewish landmark facing the Intracoastal (1901 North Flagler Drive; 561-833-8421; www.temple-israel.com). A simple complex arranged around a courtyard, the structure was built in the 1950's and completely renovated 18 years ago. The sanctuary has a glass-encased Ark with a door featuring a menora tree-branch pattern through which no less than a dozen Torahs are visible, including three miniature ones for children. The temple was badly damaged by Hurricane Wilma in 2005; the office of Rabbi Howard Shapiro was flooded and is still in disarray. Shapiro said the present building will be totally demolished, with a new one to rise on the site.
Nine blocks to the north is Temple Beth El, a Conservative synagogue with an asphalt-shingled dome that is barely visible from the street (2815 North Flagler Drive; 561-833-0339;www.templewpb.com). This is where Lois Frankel, mayor of West Palm Beach, comes to pray. Beth El's laminated acacia ceiling is in the shape of an ascending spiral that simulates the folds of a tent and culminates in a great window that floods the bima with light. The pews, which seat 900, are upholstered in bright orange and all face the bima at a 45-degree angle.
The focal point for Jewish life in the northern part of the county is the Harold & Sylvia Kaplan JCC of Greater Palm Beach (3151 N. Military Trail; 561-689-7700; www.jcconline.com). It is located on the same campus as the Jewish Federation of Palm Beach County (4601 Community Drive; 561-478-0700;www.jewishpalmbeach.org). Monthly Shabbat dinners for seniors, adult fitness programs and a parenting center are among its offerings. So is B'Tayavon, a kosher bistro and bakery (561-712-5238). An interesting touch: At the gym, above the exercise machines, quotes from the Talmud are displayed prominently, including "One who exerts oneself succeeds" and "Fortify yourself, build up your strength."
Nearby in the JCC's lobby is a glass tower containing one million pennies. The idea is to fill five more columns with a million pennies each, then donate the $60,000 to Yad Vashem: The Holocaust Martyr's and Heroes' Remembrance Authority in Israel and local Holocaust survivors' groups. (An estimated 4,800 survivors live in Palm Beach County, the third-highest population in the nation.)
So many Jews live in the north of the county that there are two satellite JCC's: the Henry & Ida Hochman JCC in Boynton Beach as well a separate storefront location in the western suburb of Wellington. There is also talk of another going up soon in burgeoning Palm Beach Gardens.
Temple Judea is located in Palm Beach Gardens, half an hour's drive north of West Palm Beach (4311 Hood Road; 561-686-7986;https://fl034.urj.net). Borrowing from Greek, Spanish and European styles, the synagogue boasts a grandiose entrance and a dozen imposing columns, each inscribed with the Hebrew name of one of the 12 tribes of Israel. Entering the shul, worshipers pass between two ceramic mosaics, one entitled mishpat (justice), the other, tzedaka (charity).
Two blocks north of The Breakers is the Orthodox Palm Beach Synagogue, a beautiful building that looks old but isn't (120 North County Road; 561-838-9002; www.pbos.org). Its prominent Star of David seems to mock those early developers who sought to exclude Jews from the city.
Just up the street is the Conservative egalitarian Temple Emanu-El (190 North County Road; 561-832-0804;www.templepalmbeach.org). The stone building features four graceful Mediterranean arches and an entrance reached from street level by two curving stairways. The sanctuary boasts arched stained-glass windows and Ark door and an open bima.
At the other end of the county is Boca Raton, home to the Jewish Federation of South Palm Beach County (9901 Donna Klein Boulevard; 561-852-3100; www.jewishboca.org). The federation—separate from its counterpart in West Palm Beach—operates the Adolph and Rose Levis JCC on its premises as well as another in Delray Beach. The best collection of Judaica in Palm Beach can be found at the Nathan D. Rosen Museum Gallery at the Levis JCC (www.levisjcc.org).
Boca Raton and its unincorporated suburbs boast no less than 18 synagogues, half of them Orthodox. These include three Chabad congregations (www.chabadofbocaraton.com), the Boca Raton Synagogue (7900 Montoya Circle; 561-394-5732; www.brs web.org) and The Shul by the Grove, operated by the Boca Raton Community Kollel (21065 Powerline Road; 561-394-3904;www.kollel.org).
At the other end of the religious spectrum is Reform Temple Beth El (333 S.W. 4th Avenue; 561-391-8900; www.tbeboca.com). There is also Reconstructionist Congregation Kol Ami (561-392-0696;www.kolami-bocaraton.org) as well as a humanistic one, Congregation Beth Adam (561-443-1769; www.bethadam.com).
---
Culture
The Raymond F. Kravis Center for the Performing Arts in downtown West Palm Beach is the area's premier concert theater (701 Okeechobee Boulevard; www.kravis.org). The 11-acre complex offers 900 events annually, including performances by Woody Allen, Mandy Patinkin and other well-known Jewish entertainers.
The Boca Raton Museum of Art (501 Plaza Real;www.bocamuseum.org) has over 4,000 works in its collection, including pieces by Jewish artists Amedeo Modigliani, Roy Lichtenstein, Helen Frankenthaler and others. The Norton Museum of Art in West Palm Beach (1452 South Olive Avenue; www.norton.org) is the largest art museum in the county and owns work by Jewish artists such as Marc Chagall, Chaim Soutine, David Levinthal and Robert Rauschenberg.
If it's movies you're after, the Jewish Federation of Palm Beach County sponsors the annual Palm Beach Jewish Film Festival every December. The most recent festival featured 33 films from nine countries.
The Palm Beach Community College in Boca Raton (www.pbcc.edu) offers Judaica courses, and Florida Atlantic University, also in Boca Raton, recently inaugurated the Jewish Life Center, home to the campus Hillel (www.geocities.com/hillelfau). FAU additionally houses the Judaica Sound Archives (https://faujsa.fau.edu/jsa), an initiative to collect and preserve recorded Jewish music.
---
Films, Books
Last year's romantic comedy movie Boynton Beach Club was conceived by Florence Seidelman, a real-life Jewish resident of Boynton Beach's Valencia subdivision. And the 2005 comedy In Her Shoes, based on the novel by Jennifer Weiner, was filmed all over Palm Beach County.
Jews of South Florida (Brandeis University Press), edited by Andrea Greenbaum, explores Jewish life in the Sunshine State. In the world of fiction, Jane Austen in Boca (St. Martin's Griffin) by Paula Marantz Cohen is set in a Jewish retirement community in—you guessed it—Boca Raton.
---
Personalities
The mayors of three of the county's biggest cities are all Jews: Lois Frankel of West Palm Beach; Jeff Perlman of Delray Beach; and Steven Abrams of Boca Raton.
Boca Raton is also home to United States Congressmen Robert Wexler and Ron Klein—both Democrats.
---
Recommendations
Boca Raton offers the most options for kosher dining. Boca Tov (561-470-3332), a dairy café and sushi bar, stays open until 11 P.M.—on Saturday nights until 2 A.M.—and often features live Jewish entertainment.
Meat restaurants include Jerusalem Cuisine (561-470-1120); Boca Pita Express (561-750-0088); Falafel Armon (561-477-0633; www.falafel armon.com); and Orchid's Garden (561-482-3831).
In the north of the county, consider a stay at Flagler's masterpiece, The Breakers (www.thebreakers.com). In Delray Beach, two Marriott Hotels (www.marriott.com) stand almost back-to-back at the intersection of Atlantic Avenue and Ocean Boulevard. South Florida is in the midst of yet another real estate and population boom, and Jews—young and old—continue to play significant roles in the region's ongoing development.
Larry Luxner (www.luxner.com) is a Florida-based journalist and photographer who writes frequently about Latin America and the Caribbean.