Letter from Jerusalem: Second Passport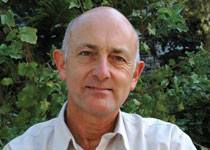 Seventy years after the Holocaust, there has been a surge in the number of Israelis who are seeking dual citizenship in countries such as Poland or Germany.
Meir Yaniv, 83, born in Emden, Germany, escaped his country at the last possible moment before World War II and settled in Palestine. The Nazis murdered his parents and younger brothers, who stayed behind.
Yaniv (his name and those of his family have been changed) settled on a kibbutz, married and raised four children. Today, he has 14 grandchildren and 27 great-grandchildren. Never in all these years did he give a thought to renewing the citizenship he was stripped of under Nazi law, let alone passing it on to his offspring. But now his grandson Dan Stein, 24, who lives in Jerusalem, is exercising his right to become a German citizen under a law that grants citizenship to the children and grandchildren of Germans who were deprived of their status by the Nazis.
Yaniv's daughter and Stein's mother, Merav Stein, who never had an interest in acquiring this second citizenship, is saddened by her son's wish. "Dan feels he wants to have a place to go if he has to flee Israel," she says. "It hurts me. A Jew can run to wherever he wants, but our place is here in Israel even though it's hard."
The number of israeli children and grandchildren of European Jews obtaining dual citizenships is surging. Experts say it runs into the thousands every year, and it has given rise to a cottage industry of lawyers, translators and brokers who specialize in the various application processes.
The phenomenon is far from unique to Israel. Many people worldwide seek citizenship from more than one country. When the Argentine economy crashed in 2002, the Spanish and Italian embassies in Buenos Aires handled lines of applicants looking for passports from the countries their parents or grandparents had left behind. One beneficiary of the Argentine meltdown was Israel; aliya surged even though, at the time, the Jewish state was in the midst of the intifada.
Of course, it provokes no controversy when Israelis who were born in France or the United States hold on to passports from the lands of their birth. What is striking about the trend in Israel today is that many are asking to become citizens of countries that persecuted, slaughtered and banished their forebears, most notably Germany and Poland. For the families involved, it also often brings up painful and contentious issues.
"My motivation is to keep options open," says Dan Stein. "One day I might want to work in Europe. Business-wise, it could be convenient. I also want to enter the United States without a visa. Having a German passport makes it easier to travel.
"Those are the main reasons," he continues. "Also, if things don't go well in Israel there will be an option to leave. My other grandfather, Nathan, tells me this all the time. He doesn't see an end to the conflict and wants me to have a way to leave just in case."
Yaniv says he would help his grandson. "Today, it is not the same Germany," he explains. "It is the third generation removed from the war. We were the victims of the Germans and do not forgive them, but it would never enter my mind not to forgive the new generation."
The german embassy in israel does not have exact figures on the number of Israelis who have German citizenship because they don't necessarily go through the embassy to obtain it. However, Dan Assan, whose Tel Aviv law practice has a department dedicated to German and Austrian citizenship, estimates the total number at 100,000. Furthermore, he believes, there are another 200,000 people entitled to German or Austrian citizenship living in Israel today and another 200,000 in the United States. There are also significant numbers living in South America, especially in Argentina.
A German Embassy spokesman explains that the bulk of Israeli applicants were applying on the basis of Article 116 of the German constitution, which says in Part 2: "Former German citizens who between January 30, 1933, and May 8, 1945, were deprived of their citizenship on political, racial or religious grounds and their descendants shall on application have their citizenship restored."
The law does not apply only to Jews, but they are the majority of those who qualify. The article continues: "They shall be deemed never to have lost their citizenship." Assan lists three reasons for the surge in applications: the distance from the Holocaust has weakened resistance to renewing ties with Germany; with increased globalization, a German passport is useful in opening all of Europe to its bearers; and the insecurity Israelis feel because of the years of conflict with the Palestinians has prompted many to seek a second citizenship "as insurance."
"Of every 1,000 people who get a passport I do not think 20 leave Israel and go to Europe," Assan says. He notes that besides permission to live, work and study in any European Union country, citizenship does not bestow entitlement to government financial benefits.
Ilan Charsky, another lawyer whose advertisement for assistance with Polish citizenship frequently appears in the newspaper right next to Assan's, says his potential market includes about one million Israelis of Polish descent. His business took off after Poland was admitted to the EU in May 2004.
"In the 1970's, descendants of Polish citizens who were born here never thought about Polish citizenship," he says. "But once the EU issue came up and people saw the potential, they started checking their roots. You have a sabra whose father is a sabra. Suddenly they want Polish citizenship."
Charsky said people with Israeli and Polish citizenship have no obligations toward Poland, neither in taxes nor in military service; and he, too, asserts that "99 percent are not going to become Polish residents." However, citizenship in an EU country has priceless benefits for Israelis, ranging from entrance to the United States and Europe without a visa and free university studies in Germany and France to vastly discounted tuition in other countries. According to Charsky, an Israeli would pay roughly $18,000 to $25,000 a year to study in England, but with EU citizenship, he or she pay the same rate as British citizens—about $1,500 to $1,800.
But charsky feels his clients have far more mundane motives. "Israel finds itself isolated geopolitically" he observes. "We do not belong to any bloc and are disconnected from Europe. Americans travel and work all over the world, and Israelis want to, too. It doesn't mean people want to emigrate. They may just want to go to Holland and work for a few years."
Still, the issue is fraught with emotion, although less than it was in the past. When an Israeli Web site ran a piece on obtaining Polish citizenship, Web surfers' reactions ranged from the practical to the irate, including such comments as: "Poland and the whole Diaspora are soaked in Jewish blood. Where is your shame?"
But the Tel Aviv-based Israel Nachtrichten, the only German-language daily newspaper in Israel, has run stories about it without stirring up a furor. "It is so widespread now it is hardly an issue," says editor Alice Schwarz. "It is simply a matter of convenience and is hardly interesting anymore."
Jerusalem resident Ilana Leiter, 50, whose survivor parents came to Israel from Poland, has no interest in acquiring Polish citizenship for herself or her four children. "Having nothing to do with them suits me just fine," she says. "I don't want any favors from them. If I did take something from them, even if the kids could go to university there for free or travel easily in Europe, it would be as if I am saying what they did to us is less terrible."
But lawyer Daniela Regev says many have the opposite attitude: "They say: 'If we suffered so badly from these people and now they can benefit us, let's take advantage of it.' It's a kind of revenge."
Less typical is the sentiment expressed by Shani Reiser, a fortyish Tel-Aviv woman who appeared on an Israeli Channel 10 documentary about Jews returning to Germany. "I'm in love with the Germans," she said. "I had such anxiety about this place, but just look at it, smell it. I admire the Germans for their seriousness, their accuracy." Her interviewer interjected: "But thousands of Jews are buried here without a trace!"
"So what?" replied Reiser. "There was a Holocaust. I already cried enough. It hurts, but now I have an opportunity to come back and claim my family's land."
Gaby Goldberg, a teacher at the Jerusalem branch of the Goethe-Institut, says her German-language students are "connecting to their German roots…. Two or three years ago we had 100 per semester and now we have 130 to 140. This year and last year I opened four beginners' classes instead of two or three, and almost all are young people with German grandparents or some background, or a wish for a passport.
"Some students whose parents came from Germany come after their parents die," Goldberg adds. "Some say it is just a nice language, but usually within a month or two you learn there is another story. Suddenly they understand what they got from their parents and could not explain and now they have an explanation both about their language and their interests in music, literature and culture."
"I have the right to German citizenship from my late father," says Raffi Biran, 51, who lives in a Jerusalem suburb. "After Germany was united in 1990, [my father] discovered he could get himself and his children and grandchildren German passports." He helped Biran and his sister obtain German passports.
Biran is doing the same for his children. "In today's crazy world you should always have another option in your hand just in case."