Stage Fright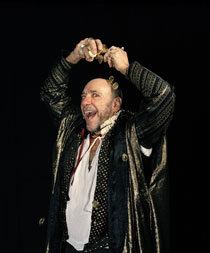 After seeing firsthand the effect of rising anti-Semitism in England, an observer warily questions a new theatrical focus on three notorious Jewish characters.
Newly returned from London, I sift through an accumulation of mail and linger over the attractive brochure for the respected and innovative repertory company Theatre for a New Audience in New York. Their program for this season (through April 15) features performances of William Shakespeare's The Merchant of Venice, Christopher Marlowe's The Jew of Malta and a dramatization of Charles Dickens's Oliver Twist. With sinking heart, I recognize the commonality of the three masterpieces of English literature.
Each is dominated by a character that embodies a stereotypically negative image of the Jew. The Merchant's Shylock is the usurious moneylender who would claim his pound of flesh from his Venetian client, Antonio; Marlowe's Barabas, that ill-fated Maltese Jew, is an unscrupulous murderer; and Fagin is the malevolent exploiter of an army of small boys, Oliver Twist among them, whom he trains in the fine art of picking pockets. All three are animated by greed and an inherent, seemingly visceral, dishonesty.
Perhaps because i am sensitized by my recent experience of accompanying my British grandchildren to their day school, where security guards maintain a vigilant presence, and my own attendance at a synagogue where each worshiper is carefully scrutinized at the entrance of a gated campus, these titles trigger a nervous uneasiness that intensifies into a questioning wariness. This wariness is compounded by my memory of signs posted at a variety of Jewish venues in London, urging that any suspicious behavior be reported to the Community Security Trust. Such warnings are a constant reminder that the shadow of anti-Semitism darkens contemporary Jewish life in England, even as it darkens these acknowledged great works of English literature.
I study the beautifully designed brochure, noting that the artfully drawn silhouettes of the three protagonists are all depicted with prominent noses and rabbinic beards. Why, I wonder, are these particular plays being serially presented at this time when ethnic and religious friction have reached dangerous boiling points and a carefully nurtured cultural tolerance appears to be in danger of withering?
When I learn that Theater J, at the Washington District of Columbia Jewish Community Center, is offering a reading of Arnold Wesker's Shylock, featuring Theodore Bikel (May 13-15), in a festival that will also include a reading of Michael Olmert's Shakespeare and Dr. Lopez as well as a Nextbook-sponsored lecture on "Shylock in History," that question of "Why now?" acquires new urgency. Are these dual efforts coincidental, or do they reflect a perhaps dangerous interest in a Jewish fictional character whose very name has, rightly or wrongly, long been recognized as an anti-Semitic epithet?
When I meet with Jeffrey Horowitz, artistic director of Theatre for a New Audience, he addresses my perplexity. Art, he explains, is abstract as well as pedagogic. Given contemporary tensions, a newly emergent xenophobia and the pervasive fear of otherness, art in general—and theater in particular—illuminates both the danger and absurdity of poisonous polarities. Inasmuch as the Jew was the consummate outsider in Britain's Christian theocracy, the Jewish dilemma is the dilemma of all who are marginalized by intolerant authoritarian societies. Horowitz posits that Shylock, Barabas and Fagin, in all their complexities, inspire sympathy and compassion rather than revulsion and hatred.
"Many accusations have been leveled against these three images," he explains. "William Shakespeare, Christopher Marlowe and Charles Dickens have been alternately attacked as slanderous of the Jewish people and lauded for granting their Jewish characters so much sympathy and humanity." The perceived otherness of these isolated and alienated Jews parallels the otherness of lonely outsiders in other times and in other locales, he points out. Malta, Venice and the dark satanic alleyways of 19th-century London, all coincidentally port cities throbbing with arrivals and departures, may well be templates for today's similarly complex urban landscapes. The vulnerability of British Jewry today, an unease shared by Jewish communities in other parts of the world, has historic precedence in the literary precincts created by Shakespeare, Marlowe and Dickens.
While all three works have evoked controversy over centuries of public performance, they have never been performed in the close sequence undertaken, with considerable courage, by Theatre for a New Audience. F. Murray Abraham will be featured as both Shylock and Barabas in alternating performances. Although the two characters have been traditionally linked—even as Shakespeare and Marlowe, Elizabethan thespians, colleagues and rivals both, are inevitably linked—they are vastly different. Abraham, in a preperformance reading at the 92nd Street Y in New York in December, demonstrated that difference as he interpreted key dramatic speeches from each play.
While Barabas is, in fact, the Jew of Malta, Shylock is not the merchant of Venice, a role that belongs to Antonio. Shylock is the spurned Jew, the despised moneylender, to whom Shakespeare assigned only 390 lines, but oh, what lines they are, and oh, the passion and compassion with which they are rendered by this actor. Abraham's Shylock is the struggling survivor who maintains his dignity in the face of overwhelming adversity. He is the essentially moral man, driven to avenge the losses and indignities heaped upon him. He is the bereft father whose daughter, Jessica, eloped with a gentile; the widower who trembles over Jessica's theft of a ring given to him by his wife. He is the despised alien who asks, "Hath not a Jew eyes?… If you prick us do we not bleed?"
Given Abraham's moving rendition of this speech, it is easy to accept his resounding "No!" when a member of the audience asks whether he considers The Merchant of Venice to be anti-Semitic.
But barabas is more problem- atic. Marlowe wrote no redemptive speeches for his villainous Jew who, during the course of the play, is responsible for the murders of two young men, a coterie of nuns and his own innocent daughter, Abigail. He boasts of his lust for money and of his degenerate malevolence, proclaiming: "As for myself, I walk abroad o' nights,/ And kill sick people groaning under walls/ Sometimes I go about and poison wells…."
These words were spoken on the Elizabethan stage as the plague, thought to be caused by poisoned well water, raged through London and Roderigo Lopez, the queen's physician and a Portuguese Jew who had converted to Christianity, was convicted of poisoning her; he was drawn and quartered to the delight of a vengeful crowd. Indeed, Stephen Greenblatt, author of Will in the World (Norton), speculates that Shakespeare was so horrified by Marlowe's portrait of Barabas as evil incarnate and the seething hatred of the crowds who witnessed Lopez's suffering that he created a sympathetic Shylock.
And yet, Abraham unequivocally discusses his excitement at portraying Barabas, whom he admires for his lusty energy and his honesty, and no one in the audience ventures to ask if he or other members of the panel would consider The Jew of Malta to be anti-Semitic. Unlike Shakespeare, Marlowe has provided us with no literary loophole for forgiveness.
Fagin, the villain of Dickens's Oliver Twist, is perhaps even more problematic. Dickens was less than explicit about Fagin, a denizen of London's underworld, who rules over a kingdom of homeless youths. But, Fagin provides homeless children with shelter, rescuing them from an oppressive and unjust society. While hardly the benevolent good citizen, Fagin is not guilty of any of the more ghastly crimes that haunt the dark Victorian world through which Oliver wanders, in search of his own identity. Still, he is unquestionably a villain—a Jewish villain.
Interestingly, theatre for a new Audience is also offering a reading of Wesker's play (February 5). Wesker, the renowned British Jewish playwright, in 1976 wrote Shylock, a reinterpretation of The Merchant of Venice. In his work, Shylock and Antonio are friends, the contract that demands a pound of flesh is an absurdity, mocking the Venetian law that forbade dealings with Jews without a contract, and Shylock is a sympathetic human being with flaws and foibles that match those of his Christian contemporaries.
Wesker's Shylock is part of a series that includes readings of A.R. Gurney Jr.'s Overtime; Henry Bernstein's Israel and John Galsworthy's Loyalties. All are described as part of an exploration "of the conflict between the outsider and society."
Barabas, Shylock and Fagin were indeed outsiders, but despite any equivocations, they were obviously villains. They may have been plunged into their villainy by unjust societies but villains they remain, reinforcing the age-old stereotype of the Jew. When Time magazine announced the election of Menahem Begin in 1977, it reminded its readers that "Begin rhymes with Fagin." And when Suha Arafat, wife of Palestine Liberation Organization leader Yasser Arafat, accused Israel of poisoning Gaza waters, the image of Barabas poisoning the wells of London lurked in reluctant memory.
It must be acknowledged, then, that these great works of literature are not without their dangers, especially during these dangerous times when Jewish day schools in some countries rely on security guards and police patrol synagogues. Despite my initial anxiety, however, I recognize that the performance of these works in a sympathetic ambience, accompanied by audience discussions and study sessions (part of the programs at Theatre for a New Audience and Theater J), counters the dangers they present. Evoking as they do an honest exploration of anti-Semitism and an examination of societal hypocrisy, they expose the demonic darkness of prejudice to the light of intellectual clarity.
---
Schedule Information
Theatre for a New Audience
New York: 212-229-2819; www.tfana.org
The Jew of Malta and The Merchant of Venice are in alternating repertory through March 11. Oliver Twist runs March 29-April 15. Check calendar for post-matinee panel and preperformance discussions on The Merchant of Venice and The Jew of Malta. Reading Series: Arnold Wesker's Shylock, February 5; A. R. Gurney Jr.'s Overtime, February 12; Henry Bernstein's Israel, February 26; John Galsworthy's Loyalties, March 5.
Theater J in Washington, D.C.: 202-518-9400: www.theaterj.org
A reading of Arnold Wesker's Shylock will take place May 13-15 along with a reading of Shakespeare and Dr. Lopez and a lecture on Shylock in history.