The Jewish Traveler: Napa Valley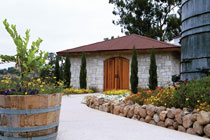 The fruit of the vine thrives in this Northern California region, home to a small but well-connected Jewish winemaking community.
Sweet, syrupy Manischewitz is a rarity in Napa Valley, the heart of California's wine region. Instead, when congregants at the local synagogue fill their Kiddush cups, they pour from some of North America's finest wines—and yes, that selection includes a small handful of locally produced kosher varietals.
But proximity to world-renowned wines is just one of the perks for which Napa Valley, an hour and a half's drive northeast of San Francisco, is known. The 40-mile, picturesque basin that stretches from American Canyon in the south to the northern town of Calistoga is also famous for its warm climate, scenic hills and luxurious spas, hotels and restaurants.
It is also a place steeped in Jewish history. Jews have inhabited the valley since the early days of the California Gold Rush. They also played a major role in developing the region's thriving economy, a successful pairing of wine and tourism. During Prohibition—coinciding with a boom in local anti-Semitism—many Jews left the valley. But the community was revitalized in the 1950's and continues to grow. After all, Jews have always had a special connection to the fruit of the vine, and in Napa Valley, that ancient link shines brightly: Today's Jewry is well represented in the over 250 commercial wineries located in the region.
History
In 1848, shortly after the discovery of the first gold nugget in the Sierra foothills, thousands of young, ambitious Americans rushed to California with dreams of unearthing a fortune. Among them were several hundred Jews, some of whom settled in Napa Valley, then just a cluster of dusty mining settlements. Most of the early Jewish settlers were German immigrants who had fled anti-Semitism back home, but there were also a handful of Sefardim and Jews from countries such as France and the Netherlands. While these men and women typically settled in large cities—New York, Cincinnati or Minneapolis—some headed west as soon as they could gather enough cash and supplies to get them through the arduous voyage.
Most of the Gold Rush-era Jews did not actually dig for gold. Rather, they recognized a more stable economic opportunity: selling goods to the fledgling mining communities. Those who had mercantile connections with relatives in major American cities and abroad were able to import goods, and many became successful merchants and peddlers. Others became pharmacists, tanners and community leaders. A small handful served in Napa Valley's post office and fire department.
In the early days, life for the valley's Jewish population was relatively smooth and anti-Semitism seemed almost a thing of the past. After all, the miners who had rushed to California had one thing on their mind: gold, not God. Even so, the local Jews practiced their religion in private, gathering for holidays in a small meeting room on the top floor of the firehouse in the town of Napa. In most other ways, they were fully integrated into the community at large. For example, in 1874, a German Jew named Henry Getleson became one of the founding members of the Calistoga Masonic Lodge, serving as its treasurer. Around the same time, several Napa Valley Jews joined a local chapter of the Odd Fellows, a gentile fraternity.
By 1882, another discovery was made in Napa Valley. Due to the region's climate and soil, the area was perfectly suited for growing grapes. As the valley's wine industry began to blossom, several local Jewish families decided to plant vineyards of their own, successfully making and selling wine. One of the very first Jewish vintners was Frederick "Fritz" Rosenbaum, a wealthy glass manufacturer and importer. He and his wife planted 16 acres of grape vines on the site of what is today the St. Clement winery.
But the outbreak of World War I in 1914 marked the end of that golden era. The war unleashed a rash of xenophobia, giving renewed power to the Ku Klux Klan, a network of white, Protestant men who began to recruit in rural locations throughout the United States. In 1923, 2,000 spectators watched as Klansmen burned a 20-foot cross on a field near Napa State Hospital. And in 1924, nearly 10,000 people attended a KKK rally in St. Helena, a town in northern Napa Valley, and listened as Klansmen vehemently preached their hatred of Jews, African Americans and other minorities.
At around that time, Prohibition, which began in 1920, dealt Jews an economic setback. As the valley entered a steep economic decline, many of those families who had stuck through the rash of anti-Semitism now moved away.
Luckily, Prohibition didn't last long (it officially ended in 1933). But it wasn't until the 1950's that a vibrant Jewish presence returned to Napa Valley. Many of the new immigrants were Holocaust survivors. In 1953, they built the valley's first—and to this day only—synagogue, the now Reform (but formerly unaffiliated) Congregation Beth Sholom. In the 1960's and 1970's, the long inactive wine industry also made a comeback. The valley was once again full of economic opportunity. Jewish families arrived in waves, founding some of the region's best-known wineries.
In 1989, anti-Semitism resurfaced in the valley: Tom Metzger, founder of the White Aryan Resistance movement, organized a concert for skinheads and neo-Nazis, whom he hoped to recruit. Both Jews and non-Jews protested the event, backed by the majority of the community, including area Methodist and Presbyterian churches.
Community
About 40 years ago, members of Congregation Beth Sholom in Napa (1455 Elm Street; 707-253-7305; www.cbsnapa.org)—were split in heated controversy. On one side were those who wanted to increase the salary and position of their part-time rabbi, and on the other was a group pushing for the money to be used to build a swimming pool on the synagogue's grounds.
Congregation leaders opted for the latter, and to this day Beth Sholom is known as the "shul with the pool."
As there is no Jewish community center, Congregation Beth Sholom has functioned as the hub of Jewish communal life in Napa Valley since its founding. Currently, approximately 170 families are members and about 90 children attend the synagogue's religious school.
Chabad is a recent addition to the valley. The center at 736 La Homa Drive in Napa (707-320-2348; www.jewishnapavalley.org) offers Torah study, women's classes, a Yiddish society and other programs.
There is also a Chabad house in Berkeley (2643 College Avenue; 510-540-5824; www.chabadberkeley.org) as well as a Modern Orthodox shul in Oakland (Beth Jacob Congregation; 3778 Park Boulevard; 510-482-1147; www. bethjacoboakland.org), both approximately 40 miles south of Napa Valley.
In addition to activities organized by Congregation Beth Sholom, a few Jewish-owned wineries, such as Hagafen Cellars, host events for the holidays of Sukkot and Shavuot in their vineyards.
In total, there are over 34 Jewish vintners and winemakers in Napa Valley. Last summer marked the first time they officially collaborated, holding a benefit weekend of winetasting and gourmet meals, called "L'Chaim–To Life," in celebration of the area's Jewish roots. Domaine du Castel, a leading Israeli winery, participated as well. The event, organized by the new nonprofit organization Napa Valley Center for Jewish Culture (www.napavalleycjc.org), was so successful that it will be repeated this summer from June 29 to July 1.
The majority of the valley's Jews work in the winemaking and restaurant industries, but it's hard to know exactly how large the overall population is, as many Jews are unaffiliated. Currently, though, the population is estimated at 4,000.
In 2002, Napa Valley residents Donna Mendelsohn and Zoe Kahn founded the Jewish Historical Society of Napa Valley (707-251-9092; www.jhsnv.org) and began documenting the roots of the region's Jewish families, businesses and contributions to society.
According to a book the society recently published, the valley's Jewish population is on the rise. The society is also a good resource for updates on the latest Jewish happenings throughout the area.
Sights
In summertime, just driving up and down Highway 29, Napa Valley's main drag, affords breathtaking sights—the rolling hills on both sides are dotted with row upon row of sun-kissed grapevines, and colorful wildflowers and the occasional olive tree line the roadsides. Wine tasting, however, can be enjoyed year-round.
Start at Hagafen Cellars in Napa (4160 Silverado Trail; 707-252-0781; www.hagafen.com), the valley's only kosher winery open to visitors without appointment. Hagafen boasts a quaint Mediterranean-style tasting room and is owned and operated by Ernie and Irit Weir. They founded the winery in 1979 and produce award-winning French varietals, such as Cabernet Sauvignon, Pinot Noir and Chardonnay, as well as an excellent Riesling. Stop in for a glass or call ahead to schedule a formal tour of the vineyard and a lesson on what makes kosher wine kosher.
The other kosher winemaking operation in the area is Covenant Wines, but visitors must call ahead for a sampling (707-963-3887;www.covenantwines.com). Vintners Jeff Morgan and Leslie Rudd produce well-reviewed Cabernet Sauvignon—which sells for $85 a bottle—on their three-acre parcel of grapevines on the historic Larkmead Vineyard just north of St. Helena.
There are also several Jewish-owned, nonkosher wineries worth visiting. Just up the road from Hagafen is Rudd Estates in Oakville (500 Oakville Crossroad; 707-944-8577; www.ruddwines.com), restaurateur Leslie Rudd's main viniculture pursuit. The property sits atop 22,000 square feet of subterranean caves dug directly into the rocky hillside. Estate tours are by appointment only.
Daniel Baron's Silver Oak Cellars (915 Oakville Crossroad; 800-273-8809; www.silveroak.com), also in Oakville, is one of the premier wineries in the country, well known for its Cabernet Sauvignon.
Continue north on the silverado trail and stop at Clos Pegase (1060 Dunaweal Lane; 707-942-4981; www.clospegase.com), owned and operated by Jan Shrem. Shrem was born in Colombia to Lebanese Jewish parents. Even if you don't partake of nonkosher wine, his award-winning winery is a must-see—its gardens and vineyard are decorated with large, impressive sculptures, such as a seven-foot bronze thumb and a classic, Italian-marble rendering of Bacchus, the Roman god of wine.
Take Highway 29 back down the valley, stopping at Opus One in Oakville (7900 St. Helena Highway; 707-944-9442;www.opusonewinery.com), a joint venture between Robert Mondavi and Baroness Philippine de Rothschild. Even if you don't feel like paying over $100 for a bottle of Opus One's signature Bordeaux-style blend, the winery is an architectural wonder—the main building's hemispheric form is partially covered in green grass.
For a taste of the valley's Jewish past, visit the Sawyer Tannery on 68 Coombs Street in downtown Napa. Built in 1869, it was run by the Jewish Manasse family for many years. It no longer produces leather; today, it houses artists' studios and a gallery.
Another Jewish landmark (with a very non-Jewish sounding name), St. Clement Vineyards in St. Helena (2867 St. Helena Highway North; 800-331-8266; www.stclement.com) is located in the Gothic-Victorian-style home built by Fritz Rosenbaum and his wife, Johanna, in 1878. Rosenbaum, a German Jew and a stained-glass merchant by trade, built stone wine cellars beneath the house so he could make the wines he remembered from the old country. Johannaberg Cellars became one of the earliest wineries in the area.
For a final slice of history, check out the Napa Valley Museum in Yountville (55 Presidents Circle; 707-944-0500;www.napavalleymuseum.org), where a newly installed exhibit by the Jewish Historical Society of Napa Valley showcases the region's Jewish roots (it is part of the larger permanent exhibition "The Land and People of Napa Valley"). In addition to photographs, the display features artifacts, newspaper articles and other objects that relate to Napa Valley's Jewish history.
Side Trip
Travelers who have had their fill of wine can head up to Calistoga, Napa Valley's northernmost town. That is where you can get a firsthand look at some of the region's natural phenomena, such as Old Faithful Geyser (www.oldfaithfulgeyser.com), one of only three geysers in the world with a constant and predictable eruption. Every 30 minutes, Old Faithful sprays a curtain of scalding water up to 75 feet tall. The Petrified Forest (4100 Petrified Forest Road; www.petrifiedforest.org) is just a few minutes drive from the geyser. Volcanic eruptions millions of years ago created this surreal redwood forest.
Personalities
Al Brounstein, the Minneapolis-born son of a former bootlegger, was a well-known pioneer winemaker famous for smuggling French grapevines into Napa Valley back in 1968. He did it by flying his small plane to a private airport in Mexico where he met his "French connection," picked up the grapevine cuttings—normally required to be indexed and quarantined for a period of six years—and then flew them back to the United States. The former owner (along with his wife, who is known as Boots) of Diamond Creek Winery, Brounstein passed away last year at the age of 86.
Physician Robin Lowitz founded the Jewish Community Free Clinic in nearby Sonoma County in 2001. Since then, the free, volunteer-based medical clinic, founded on the Jewish principle of tzedaka (charity), has served thousands of uninsured patients.
Reading
Scottish author Robert Louis Stevenson wrote The Silverado Squatters in 1883 after honeymooning with his wife in the abandoned mining town of Silverado, once located near Calistoga. One of the real-life characters included in the novel is Morris Friedberg, a Jewish storeowner whom Stevenson names Mr. Kelmar and whose depiction is somewhat anti-Semitic.
For a less controversial portrayal of Napa Valley, Idwal Jones's The Vineyard (University of California Press) is a story about the daughter of a viticulturist.
Lin Weber captures the history of the area's Jewish community in the Jewish Historical Society of Napa Valley's Under the Vine and the Fig Tree: The Jews of the Napa Valley (Wine Ventures Publishing).
Recommendations
Good restaurants are plentiful in Napa. But due to the lack of a local Orthodox community, there are no kosher eateries—the closest is Bar Ristorante Raphael in Berkeley (2132 Center Street; 510-644-9500; www.ristoranteraphael.com), a traditional Italian restaurant and bar serving dairy, vegan, vegetarian and fish dishes.
For kosher groceries in Napa, head to Trader Joe's (3654 Bel Aire Plaza; 707-256-0806; www.traderjoes.com)
The Napa Valley Wine Train (www.winetrain.com) is an easy, elegant alternative to driving up and down the valley's roads. The train departs from 1275 McKinstry Street in Napa and takes passengers on a three-hour, 36-mile ride. The train offers a variety of food and winetasting menus.
Visitors interested in a little pampering can hit one of the valley's many spas, such as the Lavender Hill Spa (1015 Foothill Boulevard in Calistoga; www.lavenderhillspa.com), which offers mud baths, facials and massages.
For the ultimate luxury (with the ultimate price tag), stay at Claude Rouas's Auberge du Soleil (180 Rutherford Hill Road; www.aubergedu soleil.com), a renowned spa and hotel in Calistoga with an award-winning restaurant and stunning grounds and sculpture garden.
But whether or not you choose to splurge while in Napa Valley is besides the point. The region's lush views, mild climate and picturesque vineyards are sure to impress—even if you stick with Manischewitz.
Michal Lev-Ram is a writer at Business 2.0 magazine in San Francisco.