Profile: Etgar Keret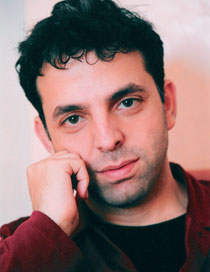 Israel's most talked-about young writer eschews the classic literary topics of nation-building and collective narrative in favor of the individual, the everyman.
Etgar Keret feels like a fraud when he states "author" as his profession.
Even after publishing four collections of short stories, three graphic novels, two children's books and dozens of screenplays, he is more comfortable calling himself a "teacher" or "lecturer." Though all his books are best sellers in Israel and his work has been translated into 23 languages and received enthusiastically all over the world, writing still seems to him to be more of a pastime than real work.
"Actually being a writer is not in the writing but in your acceptance [as a writer]," Keret, 39, said. "I wrote for years before people considered me a writer. Today, there is this miracle that I write and people read me, but maybe in a year that won't happen. If I have an idea for a story, then I write. I never felt it was my work. It is a hobby. It is like a gift you receive. You cannot 'work' in getting gifts. It is like dreaming dreams."
Indeed, keret's stories are as fantastic as dreams, as elusive as miracles and as satisfying as hobbies. They feature talking animals, vibrant afterlives and magical creatures. Some are grounded in Israeli reality while others are set in imaginary worlds that give no overt hints to their author's nationality. Keret's is a distinct, fresh voice in Israeli literature, the voice of a generation that has moved beyond the myths of the country's founding fathers and to which nothing is sacred.
"Keret is a very important young Israeli writer," said Yigal Schwartz, the founder and director of Heksherim (Hebrew for contexts), the Center for the Study of Jewish and Israeli Literature and Culture at Ben-Gurion University of the Negev. "His stories are short and sharp and have punch lines. A lot of it is new because his main sources of inspiration are not literature and theater but film, video clips and comic books…. And unlike the previous generation of Israeli writers, he has a sense of humor.
"Some say he represents a post-Zionist, new individualism in Israeli literature," continued Schwartz, "but I disagree with that. To the contrary, he is in the mainstream. Just like the leading writers of the older generation, Keret has a very deep commitment to the society and culture he lives in and is connected to all the main nerve centers of Israeli society today."
Keret's characters are antiheroes, losers struggling to eke meaning out of the drudgery of everyday situations. His stories—typically between one and four pages—are delivered with humor and wit and touched with grace. In "The Story About a Bus Driver Who Wanted to Be God," from the collection The Bus Driver Who Wanted to Be God (Toby Press), a bus driver has a strict policy of never opening the door for people who are late. But there is one time when his policy is going to cost a would-be passenger, Eddie, a rare "shot at happiness" in the form of a promising date. Eddie, who misses the bus, runs and catches up with it at a traffic light, where he falls to his knees, panting. The driver is about to stick by his policy, but suddenly he "remembered how he'd once promised himself that if he became God in the end, He'd be merciful and kind and would listen to all His creatures. So when he saw Eddie from way up in his driver's seat, kneeling on the asphalt, he simply couldn't go through with it…."
In "Halibut," from The Nimrod Flipout (Farrar, Straus and Giroux), the narrator, who is having a bad day, complains to a waitress that the talking fish he ordered didn't talk. "The dish is called talking fish as an indication of the kind of fish it is, which, in this case, is the kind that can talk, but the fact that it can talk doesn't mean that it will at any given moment," she replies. Eventually, however, the fish does pipe up and offers the man some friendly advice.
Critic iri rikin calls keret's "a loser's humor, the last resort of the miserable." Writing in the Israel Teachers Union periodical Hed Hahinukh, Rikin describes Keret's language as a "colloquial and somewhat childish Hebrew, moving between infantilism and cheapness, but even when he swears or writes about the most depressing feelings in life, he does it with a kind of angelic, charming innocence."
With his shaggy dark hair, medium build and casual dress, Keret has a boyish look. Wearing a dark blue flannel shirt untucked over army fatigues for an interview at a Tel Aviv café a few blocks from his home, he discussed how he became a writer. "I was a very polite boy," he recalled. "My parents are Holocaust survivors and both suffered a lot, so as a child I had a strong desire for everything to be O.K., for nobody to be sad. From a very young age, I was considerate and eager to please. Writing was a huge discovery for me. In writing, you can be yourself without hurting anybody. You can hit and scream and soil the rug and break the windows, and it's O.K."
The Holocaust figures obliquely in several of his stories, reflecting the second-generation experience. In "Summer of '76" (the English version will appear in the forthcoming collection Missing Kissinger, to be published by Chatto and Windus), a child notes that his grandfather would "always tell my mother she was bringing me up badly, she wasn't preparing me for life. Mom would always apologize and say that actually, she was preparing me, it was just that life today wasn't anything like life used to be. That today, you didn't have to know how to make Molotov cocktails from alcohol and nails or how to kill for bread."
Another formative experience in Keret's life was the suicide of his best friend when they were in the army. In response, at age 19, Keret sat down and wrote his first story, "Pipes" (in the English edition of The Bus Driver Who Wanted to Be God), in which the protagonist builds a giant pipe full of twists and turns, crawls into it and finds himself in heaven. It became the title story of his first collection of stories in Hebrew. Thereafter, the themes of death, suicide and the afterlife have figured heavily in his work, always treated with wry humor.
The newly released English-language film Wristcutters: A Love Story, directed and adapted by Goran Dukic, is based on Keret's novella Kneller's Happy Campers; it is a comedy about a special heaven for suicides. The film was nominated last year for the Grand Jury Award at the Sundance Film Festival, and this year is up for two Spirit Awards, which are given out by Film Independent, a non-profit organization dedicated to independent cinema. Keret says his preoccupation with death is not morbid, just a recognition of its ever-present inevitability and the choices it compels us to make.
Alongside his literary career, Keret writes for television and film and, for the last two years, has been teaching creative writing at Ben-Gurion University. Before that, he taught film at Tel Aviv University for nine years. He is married to actress and children's book author Shira Geffen, sister of Israeli rock star Aviv Geffen. They have a 1-year-old son, Lev, and have just published their first children's book together, A Moonless Night (Am Oved). They are now codirecting a feature film, Jellyfish, written by Geffen.
Working as he does from the very heart of secular Tel Aviv cultural life, Keret makes the surprising assertion that he considers himself "more of a Jewish than an Israeli writer." He feels he differs from the older generation of Israeli writers, such as Amos Oz, A.B. Yehoshua and David Grossman, both in content and in style. While they focus on the collective story of nation-building, he is interested in the individual and in life's small moments of grace. And he points out that, for the most part, Israeli writers lack what he considers the hallmark of Jewish writers—humor. He names Franz Kafka, Isaac Babel and Sholom Aleichem as his sources of inspiration. "Notice, they are all Jewish but none of them is Israeli," he noted.
Schwartz sees Keret as both very Israeli and very Jewish. "For instance, there is a tradition in Israeli literature that writers function as intellectual prophets," he said, "warning of society's ills. He does this no less than the canonical writers. His treatment of the Holocaust is very deep, and it is significant that he is a child of survivors even though he is very young. He deals with the occupation, with the violence in Israel and with the question of religiosity."
On the other hand, "his writing is as full of anxiety as Sholom Aleichem's," Schwartz continued. "He is a sad clown." He also sees an affinity between Keret's humor, fantasy and economy of language and the writing of American short-story authors Raymond Carver and Kurt Vonnegut.
Having been published in 29 countries, Keret is pleased by his appeal to both Jewish and non-Jewish readers. In 2006, The Nimrod Flipout was honored as one of the top 25 fiction books by The Los Angeles Times.
"It is important to me to belong here [in Israel]," he said, "but it is also important to me to maintain the classic Jewish diaspora values that Israel rejected. The Jew lived with a duality that gave him a perspective to see things from different angles. Jews were cosmopolitan, knew languages and had a tradition of philosophy and writing. Israeli children learn about all the pogroms and death camps but don't necessarily know that Freud, Kafka and Marx were Jews….
"I think we have a lot to learn from diaspora Jewry," he added. "I feel close to the older Jewish world, to Hasidic stories. Some of my allusions are more accessible to older Jewish audiences than to young Israeli readers. At a synagogue in Baltimore, someone told me my stories remind him of Chagall paintings. But young Israelis wouldn't have identified with that or known that."
The youngest of three children, Keret, whose first name means "challenge," grew up in a secular home in Ramat Gan, near Tel Aviv. His brother, Nimrod, is a human rights activist and his sister, Dana, became ultra-Orthodox and is raising her 11 children in Jerusalem's Mea Shearim neighborhood.
He writes about his sister's adoption of Orthodoxy in one of his Citizen K online columns for Nextbook (www.nextbook.com). Keret remains close to her and even dedicated his first children's book, Dad Runs Away With the Circus (Candlewick), to his nephews; he stipulated that the illustrator would prepare one copy where the men would have yarmulkes and sidelocks and the women's skirts and sleeves would be long. But the rabbi whom Keret's sister consulted ruled that the special version was still inappropriate; the copy remains in Keret's house, never seen by his nieces and nephews. It's the kind of thing that would happen to one of his characters.
Fatherhood has led Keret to reflect on what his parents gave him, and what he wants to give his son.
"Wherever you suffer, you want to spare them," he said. "I always felt a responsibility on my shoulders, as if I came here to solve a problem. I want my son to be calm, to take it easy. I watch him bunch his little eyebrows and I tell him, 'Relax. Don't worry about what will be.'"