The Jewish Traveler: Seattle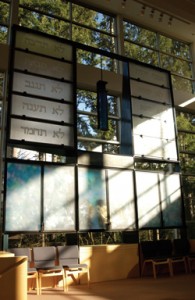 Rugged yet cultural, prosperous but laid-back, this gateway city to the Pacific Northwest is still attracting modern-day Jewish pioneers.
Seattle is surrounded by majestic mountains and beckoning waterways. a On the banks of Lake Washington sits the Seward Park neighborhood, home to most of this northwest city's Orthodox Jewish community. On a crisp Friday evening, young men wearing yarmulkes and tzitzis can be seen walking home from synagogue with their fathers as small children run back and forth at their feet. a The Seward Park neighborhood
is just one of many vibrant pockets of Jewish life in this nature-loving town. Scattered throughout are Conservative and Reform congregations and cultural institutions.
The Jewish community in Seattle shares a pioneering past with others who came to settle here. These days, the gold to be had is not literally in the rugged rivers of Alaska, but in high technology. In the last 15 years, Jews from all over the world have come, once again, seeking their fortunes. And like the past, some have been wildly successful.
History
In the 1850's, German-speaking Jews from Central Europe began arriving in what was then known as the Washington Territory. They were predominantly merchants, peddling clothing, groceries and dry goods to farmers and miners, and their success depended largely on familial connections to Jewish suppliers in more established cities, such as San Francisco or Portland, Oregon. Together they created a network of Jewish businesses that supplied essential goods to people in remote places.
In their comprehensive book, Family of Strangers: Building a Jewish Community in Washington State (University of Washington Press), historians Molly Cone, Howard Droker and Jacqueline Williams call these entrepreneurs "urban pioneers," for they were the first to link Washington's small towns to big cities in the surrounding region. In their struggle to gain a foothold, these pioneers wanted to become Americans while still remaining Jews, often putting secular life before religious concerns.
The most successful among them were the Schwabacher brothers, who built an empire selling goods throughout eastern Washington. They provided supplies and credit to the region's lumber mills, which helped kick off the Northwest timber industry.
By 1869, the Schwabachers were running a wholesale grocery and hardware store and had placed their brother-in-law, Bailey Gatzert, in charge of the business. Gatzert made Schwabacher's the leading wholesaler in Seattle, and in 1875 he was elected mayor of the city.
Within 15 years, Seattle was teeming with prospectors eager to hop on northbound ships to find gold in Alaska. With gear, dry goods and equipment on hand, Seattle became known as "the gateway to the Klondike." Jewish businessmen set up outfitting companies, hardware stores and second-hand clothing shops. At the same time, Jews from Eastern Europe began arriving. They were Yiddish-speaking, uneducated and poor. But their numbers grew quickly, and they opened the first kosher butcher stores, bakeries and restaurants.
Some became prominent businessmen, such as Polish immigrant Alfred Shemanski, who started selling curtains door to door with a horse-drawn wagon. His business grew into a statewide chain of department stores called Eastern Outfitting Company. Among his civic involvements, Shemanski served on the Board of Regents at the University of Washington for 22 years, twice as president.
Just as the East European Jews were getting comfortable in their new city, a third wave of Jewish immigrants began arriving. In 1902, Solomon Calvo and Jacob Policar, from the Turkish island of Marmara, followed a Greek, non-Jewish friend to Seattle. They quickly made contacts with the Ashkenazic Jewish community, which was confused by the strange customs and language of the two young men. They spoke Ladino, or Judeo-Spanish, smoked water pipes and drank Turkish coffee. A letter to the Jewish community in New York cleared up the confusion and the newcomers were given a place to live and work. Eventually, as more Sefardic Jews came from Turkey and the Greek island of Rhodes, they found friendship with other Greek immigrants whose culture they shared.
The Greeks helped the Sefardim find work selling fish and produce. Often the pay was not good, and many families struggled to make a living. Nessim Alhadeff, head of the largest Sefardic family in Seattle in the early 1900's, started the Palace Fish and Oyster Company and became instrumental in financing the arrival of more Sefardim to the region. By 1913, the Sefardic community numbered 600, making it the largest in the United States outside of New York.
Together these waves of immigration brought 4,500 Jews to Seattle by 1910. Many lived in close proximity to each other on Yesler Way, but sharp social and religious divisions existed between the three groups for many years. The wealthy, Reform-minded, German-speaking Jews looked down on the Orthodox Yiddish speakers. And together, the Ashkenazim were disdainful of the different foods and customs associated with the Sefardim. Stories are told of Ashkenazic children taunting Sefardim by shouting "Mazola," since they cooked with olive or vegetable oils. In response, Sefardic kids would call out "schmaltz," referring to the chicken fat used in Ashkenazic cooking. It took decades before intermarriage between the two communities would no longer be rare. By the 1990's, tensions between Ashkenazim and Sefardim had eased.
Community
Today, there are over 40,000 Jews in Seattle—the Sefardic community is now the third largest in the country—and most live in small clusters throughout the city and suburbs. Forty percent reside in the North End, which is north of the ship canal. Another 35 percent live on Mercer Island and Bellevue, with the rest residing in the central and southern parts of town, such as Seward Park.
The region is home to numerous congregations—seven Orthodox, two Conservative, five Reform—and a handful of Jewish schools. For those looking for less traditional places of worship, Seattle offers the Bet Alef Reform Meditative Synagogue (206-527-9399;www.betalef.org), which focuses on kabbalistic teachings; Congregation Tikvah Chadashah (206-355-1414;www.tikvahchadashah.org), a gay and lesbian group; and Congregation Eitz Or (206-467-2617; www.eitzor.org), an egalitarian synagogue identified with the Jewish Renewal movement. For a full list of congregations, consult the Jewish Federation of Greater Seattle (206-443-5400;www.jewishinseattle.org). The Washington State Jewish Historical Society (206-774-2277; www.wsjhs.org) is also a good resource for community information.
Many of Seattle's Jews work at high-technology companies, such as Microsoft, or hold prominent positions in Seattle-based companies such as Starbucks and Amazon. Others prosper in medicine, law or the arts.
Throughout the year, the University of Washington hosts the Samuel and Althea Stroum Lecture Series (206-543-4835;https://jsis.washington.edu/jewish), bringing outstanding scholars to the city to discuss issues of Jewish history, religion and culture. The university's Hillel sponsors numerous events in its modern building, which boasts a kosher café open during the school year, a game room, a workout room, performance and lecture space and a gallery for student and Jewish community artwork.
Hadassah's Seattle chapter as well as the Pacific Northwest Region maintain offices in Bellevue at 1750 112th Avenue (425-453-6149; www.pnw.hadassah.org).
Like other cities with vital Jewish populations, Seattle is not immune to the larger conflicts that plague our world. On July 28, 2006, a gunman entered the Jewish federation building and shot six employees, injuring five and killing one. Witnesses say he claimed to be "angry with Israel" and the Bush administration. Since the incident, the building has been remodeled and security systems have been upgraded.
Sights
A tour of Seattle's Jewish community begins with a walk around Pioneer Square—once the heart of the gold rush business district—located downtown at First Avenue and Yesler Way. The tree-lined streets, ornate lampposts and quaint brick buildings give a sense of what old Seattle looked like. Julian F. Everett designed the wrought-iron-and-glass pergola at the corner of First and Yesler, which was built in 1909 and restored in 2003. Everett also drew up plans for Seattle's first Reform congregation, Temple De Hirsch Sinai.
Across the street from the pergola on the southeast corner is the site of the Schwabacher Hardware Building, which was built in 1889 after the Great Fire that burned much of downtown Seattle. The name still exists on the façade of the building. (To learn more about the history of Pioneer Square, take Bill Speidel's Seattle Underground Tour; 206-682-4646; www.undergroundtour.com.)
At 204 First Avenue, the name Buttnick appears on the side of the building. The Buttnicks manufactured and sold denim overalls and other work clothes and became active supporters of most of the Orthodox Jewish institutions in Seattle. During the gold rush years, there were many Jewish-owned, secondhand stores on the streets between Main and Washington that stayed open on Sunday and kept longer hours during the weekday than their non-Jewish competitors.
Head down to the water and take a stroll along Alaskan Way, where the city's revitalized waterfront offers many fine fish restaurants, souvenir shops and the popular Seattle Aquarium (www.seattleaquarium.com). At the intersection of Alaskan Way and Union is Schwabacher Wharf, which was the only pier to survive the ravaging fire of 1889.
Across from Alaskan Way is the Pike Place Market Hill Climb, a series of staircases that lead to Seattle's famous Pike Place Public Market. The market is a crowded spectacle of brightly colored fruits and vegetables, handmade crafts, flowers, baked goods and fresh fish. Many Sefardic immigrants found work here.
In the 1920's, Turkish immigrant David Levy purchased City Fish Market, which he ran until his death in 1943. His sons sold the business in 1995, but the store remains in the market (800-334-2669; www.cityfish.com). In 1951, Jack Amon bought the Pure Food Fish Market (800-392-FISH; www.freshseafood.com). His son, Sol, took over in 1956 and continues to run the Pike Place operation.
In 1971, Starbucks opened its first store in Pike Place Market. The company was cofounded by Zev Siegl, who sold his shares in the early 1980's.
Leaving the market, head to 15th Avenue and Union Street. This is the site of Temple De Hirsch Sinai (1511 East Pike; 206-323-8486;www.tdhs-nw.org), Seattle's oldest and largest Reform congregation. The synagogue has a soaring circular exterior said to evoke a desert dwelling. Inside there are stained-glass windows and a marble bima. The temple was originally built in 1906 and then remodeled in 1960. In addition to this downtown facility, Temple De Hirsch Sinai has opened a new branch in Bellevue (425-454-5085).
Continue north on 15th Avenue to the Capitol Hill neighborhood to see the homes of Seattle's historic German Jewish community. Begin at 14th Avenue East and Prospect Street. This tree-lined street of elegant mansions of stone and brick was known as Millionaires' Row. Nathan Eckstein, who was married to Mina Schwabacher, lived at 1000 14th Avenue East. Eckstein was named "Seattle's Most Useful Citizen" in 1926 for his active involvement in civic affairs.
There is little evidence of the old Jewish neighborhood along Yesler Way and Cherry Street between 12th and 20th Avenues. From 1900 to 1930, this is where East European and Sefardic Jews lived and worked in kosher butcher stores, bakeries and restaurants. However, one site still extant is the Langston Hughes Community Center at 17th and Yesler, which was the original home of Orthodox Ashkenazic Congregation Bikur Cholim-Machzikay Hadath.
Today, BCMH members continue to enjoy the intricately tiled Ark that was painstakingly taken apart and relaid when the synagogue relocated to Seward Park in 1971 (5145 South Morgan Street; 206-721-0970; www.bcmhseattle.org). Two doors down is Orthodox Sephardic Bikur Holim Congregation (6500 52nd Avenue; 206-723-3028; www.sbhseattle.org), where hymns are sung to tunes used by Jewish worshipers in Turkey. And a few blocks away at the Sefardic Orthodox Congregation Ezra Bessaroth (5217 South Brandon Street; 206-722-5500; www.ezrabessaroth.net), portraits hang on the wall of past leaders, including Rabbi Reuben Eliyahu Israel, the last chief rabbi of Rhodes.
Many of Seattle's Jewish families live on Mercer Island. At 3700 East Mercer Way is Conservative Herzl Ner Tamid Congregation (206-232-8555; www.herzl-ner-tamid.org). The synagogue sits on a hill at the edge of Lake Washington surrounded by evergreen trees. Inside the sanctuary, additional seating for High Holidays and other events is achieved by a motorized system in which forced air causes the bima to levitate. Congregation members gather to push the floating bima back to the edge of the social hall behind the main sanctuary. High above are colorful, Chagall-inspired stained-glass windows depicting the twelve tribes of Israel.
Across from Herzl Ner Tamid at 3801 East Mercer Way is the Samuel and Althea Stroum Jewish Community Center (206-232-7115; www.sjcc.org). Jewish travelers can use the state-of-the-art workout facilities for free by calling the membership office. Just inside the entrance is the kosher Kafe Kineret, which serves Israeli and Middle Eastern food, and down the hall is a Judaica gift shop.
Just outside the JCC is a Holocaust memorial designed by Gizel Berman, an Auschwitz survivor who settled in Bellingham, north of Seattle. The circular sculpture features six Hebrew letters that make up the biblical command, "Thou Shalt Not Forget." On the base of the sculpture are concentration camp and extermination site names, and surrounding the entire piece is a wall of victims' names related to Washington State residents.
Culture
Seattle hosts a number of annual events that celebrate Jewish culture. The Seattle Jewish Film Festival (www.seattlejewishfilmfestival.org), sponsored by the American Jewish Committee, is held in early spring. Over Memorial Day weekend, there is the Northwest Folklife Festival at the Seattle Center near the Space Needle. Check the schedule for Jewish music offerings (www.nwfolklife.org). In November, Temple Beth Am (2632 NE 80th Street; 206-525-0915; www.templebetham.org) hosts Klezfest, where up to 1,000 people turn out for the daylong celebration of East European culture.
Seattle is also home to Music of Remembrance (www.musicofremem brance.org), an organization that performs music created in ghettos and concentration camps during the Holocaust. The musicians come predominantly from the Seattle Symphony and are joined by other leading artists. Performances take place twice annually at Benaroya Hall, home of the symphony, and often include lectures and discussions.
Benaroya Hall is named for Jack Benaroya, the son of immigrant Jewish parents from Lebanon. He made his fortune in real estate. In 1993, he donated money to the Seattle Symphony (www.seattlesymphony.org) to build the music hall downtown.
For other Jewish cultural events including art openings and gallery displays, go to Seattle's Jewish newspaper online atwww.jtnews.net and click on Features.
Side Trips
Seattle and its surroundings offer several tourist destinations. For links to the most popular attractions, visitwww.seattleattractions.com. Some lesser-known activities include the Hiram M. Chittenden Locks at 3015 NW 55th Street (206-783-7059). Visitors can walk through the gardens of exotic plants and, at certain times of the year, observe sockeye, Chinook and Coho salmon migrating through the fish ladder in their journey from Puget Sound to Lake Washington and up its surrounding rivers.
A trip to Seattle would not be complete without at least one venture into the great outdoors. For an easy day trip, drive 28 miles east to Snoqualmie Falls (www.snoqualmiefalls.com). Located at the foothills of the Cascade Mountains, Snoqualmie offers scenic landscape including a 270-foot cascade of natural falls.
Personalities
Seattle's prominent Jewish entrepreneurs include Starbucks Coffee Company Chairman Howard Schultz and Jeffrey H. Brotman, Costco founder and chairman.
Acclaimed Jewish maestro Gerard Schwarz has conducted the Seattle Symphony for over 20 years.
Rabbi Marc D. Angel, spiritual leader of Congregation Shearith Israel in New York, hails from Seattle's Sefardic community.
And saxophonist Kenny G was born in Seattle, as was prize-winning author David Guterson.
Reading
Jonathan Raban's Waxwings (Vintage) and Michael Byers's Long for This World: A Novel (Granta Books) are both set in Seattle during the dot-com craze of the late 1990's.
Stephanie Kallos's Broken for You (Grove) is a novel about a friendship between two women in Seattle, one of whom is a Holocaust survivor.
Recommendations
Seattle's kosher restaurants are sprinkled throughout the city and its suburbs. Downtown offers Chinese vegetarian food at Bamboo Garden (364 Roy Street; 206-282-6616) and the Teapot Vegetarian House in Capitol Hill (125 15th Avenue East; 206-325-1010). Leah's Bakery and Catering north of the city in Ravenna (2114 NE 65th Street; 206-985-2647) offers take-out service. Next door, at 2201 NE 65th Street, is Tree of Life Judaica and Books (206-527-1130). Northeast of the city in Redmond, near Microsoft headquarters, is Namasthe (425-558-7858), a vegetarian Indian restaurant. For a complete listing of kosher restaurants and grocery stores, go towww.seattlevaad.org.
While many are drawn to visit Seattle's urban landmarks and scenic outdoors, the Jewish traveler will also find a warm and welcoming community, one that remembers its past while embracing the present.
Stacey Schultz is a freelance writer living in Seattle.