Jewish (and Other) Gumshoes Are on the Case
Every year, writers serve up the latest adventures of our favorite sleuths—the handsome and mysterious, aging and world weary, or the shlumpier lot who use simple saychl to solve life's bloody bumps. Each year, too, several new, sometimes accidental, investigators emerge whose adventures satisfy our yen for challenging and intelligent thrillers. a Two of the new writers are journalists who have spent a great deal of time in the Middle East. While both their books reflect the Palestinians– Jewish conflict, Matt Beynon Rees's The Collaborator of Bethlehem: An Omar Yussef Mystery (SOHO Press, 264 pp. $22) is immensely original and satisfying. Rees has created a sympathetic Palestinian crime solver in Omar Yussef, a middle-aged history teacher of Christian and Muslim children in a United Nations-run school in Bethlehem. He is being pressured to resign because he is not politically correct: He does not automatically vilify Israelis and is not afraid to point a finger at his own people's mistakes. Yussef is contemplating retirement when two of his favorite former students are murdered—one is the wife of a slain terrorist, the other is a Christian who was accused of killing the woman's husband.
The schoolteacher's belief in the latter's innocence draws him to investigate their deaths. Courageously, he asks unwelcome questions in dangerous places. In the midst of a harsh but complex society, Rees has created a humane and rational hero.
Robert Littell's first Middle East espionage whodunit, Vicious Circle: A Novel of Complicity (Overlook, 300 pp. $24.95), finds Israel and the Palestinian Authority on the verge of accepting a peace plan brokered by a female American president. Fanatic terrorists on both sides are working to sabotage the agreement. Dr. al- Shaath (a legendary executioner) kidnaps settler leader Rabbi Isaac Apfulbaum (code name Ya'ir, after the Masada leader who urged suicide rather than capitulation to the Romans), who will be killed unless the Israelis release Palestinian political prisoners by a deadline. As the Shin Bet frantically hunts for Apfulbaum, in captivity, the two virtually blind men (literally and morally) engage in a dialogue that reveals a shared intensity of faith, rejection of compromise and willingness to die for their beliefs.
Littell's morality tale sets up a disturbing mirror image of the two enemies who form a destructive alliance.
Award-winning author Richard North Patterson has also entered Middle East politics. Exile (Henry Holt, 562 pp. $26), his best seller, has it all. David Wolfe is a smart, handsome, Jewish lawyer in San Francisco on the fast track to a political career; his lovely fiancée, the daughter of a Holocaust survivor, is eager to help him get there. That is, until a former Palestinian lover, Hana Arif, asks David for help—she is accused of masterminding the murder of the visiting Israeli prime minister.
Patterson does a lot of juggling as he sympathetically represents the pain and grievances of both the 3,000 years of Jewish persecution as well as Palestinian misery under Israeli rule.
If David helps Hana, he will ruin his political future and lose his fiancée. Can he defend a woman who, with her husband, is an outspoken critic of Israel? Was she capable of pulling off such a sophisticated operation? Who else wants to derail the peace process? The quest for answers takes David to Israel, the West Bank and Lebanon, leaving three more murders in his wake.
In his afterward, Patterson asserts that Exile is not a political tract but rather meant to show the destructiveness of the status quo.
A welcome returning hero is Daniel Silva's taciturn Gabriel Allon—master art restorer and reluctant Israeli spy—in The Messenger (Putnam, 334 pp. $25.95).
After an attack against the Vatican leaves 700 dead, Allon is asked by a United States agent to eliminate the plot's mastermind. He lends Allon a newly recruited operative (whose fiancé was killed on 9/11) to carry out the risky plan. Sarah's curatorial background helps her land a job with a Saudi billionaire—a major art collector and financer of terror—and become part of his entourage. From that vantage point, she will be able to discover and track the key terrorist.
As in Silva's other thrillers, the story moves—from London to Washington to Vatican City to the Bahamas and Kloten, Switzerland, and points in between. As soon as you have finished The Messenger, look for Silva's forthcoming The Secret Servant (Putnam) about fighting Islamist terror, available in July.
Batya Gur's Murder in Jerusalem: A Michael Ohayon Mystery (HarperCollins, 288 pp. $24.95), translated by Evan Fallenberg, is, as the publisher terms it, "a wonderful parting gift" from the author, who died in 2005. As in all her five previous books, this one is anchored by the handsome Sefardic Chief Superintendent Michael Ohayon and revolves around a discrete universe, in this case, Israel's official television station.
Politics, friendships, rivalries, love— and a 20-year-old secret—are uncovered as four deaths occur, beginning with the apparently accidental death of a scene director in the middle of a major film production. Even after discovering the murderer, the secret hampers full disclosure because of state security and leaves unsolved an ethical quandary.
For fans of Batya Gur who will miss her thoughtful characters and situations grounded in real-world contexts, now may be a good time to reread her books, starting with Murder Duet, her first.
In Haggai Carmon's second intelligence thriller, The Red Syndrome (Steerforth Press, 326 pp. $24.95), Dan Gordon—an ex-Mossadnik who works for the United States Depart ment of Justice's Office of International Asset Recovery and Money Laundering—is on the trail of $60 million that has gone missing. The suspects are a major Russian crime boss based in the United States and his clients, The Slaves of Allah, an Iranian-sponsored terrorist group.
The twists and turns in this story are many; The money moves from Frankfurt to Nevis to Panama City to Caracas to a shell company in Australia, then to a bank in New York. When an employee at the bank disappears, the suspicion of a terrorist connection gets stronger.
The hunt becomes more complicated when the head of Mossad asks Gordon to rescue two Israelis who have met with terrorists to forestall the creation of a genetically engineered killer virus, the Red Syndrome.
In this somewhat long-winded escapade, Gordon suffers through betrayal, kidnapping, brutal isolation and desert captivity. No doubt, however, that with Gordon's line of work, we'll be reading more about his daring adventures.
Author Charles Epping, who has worked in the world of Swiss banking and finance, has put his knowledge to good effect in his first novel, Trust (Greenleaf Book Group, 292 pp. $23.95). In May 1938, ahead of the German takeover, a Hungarian Jew by the name of Kohen puts his family's valuables into a Swiss trustee account wherein only a trustee knows the true owner's identity and receives a percentage of the reinvested account only when a living beneficiary claims ownership. But what happens when the extremes of Swiss secrecy, the deaths of most of the family in the Holocaust and the manipulation of the account by dangerous, powerful international forces obstruct a just settlement?
The Kohen account was dormant for more than 50 years until Alex, an American intern at the Swiss bank, picks up on a glitch in the code for the account. It happened in 1987, the year stocks had a major fall and the trustee, Rudolf Tobler, died—or was he killed? When Alex inadvertently (and breaking the rules of privacy) calls Tobler's number, Tobler's son seeks her help in researching what really happened to his father and finding any survivors of the Kohen family. The story includes a wild chase that follows the money to the British Virgin Islands, Cyprus and Brazil; at the same time, the unfolding Kohen family history tells the fate of many European Jews who tried to escape the German advance but for the most part could not find refuge.
Master mystery writer Stuart M. Kaminsky brings back the aging but tough Abe Leiberman to figure out who murdered three respected members of the Chicago's Turkish community. The heart of the crimes in The Dead Don't Lie (Forge, 304 pp. $23.95) is the sought-after Journal of Aziz, allegedly an eyewitness account of the genocide of Armenians. In the course of discovering who might kill for it, other crimes occur: Two smalltime muggers find big money and there are threats to the Chinese wife and newborn of Abe's Irish partner. In between connecting the dots, Abe fields theological arguments with his brother, Maish, who is angry at God for his son's death and Abe also deflects the angst of his daughter, whose children he is raising.
Jill Gregory and Karen Tintori have taken a kabbalistic idea and fleshed it out in a frightening what-if scenario in The Book of Names (St. Martin's Press, 320 pp. $19.95). Tradition says that in each generation 36 hidden righteous souls (Lamed Vavniks) keep the world in orbit. What would happen if all 36 were eliminated? Would the world as we know it be destroyed?
Since he nearly died after a fall at age 13, David Shepherd has had flashes in which he hears names that he has recorded in a journal; he also has a gemstone with Hebrew lettering that he found after he fell. He discovers that one of the names he's recorded belongs to his 10-year-old stepdaughter. After he meets a kabbalistic rabbi and an Israeli archaeologist, he learns that his names are connected to those in the ancient Book of Adam and his gem is from a priestly breastplate.
Those two objects make him a target of the Gnoseos, an international secret society that believes it can vanquish God once it possesses the 12 gemstones and destroyed the 36. As the final countdown approaches, the balance tilts in favor of evil.
This story has the makings of a horror movie: a circle of evil made up of prominent figures; Dark Angels as thugs with faith; and the Serpent, who tracks down the Hidden Ones. Still, the impact of evil is blunted by cartoonlike depictions.
The Mistress of the Art of Death (Putnam, 336 pp. $25.95) is Dr. Vesuvia Adelia Rachel Ortese Aguilar. In Ariana Franklin's book, set in the 12th century, Adelia is raised by a Jewish foster father and educated in liberal Salerno, Sicily. In this work of historical fiction, the Jewish community sends Adelia, who is a medical examiner, to Cambridgeshire, England, to discover who tortured and murdered four non-Jewish children— and thus exonerate the local Jews who have been accused of ritual murders. The trip Adelia and two companions make is at the behest of Henry II. The Jews have taken refuge in a castle and the king misses the taxes they can no longer send.
Adelia, an intrepid investigator, endangers herself to find a sadistic murderer. This well-told tale is gruesome, though the telling is softened by humor and peopled with colorful characters: pilgrims, priors, tax collectors, nuns and frauds as well as the truly faithful and honest.
Keith Raffel's contemporary debut novel, Dot.Dead: A Silicon Valley Mystery (Midnight Ink, 280 pp. $13.95, paper), takes place in the high-tech world the author, a Silicon Valley entrepreneur, knows well. His protagonist, Ian Michaels, is a successful executive whose life stops making sense when he discovers his part-time maid stabbed to death in his bed. Strangely, even though he never met the maid, Gwendolyn Goldberg, evidence points to him as her lover—and murderer. He sets out to learn more about the victim and discover the true culprit.
Along the way, Raffel gives us an inside look at the power struggles in technology companies. Though this story is about finding a killer, the book also shows that Ian is just a nice guy with a close-knit Jewish family and who is not afraid to ask advice from a rabbi he admires. Naturally, his mother is concerned that he is 35 and still single, but being herself a strong, smart and independent woman, she does not hover. What more can you ask for?
Another level-headed woman can be found in Out of the Frying Pan, Into the Choir: A Ruby the Rabbi's Wife Mystery by Sharon Kahn (Scribner, 272 pp. $25). Since Ruby's husband, a rabbi, died, she seems to be the sole rational member of his shul in Eternal, Texas. For instance, where else but at Temple Rita would there be a latke fund-raiser after Hanukka?
The reason for the latke sale is to raise money to send the synagogue choir to a contest via a scenic train excursion to Banff and Lake Louise in the Canadian Rockies. But before the trip, one singer dies, presumably of a heart attack; an autopsy, however, reveals she's been poisoned. Ruby goes on the trip to uncover the murderer. Along the way you get to know Essie Sue, the controlling, busybody president; Kevin, the new rabbi with his foot permanently in his mouth; and André, the philandering proprietor of a health food store who is trying to sell spirituality.
Along with its haymish humor, the story has a surprise ending—and Ruby's recipe for latkes is a bonus.
There are plenty of women PI's in Rita Lakin's Getting Old Is Criminal (Dell, 384 pp. $6.99, paper), the third installment of the Gladdy Gold murder- mystery series. The five friends (ages 71 to 83) who live in a Florida condo development are hired to go undercover in an upscale retirement home to find out if a handsome 75-year-old man may not only be loving and leaving 'em, but killing them as well. And when Evvie, Gladdy's sister, becomes mesmerized by the tender attention of the gentleman in question, discovering the truth becomes more urgent.
The book's theme is romance— murderous, desperate and rocky. Even as the "girls" decipher the character of the murderer and the identity of a peeping Tom, Gladdy's own romance enters shaky terrain. Stay tuned.
Finally, there is Faye Kellerman's latest collection, The Garden of Eden and Other Criminal Delights (Warner Books, 327 pp. $24.99). The title story, one of the few originals, is a Peter Decker/Rina Lazarus mystery, in which the couple solves the murder of Rina's flowergrowing friend. New or reprised, Kellerman tells a good tale.
Whether following the money or a murder this stack of Jewish crime and spy books should satisfy your requirement for light summer reading.
---
Top Ten Jewish Best Sellers
FICTION
1. The History of Love: A Novel, by Nicole Krauss. (W.W. Norton, $23.95, cloth; $13.95, paper)
2. The Book Thief, by Markus Zusak. (Knopf Books for Young Readers, $16.95)
3. The Yiddish Policemen's Union: A Novel, by Michael Chabon. (HarperCollins, $26.95)
4. Call Me by Your Name: A Novel, by Andre Aciman. (Farrar, Straus and Giroux, $23)
5. The Queen's Fool: A Novel, by Philippa Gregory. (Touchstone, $16, paper)
NONFICTION
1. Einstein: His Life and Universe, by Walter Isaacson. (Simon & Schuster, $32)
2. I Feel Bad About My Neck: And Other Thoughts on Being a Woman, by Nora Ephron. (Knopf, $19.95)
3. The Invisible Wall: A Love Story That Broke Barriers, by Harry Bernstein. (Ballantine Books, $22.95)
4. Nixon and Kissinger: Partners in Power, by Robert Dallek. (HarperCollins, $32.50)
5. Night, by Elie Wiesel. (Hill and Wang, $19.95, cloth; $9, paper)
Courtesy of www.MyJewishBooks. com; titles selected based on sales.
---
Books in Brief
The Way Into Judaism and the Environment, by Jeremy Bernstein.
(Jewish Lights, 260 pp. $24.99)
Instead of using Torah to prove environmentalism, Bernstein uses environmentalism to interpret text and commentary. The director of Israel's Heschel Center for Environmental Learning focuses on Genesis when he encourages us to treat the earth with respect. He probes the Bible's contributions to—and proposed solutions for—ecological problems, and views other world problems through a Jewish lens. —Diana Brement
Rabbi Shlomo Goren: Torah Sage and General, by Shalom Freedman. (Urim, 221 pp. $23.95) This vivid biography of the former Ashkenazic chief rabbi—best remembered for blowing the shofar at the newly liberated Western Wall in June 1967—is not comprehensive, but it both embraces his controversial, many-faceted public career and illuminates the range and depth of the significant rabbi's scholarship. —Haim Chertok
---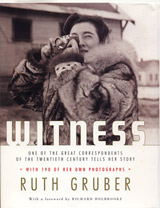 STORY AND PICTURES

A Pioneering Journalist Who Used Her Heart
Witness, by Ruth Gruber
(Schocken, 256 pp. $27.50) 

Accompanied by 190 of her own photographs, the remarkable Ruth Gruber chonicles the trajectory of her career making and reporting history. 

In 1935, Gruber traveled through Europe and Siberia on a fellowship, recording life in the closed gulags. Secretary of the Interior Harold L. Ickes sent her to Alaska in 1941 before it became a state; he also assigned her to accompany 1,000 refugees from Europe to Oswego, New York—the only Jewish refugees officially brought into the country during World War II.

Of that trip, she writes: "Day and night the refugees told me their stories…. Listening to their stories of survival, I had an epiphany. I realized that for the rest of my life I would use my tools—my words and images—to fight injustice."

Gruber accompanied the Anglo-American Committee of Inquiry on Palestine as it visited displaced-persons camps and observed the Nuremberg Trials in 1946. When the British intercepted illegal ships bound for Palestine and interned survivors in Cyprus, Gruber reported on the horrible living conditions there. She was also eyewitness to the British attack on the Exodus. 

Other major events that Gruber captured in word and image are the Yemenite, Iraqi, Romanian, Soviet and Ethiopian waves of aliya.

The 95-year-old Gruber has a companion exhibit of her photographs at the Museum of Jewish Heritage–A Living Memorial to the Holocaust in New York. "From the Heart: The Photojournalism of Ruth Gruber" will be on view through October 8 (www.mjhnyc.org). —Z.S.